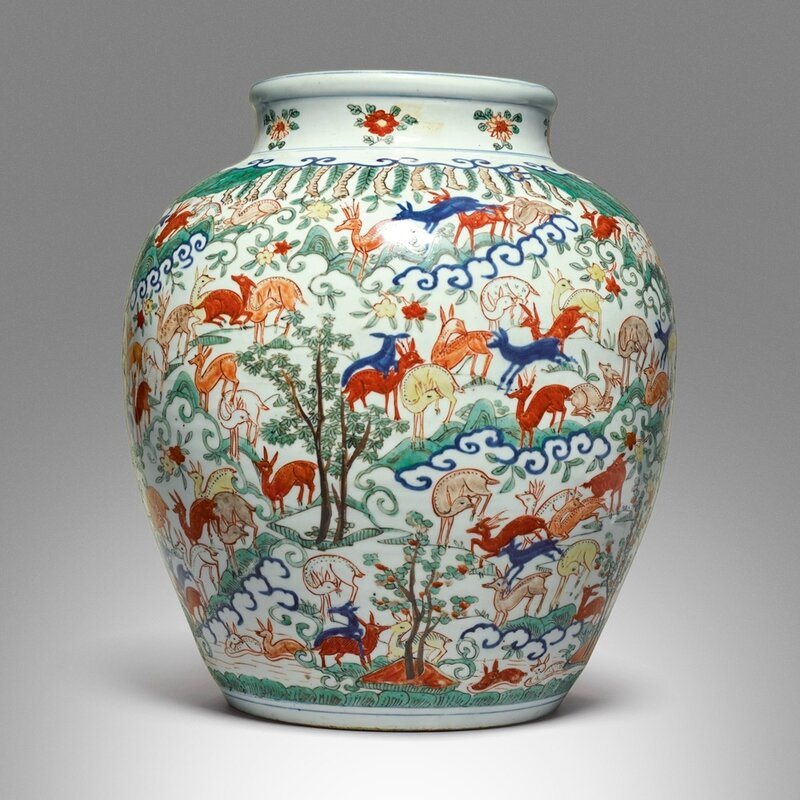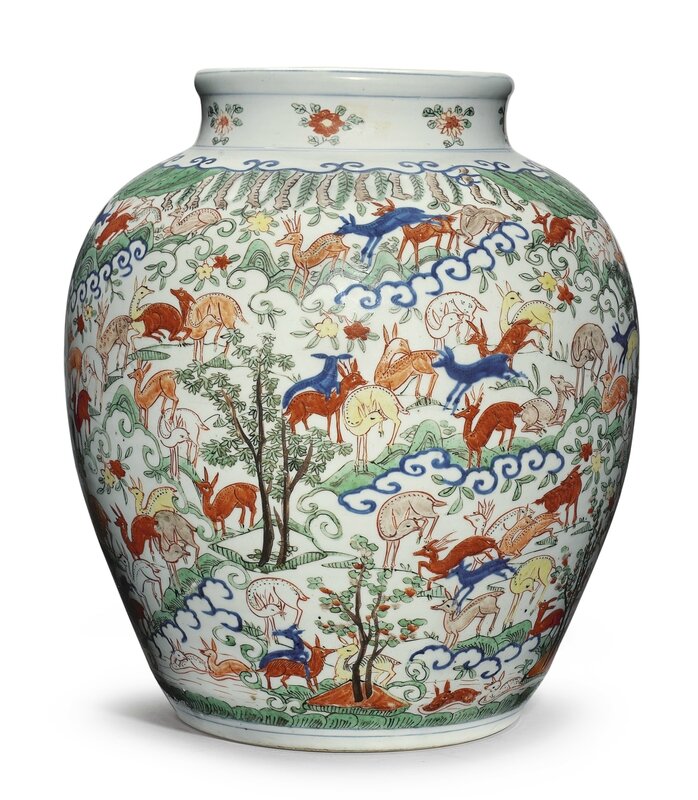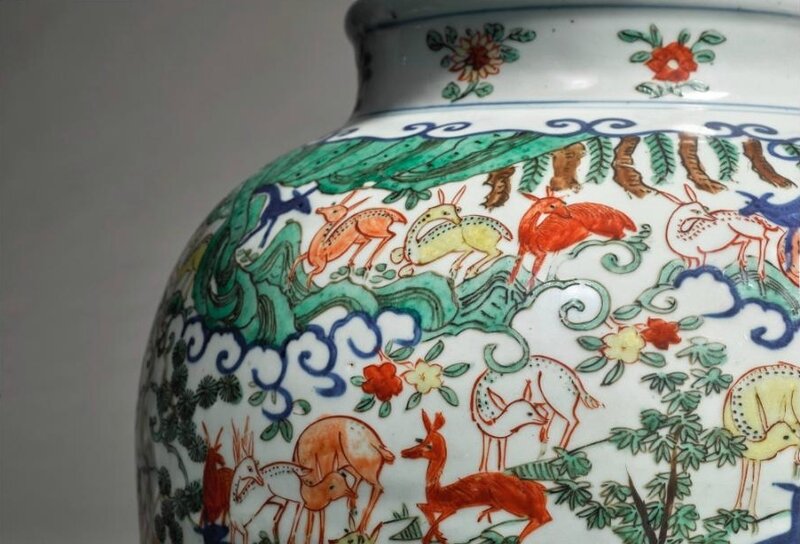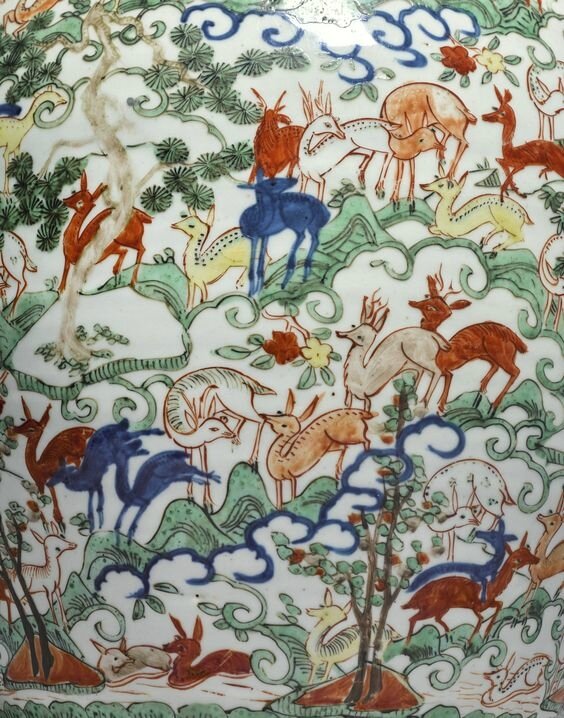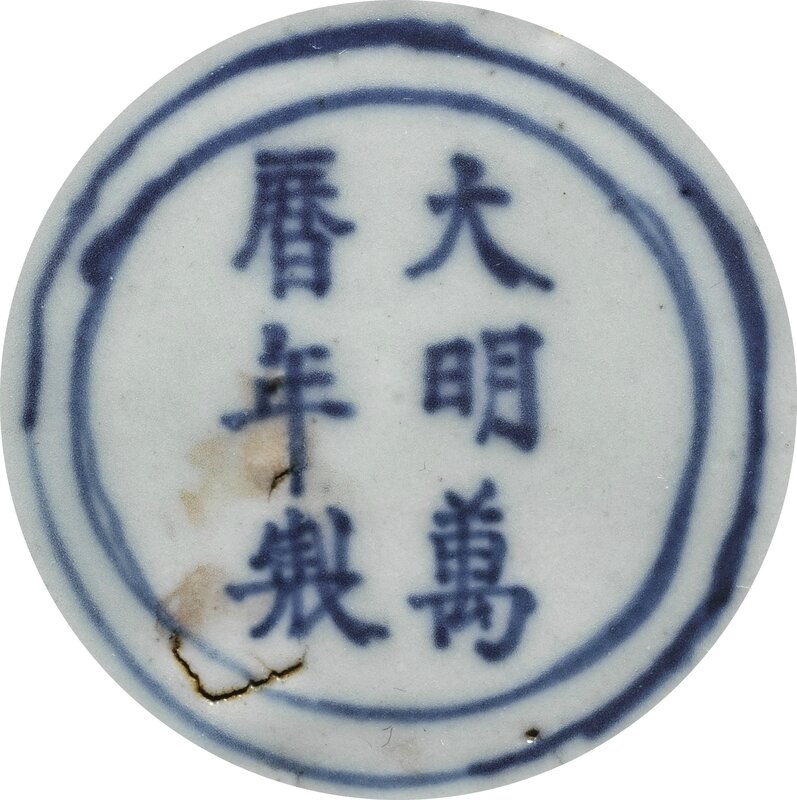 Lot 12. A large and important wucai 'hundred deer' vase, Wanli mark and period (1573-1619). Estimate 800,000 — 1,200,000 USD. Lot sold 948,500 USD. Photo Sotheby's.
sturdily potted, of ovoid form rising to a gently waisted neck with a lipped rim, painted in underglaze-blue, green, yellow, aubergine, brown and two shades of iron-red enamel with a continuous scene depicting a profusion of deer in widely varied poses, some resting or grazing, others prancing in playful contest, several partially hidden by the foliage and twisted trunks of pine and wutong trees, all interspersed with spiraling underglaze-blue and green enamel cloud scrolls and with bamboo, pine and fruiting branches, all above a band of stylized lappets at the foot and below a ruyi border at the shoulder and a band of alternating peony and chrysanthemum florets at the neck, all divided by underglaze blue line borders, the unglazed base centered with a recessed circle with the six-character mark inscribed in underglaze blue within a double circle beneath a clear glaze. Height 13 1/2 in., 34.4 cm
Provenance: An English Private Collection.
Bonhams London, 11th July 2005, lot 157.
Exhibition: Nelson-Atkins Museum of Art, Kansas City, Missouri, 2013-2015 (on loan).
Note: This magnificent jar represents the height of Wanli porcelain production and embodies the distinctive style during his reign. Complex in composition, this design is endowed with added vitality through the outstanding use of the wucai palette. While the Wanli Emperor is not historically known as a leading statesmen or art lover, the relative stability of his long reign and his great love of luxury allowed potters working at the imperial kilns in Jingdezhen to develop enameling techniques as well as produce a significant amount of porcelain. The present example is distinctive for its palette, as the basic Wanli wucai palette has been extended by the addition of a pale pinkish tone, created by a thinner iron-red wash. This further animates the composition with deer shown in five alternating colors.
The motif of 'one hundred deer' appears to be an innovation of the Wanli reign, and carries numerous auspicious messages. Traditionally the deer is an emblem of immortality in China, believed to live to a very great age. The animal successfully foraged for lingzhi and was believed to store the fungus's power within its antlers, which then became prized for their medicinal use. The deer is also associated with official salary, as the two words are homophonous, hence images of 'one hundred deer' are representative of 'one hundred promotions'.
In addition to its auspicious messages, the scene on this jar, which continues around the whole vessel as if on a handscroll, may also be of the imperial gardens or hunting parks where deer and other exotic animals were known to reside. Ming emperors spent much time in the Imperial Western Park, adjacent to the Forbidden City, which had been reconstructed at the beginning of the Ming dynasty and renovated to resemble an immortal land under the direction of the Jiajing Emperor, who moved there in 1542.
A similar jar in the National Palace Museum, Taipei, is illustrated in Minji meihin zuroku, Tokyo, 1978, vol. II, pl. 101; one from the collection of Tamisuke Yokogawa, now in the Tokyo National Museum, Tokyo, is published in Illustrated Catalogue of Tokyo National Museum. Chinese Ceramics, Tokyo, 1990, vol. II, pl. 330; another is illustrated in Sekai toji zenshu/ Ceramic Art of the World, vol. 14, Tokyo, 1976, pl. 218; and a fourth from the collection of Ernest Grandidier in the Musée Guimet, Paris, is published in Oriental Ceramics. The World's Great Collections, Tokyo, 1981, vol. 7, col. pl. 26. See also a further jar in the Schlossmuseum, Berlin, included in the exhibition Chinesische Kunst, Preussische Akademie de Künste, Berlin, 1929, cat. no. 739.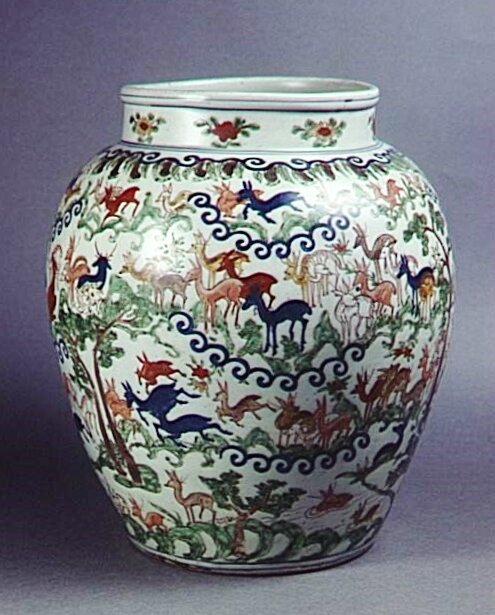 Jarre à décor dit "aux cent daims", règne de Wanli (1573-1620), décor cinq couleurs. Ancienne collection Ernest Grandidier, G4850. Photo © RMN-Grand Palais (musée Guimet, Paris) / Richard Lambert
Several jars painted with this motif have been sold at auction: five were sold in our London rooms, the first, 11th July 1978, lot 191, the second, 16th June 1999, lot 794, the third, 10th November 2004, lot 564, the fourth, 14th May 2009, lot 566, and the fifth, 12th May 2010, lot 20; and a further example lacking the reign mark, from the collection of the Pitt Rivers Museum, Farnham, was sold at Christie's London, 7th November 2006, lot 184.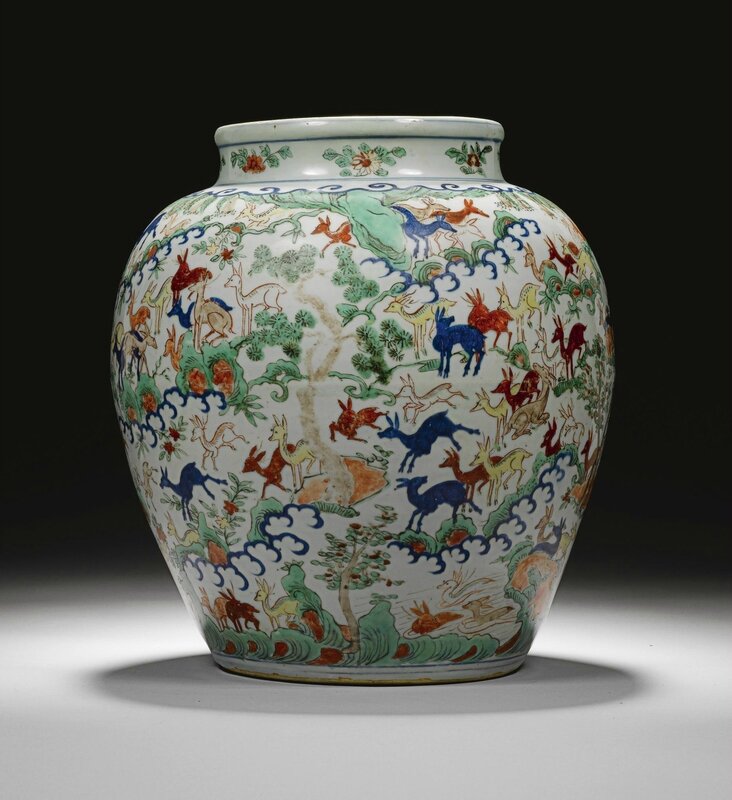 A wucai 'hundred deer' vase. Wanli mark and period. Sold 51,650 GBP at Sotheby's, 12th May 2010, lot 20. Photo Sotheby's
(Cf. my post: A wucai 'Hundred deer' vase, Wanli mark and period & A large wucai baluster vase, 17th century)
The motif of 'one hundred deer' was revived during the Qianlong reign in famille-rose enamels; see one in the Palace Museum, Beijing, illustrated in The Complete Collection of Treasures of the Palace Museum. Porcelains with Cloisonné Enamel Decoration and Famille Rose Decoration, Hong Kong, 1999, pl. 85; and another sold in these rooms, 16th March 2016, lot 321.
Sotheby's. Ming: The Intervention of Imperial Taste, New York, 14 mars 2017, 10:00 AM