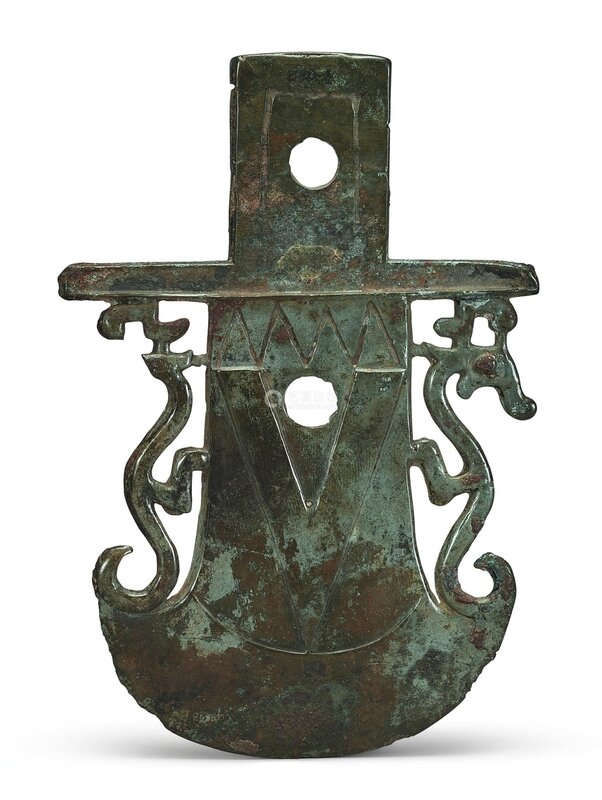 Lot 594. An openwork archaic bronze axe blade, Eastern Zhou dynasty, late 6th - 5th century BC. Estimate 3,000 — 5,000 USD. Photo: Sotheby's.
the bell-profile blade issuing from the rectangular tang, cast on both sides with a zigzag band at the base and a raised V-shape extending to the plain band at the blade's edge, the sides flanked by sinewy reticulated dragons, pierced in the tang and in the shaft, the patina of mottled russet and pale and olive greens. Length 5 1/8 in., 13 cm
Provenance: ollection of Dr. Jörg Trübner, Berlin (d. 1930).
Collection of Edgar Worch, Berlin (1880-1972).
Collection of Adolphe Stoclet, Brussels (1871-1949).
Sotheby's London, 10th June, 1997, lot 109.
Collection of Bernadette and William M. B. Berger, Denver, Colorado, acquired in 1997.
Literature: Otto Kümmel, Jörg Trübner zum Gedächtnis: Ergebnisse seiner letzten chinesischen Reisen, Berlin, 1930, pl. 23.
Sueji Umehara, 'Shina Kodai no Doriki ni tsuite [On Ancient Chinese Bronze Swords],' Tōhō Gakuhō (Kyōto), 1932, vol. II, pl. 6, fig. 1.
Sueji Umehara, Shina-Kodo Seikwa, part III, vol. II, 1933, pl. 99, fig. 2.
Note: Axes of this form are rare, and ones with rounded edge and flanking dragons are highly unusual, but two blades of similar form are illustrated in Sueji Umehara's aforementioned article of 1932, pl. 6, figs. 2-3.
Sotheby's. Important Chinese Art, New York, 14 Mar 2017, 10:30 AM