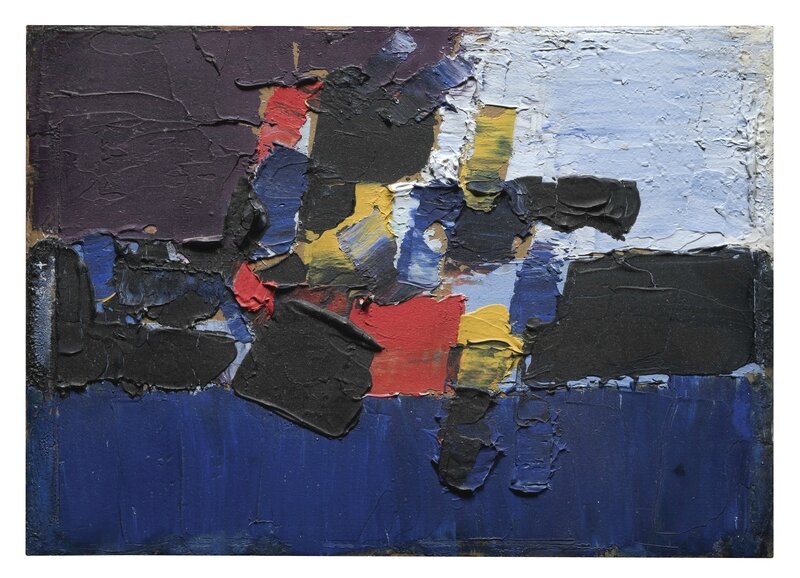 Lot 10. Nicolas de Staël (1914 - 1955), Parc des Princes, oil on card laid down on panel, 12 by 16.8 cm. 4 3/4 by 6 5/8 in. Executed in 1952. Estimate 200,000 — 300,000 GBP. Sold 440,750 GBP. Photo: Sotheby's.
Provenance:
Briest, Paris, 54 Oeuvres Provenant de la Collection d'Alain Lesieutre, 24 November 1992, Lot 44
Acquired from the above by the present owner in 1992
Exhibited
:
Geneva, Galerie Motte, Nicolas de Staël: Peintures et Dessins, July - August 1967, n.p., no. 20 (text)
Geneva, Galerie Daniel Malingue, Staël: Priorité Peinture, May - July 1992, n.p., no. 7, illustrated in colour
Paris, Galerie Daniel Malingue, Hommage à Nicolas de Staël, September - October 1992
Literature

:

Jacques Dubourg and Françoise de Staël, Ed., Nicolas de Staël: Lettres, Catalogue Raisonné des Peintures, Paris 1968, p. 196, no. 391, illustrated
André Chastel, Staël: l'artiste et l'oeuvre, Paris 1972, p. 91, no. 44, illustrated
Daniel Dobbels, Staël, Paris 1994, n.p., no. 39, illustrated in colour
Françoise de Staël, Ed., Nicolas de Staël: Catalogue Raisonné de l'Oeuvre Peint, Neuchâtel 1997, p. 342, no. 399, illustrated in colour
Note: On 26 March 1952 Nicolas de Staël and his wife went to see France play Sweden at Parc des Princes in Paris – one of the first times a football match had been played in the evening under the bright glare of floodlights. De Staël was entirely overcome by the spectacle. He was entranced by the shimmering green grass, the blues, reds, yellows and blacks of the players' outfits and the dazzling whites of the lights, the ball and the goals. Consumed by this rich cacophony of colour, de Staël spent that night awake in his studio translating this vivid experience onto a canvas that he christened Parc des Princes. In the days following he created a total of twenty five musings on the subject, including the present intimately scaled musing, which are characterised by an astonishing vivacity of brilliant, pure tones and are housed in celebrated international collections such as the Museum of Contemporary Art, Los Angeles; the Musée des Beaux Arts, Dijon; and the Fort Worth Art Museum, Texas.
In the years leading up to the decisive 1952 football match, de Staël had become increasingly frustrated by the apparent gulf between abstraction and figuration in his work. Firmly entrenched in the strand of Modernism that sought to readdress the past in order to move forward from it, de Staël came to realise that it was only by surrendering traditional subject matter to the Modernist dictum of painting-as-painting, (painting which is primarily a play of forms and colours on a flat canvas) that his work could continue to be both current and alive. The little tiles of colour that characterised the artist's work in 1951 slowly evolved into figurative suggestions and still lifes to evince a spontaneous marriage with the exterior world. Representations of wine bottles and apples organically took their place in this formal trajectory and his work thus became more complex and contradictory. As the artist explained, "I am not setting abstract painting against figurative painting. A painting should be both abstract and figurative. Abstract to the extent that it is a flat surface, figurative to the extent that it is a representation of space" (Nicolas de Staël quoted in: Julien Alvard and Roger van Gindertaël, Témoignages pour l'art abstrait, Paris 1952, n.p.). The event that was to provide the catalyst for this monumental change in artistic direction was the most casual of occurrences: a football match.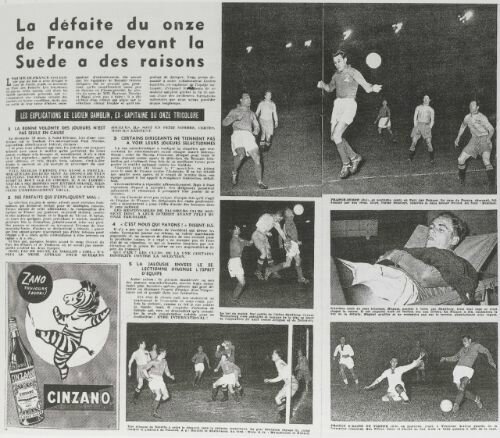 Double page on the match between France and Sweden at the Parc des Princes in Paris, Le Miroir des sports, No. 343, 31st March 1952.
Days later de Staël's enthusiasm for the spectacle was undiminished. Writing to René Char, the poet, de Staël extolled its merits: "My dear René, Thank you for your note, you are an angel, just like the boys who play in the Parc des Princes each evening… I think of you often. When you come back we will go and watch some matches together. They are marvellous. No one there is playing to win, except in rare moments of nervousness which cut you to the quick. On the red or blue field, between earth and sky, a ton of muscle flies in abandon, forgetting itself entirely in the paradoxical concentration that this requires. What joy René, what joy! Anyway I've put the whole French and Swedish teams to work, and a bit of progress starts to be made. If I were to find a space as big as the Rue Gauget, I would set off on two hundred small canvases so that their colour could blare like the posters on the motorway out of Paris… Yours, Nicola (Nicolas de Staël, 'Letter to René Char, 10 April 1952', cited in: Françoise de Staël, Ed., Nicolas de Staël: Catalogue Raisonné de l'Oeuvre Peint, Neuchâtel 1997, p. 975). The tumultuous flurry of colour and movement recalled in this famous letter resonated profoundly with the artist. Indeed, critic Denys Sutton goes as far as to say that the football match had the same effect on de Staël "as the Circus had on Lautrec and Degas" (Denys Sutton, 'Nicolas de Staël', 1956, in: Exh. Cat., Paris, Galeries Nationales du Grand Palais, (and travelling), Nicolas de Staël, 1981, p. 14).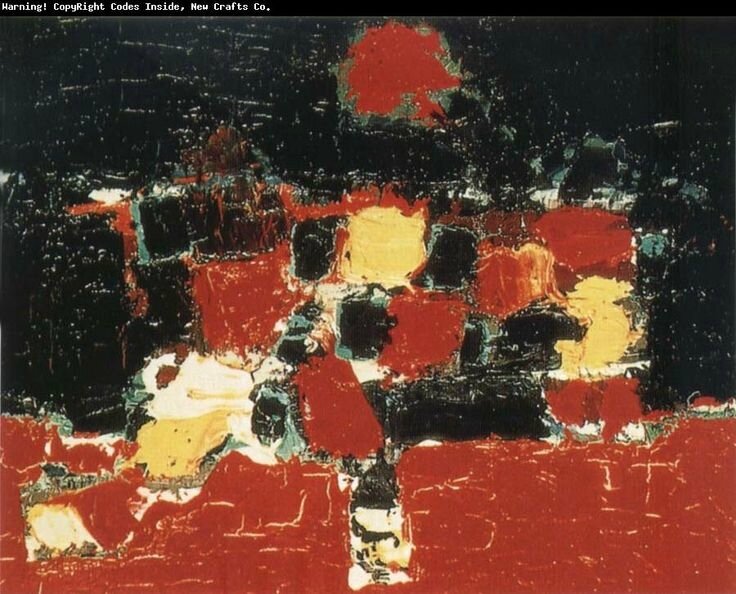 Nicolas de Stael, Les footballeurs, 1952, Musée des Beaux-Arts, Dijon. Image: © 2014. BI, ADAGP, Paris/Scala, Florence. Artwork: © ADAGP, Paris and DACS, London 2017
Just as Henri de Toulouse-Lautrec's visits to the Cirque Fernando in the late 1880s inspired a colourful, chaotic world, de Staël's excursion to Parc des Princes prompted a group of works that exploded with an infectious energy, vitality and colour. Like no other series before, de Staël flattened the pictorial space so that figures were treated as an injection of vibrantly coloured, animated touches, pitted against the flat ground. As such, unbridled movement was played against absolute stillness, dazzling whites, reds, blues and purples against the darkest night. As the extreme forces of stasis threaten to engulf great blocks of colour the painting acquires all the overwhelming passion and fatalism of a Greek tragedy. As Douglas Cooper points out "this series of footballers is more ambitious and vital than anything de Staël has achieved before. What's more they reveal his innate gift as a striking and effective colourist, being executed in a series of strong reds and blues, from light to dark, blended with black and white" (Douglas Cooper, Nicolas de Staël, London 1961, p. 51).
The fertility of 1952 came to leave an indelible mark on all de Staël's future works. Thereafter, until his tragic and untimely death in 1955, he rejected pure abstraction in favour of paintings that depicted musical performers, still lifes and landscapes amongst other subjects, which emerged from lyrical, semi-abstracted patterns. De Staël's magisterial capacity to espouse abstraction and figuration into a wholly innovative communion bespeaks the mystery of the medium that was to influence the masters of the later 1950s and beyond such as Frank Auerbach. Akin to Auerbach, de Staël's readiness to allow the paint to announce its plastic qualities whilst also endowing it with a figurative function aligns his practice with the painterly struggle between figuration and abstraction that is prevalent in the works of post-modernist painters such as Gerhard Richter. Perfectly dramatising de Staël's late and ambiguous approach to both figuration and abstraction, Parc des Princes is the ultimate encapsulation of the artist's aesthetic aims. In this series de Staël finally reached the plateau to which he had been ceaselessly striving.
Sotheby's Contemporary Art Evening Auction London, 08 Mar 2017