Art Deco suite, circa 1925. Sapphires of 200 carats, pearls of 42 carats and old cut diamonds of 3.2 carats © Hancocks
Comprising a necklace, bracelet and pair of drop earrings, each is set with graduated polished oval sapphire cabochon beads, interspersed by white pearl and old-cut diamond trio connections. The necklace features a suspended large sapphire cabochon pearl and diamond articulated drop. Typical of the era, the suite is transformable with the bracelet and necklace being able to be joined together to form a long sautoir.
Provenance: Suite belonged to Lady Joan Sherborne, daughter of the Canadian financier and industrialist Sir James Hamet Dunn.
Amy Burton. The 'Tyrrhenian' ring © Hancocks
Gemstone whose shape and character wholly inspired the design into which it is set, centered on a 3.03 carats lozenge-shaped step-cut diamond, E colour with VS1 clarity, set vertically within an asymmetric cross-over style platinum mount, the graduated, curved shoulders are fully pavé set with single-cut diamonds and on opposite sides the gallery is enclosed with calibre cut baguette diamonds set in a vertical row, the striking contrast perfectly complementing the geometric cut of the lozenge diamond
Designed by Amy Burton Fine Jewellery and sold exclusively at Hancocks London, the unique ring as part of her Unum collection. As the name suggests, each piece in the collection is completely unique.
Amy Burton says: "I love to walk a line between architectural, sculptural design and femininity. I keep toying with the design until I can feel that balance. With the Tyrrhenian ring I enjoyed emphasising the unusual cut of the diamond by playing with juxtaposition...sweeping smooth pavé work next to the vertically set baguettes cut in to enclose the central diamond."
Edwardian tiara © Hancocks
Set with more than 800 old cut diamonds, estimated to weigh a total of 48 carats, the tiara is held on its frame by tiny and beautifully engineered wing-topped screws, so that it may be removed and it then divides by means of hidden clasps, the central three sections becoming a choker necklace and the two outer sections joining to form a bracelet
Provenance: The tiara was given to Lady Delia Spencer, great aunt to Princess Diana, by her father the 6th Earl Spencer, on her wedding day on February 18th in 1914. Lady Delia married the Hon. Sidney Peel, younger son of the 1st Lord Peel, Speaker o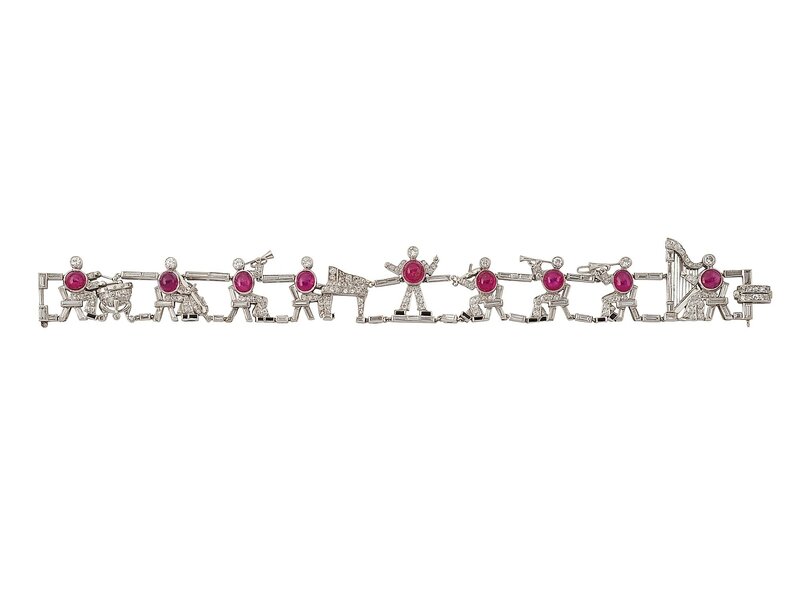 William Ruser (Philadelphia, 1908), 'Orchestra' bracelet, circa 1940. Ruby, diamond and platinum © Hancocks
The bracelet is designed as a row of eight orchestral musicians with the conductor taking center stage. Each musician plays a different instrument including timpani, cello, grand piano and harp and is joined together by a series of baguette diamond-set links.
Guy Burton of Hancocks said: "Ruser was a much sought after jeweller with the Hollywood set and his pieces were worn by numerous starlets on and off-screen. This and many other of his creations are regarded as masterpieces of American jewellery.
"Shirley Temple was one of the most famous child stars of the 1930s and 40s and starred in many musical films throughout her career. Music was very important to her and she learned to play the piano at a young age. It's wonderful to be able to offer this piece for sale with such a rich provenance and we hope it will be as loved by its next owner as it was by Shirley Temple."
The piece is accompanied by a Ruser Jewels insurance valuation, dated 1958, signed by William Ruser.
Provenance: Formerly the property of Shirley Temple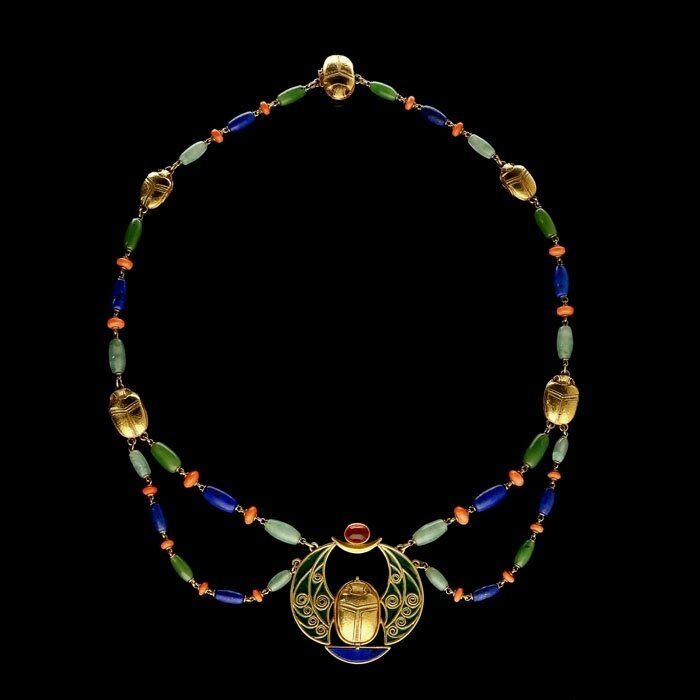 Marcus & Co. Egyptian revival style necklace, circa 1905 © Hancocks
Centered on a hammered gold scarab with enamelled hieroglyphics to the reverse with outspread wings in green plique-a-jour enamel beneath a glowing orange carnelian sun motif
Guy Burton of Hancocks adds: "Marcus & Co. were renowned for their excellent craftsmanship and the combination of techniques displayed in this necklace from the fine hammering of the gold to the different enamelling techniques is testament to their skills. They produced various Egyptian inspired jewels during the late 19th and early 20th centuries and the gemstones and enamel colors used are all in keeping with the ancient style that this piece celebrates."
Hancocks. Dealers in rare and collectable jewels since 1849. TEFAF Maastricht. Stand 243