Nautilus cup, Soapstone figures, Indo China, Kangxi period, circa 1675. Oriental silver gilt mounts. Height 32 cm, 12.8 x 10 cm (foot) © Salomon Stodel Antiquités
The nautilus shell with two vertical engraved silver gilt strap mounts,are pinned which is constructed to fit closely over the edge of the shell, forms the bowl of a standing cup.
The conchiolin is elaborately carved in the cameo technique in the Indo Chinese manner, being set in silver gilt mounts that both protects and intergrates this object.
The Kangxi period soapstone figure, represents Lo-Han standing on a square silver gilt cushion with tassels on each corner, mounted on an octagonal lobed rock crystal base with a silver gilt rim inset with red glass diamant cut stones. A small greenish soapstone fingure of a seated monk is mounted on top of the nautilus shell.
A special detail is the delicate pierced carving of the inner chambers of the curl of the shell in the shape of a sea monster.
Provenance: Private collection, The Netherlands; acquired in 1970 from Bernhard Stodel, Amsterdam
Literature: Exh. cat., 22ste Oude Kunst- en Antiekbeurs, Delft, Antiek (5) 1970-1971, no. 1, p. 49 ill.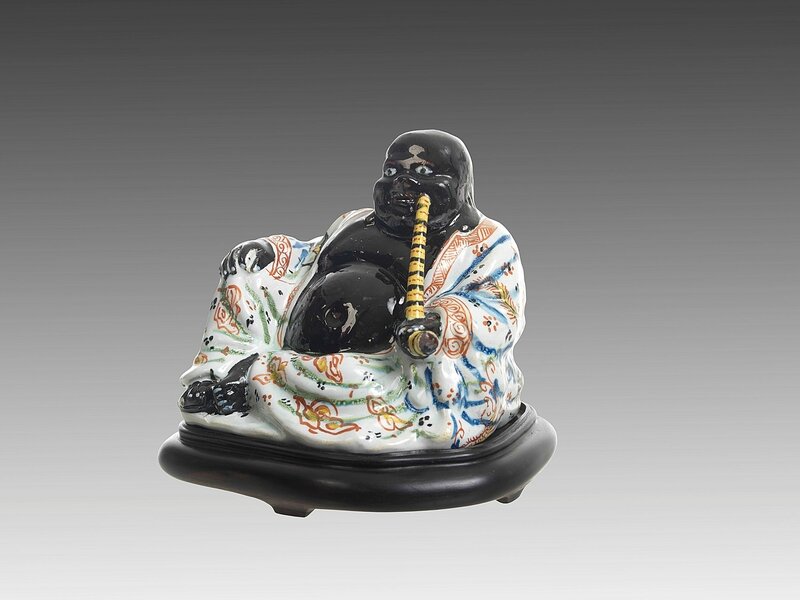 Attributed to the Metaale Pot Factory, under the patronage of Lambertus van Eenhoorn (active between 1691-1724), A figure of Pu-Tai-Ho-Shang (Bodhisattva), Delft, circa 1700. Black Delftware, 12.7 x13.4 cm © Salomon Stodel Antiquités
Pu-Tai-Ho-Shang was a Chinese Monk. He is wearing a losely draped robe to reveal his corpulent belly, with a polychrome floral decoration in 'famille verte' style. His right hand resting on his right knee, and his left hand holding a long stemmed pipe.
The figure of Pu-Tai-Ho-Shang with a 'mirror black' glaze belly, head (except his eyes) and hands can be attributed to the prestigious Metaale Pot Factory under the patronage of Lambertus van Eenhoorn, well known to have mastered the application of mirror black glaze on Dutch Delftware from the late seventeenth and the beginning of the eighteenth century.
It was inspired by Oriental lacquer wares as well as by the Chinese 'famille noire' porcelain of the Kangxi period. Delftware with black glaze was extremely difficult to produce and was the rarest production of just a very few Delftware factories around 1700. Less than 70 pieces of black Delftware are recorded and most of them are not marked.
Provenance: Nicolier, Paris; Joseph M. Morpurgo, Amsterdam
Literature: Jean Nicolier, 'Delft', in Connaissance des Arts (33) 15 November 1954, p. 55; Het Wondere Zwart van Delft, Museum Willet Holthuysen, 1962, no. 51 with ill.; Kunsthandelaar Verzamelaar, C.I.N.O.A. Amsterdam 1970, no. 229 with ill.; Exh. cat. 35th Art and Antiques Fair Delft, 1983, p. 51 with ill.; Related literature: R. Aronson and J. Huiskamp, Dutch Delftware sur la table, cat. 2016, pp. 36-39
Salomon Stodel Antiquités at TEFAF Maastrich 2017, Stand 134