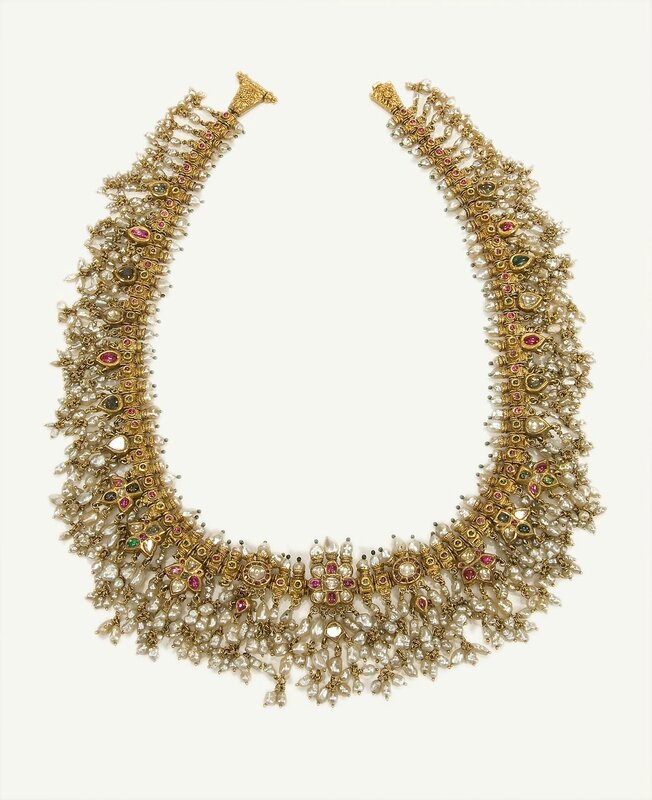 Guttapusal necklace, India, Andhra Pradesh, probably Hyderabad, late 18th century © Van Gelder Traditional Indian Folk Jewellery
Elaborate gold, made up of a series of eighty-three open, tubular elements, each set with a cabochon ruby or emerald and a natural pearl on top, alternated on either side with seven petal-shaped decoration and each set with a single diamond, ruby or emerald. Length 57 cm.
On either side of the center pendant is an oval-shaped element attached to the double tubular pendant, each set with a single diamond bordered with cabochon rubies and crowned with three natural pearls.
Suspended form it, a petal-shaped pendant is set with a cabochon ruby and irregular pearls. Three floret decorations are attached to the pendants on either side of the oval-shaped elements. The largest pendant at the center has four cabochon rubies and four diamonds set around a center diamond and also crowned with three pearls. Suspended form it, a single diamond and irregular pearls. All pendants have irregular pearls hang in clusters on gold wire. All double tubular elements are strung on a 'woven' gold wire necklace with a triangular gold screw-post clasp.
Emerald and tourmaline often occur together in the same type of magmatic rock, called pegmatite. Both contain light and small elements that could not be incorporated in other common minerals, but were put into these gems at the latest stage of magmatism. In this light coloured emerald, a tourmaline crystal is included, and serves to confirm the authenticity of this gemstone.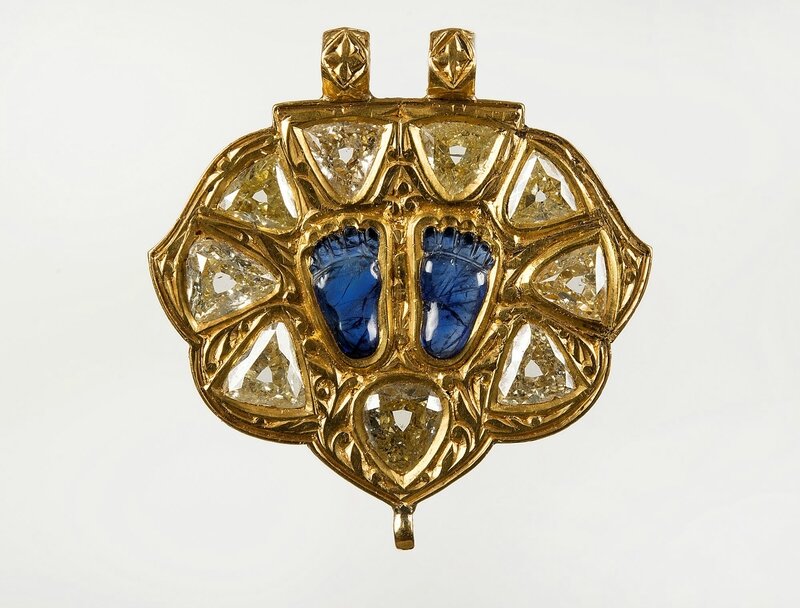 Pendant, North India, Andhra Pradesh, early 20th century © Van Gelder Traditional Indian Folk Jewellery
Pankhi gold, fan-shaped set with blue sapphire vishnupada or pagalia in the center, surrounded by nin triangular and parab cut diamonds; 3.9 x 4 cm
The pendant has two suspension loops on top and a smaller loop below and shows at the front and at the reverse a gold stylish carved garland.
Two feet for worship are called pagalia. The feet on this pendant must have been inspired by the vishnupada symbol and commissioned by Krishna devotees. Krishna is the eight incarnation of Lord Vishnu. Feet worship is known in Jainism too, but it is never worn as an ornament. Gaya, a city in Bihar, has a famous Hindu temple, built in 1787 and dedicated to Lord Vishnu, called Vishnu Mandir, marked by circa 40 cm long footprints, vishnupada, imprinted in solid rock and surrounded by a silver plated basin.
This olivine inclusion in one of the diamonds reflects the environment in which diamond could originally form: deep down in the Earth, at least 120 km under the Earth's surface, in the lithospheric mantle, where an extreme pressure exceeds 60,000 atmospheres, high enough to convert carbon into a diamond structure. At any other depth, at lower pressure, graphite would form out of carbon, instead of diamond.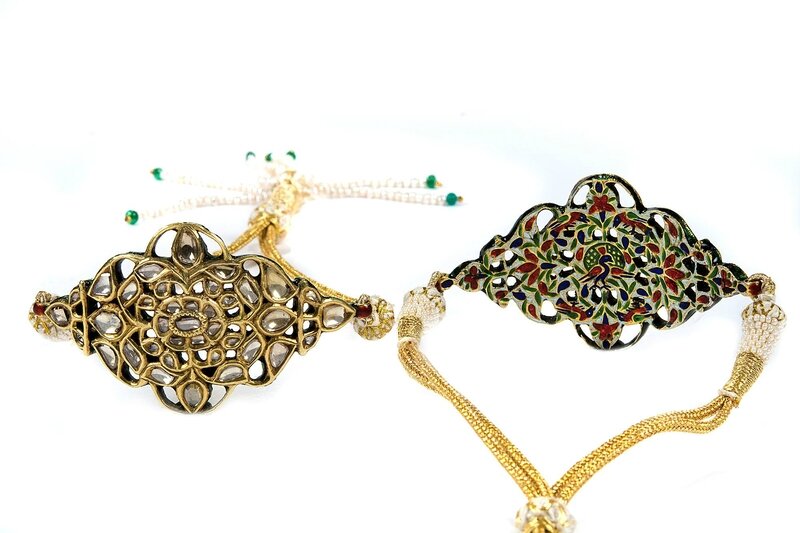 Baju bands, North India, Rajasthan, Bikaner, circa 1900 © Van Gelder Traditional Indian Folk Jewellery
Gold armlets, kundan set with irregular size flat cut diamonds, red, green, gold and blue enamels on a white opaque enamel ground, known as safed chalwan. Length 7.4 cm
Bands set with flowers, green leaves and birds. This bird theme, the peacock in the center with a green enameled wide spread tail, the five petals flower and the color use of the enamel show the Bikaneri School.
Bazu of Baju bands are armlets of silver or gold studded with precious stones. The shape follows the natural curvature of the upper arm. During the heydays of Mughal time, just one large spinel, ruby, emerald bead or large pearl, was tied on both upper arms. Cords and attached pearl tassels are contemporary.
Sulphides are used to date the formation of diamonds. Analysis of minute quantities of Rhenium and Osmium, elements that are present in sulphide inclusions, revealed that most diamonds were formed deep down in the Earth's mantle between 3 and 1 billion years ago. It was only due to explosive volcanism that occurred much later (roughly between 300 and 65 million years ago) that diamonds were quickly brought to the surface and eventually discovered by man.
Necklace, India, Jaipur or Nathdvara, 19th century © Van Gelder Traditional Indian Folk Jewellery
Nine gold enamelled fan-shaped pendants, Pankhi, strung on a fine cord spaced by four gold and enamelled spacers, with rubies and garnets; 36 x 4.5 cm
This necklace was worn by the pilgrims of Shrinathji. Depicted on the middle centre large pendant, outside pendants and the rectangular pendants is Shrinathji on one side of each pendant surrounded by a circular scalloped box in translucent red enamel. Surrounding these are bird and floral designs in red, blue, green and white enamel. On the other side of these pendants is the vishnupada (feet of Lord Vishnu). The feet are adorned with auspicious symbols known from ancient times in the subcontinent. The blue enamel on the side of the vishnupada represents the primordial waters. The remaining three pendants have floral designs. The pendants have alternately suspended rubies and garnets.
Pendant, India, Punjab, Lahore, late 19th century © Van Gelder Traditional Indian Folk Jewellery
The front of the pendant is kundan set with large beryl on foil. The beryl is carved and embellished with a floral theme outlined in gold. Length necklace 40 cm. Height pendant 7.5 cm
A suspended double pendant with a crescent, representing h'lal, new moon and a smaller representing m'rhab, niche in the center of the mosque, is attached to the large pendant. On either side three smaller pendants, of which two have the form of a 'khamsa' , good luck hand of Fatimah, daughter of the Islamic prophet Muhammad by his first wife Khadija bint Khuwaylid, the other four again the m'rhab. Attached to all seven lower pendants are gold wired pearls with tiny green glass beads.

The pendant is hung from two strands of seed pearls with on either side six small 'khamsa'-shaped pendants with gold wired seed pearls and tiny green glass beads. The reverse of the pendant shows an embossed floral design in gold.

Rock crystal with water and carbon dioxide inclusion
Transparent, colourless crystals of quartz, named 'Rock Crystal', are usually formed in fractures or open spaces in rocks, a few kilometers below the Earth's surface. When hot water entered those spaces and cooled down, crystals could slowly grow, including fluids as inclusions. This inclusion essentially contains water and carbon dioxide (gas bubble), and was included millions of years ago.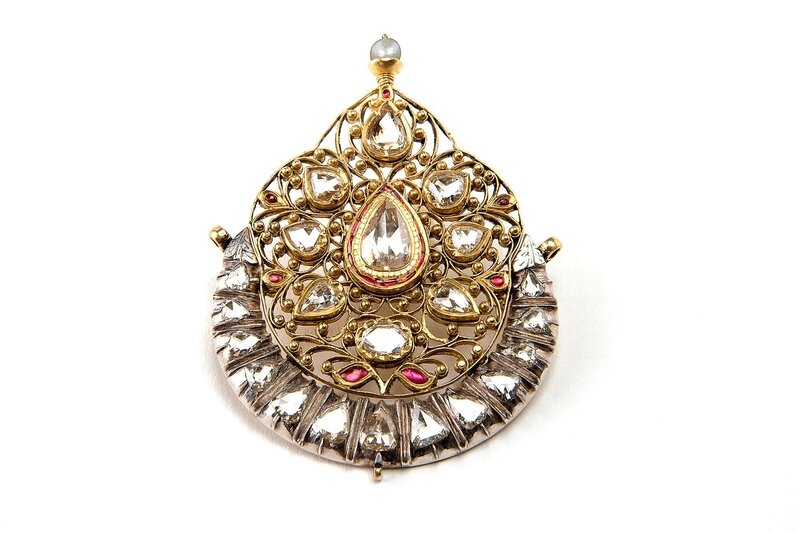 Turban ornament, North India, West Bengal, late 19th century © Van Gelder Traditional Indian Folk Jewellery
This elaborate gold and silver turban jewel is composed of an open worked cast, slightly curved in a pear-shaped form. A large pear-shaped rose-cut diamond kundan- is set in a raised collet, is bordered by a thin line of tiny cabochon pyrope garnets. The central diamond is surrounded by seven smaller leaf-shaped rose-cut diamonds and one horizontal oval-shaped diamond below, all kundan- set in the same raised collets. On either side of the jewel and below the oval-shaped diamond are all together seven tiny foiled cabochon pyrope garnets.

The gold jewel is bordered with a silver raised lower section, set with thirteen pear-shaped rose-cut diamonds. The silver front part is covered by a gold plate at the reverse. Gold suspension loops on either side for cords or chains to run through to be tight to the turban. A pearl on top is set in a gold collet.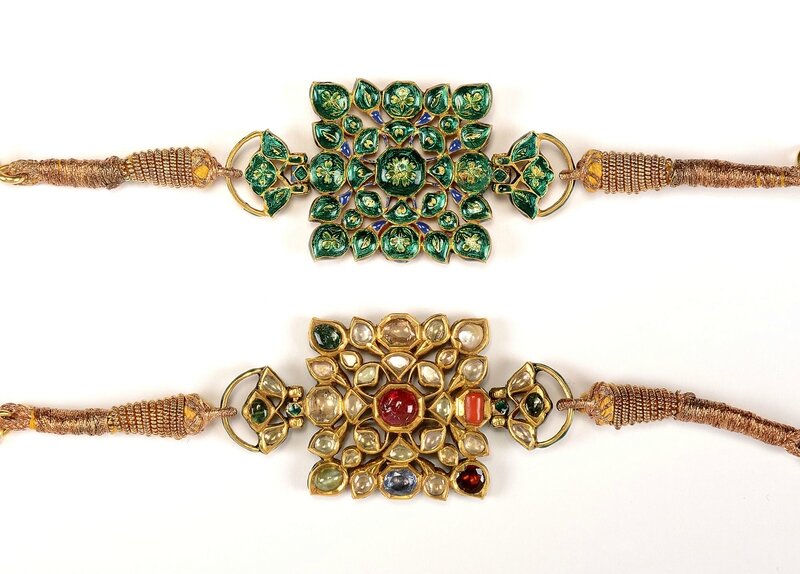 Baju bands, India, Uttar Pradesh, Lucknow, 19th century © Van Gelder Traditional Indian Folk Jewellery
Gold, enamel, white sapphire, emerald, diamond, pearl, coral, hessonite, blue sapphire, cat's eye and in the center a cabochon ruby; 3.5 x 6 cm (pendant)
Pair of square gold baju bands, kundan set with precious stones according to the navaratna arrangement. A gold wire cord on either side is attached to a flower shaped hinge, kundan set with diamonds and emeralds. Sabz zamin, vegetable green, enamel decorates the reverse with some touches of light blue enamel.

Hindu cosmology conceives of the universe as containing seven planets and two personifications of the moon cycle, all designated as celestial deities. The importance of these deities to the field of Indian Jewellery involves the particular gemstones associated with each of them. Their traditional arrangement combined in a jewel is called Navaratna or Nauratan. Nava means 'nine' and ratna means 'stone'. Jewellery set with the nine auspicious gems of the nava ratna were worn as amulet, nauratan, and intended to protect the wearer from negative planetary influences. Baju bands are worn on the upper arm.

Spectacular features that may be encountered in sapphires, especially in those from Sri Lanka: so-called 'negative' crystals on the left, which have the geometry of a rough sapphire crystal but are empty inside, and intricate networks of interconnected tubes filled with fluid. These networks are the result of the healing of a previously present fissure, during the crystal growth of sapphire.
Van Gelder Traditional Indian Folk Jewellery, TEFAF Maastrich 2017, Stand 241.