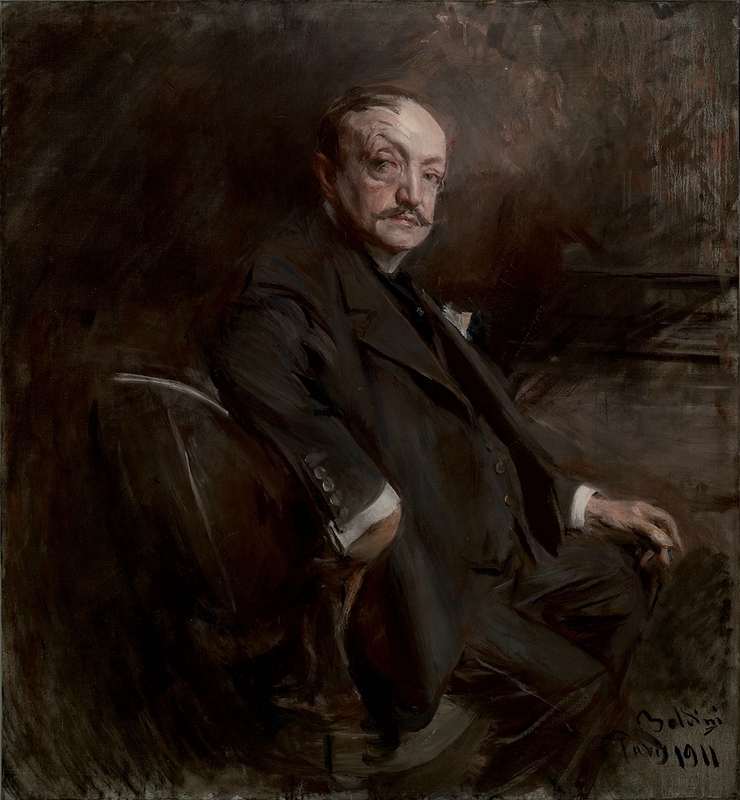 Giovanni Boldini, Self-Portrait at sixty-nine years, 1911. Oil on canvas, 105x97 cm, Ferrara, Museo Giovanni Boldini © Ferrara, Galleries of Modern and Contemporary Art
ROME.- The exhibition devoted to Giovanni Boldini (Ferrara, 1842 – Paris, 1931), from 4 March to 16 July at the Complesso del Vittoriano – Ala Brasini in Rome, is one of the most comprehensive and spectacular retrospectives of last decades, comprising over 150 works by Boldini and the most important artists of his time.

Feminine charms, elegant rustling gowns, the Belle Époque, salons and the fleeting moment make up the fascinating world of Giovanni Boldini, the brilliant painter who captures better than any other the rarefied atmosphere of an extraordinary era.

The works – including the famous Red Curtain (1904), A Lady Reading (1875), Portrait of a Lady in White (1889), Dark-Haired Lady in an Evening Gown (c. 1892), Portrait of Madame G. Blumenthal (1896) – are on loan from major international museums including the Musée d'Orsay, Paris, the Alte Nationalgalerie, Berlin, the Musée des Beaux-Arts, Marseille, the Uffizi, Florence, the Museo Giovanni Boldini, Ferrara and prestigious private collections rarely open to the public.
During the four years it has taken to prepare the exhibition, sixty different lenders were coordinated by Tiziano Panconi – author of the 2002 Boldini catalogue raisonné – in collaboration with Sergio Gaddi.

The show also comprises 30 works by Boldini's contemporaries, Cristiano Banti, Vittorio Matteo Corcos, Giuseppe De Nittis, Antonio de La Gandara, Paul-César Helleu, Telemaco Signorini, James Tissot, Ettore Tito and Federigo Zandomeneghi.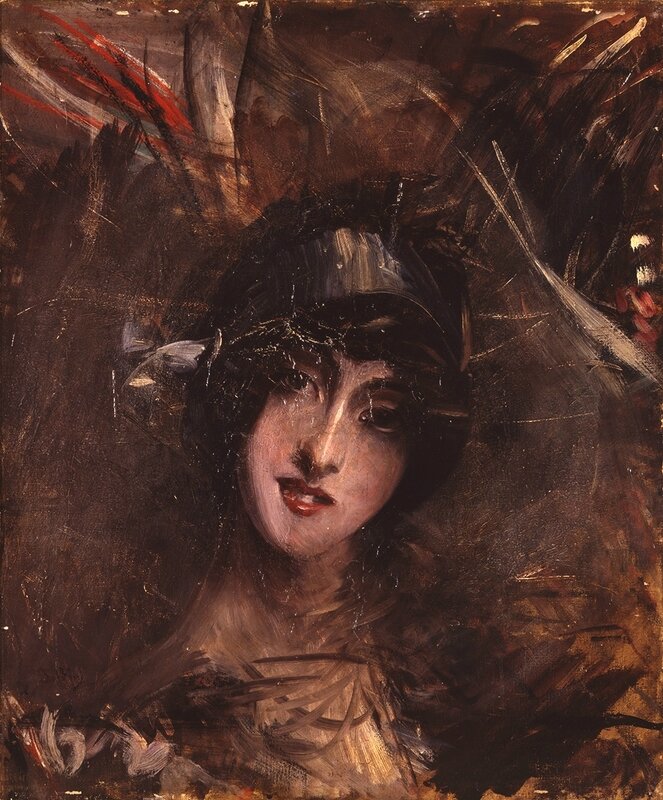 Giovanni Boldini, The cap blue, 1912 ca. Oil on canvas, 55x46 cm. Museum MAGI '900 - Pieve di Cento, Bologna.
Pride of place at the Vittoriano is given to the masterpiece that has become the symbol of the Belle Époque: the large portrait of Donna Franca Florio, executed between 1901 and 1924.

In 1901 Ignazio Florio, the heir of one of Sicily's leading entrepreneurial families, asked Boldini to paint a portrait of his wife Franca. An extremely alluring and beautiful woman, she was known as "Donna Franca, the Queen of Sicily" and described by D'Annunzio as "A unique woman. A creature whose every movement possesses a divine rhythm."
Boldini went to Palermo and painted the portrait, but Ignazio Florio did not like it. He considered it too sensual and provocative and the neckline too plunging, and decided not to pay the painter for the work.
Then Boldini executed a second version of the painting, which met with Don Ignazio's approval. The portrait was displayed at the Venice Biennale in 1903, but then all trace of it was lost.

Years later, on the request of Donna Franca herself, Boldini resumed work on the first portrait, which he had always kept in his studio, and completed it as we see it today.

Between 1927 and 1928, the Florio family fell into financial ruin and the painting was bought by Baron Maurice de Rothschild. It has been on display at the Grand Hotel Villa Igiea in Palermo since 2006.

Destined always to be in the news, the work will be auctioned as a result of legal proceedings concerning the Gruppo Acqua Marcia (owned by Francesco Bellavista Caltagirone), but exceptionally it has been loaned for the exhibition at the Vittoriano. Its being auctioned means that it will probably be bought privately, so this may be the last chance to admire the portrait of Donna Franca!
Giovanni Boldini, Portrait of Donna Franca Florio, 1901-1924. Oil on canvas, 221x119 cm, AMT Real Estate SPA cpo
THE EXHIBITION
Giovanni Boldini's works crystallize the fleeting moment in colours – oils, pastels or rapid lines in pencil – and it remains down through the centuries like a Proustian madeleine that miraculously takes us back to those enchanted days of the Belle Époque.

Boldini was not only one of the protagonists of that unique period and the brilliant precursor of 20th-century modernity, but also the artist who exquisitely rendered and exalted female beauty, and revealed the mysterious, innermost soul of the aristocratic ladies of the period, whom he saw as "fragile icons".

The elegant and refined, erotic sensuality of the women he portrays also communicates to the viewer a melancholy impression of finiteness, of an instant that cannot be repeated, whether it be coming home from a ball, a horseback ride or two soldiers in a café.
Giovanni Boldini, Portrait of Giuseppe Verdi sitting, 1886. Oil on canvas, 122x87 cm. House for Musicians-Foundation Giuseppe Verdi Rest
Boldini's portrait of Giuseppe Verdi is the only version of his face that is remembered by posterity. He has rendered a perfect atmosphere, which is historical yet immortalized. Perhaps this is why Gertrude Stein said that Boldini was the best painter of the 19th century.

The rooms of the Vittoriano display not only Giovanni Boldini's famous masterpieces like the portrait of Verdi from the Casa di Riposo per Musicisti – Fondazione Giuseppe Verdi in Milan, the iconic portraits of Emiliana Concha de Ossa, Gabrielle de Rasty, Alice Regnault on horseback and Mademoiselle de Nemidoff, to mention only a few, but also his landscapes, city scenes, nudes and ladies at their toilette. And each of these paintings communicates his iconic energy and unmistakable expressive power.

The exhibition reconstructs step by step the brilliant trajectory of this great Italian artist who made his home in Paris. It is divided into 4 sections: The New Light of the Macchia (1864–1870); The Maison Goupil, Midway between Fashion and Impressionism (1871−1878); The Pursuit of the Fleeting Moment (1879–1891) and The Portrait of The Belle Époque (1892–1924).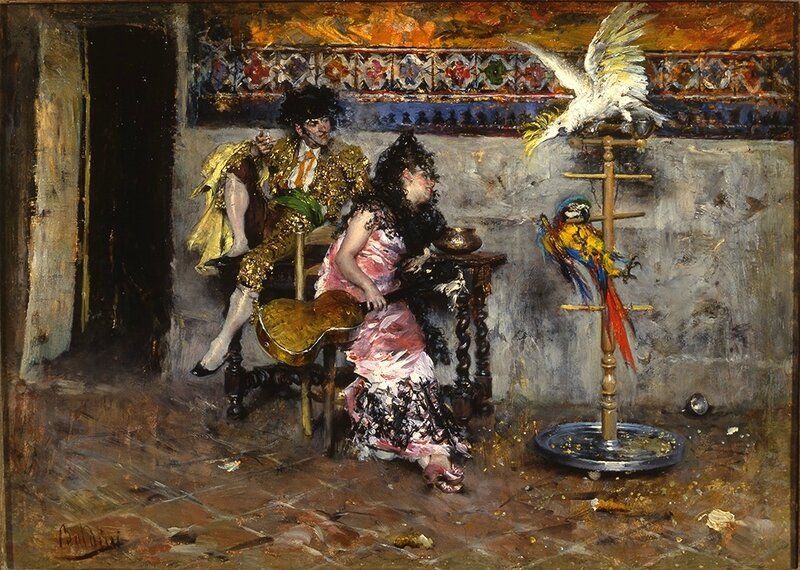 Giovanni Boldini, Couple in Spanish dress with two parrots, 1873 ca. Oil on canvas, 25x35 cm. Art collection Banca Carige
The New Light of the Macchia (1864–1870)
During his long stay in Florence in 1864, Boldini began to participate in the ideological and artistic innovations of the Macchiaioli movement. Indeed, Florence was the Italian capital of art and the leading European masters, especially the French, flocked there.

In this period of extraordinary creativity, the artist laid the solid luministic foundations for his subsequent French style. This section highlights the profitable exchanges, cross fertilizations and collaborations with Macchiaioli colleagues like Telemaco Signorini, Vito D'Ancona and especially Cristiano Banti (on display, Alaide Banti on a Bench 1870–1875 and The Banti Family c. 1866); Boldini and Giovanni Fattori influenced each other and he began to be inspired by Michele Gordigiani, the most renowned portraitist in grand ducal Florence.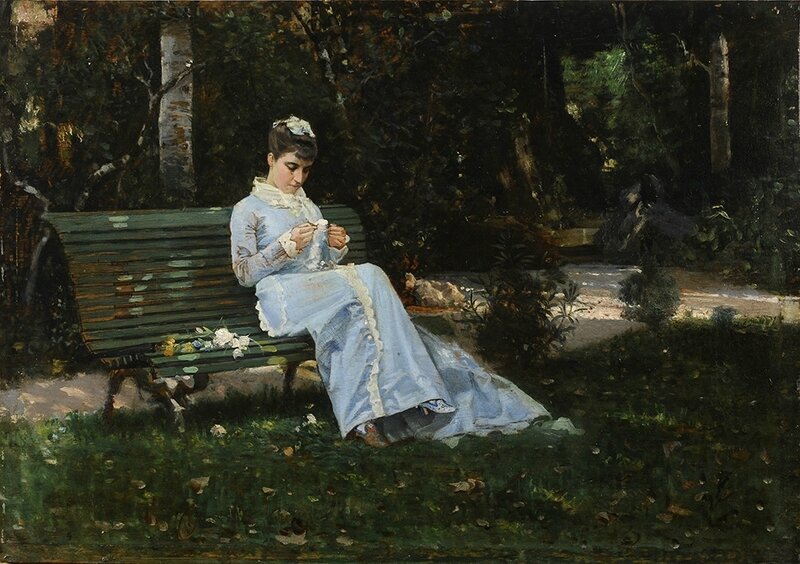 Cristiano Banti, Alaide Banti on the bench, 1870-75. Oil on canvas, 30x42 cm. Private collection
Telemaco Signorini, Rendez-vous in the woods, 1873. Oil on canvas, 32x23 cm. Collection Palazzo Foresti, Carpi
Boldini's love for France began in Florence; in 1867 he made his first trip to Paris and settled there for good in 1871. From 1856 on, the Macchiaioli had been working towards a modernization of painting based on the first-hand observation of nature, which was rendered through an extensive and powerful phrasing of light and shade, creating a special visual force that made the subject true to life and vivid.

Castiglioncello (a seascape is on display in the exhibition), and particularly the estate of Diego Martelli (his portrait of Boldini, 1865, is also on display) where Boldini stayed with his painter friends, and above all the Scuola di Piagentina were the places that influenced his style during his years in Tuscany. In Florence he established contacts with the local aristocracy which brought him lucrative commissions and with the English noblewoman Isabella Falconer, who became his patroness for some years.
His aristocratic ways, a tendency to worldliness and to frequent high society, as well as the possibility of great career prospects, led Boldini to leave Florence for London in 1871, where he spent some months before moving to Paris.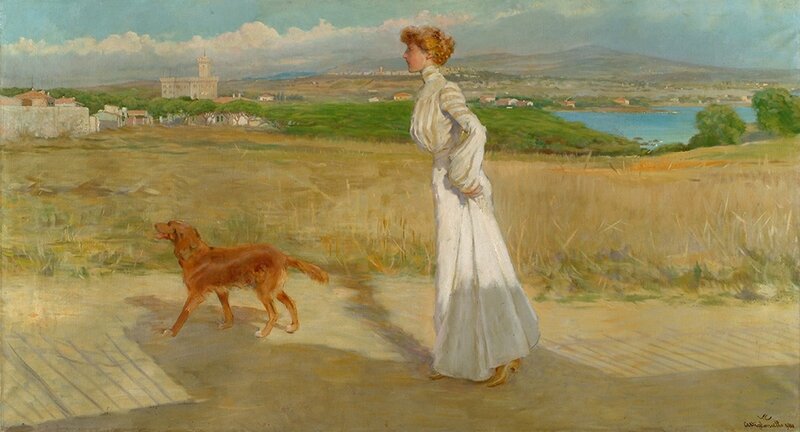 Vittorio Matteo Corcos, Castiglioncello, 1910. Oil on canvas, 133X72 cm. Private collection.
The Maison Goupil, Midway between Fashion and Impressionism (1871–1878)
These were the years of Impressionism to which Boldini did not adhere, or at least not formally, though already in the early 1870s his painting reflected the innovations that were being introduced, and reached a peak of avant-garde excellence. During the 1870s he was one of the Maison Goupil artists, in the pay of the powerful international art dealer Adolphe Goupil, while also continuing his research en plein air, which produced extraordinary, vibrant, extremely modern and vivid realistic works (the exhibition includes Young Marquis at Versailles 1876, Place Clichy 1874 and Newspaper Seller c. 1878). He soon adapted his output to the lively Goupil model by executing small scenes, mostly in 18th-century or Empire settings, which he rendered very light and airy, by creating hazy effects, perhaps learnt from studying Turner during his stay in London.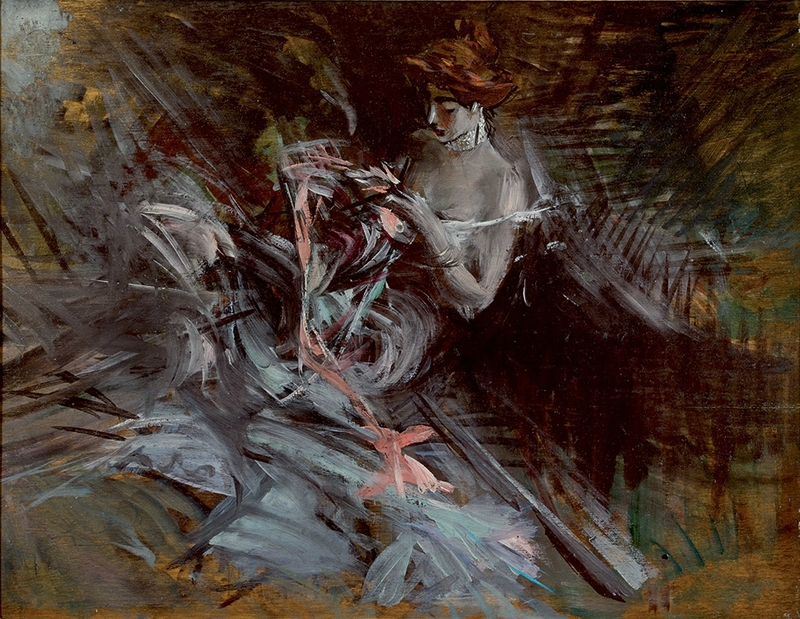 Giovanni Boldini, Dance dress (lady who sews; interior with young intent on sewing), 1904 ca. Oil on wood, 27x35 cm. Collection of Fine Arts Cariparma Foundation, donation Renato Bruson
The Pursuit of the Fleeting Moment (1879–1890)
For Boldini Paris was the true Mecca of art and life, to which he was introduced through Countess Gabrielle de Rasty, who became his mistress (on display, Countess de Rasty in Bed c. 1880, Countess de Rasty in Bed c. 1880, Countess de Rasty in an Evening Gown c. 1880 Seated Portrait of an Elegant Lady c. 1880). He moved in the most exclusive upper-middle-class and aristocratic circles and achieved the wealthy position he had sought. Boldini lived in Montmartre, the artists' quarter, where among others he met Degas (his portrait of Boldini is on display), with whom he made a pivotal journey to Spain where he studied and worked. After 1878 he updated his expressive register by seeking modernity and engaging in original and innovative aesthetic research. He captured alternations of perspective and volume in the gestures and attitudes of the subjects he depicted and through his spontaneous "pictorial gesturality", he fixed the fleeting moment on canvas. During the 1880s he increased his production of pastel portraits. On the fortyyear-old painter's easel urban scenes and views of streets with horses (on display, Parisian Square at Night c. 1883, and Lovers in a Café c. 1887) alternated with portraits of beautiful and sensual women, sometimes semi-nude, such as Portrait of Cecilia de Madrazo Fortuny (c. 1882), Portrait of Emiliana Concha de Ossa (or Lady in Gloves 1889–1901), Reclining Girl with Dog (c. 1890), Reclining Girl in Tartan Dress (c. 1891), Provocation (c.1885) and The Toilette (c. 1880). Boldini was also aware of a certain moral inconsistency and so those portraits that were to celebrate the intellectual and ethical qualities of the sitters, sometimes have a vein of melancholy or caricature. His personality and unconventional way of approaching reality, appealed to the public and especially the ladies. The portraits of this period communicate a dynamic relationship with reality, where the rapid, palpitating rhythm of the artist's brushstrokes creates a pictorial composition charged with vibrant emotional tensions, as in After the Ball (c. 1884), The Bar of the Folies Bergère (c. 1885) and Women in Venice (c. 1887).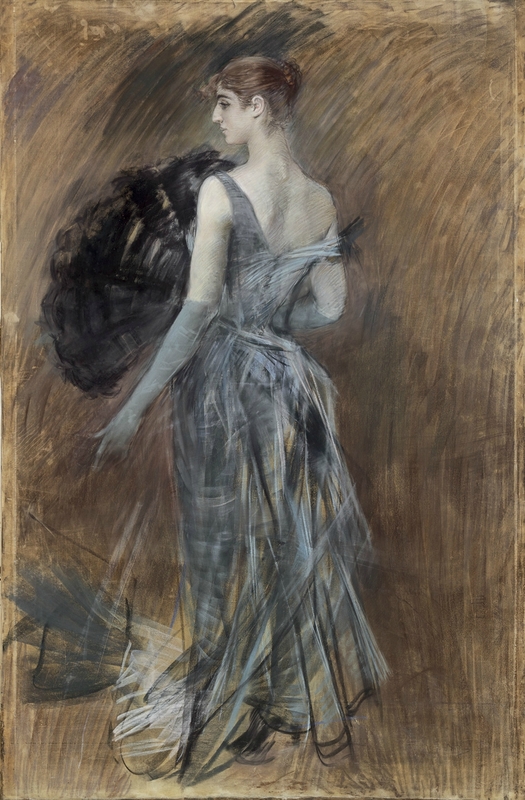 Giovanni Boldini, Blonde lady in evening dress, 1889 ca. Pastel on paper pasted on canvas, 220x150cm. Art Collections Cariparma Foundation, donation Renato Bruson
The Portrait of the Belle Époque (1892–1924)
From the 1890s onwards the silhouettes and original attitudes of the aristocratic ladies who paraded in front of his easel were moulded by his brushstrokes. The sinuous poses of the female figures often remove Baldini's art from the conventions of official portraiture, as in Lady in a Yellow Dress (c. 1893), Portrait of the Actress Reichenberg (c. 1895.) and Portrait of Madame G. Blumenthal (1896).
The Paris salons were everything he had expected, given his enthusiasm for high society. This was the period of his life-size portraits, paintings that followed an aesthetic trajectory that reflected the fashions and lifestyle of a society that was becoming less and less traditionally 19th century and increasingly open to progress. Among the "divine" – as he described the hundreds of muses who passed through his studio – there figured some of the most famous names in high society including Consuelo Vanderbildt, Duchess of Malborough, the Chilean de Ossa, the wife of Jules Louis Veil-Picard, brother of the banker Arthur Veil-Picard, Countess de Leusse, the actress Alice Regnault, the baroness Donna Franca Florio and the composer Giuseppe Verdi, to mention only a few of the illustrious personages whose portraits feature in this exhibition.

With Mephistophelian avidity, Boldini seated the most seductive women of French high society in his Empire style and Luigi XV chairs, and they remained motionless and intimidated by the penetrating, rapacious gaze of the genius.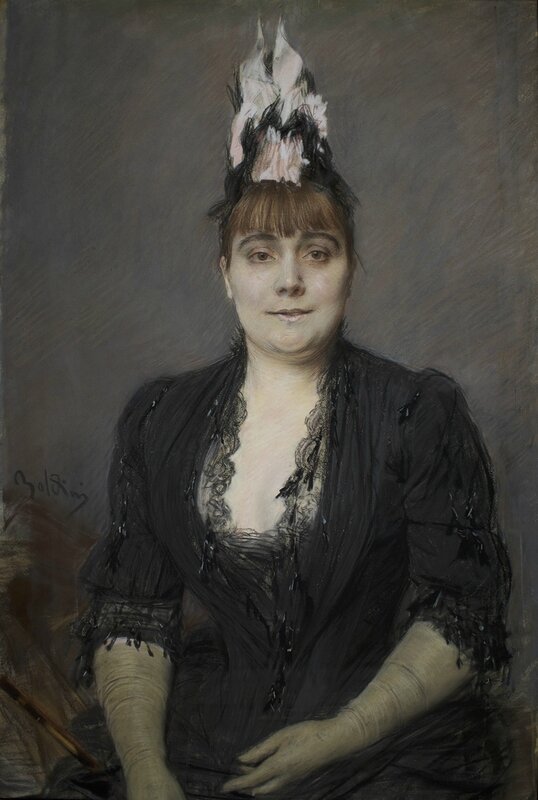 Giovanni Boldini, Portrait of a Lady, 1880. Pastel on paper mounted on canvas, 96,4x64,3 cm. Gallery of Modern Art Ricci Oddi, Piacenza
THE UNPUBLISHED LETTERS
An important chapter of the catalogue published by Skira is devoted to forty letters from Boldini made public here for the first time. They were brought to light by Loredana Angiolino and Tiziano Panconi, curator and president of the Scientific Committtee, which also included Angiolino, Beatrice Avanzi (curator of the Musée d'Orsay), Sergio Gaddi, Leonardo Ghiglia and Marina Mattei (curator of the Musei Capitolini).

This is nearly the whole group of letters that Boldini, in his capacity as president of the Art Commission for the Italian pavilion at the 1889 Exposition Universelle in Paris, wrote to Telemaco Signorini in Florence. Boldini requests the latter to perform the delicate task of choosing and sending to Paris the works by the Tuscan artists participating in the event. The letters are dated between February and April 1889 and concern the preparations for the exhibition that is to open on 6 May 1889. They evince the two friends' constant commitment to the exhibition's success and deal with the choice of works, the practicalities of their transportation from Italy to France, their arrangement in the rooms and solving the many problems that arise. They also contain private and professional comments, such as remarks about their fellow artists, diatribes in artistic circles and – especially in Boldini's case – have a vein of irony and sagacity.

The catalogue also contains reproductions of 4 sketches by Boldini published for the first time and executed between 1906 and 1921.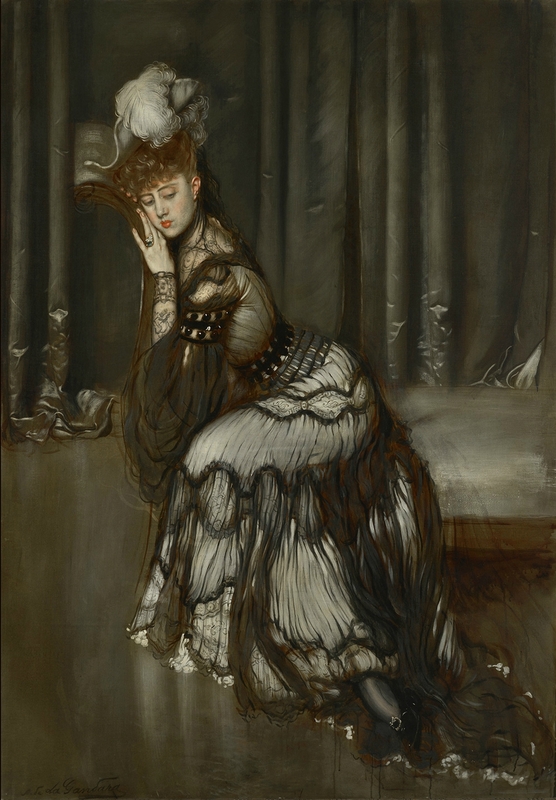 Antonio de La Gandara, Portrait of Madame Remy Salvator. Oil on canvas, 196x140 cm. Musée des Beaux-Arts, Marseille Marseille, Musée des Beaux-Arts © J.Bernard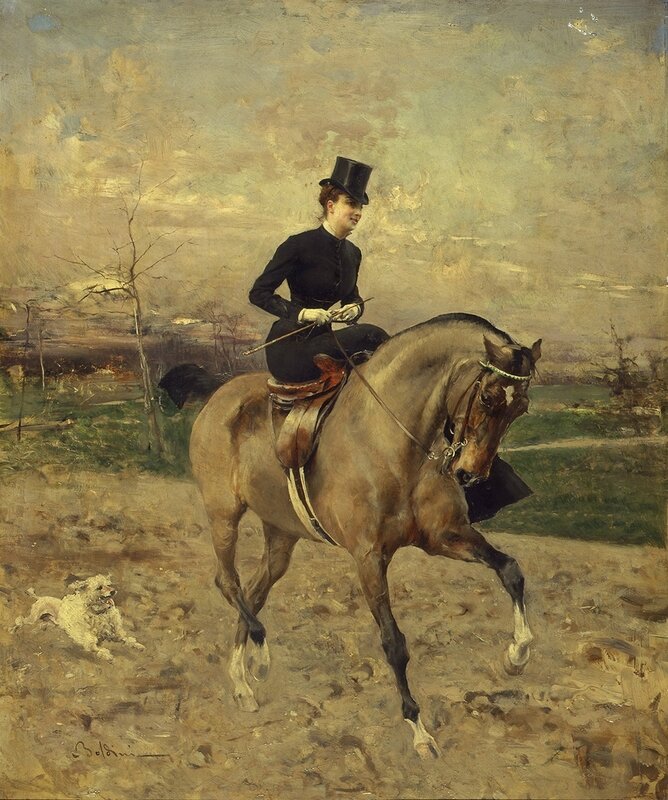 Giovanni Boldini, The Amazon (Alice Regnault on horseback), 1878. Oil on canvas, 69x59 cm. Gallery of Modern Art, Milan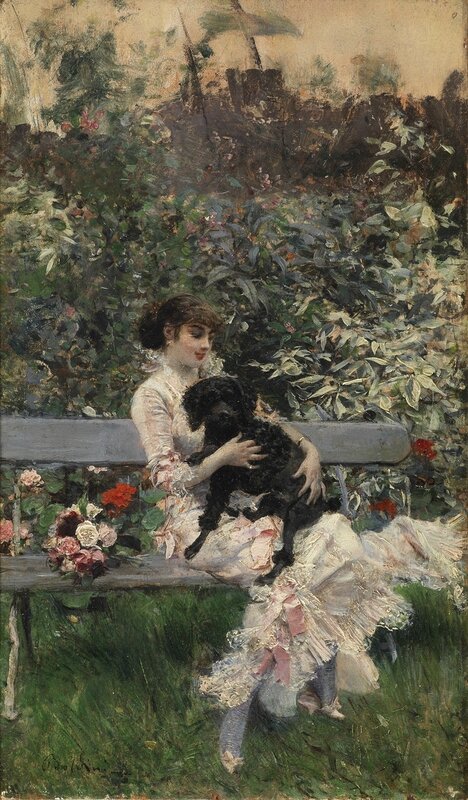 Giovanni Boldini, The faithful friend, 1872 ca. Oil on canvas, 26x14 cm. Private collection.
Giovanni Boldini, Portrait of father Antonio Boldini, 1867. Oil on canvas, 65x53 cm. Private collection, Ferrara.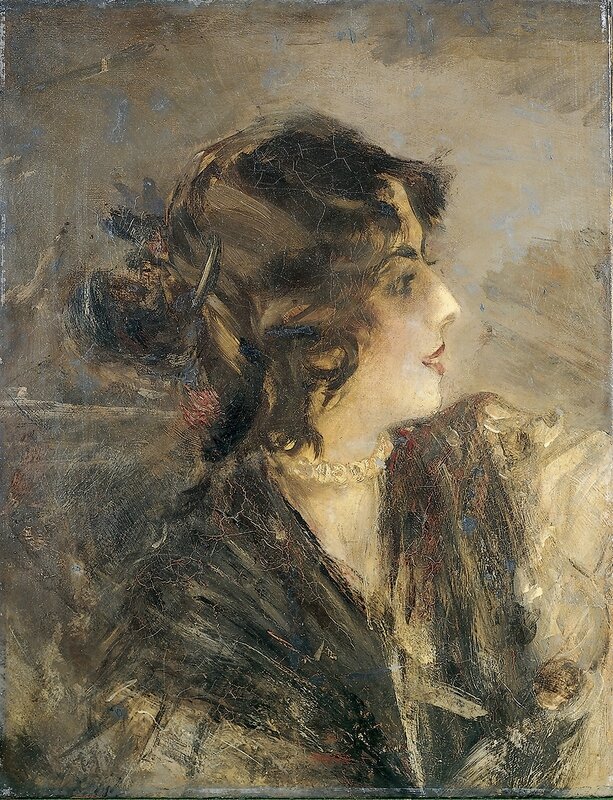 Giovanni Boldini, Portrait of the Spanish dancer Anita De La Feria, 1901. Oil on canvas, 54,5x42 cm. Private collection.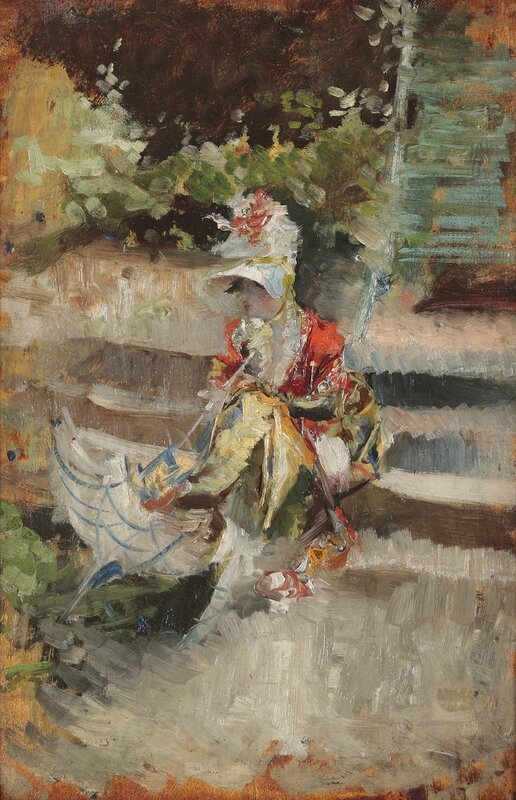 Giovanni Boldini, Lady with umbrella (or parasol), 1876 ca. Oil on board, 35,4x23,5 cm. Collection Palazzo Foresti, Carpi.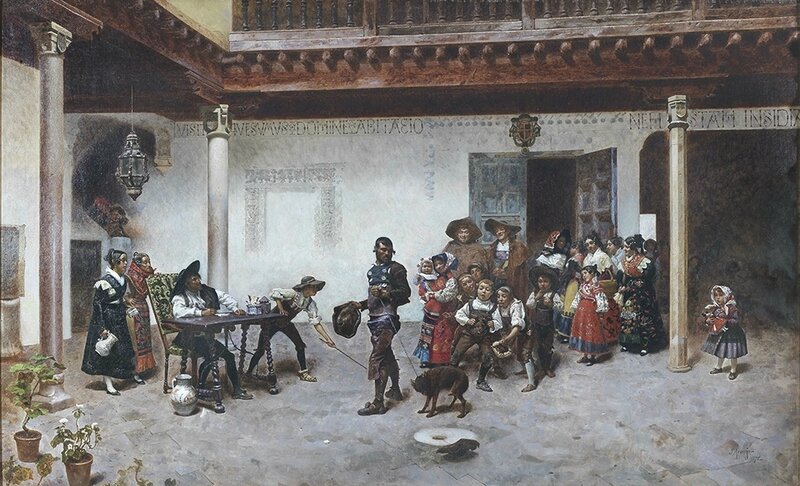 Joaquin Arujo Ruano, Scene in the courtyard, 1878. Oil on canvas, 80x150 cm. Arcuti Fine Art, Rome.
Francesco Vinea, Blast, 1882 ca. Oil on canvas, 70,5x46 cm. Collection Palazzo Foresti, Carpi.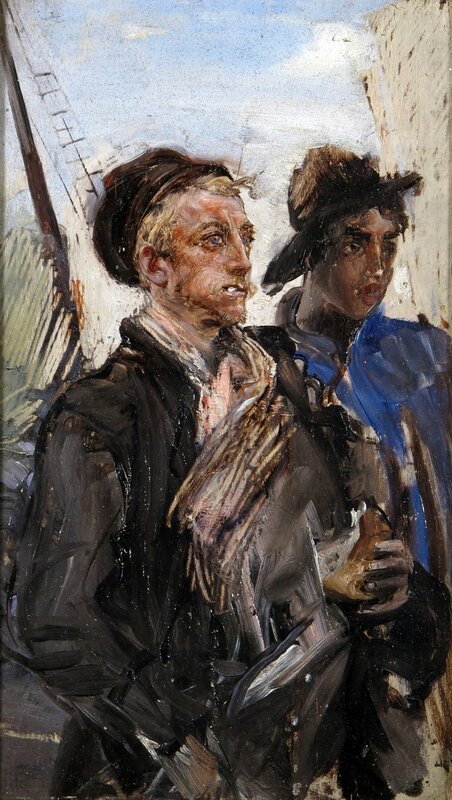 Giovanni Boldini, Two Sailors, 1880 ca. Oil on canvas, 24x14 cm. Collection free.
Giovanni Boldini, Portrait of Josefina Alvear de Errazuriz, 1892. Oil on canvas, 80x60 cm. Collection Valter and Paola Mainetti.