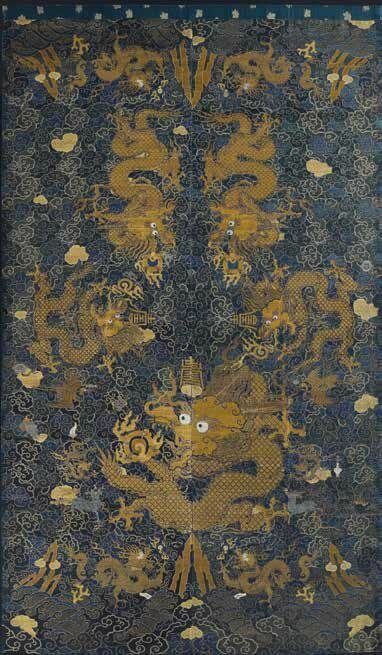 Lot 2045. A rare uncut silk and gold brocade dragon robe, 17th century. Estimate USD 20,000 ~ 30,000. Sold for US$ 46,250 (€42,816). Photo: Bonhams.
The uncut silk of deep blue, couched with brilliant, gold-wrapped thread depicting nine four-clawed, writhing dragons pursuing flaming pearls of wisdom, set against a ground of gold cloud scrolls and auspicious symbols, including crane, qilin, and shou-characters, the bottom edges with wide hems depicting roiling waves crashing upon stylized peaks rising from the foam, mounted onto a fabric backing; framed and glazed. 81 x 47.5 in (205.7 x 120.6 cm)
Note: A robe embroidered with four-clawed dragons and of exceedingly fine quality would likely have been made for a court official or highly ranked member of the nobility. Dragon robes from the late Ming and early Qing periods are very uncommon, especially in uncut condition. A very similar blue silk and gold thread robe is in the collection of the Capital Museum Beijing and is view-able on the institution's website (http://www.capitalmuseum.org.cn/jpdc/content/2011-01/20/content_23996.htm). A related robe, in olive green silk, subsequently cut into a Japanese monk's kesa was sold at Christie's, New York, 15 March, 2015, sale 3720, lot 3279. Another similar robe, also re-cut as a kesa, is in the collection o the Metropolitan Museum of Art, New York, accession number: 1971.19. Yet another blue silk and gold thread robe, of highly similar design, is illustrated by Li Yulai in Fabrics of Ming and Qing Dynasties, Shanghai, 2012, plate Ys031.
Bonhams. CHINESE WORKS OF ART AND PAINTINGS, 13 Mar 2017, New York