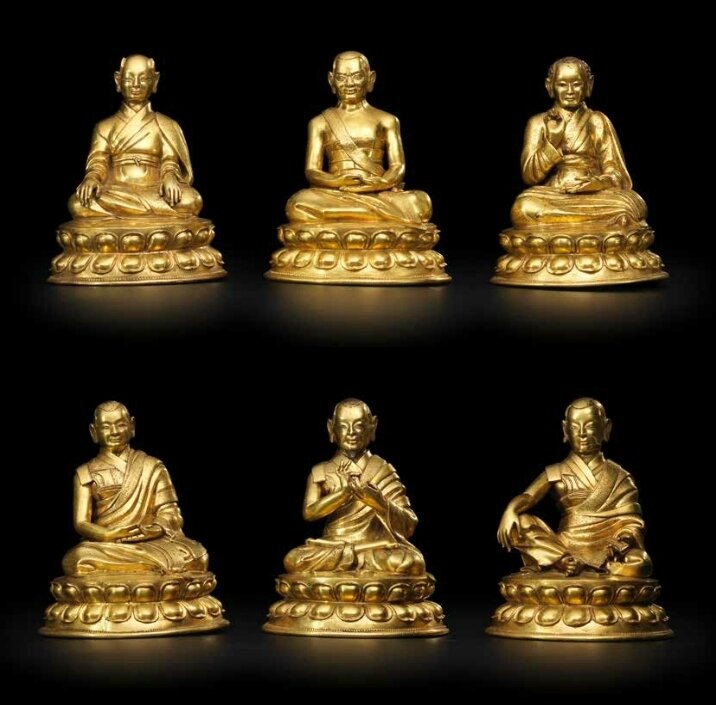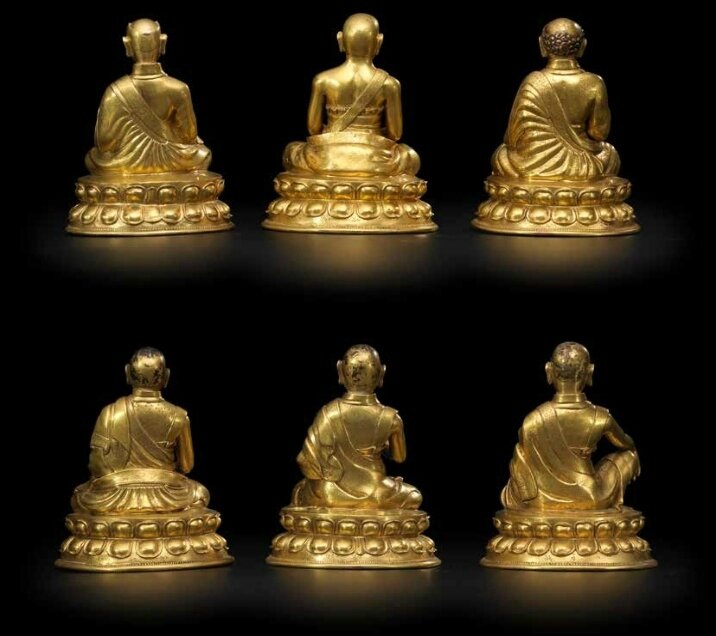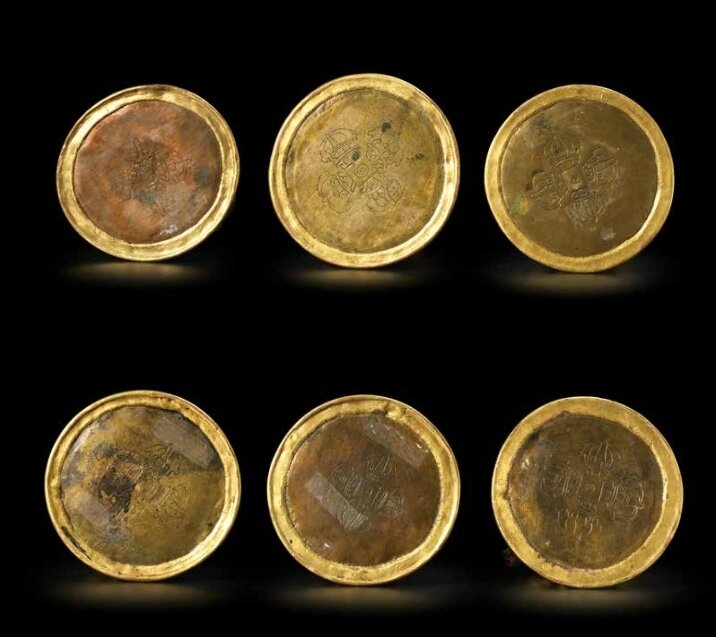 Lot 3262. A group of six Sakya Lamdre Lineage Masters, Tibet, circa 15th century. Estimate USD 200,000 ~ 300,000. Sold for US$ 727,500 (€673,486). Photo: Bonhams.
Each sealed with gilded baseplates and inscribed with identifying monikers; comprised, from left to right, Sachen Kunga Nyingpo, Shangton Chobar, Seton Kunrig, Dragpugpa Sonampel, Pelden Tsultrim, and Buddhashri. 5 1/4 in. (13.5 cm) high, the largest
Himalayan Art Resources item nos.2120-5
Note: Purchased on different occasions, the assembly of these six Sakya masters from the same original set is one of the great accomplishments of the Portrait of the Masters collection.

Their every aspect points to the set having been a high and valuable commission around the 15th century – from the charisma bestowed onto the idiosyncratic poses and features of each figure, the rich gilding, convincing folds, and finely chased patterns throughout their garments, to the sumptuous, plump lotus petals cast in the round, and their gilded base plates.

As with thangkas, many Tibetan sculptures originate from dispersed sets, which this group makes clear. It depicts masters of the lamdre tradition, the core teaching of the Sakya order, which houses the potential to achieve enlightenment in a single lifetime. Most likely starting with Vajradhara, and Vajra Nairatmya, and then the tradition's first mortal master Virupa, the set enunciates the teaching's chain of transmission as it was passed down to successive lineage holders.

While it is not possible to know exactly how large the set would have been, we can approximate about twenty or thirty by comparing the amount of masters that line the borders of various lamdre lineage paintings, of which the most famous is a set from Ngor monastery dated c.1600 (HAR set no.385). It is reasonable to assume that this sculptural set would have been commissioned by a major Sakya monastery, such as Ngor, Sakya, or Shalu.

Each with an identifying inscription on the reverse, the assemblage consists of Seton Kunrig (1025-1122), Shangton Chobar (1053-1135, see lot 3256), Sachen Kunga Nyinpo (1034-1102, see lot 3259), Drugpugpa Sonampel (c.1277-1350, see lot 3261), Pelden Tsultrim (1333-89), and Buddhashri (1339-1419).

In addition, two other portraits from the set, one of Damarupa (c.9th century) and the other of Chogyal Phagpa Lodro Gyaltsen (1235-80), are held in the Museum der Kulturen, Basel, published in von Schroeder, Indo-Tibetan Bronzes, Hong Kong, 2008, p.456-7, nos.126F-G.
Published: Portraits of the Masters, pp.230-3, 242-3, 250-1, & 254-7, nos.56-7, 62, 66 & 68-9.
Published & Exhibited: Monasterios y Lamas del Tibet, pp.190-1, 194-5, 200 & 202-3, nos.144, 150, 152, 162 & 165-6.
Bonhams. PORTRAITS OF THE MASTERS, 108 Bronze Sculptures of the Tibetan Buddhist Lineages, 14 Mar 2017, New York