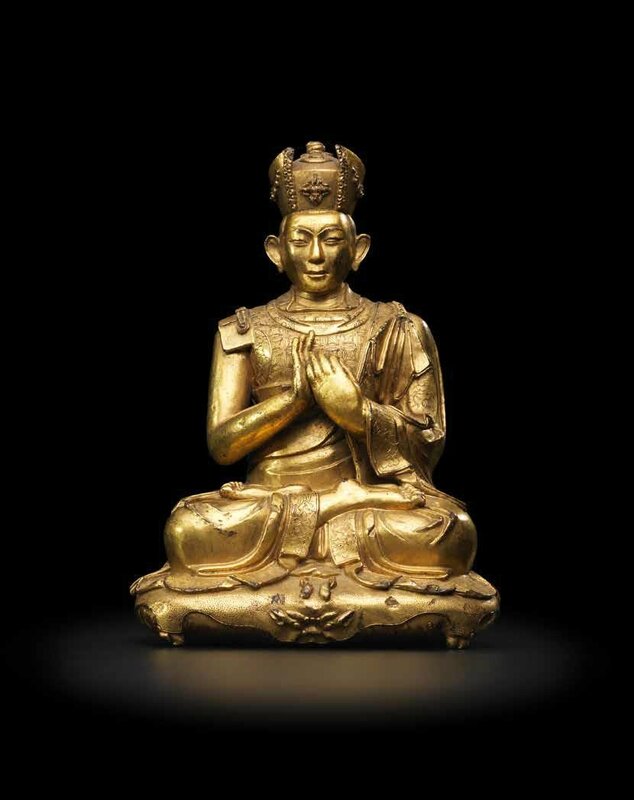 Lot 3243. A gilt copper alloy figure of the Fifth Karmapa, Deshin Shekpa, Tibet, 15th-16th century. Estimate USD 150,000 ~ 200,000. Sold for US$ 343,500 (€317,996). Photo: Bonhams.
Inscription translated, 'I prostrate at the feet of Lord Deshin Shekpa'. 7 1/8 in. (18 cm) high
Himalayan Art Resources item no.2265

Note: The 14th century witnessed the fall of the Yuan (1271-1368) and the rise of the Ming dynasty (1368-1644). Seeing the spiritual and political merits of forming alliances with Tibetan Buddhist leaders, the early Ming Yongle emperor (r.1402-24) wished to reinstate the 'priest-patron' relationship that Kubilai Khan (r.1260-94) had formerly introduced. He thus dispatched numerous envoys to the eminent hierarchs of various orders. None were particularly eager to answer his call. Tsongkhapa (1357-1419) was too frail, and the Kagyu dispatched the neophyte (and replaceable) Fifth Karmapa Deshin Shekpa (1384-1415) to test the waters with China's new emperor, who had emerged victorious after a contentious struggle for the throne.

From the Yongle emperor, Deshin Shekpa received a glorious bejeweled black crown said to be inspired by the emperor's perception of a black hat that always rests upon a Karmapa's head, but that few are spiritually adept enough to see. Legend has it that this mythical hat, made of 100,000 strands of dakini hair, was conferred on the First Karmapa, Dusum Kyenpa (1110-93) by the mahasiddha Saraha (c.8th century) in a vision. The tangible crown gifted to Deshin Shekpa naturally became an important relic for the Karmapas, only unveiled during special ritual observances. Upon his return to Tibet, Deshin Shekpa settled in the old palace of the Yarlung kings in Lhasa, around which the Potala Palace of the Dalai Lamas was later built. He died at 32.

This distinctive and superior portrait depicts the young Karmapa, thickly cast and richly gilded, forwarding the Dharma on an elaborately conceived animal skin and cloud-patterned cushion.
Published: Portraits of the Masters, pp.166-9, no.31.
David P. Jackson, Patron and Painter: Situ Panchen and the Revival of the Encampment Style, New York, 2009, p.68, fig.3.56 (misattributed to the Nyingjei Lam Collection).
Published & Exhibited: Monasterios y Lamas del Tibet, p.177, no.125.
Bonhams. PORTRAITS OF THE MASTERS, 108 Bronze Sculptures of the Tibetan Buddhist Lineages, 14 Mar 2017, New York