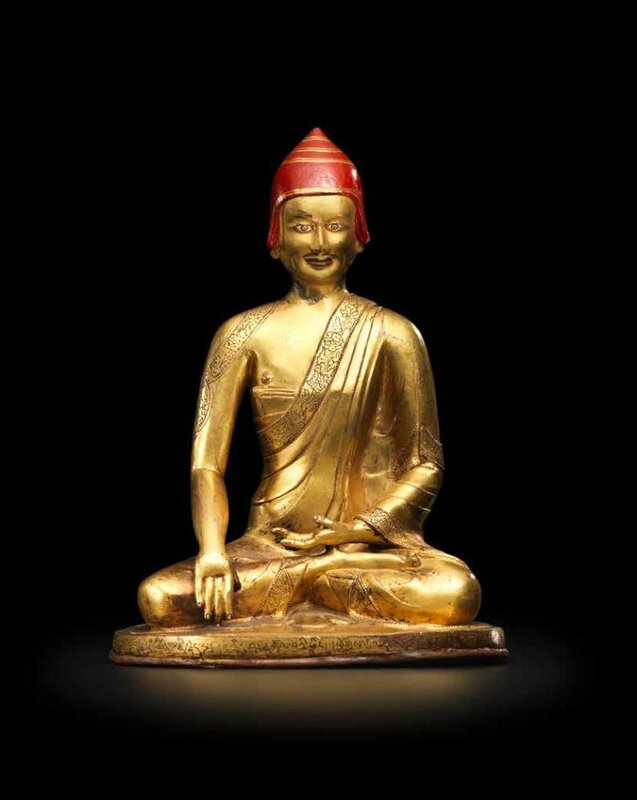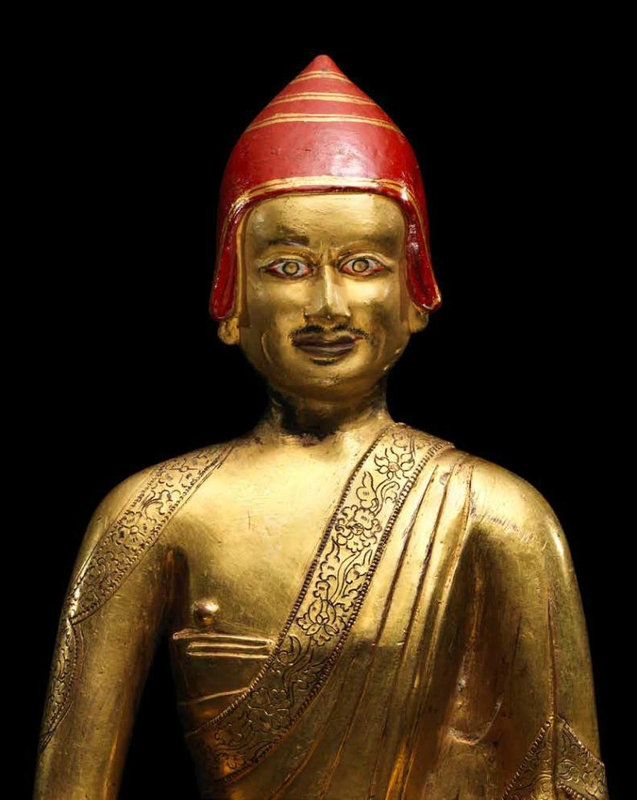 Lot 3268. A gilt copper alloy figure of Vanaratna, Tibet, circa 1468. Estimate USD 120,000 ~ 160,000. Sold for US$ 295,500 (€273,560). century. Photo: Bonhams.
Inscription translated, 'One is freed of all prejudice if reality dawns, and so the master known to be free of prejudice should be resorted to with devotion. As a memorial to the mahapandita and a meditation object for Lochen, this was commissioned by the great attendant Dripa Gelong and made by the artist Rokpa Tsapa Namka Gyaltzen. Virtue!'. 8 7/8 in. (22.7 cm) high
Himalayan Art Resources item no.2293
Note: While his historic identity remains veiled at present, the inscription provides a rare instance of a Tibetan bronze naming its creator, Rokpa Tsapa Namka Gyaltzen.

No reference is made to its charismatic subject, but it can be inferred rather easily. From its immediate likeness to a 15th-century portrait thangka of Vanaratna (1384-1468) within the Kronos Collection, we can confidently assert the subjects are one and the same (see Jackson, Mirror of the Buddha, New York, 2011, pp.96-7). Furthermore, its donor is also listed in the inscription, Timkhang Lotsawa Sonam Gyatso (1424-82), who was Vanaratna's disciple and translator.

Hailing from present-day Bengal, Vanaratna was one of the last Indian pandits to visit Tibet and teach to broad audiences. He was twice invited by the prince of Gyantse to teach the Kalachakra tantra, of which he was a master, and his portrait was placed in the topmost chapel of the great Kumbum stupa at Gyantse, Central Tibet. He also received patronage from other provinces in Tibet, and traveled throughout Bhutan and Nepal.

Crucially, as Dinwiddie points out, Vanaratna's existence proves the survival of Buddhist communities in the 15th-century India, despite their decimation by Muslim invaders at the turn of the 13th century (Portraits of the Masters, p.341).

As suggested by the inscription, this piece was not part of a set, but intended as a singular memorial bronze, like the Konchog Yogten within the Portraits of the Masters Collection (lot 3270). Seeming appropriate for personal worship, with his right hand downturned, the master makes the gesture of awakening to enlightenment. Meanwhile his handsome face, enhanced by pigments, has an alert, transfixed, but also attentive expression.
Published: Portraits of the Masters, pp.340-1, no.99.
David P. Jackson, Mirror of the Buddha, New York, 2011, pp.96-7, figs.3.21A&B.
Published & Exhibited: Monasterios y Lamas del Tibet, p.208, no.176.
Provenance: Sotheby's, New York, 16/17 September 1998, lot 133
Bonhams. PORTRAITS OF THE MASTERS, 108 Bronze Sculptures of the Tibetan Buddhist Lineages, 14 Mar 2017, New York