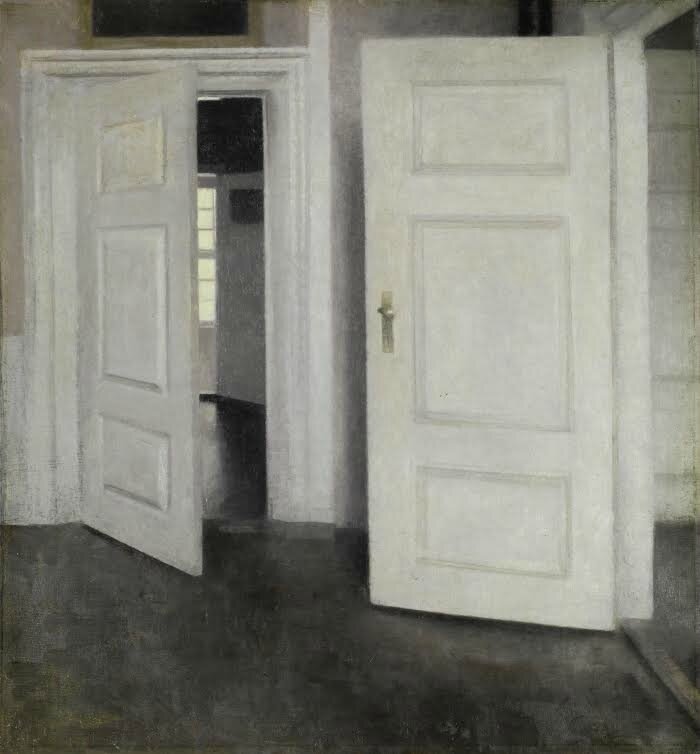 Vilhelm Hammershøi, White Doors. Interior, Strandgade 30, oil on canvas, 39.5 by 42.5cm., 15½ by 16¾in. Estimate: £400,000 - 600,000. Photo: Sotheby's.
LONDON.- This June, Sotheby's will offer at auction a quintessential interior by Vilhelm Hammershøi, long revered as one of Denmark's most celebrated artists. Painted in 1899, White Doors perfectly reflects the interests and sensibilities of its distinguished owners, aesthetes from three generations of the same family. The work comes to sale from the estate of Jens Risom, the renowned Danish American furniture designer, best known for his mass-produced 'Risom Chair'. Estimated at £400,000-600,000, the painting will be offered in Sotheby's sale of 19th Century European Paintings in London on 6 June 2017.

Claude Piening, Head of Department, 19th Century European Paintings, commented: 'White Doors is a jewel-like interior, and quintessential Hammershøi in every respect. It is tremendously exciting to be handling this work which has been handed down through three generations of the same family, never been on the market since it was painted, and not seen by the public for over thirty years.'

Nina Wedell-Wedellsborg, Head of Sotheby's Denmark, noted: 'Jens Risom's designs are one of Denmark's great cultural and commercial exports to the world, and it is wonderful to think that Hammershøi's painting, among his cherished possessions to follow him to America in the 1950s, might have served as an inspiration to his work.'

Hammershøi took the domestic interior as his principal subject, using his Copenhagen apartment as the setting for some of his most recognisable compositions. The sparsely furnished interconnecting rooms, dove-grey walls and solid white-painted doors provided the artist with the ideal environment in which he could immerse himself in a self-contained and hermetically sealed world. The natural daylight of the Danish mid-winter illuminates this sequence of spaces, and in White Doors its muted radiance is transformed into a poetic symphony of tone and light.

Hammershøi was a key influence on director Tom Hooper and production designer Eve Stuart when making The Danish Girl, the film about the lives of Danish artists Einar and Gerda Wegener. The lighting, setting – the blue-grey interior of the couple's apartment in 1920s Copenhagen – and cinematography were all modelled on the pared-down aesthetic of the artist's paintings.

Around 1900, White Doors was acquired from Hammershøi by Axel Otto Henriques, a friend of the artist and art critic and satirical playwright. The painting was inherited by Henriques' daughter Inger who, in 1915, married the architect Sven Risom, and subsequently it passed down to Sven and Inger's son Jens, who passed away in December 2016 at the age of 100.

Jens Risom was one of the first designers to introduce Scandinavian design in the United States. In 1939, Risom travelled to New York to study American design; in 1941, he teamed up with entrepreneur Hans Knoll, and the following year they launched the Hans Knoll Furniture Company, one of the world's most enduring quality furniture brands. The 'Risom Chair', the armless, affordable chair blending sharp Scandinavian lines and American arts and crafts, is still in production today.

With the advent of the Second World War, Risom was drafted into the United States Army in 1943 and served under General Patton after the Allied invasion of Normandy. After completing his military service, he briefly returned to Knoll in New York, but soon decided to start his own firm, Jens Risom Design (JRD), which he launched on 1 May 1946. Risom's reputation as a furniture designer continued to grow, and he began to promote Scandinavian design in home furniture to the broader American public. In the 1950s, JRD ran a series of ads featuring photography by Richard Avedon and the slogan 'The Answer is Risom'. The result of this success was that in 1954, JRD launched a major expansion of its production facilities and later that decade shifted its focus away from home furnishings and towards office, hospital, and library furniture. One of Risom's executive office chairs became famous when President Lyndon B Johnson chose to use it in the Oval Office.

Today, the Museum of Modern Art, the Brooklyn Museum and the Cooper Hewitt, Smithsonian Design Museum all have Risom selections in their permanent collections.

Sotheby's holds the top five prices for works by Vilhelm Hammershøi at auction, led by Interior, Strandgade 30, sold in May 2015 for £2,045,000 / Danish Krone 21,349,113 (estimate £700,000-900,000 / Danish Krone 7.3-9.4 million) – a record for the artist at auction and a record for any Danish work of art at auction.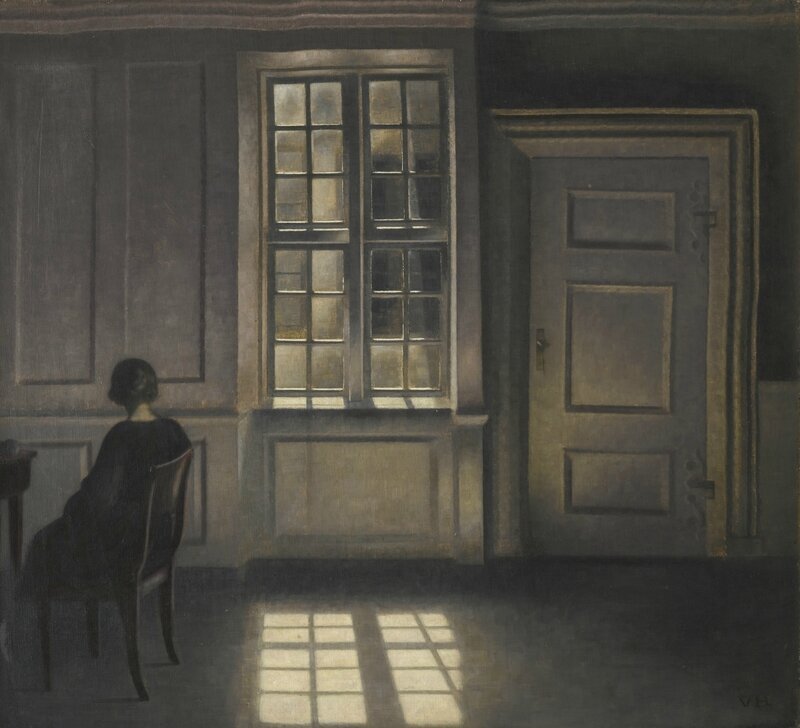 Lot 12.
Vilhelm Hammershøi (Danish 1864 - 1916), Interior, Strandgade 30,
signed with initials lower right,
oil on canvas,
51.5 by 56.5cm., 20¼ by 22¼in. Estimate
700,000

—
900,000 USD. Lot sold
2,045,000 USD.

Photo: Sotheby's.