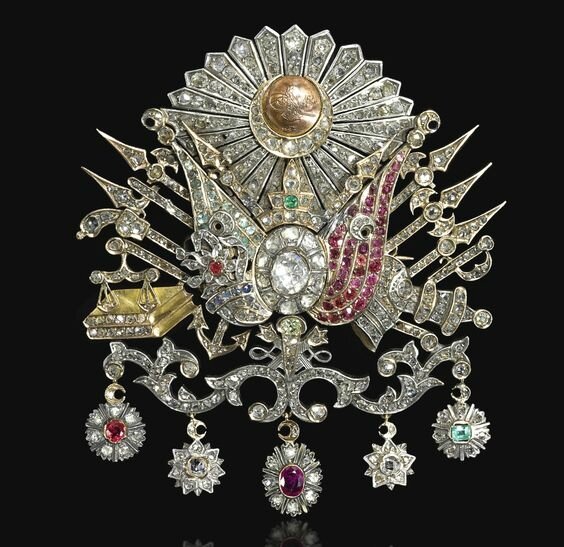 Lot 240. An Ottoman gem-set brooch bearing the tughra of Sultan Abdülhamid II (r.1876-1909), Turkey, circa 1900. Estimate 30,000 — 40,000 GBP. Photo: Sotheby's.
designed with a central diamond between two gem-set flags (one emerald and the other ruby), with miniature copper roundel above with tughra within diamond-set crescent moon emanating rays, fastening pin to reverse, in bespoke velvet-lined box with initial 'A' surmounted by a crown. Quantity: 2 - brooch: 8.5 by 7.5cm. box: 3.5 by 14.5 by 11.5cm.
Note: This gem-set brooch was designed according to carefully chosen symbols of Ottoman power. Crowned by the tughra of Sultan Abdülhamid II (r.1876-1909), his calligraphic signature was evidence of his power and authority. The arrows on either side can be traced back to the period of Sultan Mahmud II (r.1808-39), and were symbolic of his administrative reforms in government and Westernisation of the Ottoman system. The red flag (set with pink gemstones) represents the Sultanate and the green flag the Caliphate. The other symbols include weapons for the army and navy, books for justice and scales for law.

We are grateful to Dr. Baha Tanman for his assistance in cataloguing this lot.
Sotheby's. Arts of the Islamic World, London, 26 Apr 2017, 10:30 AM