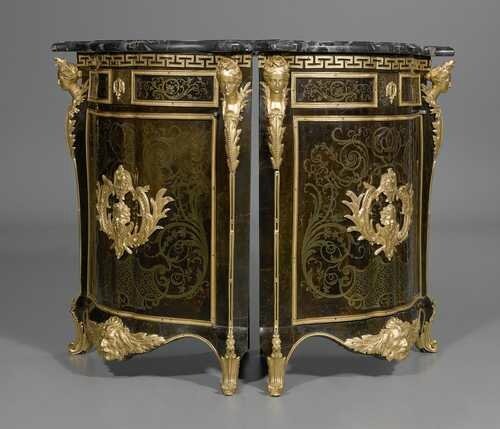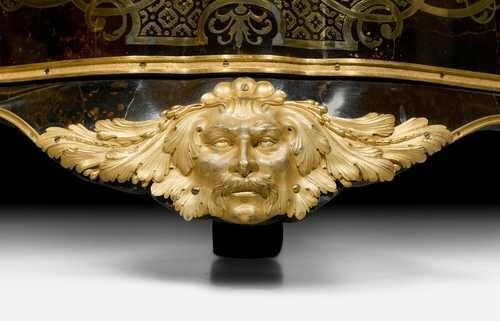 Lot 1070. Pair of Boulle encoignures "Aux Espagnolettes", Louis XV, by J. BAUMHAUER (Joseph Baumhauer, "ébéniste du Roi" ca. 1749), Paris, ca. 1755. Estimate CHF 150 000 / 200 000 (€ 138 890 / 231 480). Photo: Koller.
Brown tortoiseshell, exquisitely inlaid with brass mounts "en première-partie"; blossoms, leaves, scrolls, cartouches and decorative frieze. Front with central door and 2 drawers. Exquisite matte and polished gilt bronze mounts and applications. The busts and the central cartouche replaced in the 19th century. Shaped "Portor" marble top, replaced. 78x55x94 cm.
Provenance: - Possibly formerly a part of the Michel Bouret Collection, after 1778.
- Drouot Auctions, Paris, 18 December 1968 (Lot No. 152).
- Ségoura, Paris.
- from a very important private collection, Geneva.

With an expert opinion by Cabinet Etienne/Molinier, Paris 2017.

The pair of encoignures on offer is depicted and described in detail by J.D. Augarde, Joseph Baumhauer, Ebéniste privilégié du Roi, in: L'Estampille, June 1987; p. 15-45.

The inventory of the estate of the Financier M. Bouret, drawn up on 22 June 1778, mentions two encoignures with Boulle marquetry: "deux encoignures de marqueterie ouvrage de Boule (sic), orné de bronze doré d'or moulu et a dessus de marbre vert campan".

References: P. Kjellberg, Le mobilier français du XVIIIème siècle, Paris 1989; S. 450ff. (biographical data). D. Alcouffe, Furniture Collection in the Louvre, Paris 1994; I, p. 97 ( Ill. 27). A. Pradère, Die Kunst des französischen Möbels, Munich 1990; S. 231-242. P. Hughes, The Wallace Collection, London 1996; p. 775. F.J.B. Watson, Waddesdon, The Manoir, The Collections, London 1959; p. 29.
Koller. Furniture, Sculptures, Porcelain & Silver - Thursday 30 March 2017 10.00 AM