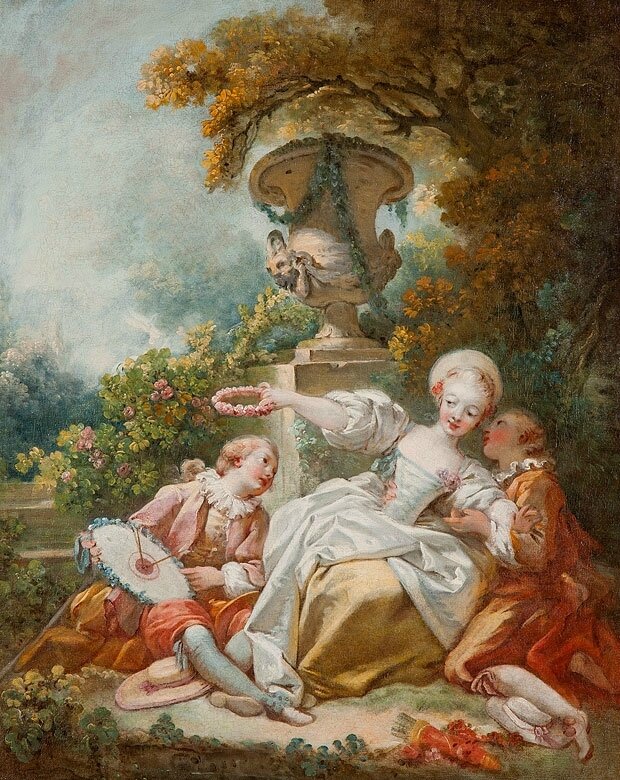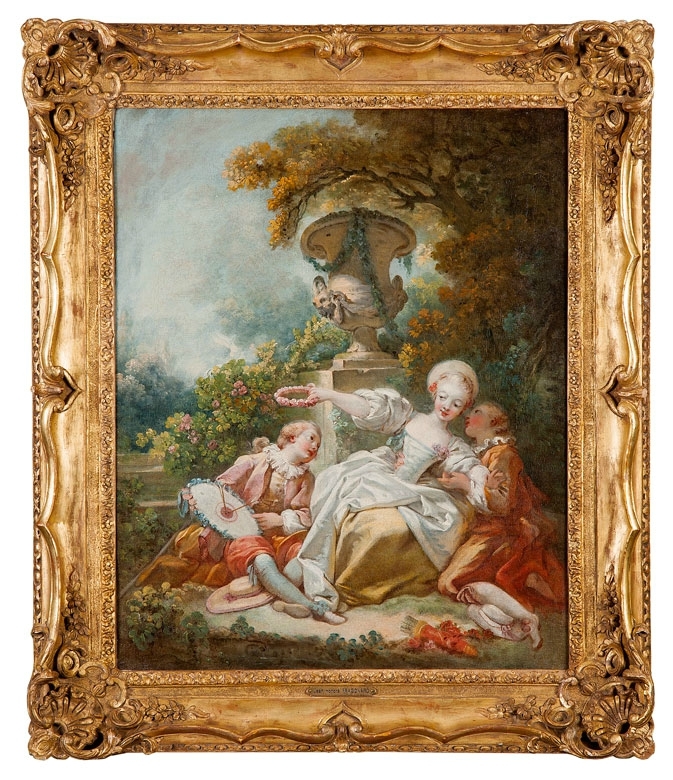 Lot 331. Jean-Honoré Fragonard (1732-1806), La coquette fixée, ca. 1755. Oil on canvas, 55.9 x 45.7 cm. Estimate: € 200.000 - 400.000. Photo Hampel
Accompanied by certificate.

Provenance: J. Porgès, Château de Rochefort.
Mme L. Surmont. sale, Galerie Charpentier, Paris, 15 March 1935, lot 3 (to Gibour).
Private collection, England.
Private collection, France; sale Sotheby's, New York, 28 January 2000, lot 93, from where purchased by Hall & Knight, Ltd., by whom sold to Michael L. Rosenberg.

Literature: E. and J. de Goncourt, 'Fragonard', in Gazette des Beaux-Arts, 1882, p. 331.
Baron R. Portalis, Honore Fragonard, sa vie et son oeuvre, Paris, 1889, p. 274.
V. Josz, Fragonard. Moeurs du XVIIIème siècle, Paris, 1901, p. 154.
L. Réau, Fragonard: sa vie et son oeuvre, Brussels, 1956, p. 161. G. Wildenstein, The Paintings of Fragonard, London, 1960, p. 201, no. 41, as 'lost'.
G. Wildenstein and G. Mandel, L'opera completa di Fragonard, Milan, 1972, p. 87, no. 42a.
D. Posner, 'The Swinging Women of Watteau and Fragonard', in The Art Bulletin, March 1982, LXIV, p. 82, note 20,
J.-P. Cuzin, Jean-Honoré Fragonard, Life and Work, New York, 1988, p. 266, no. 37, as 'location unknown'.
P. Rosenberg, in the exhibition catalog Fragonard, Grand Palais, Paris and the Metropolitan Museum of Art, New York, 1987-1988, p. 48, under no. 5, as 'lost'.
J. Ingamells, The Wallace Collection. Catalog of Pictures III, French before 1815, London, 1989, p. 167, under cat. p. 471.
P. Rosenberg, Tout l'oeuvre peint de Fragonard, Paris, 1989, cat. 9. J.-P. Cuzin, 'Fragonard: quelques nouveautés et quelques questions', Mélanges en Hommage à Pierre Rosenberg, Paris, 2001, pp. 168-9, fig.1.
Beaux-Arts chez Hampel Fine Art Auctions, Munich, Allemagne, le 30 Mars 2017 à 10h00