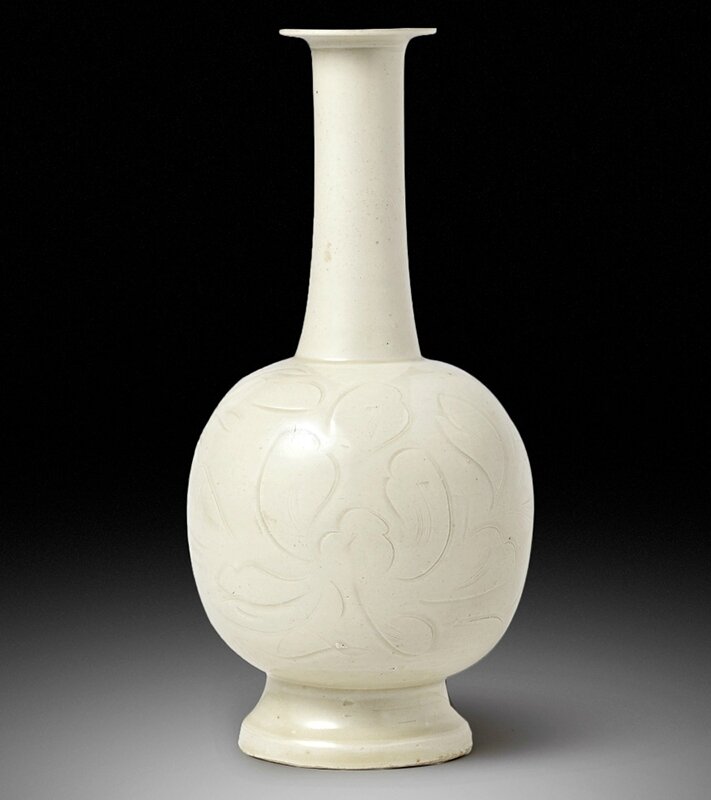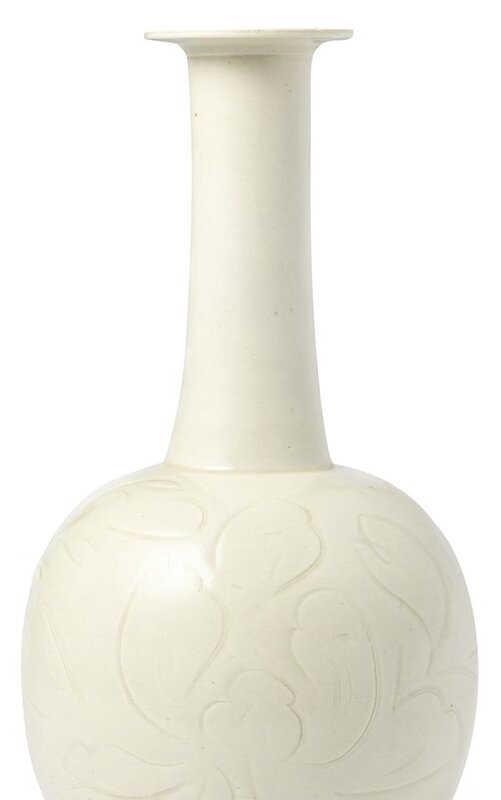 Lot 3218. An Exceptional And Extremely Rare Dingyao Carved 'Peony' Bottle Vase, Northern Song Dynasty (960-1127). Height 25 cm. Est. HK$8 – 12 million / US$1 million – 1.5 million. Photo: Sotheby's.
the sumptuous globular body surmounted by a tall neck of elegant cylindrical form, slightly flaring as it emanates from the shoulder and extends to a flanged everted rim, all supported on a splayed foot, very finely carved with two luxuriant peony flowers, their stems and foliage spreading out to each other, the neck and foot left undecorated, covered all over in an exquisite creamy-white glaze, the hollow foot and base left partly glazed - 25 cm, 9 3/4 in.
Provenance: Collection of Sir Alan and Lady Barlow (1881-1968 and 1885-1989).
Collection of Dr Alan Barlow.
Christie's London, 8th December 1986, lot 227.
The Muwen Tang Collection.
Sotheby's London, 12th November 2003, lot 8.
Exhibited: Song Dynasty Wares: Ting, Ying Ch'ing and Tz'u Chou, The Oriental Ceramic Society, London, 1949, cat. no. 13.
Chinese Ceramics from Sir Alan Barlow's Collection, Arts Council, London, 1953, no. 42.
The Arts of the Sung Dynasty, Oriental Ceramic Society, London, 1960, cat. no. 27, pl. 15.
A Thousand Years of Chinese Ceramic Art, Oriental Ceramic Society, Quantas Gallery, London, 1966, cat. no. 23.
The Ceramic Art of China, Arts Council of Great Britain and The Oriental Ceramic Society, London, 1971, fully illustrated catalogue in Transactions of the Oriental Ceramic Society, vol. 38, 1969-71, pl. 43, cat. no. 68.
Selected Treasures of Chinese Art, Min Chiu Society Thirtieth Anniversary Exhibition, Hong Kong Museum of Art, Hong Kong, 1990-91, cat. no. 87.
Song Ceramics from the Kwan Collection, Hong Kong Museum of Art, Hong Kong, 1994, cat. no. 10.
The Grandeur of Chinese Art Treasures. Min Chiu Society Golden Jubilee Exhibition, Hong Kong Museum of Art, Hong Kong, 2010-11, cat. no. 97.
Literature: Michael Sullivan, Chinese Ceramics, Bronzes and Jades in the Collection of Sir Alan and Lady Barlow, London, 1963, pl. 41, no. C178.
Jan Wirgin, 'Sung Ceramic Designs', Bulletin of the Museum of Far Eastern Antiquities, no. 42, 1970, pl. 61c.
W.B.R. Neave-Hill, Chinese Ceramics, Edinburgh and London, 1975, pl. 60.
Basil Gray, Sung Porcelain and Stoneware, London, 1984, pl. 48.
The Sir Alan Barlow Ding Bottle
Regina Krahl
The Ding kilns created some of the most prestigious ceramics in the Northern Song (960-1127) and Jin (1115-1234) dynasties, which enjoyed popularity not only at the Northern Song and Jin imperial courts but even, as has recently been discovered, at the court of the Southern Song (1127-1279), located far away in Hangzhou in south China. Ding wares are among the most delicately potted vessels, and their fine near-white body, thin, translucent, ivory-tinged glaze, and understated decoration give them an elegant and precious appearance and a distinctive identity.
That they were used at court is attested by inscriptions on handed-down Ding pieces as well as excavated fragments. Besides pieces incised before firing with the characters guan ('official'), xin guan ('new official'), Shangshiju ('Palace Food Service'), Shangyaoju ('Palace Medical Service'), etc., many examples have been discovered that were identified by carved inscriptions after firing, such as Deshou and Deshouyuan, a reference to the Deshou Hall, the residence of the Emperor Gaozong (r. 1127-62) after he had abdicated; Fenghua, referring to the Fenghua Hall, the residence of the Emperor's highest-ranking concubine; Huang Taihou Dian ['Hall of the Emperor's Mother'], Donggong ['Eastern Palace']; and so on (see Ding ci ya ji. Gugong Bowuyuan zhencang ji chutu Dingyao ciqi huicui/Selection of Ding Ware. The Palace Museum's Collection and Archaeological Excavation, Palace Museum, Beijing, 2012, passim; Hu Yunfa and Jin Zhiwei in Zhongguo gudai baici guoji xueshu yantaohui lunwenji/Symposium on Ancient Chinese White Porcelain, Proceedings, Shanghai, 2005, pp. 285-300 and pls 152-232; and Kobayashi Hitoshi in Ding Ware. The World of White Elegance: Recent Archaeological Findings, Museum of Oriental Ceramics, Osaka, 2013, pp. 218-242).
Most of the pieces and fragments thus identified are, however, bowls and dishes. Ding bottles, vases or jars, in fact any upright shapes, were extremely rarely produced by the Ding white ware kilns around Baoding city in Hebei province, which had specialised in the production of round, open shapes. Open shapes could quickly be thrown on the potter's wheel and manufactured in large quantities. Closed, upright shapes, especially with a tall slender neck as seen on the present vase, represented a much greater challenge, requiring precision in throwing to make the separately thrown parts fit, and diligence in joining to ensure neat and firm alignment, and were much more likely to collapse or tilt in the kiln. They are exceedingly rare.
Only one example closely comparable to the present piece appears to be preserved, a bottle from the Qing (1644-1911) court collection and still remaining in the Palace Museum, Beijing, slightly smaller (22 cm) and of somewhat different proportions, with a straight, cylindrical neck and more globular body, similarly swiftly incised with single and double outlines and combed details with a sketchy design, but depicting a pair of dragons. The Palace Museum bottle has been illustrated over and over, since it seems to have no pair, not even among the material excavated from the Ding kiln sites; see, for example, The Complete Collection of Treasures of the Palace Museum: Porcelain of the Song Dynasty, Hong Kong, 1996, vol. 1, pl. 35; Ding ci ya ji, op.cit., pl. 36; or Chūgoku tōji zenshū [Complete series on Chinese ceramics], vol. 9, Kyoto, 1981, pl. 71.
Another long-necked Ding bottle, but of very different profile, with a mallet-shaped body with angled shoulder, and with reduced rim, is preserved in the Sir Percival David Collection in the British Museum, also frequently exhibited and illustrated, for example, in the International Exhibition of Chinese Art, Royal Academy of Arts, London, 1935-6, cat. no. 1173; together with the present piece, in the Oriental Ceramic Society Sung exhibition, 1960, op.cit., cat. no. 16, pl. 14; or in Stacey Pierson, Song Ceramics. Objects of Admiration, London, 2003, pl. 1.
The high esteem in which a Ding bottle was held at the Qing court can be gleaned from a much smaller (15.9 cm) undecorated example with tall slender neck, everted rim and depressed globular body, with a low footring instead of a splayed foot, preserved in the National Palace Museum, Taipei, which was inscribed on the base with a poem by the Qianlong Emperor dated to the year 1773, apparently the only comparable piece preserved in the National Palace Museum; see Yu Peichin, De jia qu. Qianlong Huangdi de taoci pinwei/Obtaining Refined Enjoyment: The Qianlong Emperor's Taste in Ceramics, National Palace Museum, Taipei, 2012, cat. no. 4.
No comparable bottle appears to have come to light either at the international white ware symposium organised by the Shanghai Museum in 2002 and recorded in the Proceedings, Shanghai, 2005, op.cit.
This long-necked bottle shape probably derived from a form popular throughout the Tang dynasty (618-907) at the three main kiln centres of Hebei and Henan, Xing, Ding and Gongxian, which can be traced back to the 5th century and is ultimately derived from a metal shape; see Zhongguo taoci quanji [Complete series on Chinese ceramics], Shanghai, 1999-2000, vol. 4, pl. 246 for a green-splashed white bottle excavated from a tomb of AD 475; vol. 5, pl. 173, for a pure white stoneware bottle from a Tang site in Henan province (fig. 1); and Yu Wenrong in Proceedings, Shanghai, 2005, op.cit., p. 567, figs 8 d and e, where the latter bottle is compared to a bronze example.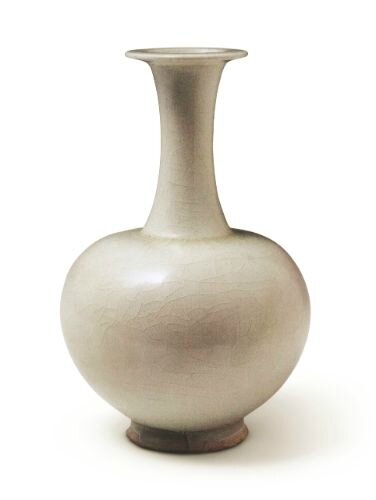 fig. 1. White stoneware bottle, Tang dynasty © National Museum of China, Beijing
Sir James Alan Noel Barlow (1881-1968), 2nd Baronet, Knight of the Order of the Bath and Knight of the Order of the British Empire, was a renowned British civil servant. Together with his wife Nora (1885-1989), granddaughter of the English scientist Charles Darwin, who had developed the Evolutionary Theory, he collected both Chinese and Islamic art. He was an early member of the Oriental Ceramic Society, which he generously supported for decades, serving for a record 28 years on the Council and a record 18 years as its President, from 1943 to 1961, a period when the Society mounted many of its most important exhibitions. Since Sir Alan believed in making his pieces available to a wider public and particularly to students, upon his death his extensive collection of Chinese archaic bronzes, ceramics and jades, went first on display at the Gulbenkian Museum of Oriental Art at Durham University; from 1974 onwards it was installed in a special, purpose-built gallery at the newly founded University of Sussex near Brighton; and in 2012 it was transferred to the Ashmolean Museum, part of Oxford University, where highlights are currently on display. Although the bulk of the collection thus remained intact, the present bottle was one of the very few items not included in the Trust that owns the bulk of the collection, but kept in the family, probably until 1986, when it was first sold in London.
Sotheby's. Song Ceramics from a Distinguished Private Collector, Hong Kong, 05 Apr 2017, 11:00 AM