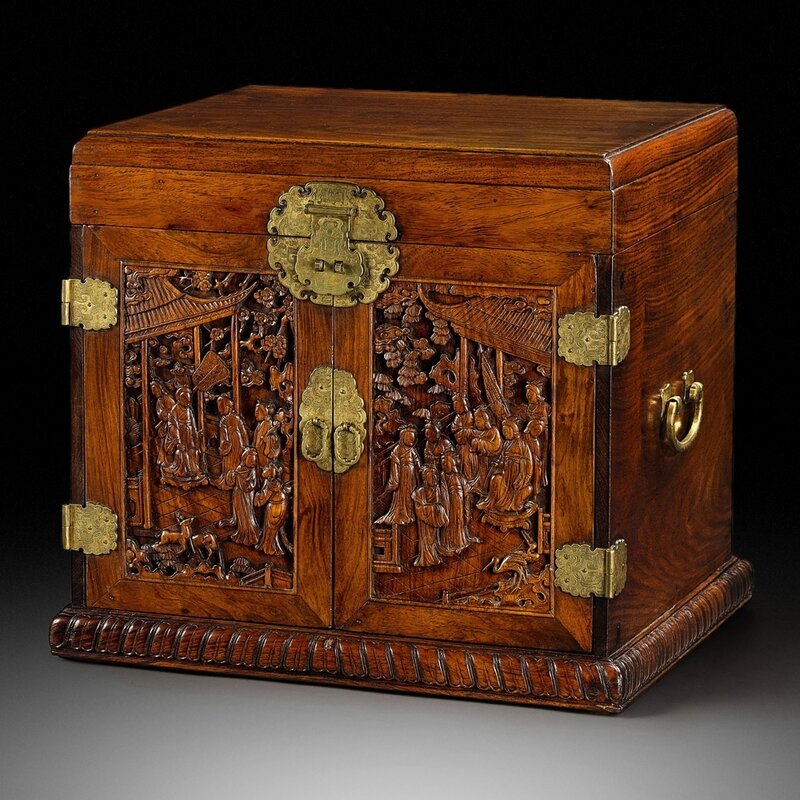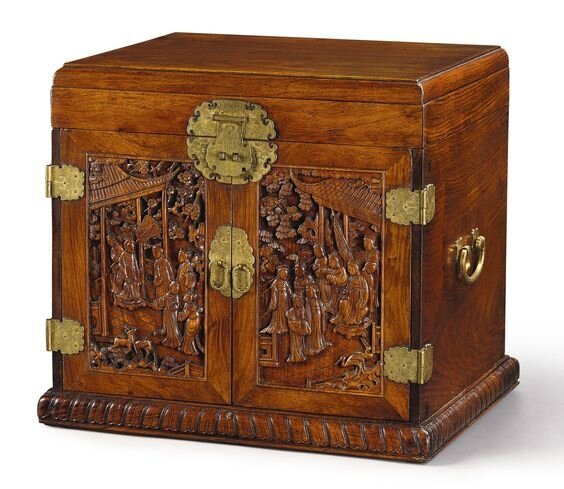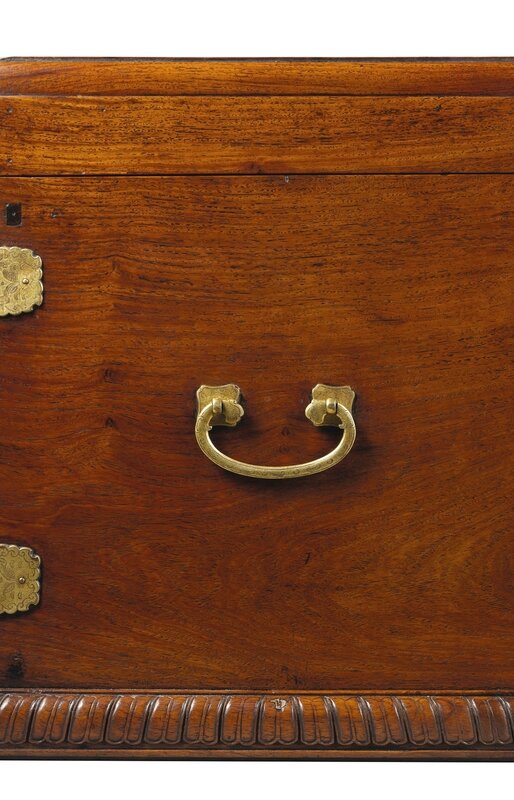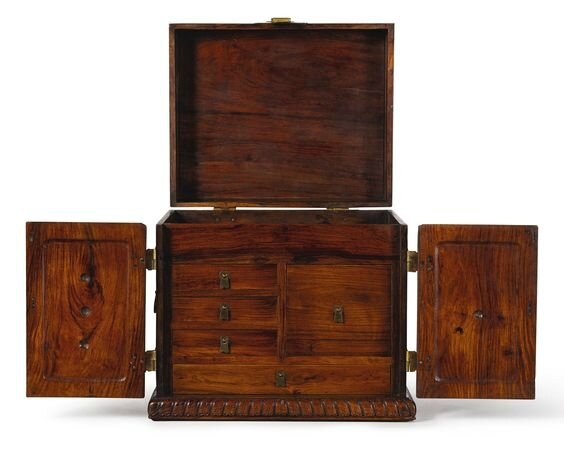 Lot 3508. A 'Huanghuali' Dressing Case With Carved Doors And Gilt-Bronze Fittings, Late Ming – Early Qing Dynasty, 37 x 39.1 x 32.1 cm. Est. HK$800,000 – 1.2 million / US$103,000 – 154,000. Photo: Sotheby's.
of rectangular form, constructed with straight sides resting on a slightly larger base with a stylised lotus lappet border, surmounted by a cover hinged on the back of the dressing case, the front with a pair of doors hinged to the sides with cusped and finely detailed gilt-bronze plates, embellished across the front doors and cover with a similarly cusped and detailed gilt-bronze plate with a lock receptacle and stylised ruyi-shaped hasp, above cusped plates and stylised pulls, the doors skillfully carved with scenes of figures and pavilions, possibly depicting the Queen Mother of the West and the King of the East seated amongst their celestial court officials, further rendered with deer and cranes, set with five drawers behind the doors, each with a gilt-bronze plate and pull, the sides of the dressing case flanked by a pair of stylised loop handles - 37 by 39.1 by 32.1 cm, 14 1/2 by 15 3/8 by 12 5/8 in.
Exhibited: In Pursuit of Antiquities: Thirty-fifth Anniversary Exhibition of the Min Chiu Society, Hong Kong Museum of Art, Hong Kong, 1995-96, p. 300.
Freer Gallery of Art and Arthur M. Sackler Gallery, Smithsonian Institution, Washington D.C., 1997-2001.
Grace Wu Bruce, Chan Chair and Qin Bench: The Dr S. Y. Yip Collection of Classic Chinese Furniture II, Art Museum, Chinese University of Hong Kong, Hong Kong, 1998, pp. 182-183.
Literature: Grace Wu Bruce, 'Examples of Classic Chinese Furniture: #5. Small Portable Treasures', Oriental Art, London, Autumn 1993, p. 51.
Note: The piece is made in honey-coloured precious huanghuali wood throughout, including the interior tray and all the interior drawers which are usually made of less expensive soft or tieli wood. Unlike standard design guanpixiang, it possesses many unusual features. The deeply carved doors with scenes of figures and pavilions, as well as the stylised lotus base are most unusual. The gilt-bronze hinges, pulls and handles, are also almost unknown in huanghuali pieces. It may be possible that this piece was made in the Palace Workshop.

The carved scene depicted might be that of the Queen Mother of the West and the King of the East seated amongst their celestial court officials standing in attendance. The Queen Mother of the West and the King of the East are considered in Daoism to be those in control of life or death and to have the power to communicate with heaven. Deer and cranes, carved on the lower part of the doors are often depicted carrying celestial figures to heaven.
Sotheby'. Portable Treasures – The Dr S.Y. Yip Collection, Hong Kong, 05 Apr 2017, 02:00 PM