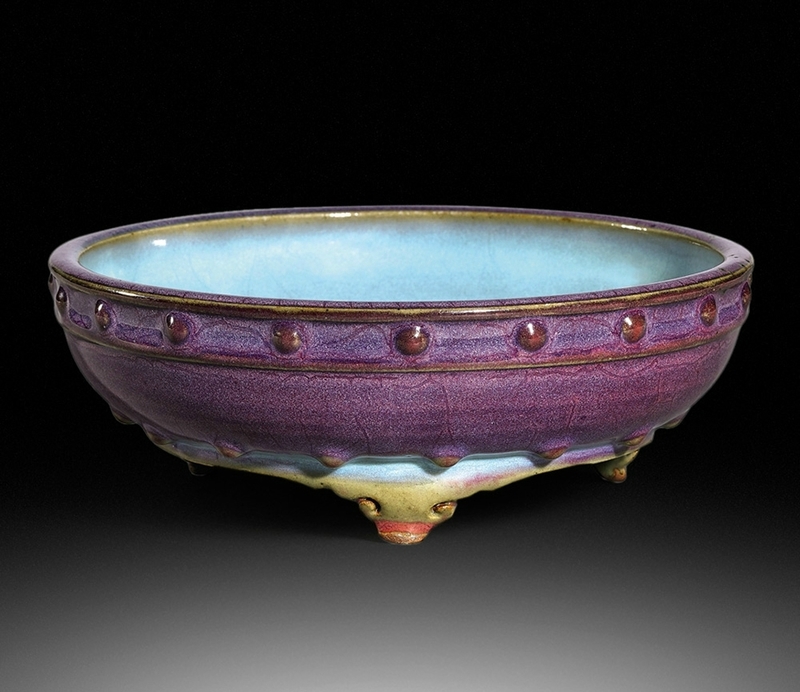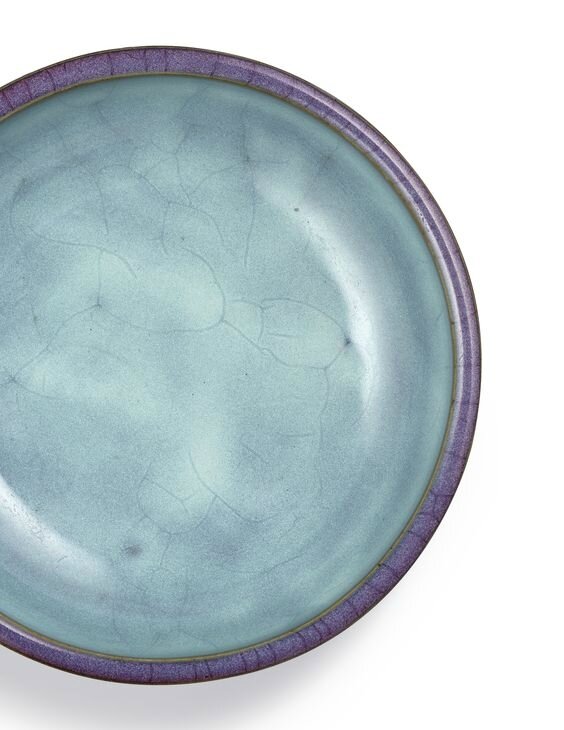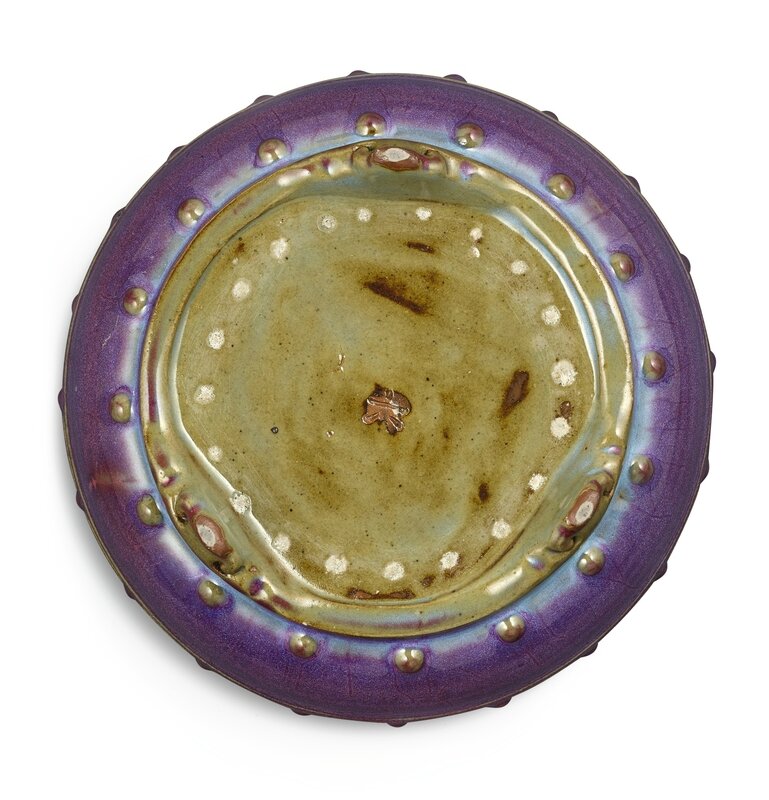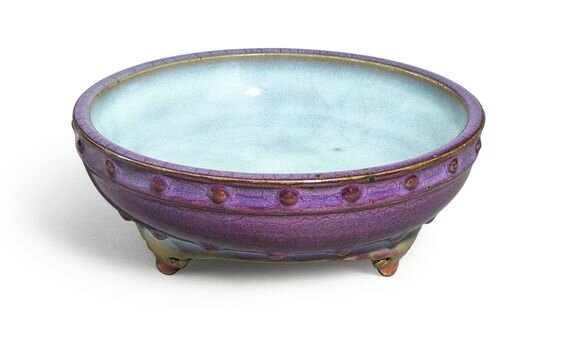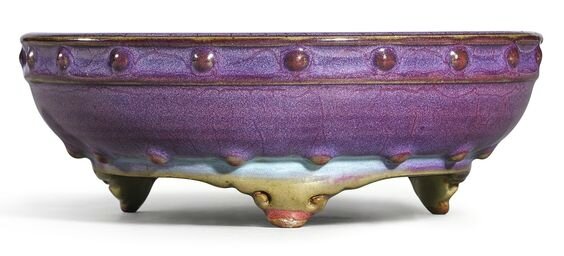 Lot 1107. An Exceptional Junyao Purple And Blue Glazed Tripod Circular Narcissus Bowl, Early Ming Dynasty. Diameter 20.3 cm. Est. HK$8– 12 million / US$1 – 1.5 million. Photo: Sotheby's.
with shallow rounded sides curving down to a flat recessed base supported on three gently flaring ruyi-shaped feet, the rim bordered with a band enclosing evenly spaced rounded studs between two narrow raised ribs, above a further band of studs above the feet, the well-proportioned body skilfully applied with an attractive two-tone glaze, the interior with an even milky lavender-blue glaze with characteristic 'earthworm tracks', the rim and exterior with a rich reddish-purple glaze transmuting to lavender-blue below the lower studs and thinning to a mushroom tone at the raised edges, the feet and base covered with a wash of pale mushroom glaze with light purple mottles in areas, including the feet, the base inscribed with a character liu (six), surrounded by twenty spur marks revealing the pale buff stoneware body - 20.3 cm, 8 in.
Provenance: A private collection, purchased before World War II, and thence by descent.
Sotheby's London, 12th June 2003, lot 108.
J.J. Lally & Co., New York.
An 'Official Jun' Narcissus Bowl
Regina Krahl
The flamboyant purple-and-blue glaze combination of Jun flower vessels was one the most daring creations in the history of Chinese ceramics. On the present narcissus bowl these ravishing glazes are not only of a breath-taking vibrancy rarely found on similar pieces, but in addition, they have settled in form of a superb pattern that would seem to be unique. The bright milky-blue glaze on the inside is extremely glossy and shows the characteristic markings that have become known as 'earthworm tracks'; the rich, mottled purple on the outside is dazzling in itself, but most unusually, it recedes to a bright blue line above the ring foot, before fading to a distinct olive-green that also covers the ruyi feet; and all three feet are 'beribboned' by a band of intense ruby-red.
This narcissus bowl, of a shape also known as 'drum nail' basin, belongs to a distinct group of flower vessels known as 'numbered Jun' wares, mostly of mould-made shape, glazed either in blue only or in blue and purple, and generally inscribed on the base with numerals from one to ten that seem to related to the vessels' sizes. The dating of these Jun ware flower receptacles has long been debated and continues to divide opinions to this day. Two different schools of thought have proposed an attribution either to the late Northern Song dynasty (960-1127) or to the late Yuan (1279-1368) or early Ming (1368-1644) period; for an exhaustive account of these different view points see Li Baoping, 'Numbered Jun Wares: Controversies and New Kiln Site Discoveries', Transactions of the Oriental Ceramic Society, vol. 71, 2006-7, pp. 65-77.
The Northern Song date, adhered to by many eminent Chinese scholars, was supported by a surface find near the kiln sites of a mould fragment for coins bearing the Xuanhe reign name (1119-1125), made of Jun ware clay. The later dating, at first proposed mainly by Western scholars, is based on the obvious stylistic discrepancies between these flower vessels and the ceramic styles known from the Northern Song, and a much closer affinity with flower receptacles in celadon and blue-and-white from the Longquan and Jingdezhen kilns, which can be attributed to the late Yuan or early Ming dynasty. At scholarly conferences on the subject in Yuzhou in 2005 and in Shenzhen in 2006 the date of the coin mould itself has come under scrutiny and was basically discredited, since it was shown not to be a mould for actual coins of that period and to bear a spurious reign mark of an even earlier period on the reverse. Scientific tests of sherds undertaken by the Shanghai Museum have pointed to a late Yuan or early Ming date. And a newly discovered Jun ewer very similar in shape to a gold ewer from the tomb of King Zhuang of Liang, buried in 1441, has also been offered as evidence for a later dating.
Since a large body of 'numbered Jun' wares is remaining from the Chinese Imperial collection both in the National Palace Museum, Taipei, and the Palace Museum, Beijing, often inscribed after firing with the names of Palace halls, a Yuan date seems less likely, since virtually no Yuan ceramics formed part of the Qing court collection. The production of these flower vessels fits better into the early Ming dynasty, and they may well have been officially commissioned for the newly built imperial palace in Beijing in the Yongle period (1403-24).
Their official status is also proposed in a recent exhibition by the Palace Museum, Beijing, where 'numbered' Jun flower vessels are identified as 'display-type' (chenshe lei) official Jun (guan Jun) wares (Jun ci ya ji. Gugong Bowuyuan zhencang ji chutu Junyao ciqi huicui/Selection of Jun Ware. The Palace Museum's Collection and Archaeological Excavation, Palace Museum, Beijing, 2013, p. 168ff.). Although concerning their dating it is stated that "this research is a complicated academic problem which cannot be solved immediately", the Northern Song attribution has been retained. The interpretation of Jun wares to represent official wares of the Northern Song is surprising, since the term 'Jun' is not mentioned in connection with ceramics in any pre-Ming text, and the traditional ranking of Jun wares among the five 'classic wares of the Song' also dates from the Ming dynasty.
The catalogue illustrates three 'drum nail' basins of classic type, similar to the present piece, from the Palace Museum collection, all slightly larger but of less vivid colouration (pls 94-96 and p. 343, figs 14-1 and 14-2, fig. 1), together with fragments excavated from the kiln site (pls 97-98 and p. 343, fig. 13). Further illustrated are four later copies, which differ in proportions and firing method, here attributed to the Yuan to early Ming dynasty, three of them in the Palace Museum collection (pls 113, 115 and 116 and p. 343, figs 15-1 and 15-2) and one excavated in Yuzhou city (pl. 114 and p. 343, figs 12-1 and 12-2); as well as later copies attributed to the Yongzheng period (pls 126-127), to the Shiwan kilns (pl. 125), and to the Yixing kilns (pl. 145), all in the Palace Museum collection.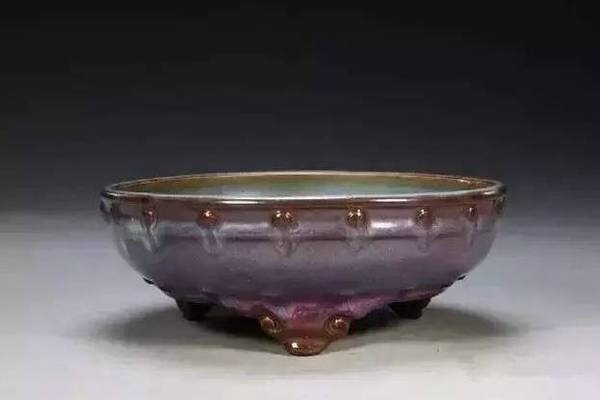 fig. 1. Junyao rose-violet-glazed tripod flowerpot with drum nails design, Northern Song dynasty © Palace Museum, Beijing
A Northern Song date is also upheld in the excavation report of the Jun kiln sites, where a large number of fragments of 'drum nail' narcissus bowls and other numbered Jun wares have been recovered, supposedly supported by stratigraphic evidence (Yuzhou Juntai yao/The Juntai Kilns in Yuzhou, Zhengzhou, 2008, p. 25, fig. 14, p. 28, fig. 15, and col. pls 16-25). This evidence, however, raises many questions. Five different strata have been distinguished at the sites, which are attributed, respectively, to the Tang (618-907); the early Northern Song (960-?); the mid-Northern Song; the late Northern Song (?-1127); and the Ming (1368-1644) period. This omission of 241 years in the stratigraphy made it possible to attribute the numbered Jun wares to the 'late Northern Song' stratum, although the ash pit, which contained most of the numbered Jun fragments, is said to be superimposed above two other 'late Song' pits and to lie right below the 'Ming' stratum (op.cit., p. 16), and the same stratum contained other ceramics obviously dating from the Yuan or early Ming dynasty, such as sketchily painted 'Cizhou' type wares (op.cit., col. pls 40 and 41).
The magnificent glaze of the present piece with its juxtaposition of purple and blue, shows better than most Jun vessels what sparked off the creation of flambé glazes in the Qing dynasty (1644-1911). The Yongzheng Emperor (r. 1723-35) is known to have been particularly enamoured with Jun wares and to have commissioned copies after antique pieces sent from the palace collection to the imperial kilns in Jingdezhen. Several Qing monochromes are believed to have been inspired by pre-Qing Jun wares, and a selection was included in the Palace Museum exhibition 2013, including copies of Yongzheng mark and period (Jun ci ya ji, op.cit., pls 128-136). To create these, Tang Ying, supervisor of the imperial kilns, is recorded to have sent potters to the Jun kilns in Henan to learn from local techniques.
Sotheby's. Chinese Art from Two American Private Collections, Hong Kong, 05 Apr 2017, 10:30 AM