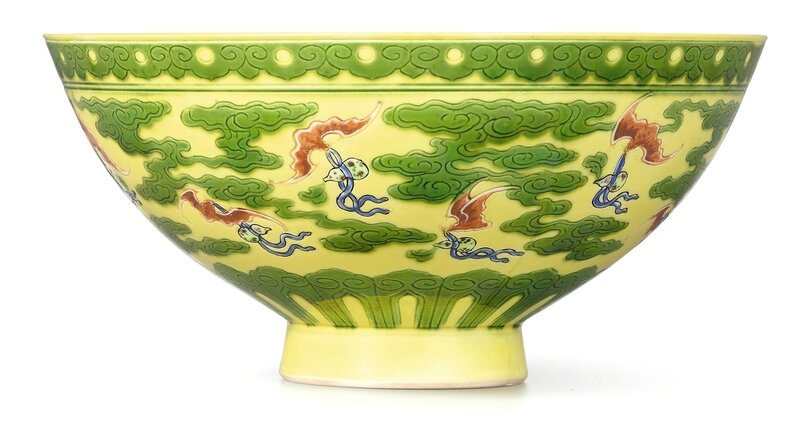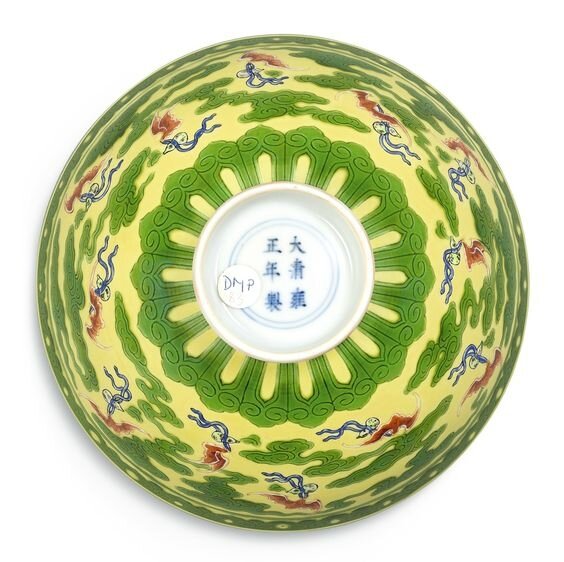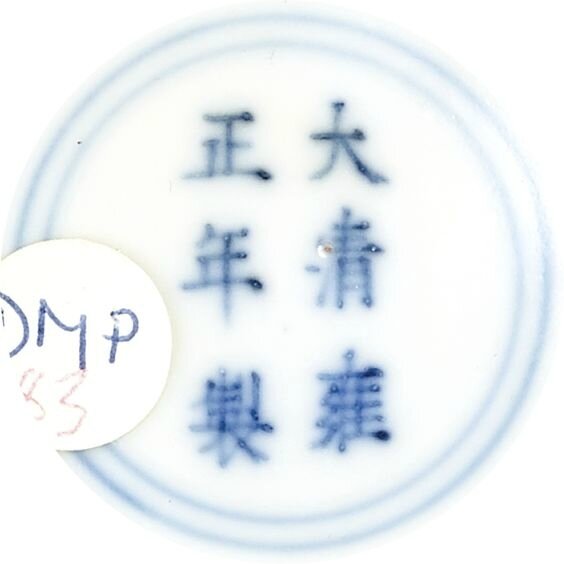 Lot 6. A rare yellow and green 'Bat' bowl with polychrome details, Mark and period of Yongzheng (1723-1735). Estimate HK$400,000 — 600,000 / €48,163 - 72,245. Lot Sold 1,625,000 HKD (196,644 €). Photo: Sotheby's.
thinly potted with deep rounded sides supported on a splayed foot, the exterior finely incised with twelve bats, each grasping in its mouth a beribboned double gourd and flying amidst scrolling clouds, between ruyi heads at the rim and a lappet band at the foot, coloured in green and white, the bats picked out in iron red, the ribbons in blue and the gourds with brown spots, and reserved on a pale yellow ground repeated on the interior, save for the white base inscribed with a six-character reign mark in underglaze blue within double circles - 15 cm, 5 7/8 in.
Provenance: Sotheby's London, 23rd October 1962, lot 122 (one of two) (£200).
Bluett & Sons Ltd, London, 1962.
Collection of Roger Pilkington (1928-69), from 1962 (£275).
Collection of Maureen Pilkington (1928-2011).
Exhibited: Polychrome Porcelain of the Ming and Manchu Dynasties, Oriental Ceramic Society, London, 1950, cat. no. 100.
Loan Exhibition of the Animal in Chinese Art, Oriental Ceramic Society, London, 1968, cat. no. 36.
Note: This bowl, decorated in a highly complex variation of the green-and-yellow colour scheme, represents a rare innovation introduced in the Yongzheng reign (1723-35) and not continued beyond this period. The design is basically a sancai ('three colour') pattern in green, yellow and white, but the elements that had remained white – the bats and the ribbons – are overpainted in red and blue, respectively, and the pale green gourds have been given brown spots. Since the white areas were emphasised by application of white slip, the iron-red pigment there takes on a pinkish hue, so that this type of bowls is often mistakenly described as belonging to the famille rose.

A similar bowl in the Palace Museum, Beijing has been repeatedly published, for example, in Kangxi, Yongzheng, Qianlong. Qing Porcelain from the Palace Museum Collection, Hong Kong, 1989, p. 238, pl. 67; in The Complete Collection of Treasures of the Palace Museum. Porcelains with Cloisonne Enamel Decoration and Famille Rose Decoration, Hong Kong, 1999, pl. 83; and again in Geng Baochang, ed., Gugong Bowuyuan cang Qingdai yuyao ciqi [Qing porcelains from the Imperial kilns preserved in the Palace Museum], Beijing, 2005, vol. 2, pl. 66; a bowl from the Constantinidi collection, sold in our London rooms, 8th July 1947, lot 24, is illustrated in Soame Jenyns, Later Chinese Porcelain: The Ch'ing Dynasty (1644-1912), London, 1951, pl. LXIX, no. 3; and another was sold in our New York rooms, 24th April 1975, lot 364, and in our London rooms, 16th May 1989, lot 78, from the British Rail Pension Fund collection.
During the Yongzheng period, the elaborate colour scheme was also employed on one other design, on bowls decorated with cranes carrying the emblems of the Eight Immortals; compare a bowl from the H.M. Knight collection, included in the Oriental Ceramic Society exhibition The Arts of the Ch'ing Dynasty, London, 1963, cat. no. 189, and in the exhibition Chinese Porcelain. The S.C. Ko Tianminlou Collection, Hong Kong Museum of Art, Hong Kong, 1987, cat. no. 101, and sold in these rooms, 15th November 1983, lot 263; the Tianminlou catalogue quotes Geng Baochang, Ming Qing ciqi jianding [Appraisal of Ming and Qing porcelain], Hong Kong, (rev.ed.) 1993, p. 248, where he states that these yellow-ground pieces with red, blue, white, green, purple and black enamels were at the time known as a 'new type of wucai'. Geng illustrates, op.cit., pl. 105, a 'crane' bowl in yellow, green and white, where only the birds' red crests and black feather tips were painted in enamels over areas of white.
Sotheby's. Yellow-Ground Wares from the Collection of Maureen Pilkington, Hong Kong, 05 avr. 2017, 10:00 AM