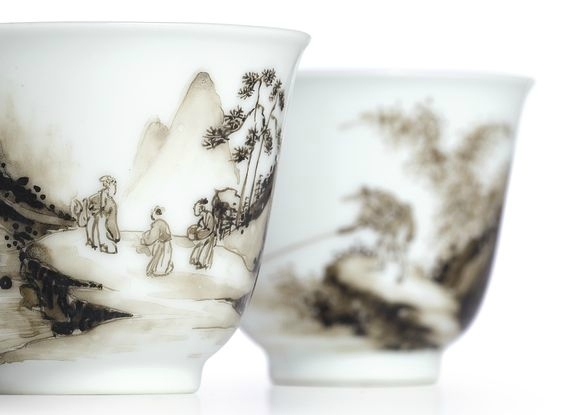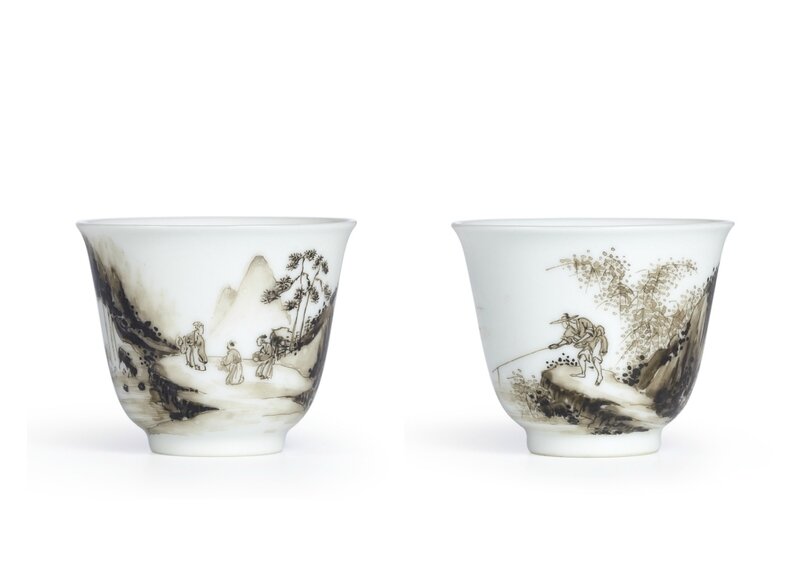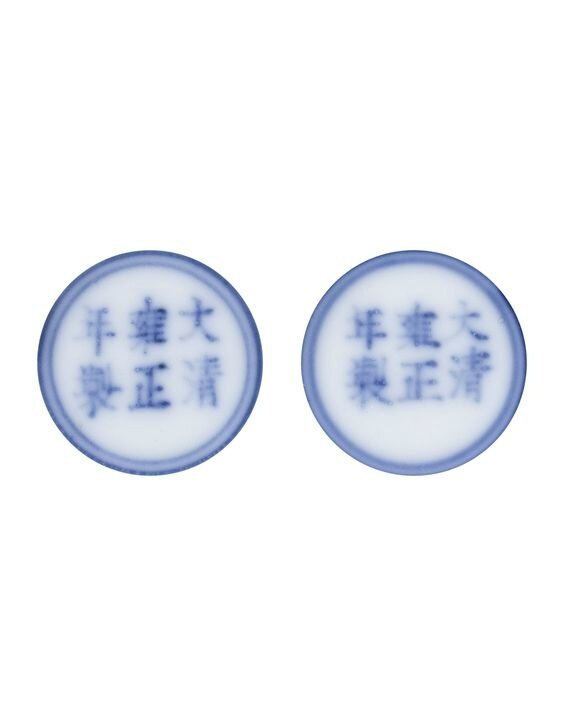 Lot 3105. A rare pair of grisaille-decorated 'figure in landscape' cups, marks and period of Yongzheng (1723-1735), d. 5.4 cm, 2 1/8 in. Estimate 2,000,000 — 3,000,000 HKD. Lot Sold 2,500,000 HKD (321,725 USD). © Sotheby's.
each delicately potted with a deep U-shaped body rising from a short foot to a flared rim and decorated in shaded washes of sepia and grisaille with a painterly tranquil landscape scene detailed with tall mountains, lush vegetation and a river, one cup further depicting a fisherman leaning over the river on a rocky promontory whilst holding a fishing rod, the interior detailed in famille-rose highlights with a floral bloom, the exterior of the other cup further portraying a scholar and two attendants, the interior with a famille-rose butterfly and aster, the base inscribed in underglaze blue with a six-character reign mark in three columns within a double circle
Provenance: Collection of Alfred E. Hippisley (1848-1939).
Anderson Galleries, 30th/31st January 1925, lot 196 (two of four).
Collection of Mary Cunningham Bishop Peabody (1893-1980).
Collection of James Bishop Peabody (1922-77), and thence by descent to Mrs James Bishop Peabody.
Christie's New York, 18th/19th September 2014, lot 911.
Exhibited: Smithsonian Institution, Washington D.C., 1887-1912.
Literature: Alfred E. Hippisley, A Sketch of the History of Ceramic Art in China: with a catalogue of the Hippisley Collection of Chinese Porcelains, Washington D.C., 1902, p. 405 (two of nos 315-318).
Note: Delicately painted with a landscape that covers the whole surface of the vessels, these cups represent the Yongzheng Emperor's passion for unassuming elegant wares made with innovative techniques. Attempts at using fine ink on porcelain had been made during the Kangxi reign with little success (see S.W. Bushell, Oriental Ceramic Art, London, 1981, p. 202) and it was only during the Yongzheng reign that successfully fired wares painted in black ink first appeared, which the Emperor quickly grew very fond of. This new technique allowed the potters to follow closely the style of traditional Chinese landscape painting, with details of figures, distant mountain peaks and weathered trees executed with shading, so as to reproduce the light and dark strokes of brush-and-ink drawings. This category of wares would have been among the Emperor's favourites, with the simplicity of the design reflecting his discerning taste.

Cai Hebi in the introduction to the Special Exhibition of Ch'ing Dynasty Enamelled Porcelains of the Imperial Ateliers, National Palace Museum, Taipei, 1992, p. 12, mentions an edict from 1732 in which the Emperor praises the making of sepia wares: 'For Grand Minister Hai Wang to transmit the following edict: the enamel paintings in sepia are all exceedingly fine. Employ the two painters Tai Heng and T'ang Chen-chi as enamel painters and remove the paintings brought as samples of their works. Also remove the sample paintings by T'ang Tai. The work of the others is all fine and they may remain. By Imperial Command. Have the painters T'ang Tai transferred to enamel painting'.

The motif on this pair of cups follows the style of the Southern School as conceived by the painter and art historian Dong Qichang (1555-1636), whose theories were highly influential in the early Qing dynasty. A closely related cup in the Capital Museum, Beijing, is illustrated in The Complete Works of Chinese Ceramics. Qing, vol. 14, Shanghai, 2000, pl. 176; and a pair was sold at Christie's New York, 26th March 2010, lot 1438. See also a pair of bowls decorated with a landscape in grisaille, from the K.S. Lo Collection and now in the Hong Kong Museum of Art, Hong Kong, included in the Museum's exhibition The Wonders of the Potter's Palette, Hong Kong, 1984, cat. no. 57; another pair sold in our London rooms, 29th February 1972, lot 265, in these rooms, 31st October 1995, lot 552, and in our New York rooms, 11th/12th September 2012, lot 83, from the collection of William and Jennifer Shaw; and a further pair of bowls from the T.Y. Chao Collection, sold several times in our Hong Kong rooms in 1974, 1978, 1987, 1996, and most recently 7th April 2015, lot 101. Compare also a Yongzheng mark and period brushpot painted in a related style, in the Museum of Fine Arts, Boston, illustrated in Sekai toji zenshu/ Ceramic Art of the World, vol. 15, Tokyo, 1983, pl. 73.
A rare pair of grisaille-decorated wine cups, Yongzheng six-character marks in underglaze blue within double circles and of the period (1723-1735). Price Realized $173,000 at Christie's New York, 26th March 2010, lot 1438. Photo Christie's Image Ltd 2014
(Cf. my post A fine and rare pair of grisaille wine cups, Yongzheng six-character marks and of the period (1723-1735)
A pair of grisaille 'landscape' bowls, marks and period of Yongzheng, diameter 5 5/8 in., 13.9 cm. Sold 194,500 USD at Sotheby's New York, 11th/12th September 2012, lot 83. Photo: Sotheby's.
(Cf. my post A pair of grisaille 'landscape' bowls, Yongzheng Marks And Period)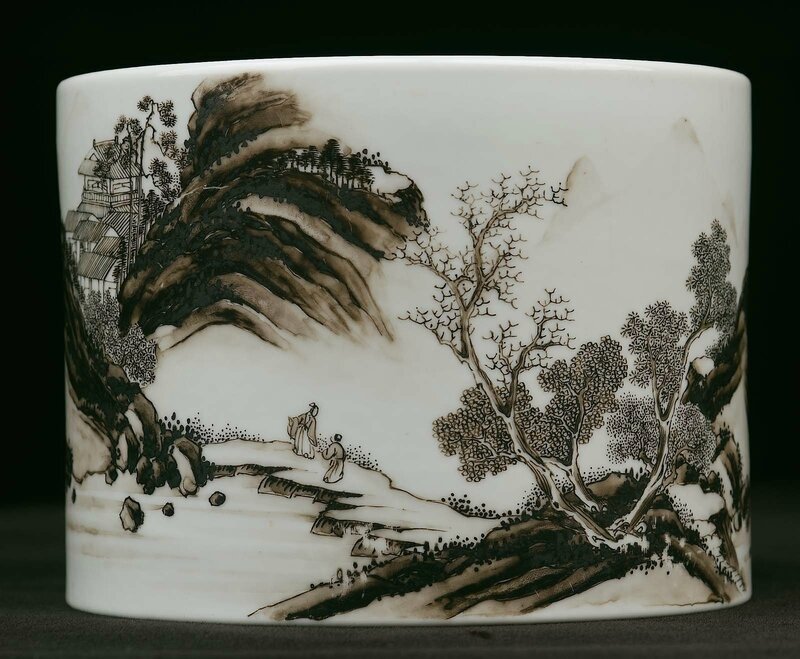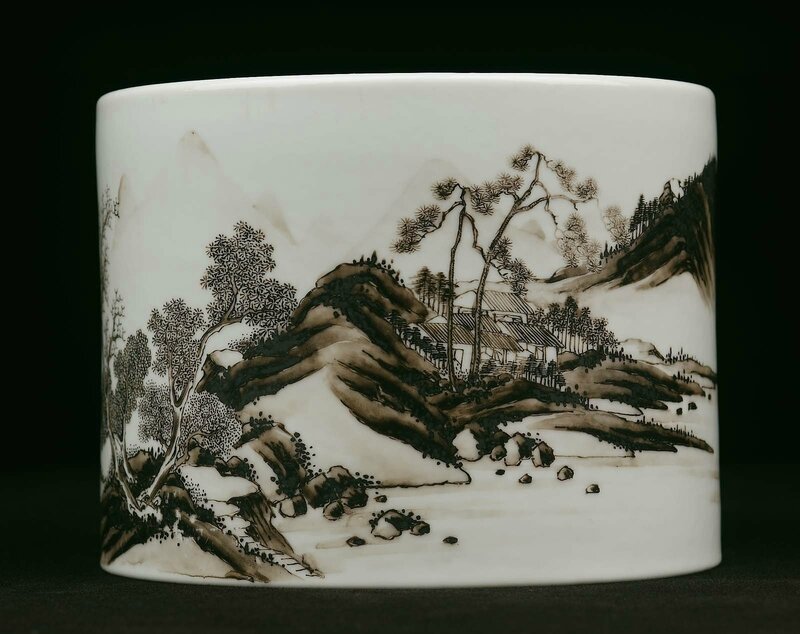 Brush holder with landscape, Chinese, Qing dynasty, Yongzheng period, 1723–36. Jingdezhen-ware porcelain painted in sepia overglaze enamel, 13.1 x 17.2 cm (5 3/16 x 6 3/4 in.). Gift of Paul and Helen Bernat, 57.748 © 2017 Museum of Fine Arts, Boston
Sotheby's. In His Majesty's Palm: Exquisite Porcelain Playthings, Hong Kong, 05 Apr 2017, 10:20 AM