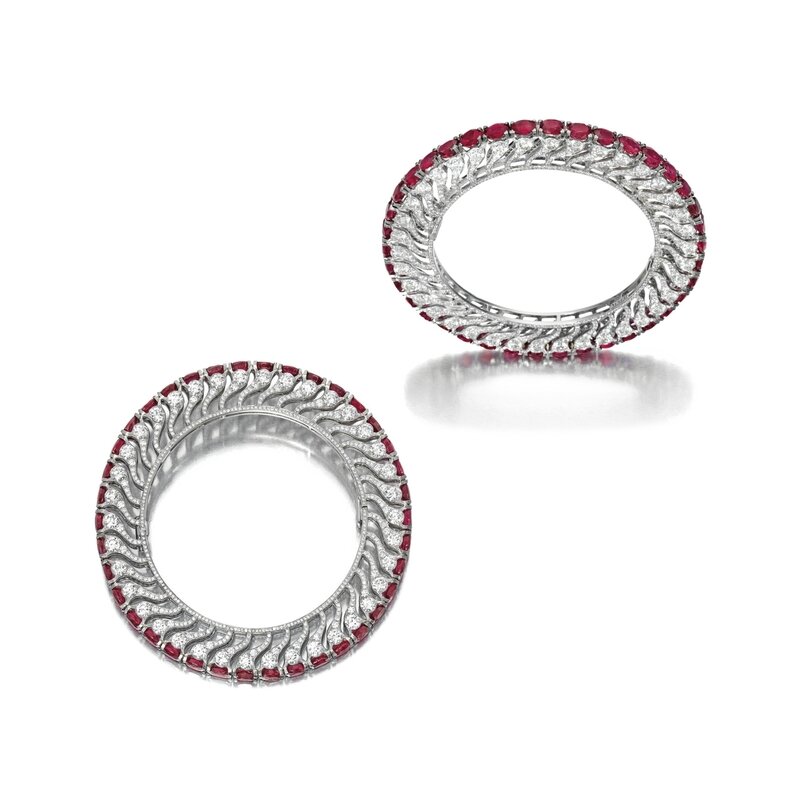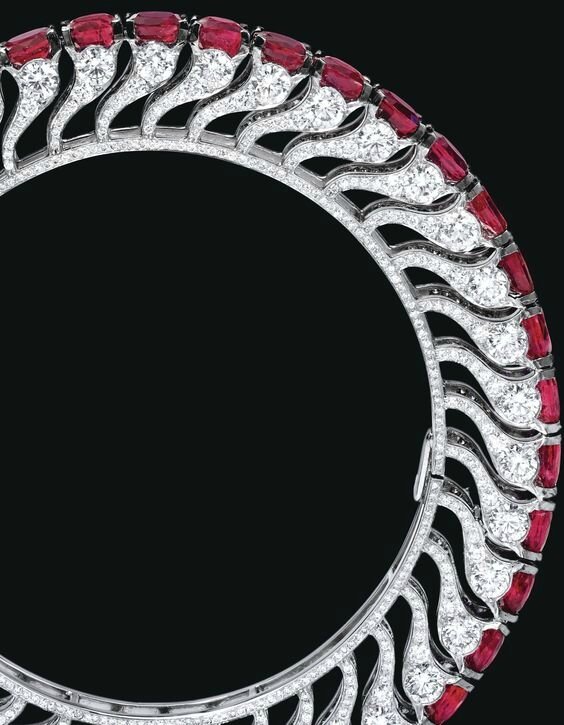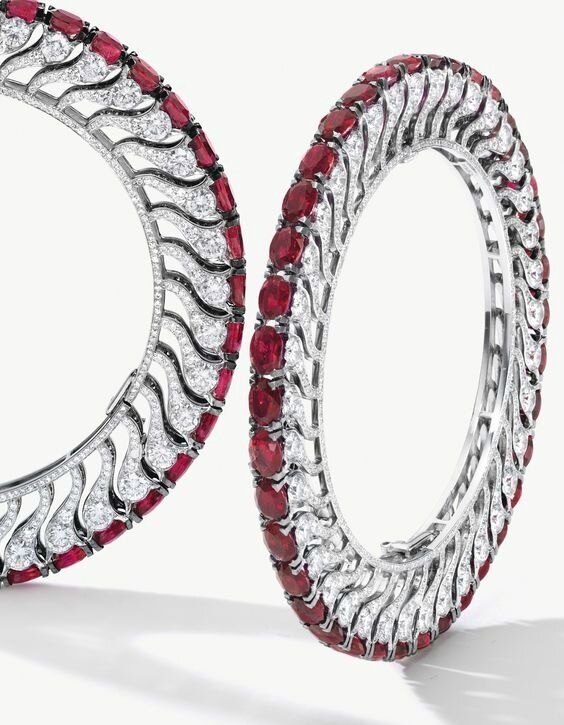 Lot 1707. Unique Pair of Ruby and Diamond Bangles, BHAGAT. Estimate HK$1,950,000–2,400,000 (250,000–308,000 USD). Photo: Sotheby's
Each set with thirty-eight oval rubies, to the edge of floral motifs embellished with circular-cut diamonds, the rubies and diamonds weighing approximately 60.00 and 30.00 carats in total respectively, mounted in platinum, one bangle signed BHAGAT, each inner circumference approximately 160mm.
Accompanied by Gübelin reports numbered 17011091 and 17011092, both dated 20 February 2017, stating that all the rubies are natural, large majority are of Burmese (Myanmar) origin, with no indications of heating.
Mughal Master of Magic
Hailed as one of the greatest living jewellers, BHAGAT's stylistic signature represents a fusion of artistry and craftsmanship, old and new, east and west. Drawing inspiration from classical Indian forms and motifs, BHAGAT weaves rich Mughal art and intricacies of Islamic architecture with a contemporary sensibility, to produce jewels that are uniquely their own.
With their creations exhibited at renowned museums and esteemed jewellery fairs, such as The Metropolitan Museum of Art in New York, the Grand Palais in Paris and The Masterpiece Fair in London. BHAGAT has elevated contemporary Indian jewellery to a new level of sophistication on the
international stage. In 2012, BHAGAT was featured in 'The Impossible Collection of Jewellery' which presented the 100 most important jewels of the twentieth century.
Drawing inspiration from their surroundings and nature, this pair of bangles reflects BHAGAT's own interpretation of this ubiquitous ornament. Designed as a series of sinuous flower buds encrusted with diamonds carved out of one solid piece of platinum, the radiating diamond buds terminate in calibrated ruby ovals. The ingenuity of the surreptitiously hidden hinge and clasp is unique and devised entirely by BHAGAT. With fewer than 60 creations completed each year, this pair of bangles was labouriously handcrafted over a period of several months making it indeed one of a kind.
Sotheby's. Magnificent Jewels and Jadeite, Hong Kong, 04 Apr 2017, 02:30 PM