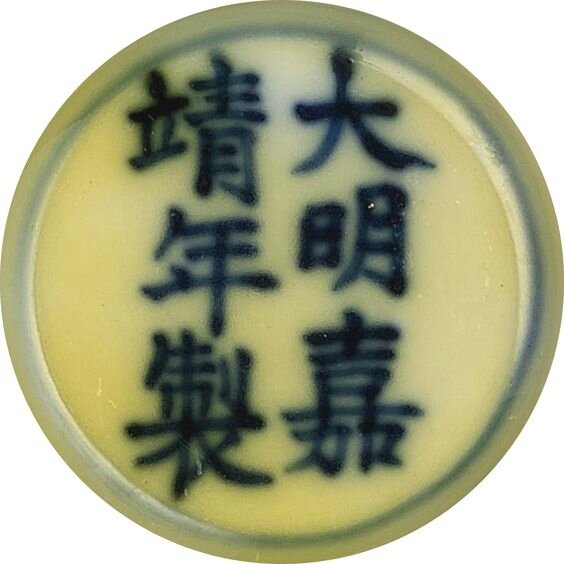 Lot 1108. A fine and very rare yellow-glazed cup, Mark and period of Jiajing (1522-1566). Estimate 2,000,000 — 3,000,000 HKD. Lot sold 4,300,000 HKD. Photo: Sotheby's.
finely and delicately potted with a bell-shaped body with deep rounded sides rising steeply and flaring at the rim, all supported on a slightly tapered foot, evenly applied overall with a translucent pale yellow glaze, including the base, draining at the rim and pooling to a warm egg-yolk tone around the foot, the base inscribed in underglaze blue with a six-character reign mark within a circle; 8.2 cm, 3 1/4 in.
Provenance: Collection of Samuel C. Davis (1871-1940), Saint Louis, Missouri.
Estate of Samuel Davis Weaver (1940-2013).
The Greenwich Collecton, Connecticut, and thence by descent.
J.J. Lally & Co., New York.
Note: This cup is striking for the luminous tone of its rich yellow glaze, a colour reserved for wares for the imperial court, and remarkable for its fine, delicate potting. Deceptively simple, monochrome porcelains required extreme precision in the potting, skill in glazing and firing, and light-coloured glazes such as this yellow depended on the highest level of purity of the clay. Due to the minimalist nature of such pieces, where form and glaze work together in perfect harmony, the slightest irregularity would result in their rejection and destruction.
As one of the five colours derived from the Five Elements (wuxing), yellow surpassed the other imperial colours of reddish-black (xuan) and purple (zi) to become the emblem of the emperor. It was thought that the emperor was located in the centre of the five directions and the centre was represented by the earth element and the colour yellow. This 'imperial yellow' glaze was produced at the imperial kilns in Jingdezhen throughout the Ming dynasty, and was achieved by adding ferric oxide (3.5 %) to the lead silicate base, making this glaze a direct descendant of the yellow lead glazes of the Tang dynasty.
Cups of this distinctive deep flared shape are a Jiajing innovation and more commonly known in slightly larger proportions; for example, see a cup from the Sir Percival David Collection and now in the British Museum, London, included in Illustrated Catalogue of Ming and Qing Monochrome Wares in the Percival David Foundation of Chinese Art, London, 1989, no. A 595; one from the collections of Mrs B.Z. Seligman and Sir Alfred Aykroyd, sold in our London rooms, 15th May 1966, lot 36, and at Christie's London, 7th June 2004, lot 281; another sold in our London rooms, 26th July 1966, lot 68, and in these rooms, 2nd May 2000, lot 506 from the Hall Family Collection; and two pairs sold in these rooms, the first from the collections of Edward T. Chow and T.Y. Chao, 19th May 1981, lot 452, and 18th November 1986, lot 68, and the second, from the Meiyintang Collection, 7th April 2011, lot 62. Compare also a cup of similar size but slightly shallower, in the British Museum, London, illustrated in Jessica Harrison-Hall, Ming Ceramics in the British Museum, London, 2001, pl. 9:73.
Cups of this type are also known covered in other monochrome glazes, as well as painted in underglaze blue; see for example a blue-glazed cup and a slightly smaller white-glazed example from the Hall Family Collection, sold in these rooms, 2nd May 2000, lots 510 and 509; and a pair of cups painted with rams in underglaze blue, included in the exhibition The Fame of Flame. Imperial Wares of the Jiajing and Wanli Periods, Art Gallery, The Chinese University of Hong Kong, Hong Kong, 2009, cat. no. 12.
Samuel C. Davis graduated from Harvard University in 1893 and began collecting Chinese ceramics early in the 20th century, guided by C.T. Loo. More than 200 selected pieces of Chinese porcelain from the Samuel C. Davis Collection were bequeathed to the Saint Louis Museum of Art, over 100 Chinese ceramics from the collection were given to Harvard, and many Chinese porcelains were kept by his family.
Sotheby's. Chinese Art from Two American Private Collections, Hong Kong, 05 Apr 2017, 10:30 AM