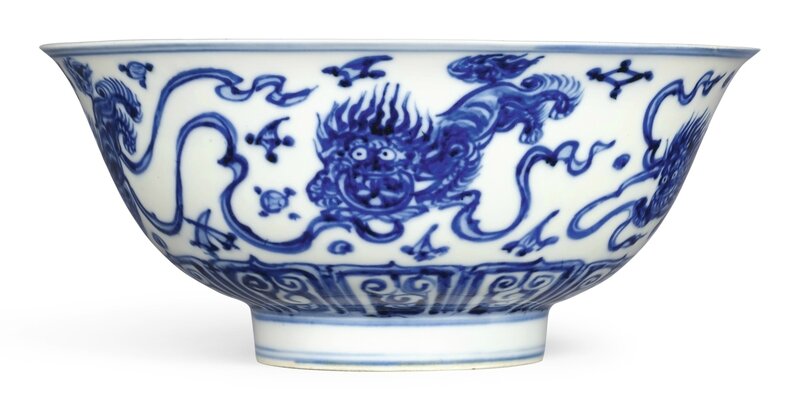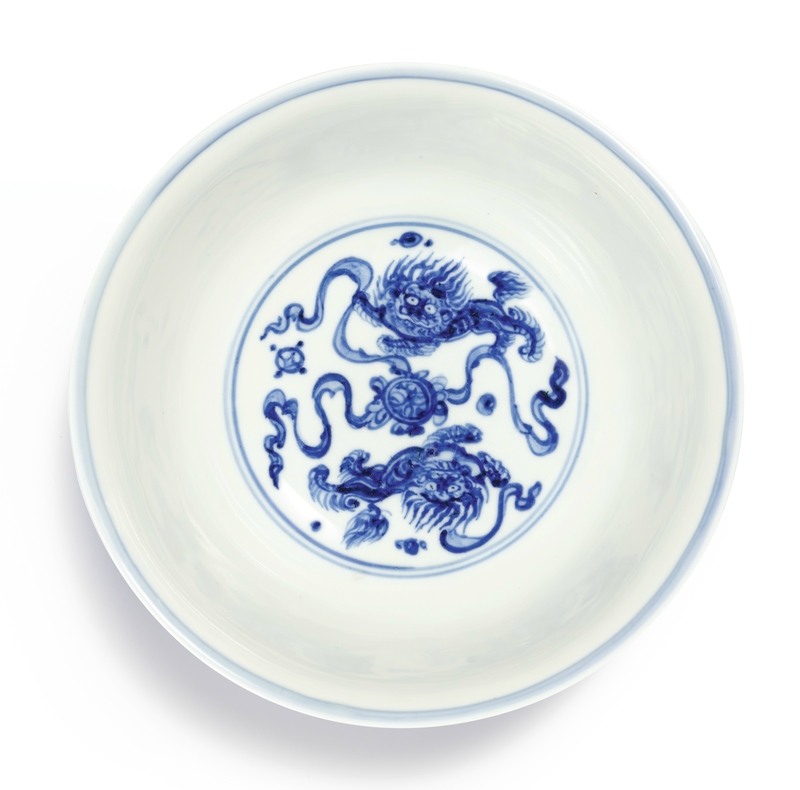 Lot 3612. An extremely rare and large blue and white 'lion' bowl, Ming dynasty, Chenghua period (1465-1487), 20.6 cm, 8 1/8 in.. Estimate 3,000,000 — 5,000,000 HKD. Lot sold 15,700,000 HKD. Photo: Sotheby's.
superbly potted with deep rounded sides rising from a straight foot to a flared rim, the exterior painted in bold cobalt-blue tones depicting lions frolicking amid the babao playfully chasing beribboned brocade balls, the mythical felines detailed with long-haired manes, bushy tails and powerful limbs, all above overlapping lotus lappets, the interior similarly decorated with a central medallion enclosing two lions romping around a beribboned ball, all divided by double line borders, covered overall with an unctuous glaze, the base inscribed with an apocryphal Xuande mark within a double circle
Provenance: Christie's London, 12th November 2004, lot 224.
Note: Chenghua porcelains, considered among the most idiosyncratic and distinct creations of the imperial kilns at Jingdezhen, are perhaps the most highly sought after of all Chinese imperial porcelains. Their porcelain body and glaze are arguably the finest that have ever been created, imbuing each piece with an outstanding tactile quality, while their unobtrusive yet sophisticated designs are executed in a captivating, complex and yet free and easy painting manner.
The present piece is a particularly rare and unusual example of Chenghua ware. Only one other closely related bowl appears to have been published, unearthed from the waste heaps of the imperial kilns, included in the exhibition A Legacy of Chenghua. Imperial Porcelain of the Chenghua Reign Excavated from Zhushan, Jingdezhen, The Tsui Museum of Art, Hong Kong, 1993, cat. no. A11, where it is noted that this piece and other fragments of bowls and dishes of this design and mark were excavated at the early Chenghua accumulation no. 87 (see p. 52). Jiang Jianxin adds that the excavated bowl "is the earliest known example where the reign mark of a previous era has been inscribed on a piece of imperial porcelain," a practice that only became widely employed in later periods (p. 110).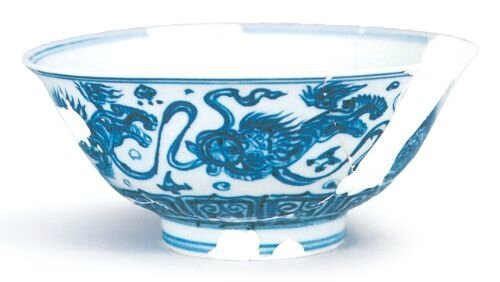 Blue and white 'seven lions and balls' bowl, Ming dynasty, Chenghua period, apocryphal Xuande mark © Jingdezhen Ceramics Archaeology Institute
The motif and its bold painterly style of the present bowl, closely following that of the Xuande reign, also support an early Chenghua date. During the Chenghua period, Xuande blue and white porcelain was considered to be the finest ever produced and thus served as inspiration. The apocryphal mark on the base of this bowl, probably to honour the great accomplishments during the earlier reign and to acknowledge the borrowing of the design, further reveals the appreciation of Xuande porcelain. Despite these similarities with Xuande wares, the cobalt of the present bowl is typical of early Chenghua blue and white wares in its fluidity and lack of heaping and piling.
A similar motif of Buddhist lions is also known on a Chenghua mark and period dish, included in the exhibition The Emperor's Broken china, Sotheby's London, 1995, cat. no. 93, together with a reconstructed ewer also painted with lions, cat. no. 48; and another dish, exhibited in A Legacy of Chenghua, op.cit., pl. B26, together with a stem cup, cat. no. A8, and a box, cat. no. C48. For another Xuande-marked Chenghua blue and white decorated bowl, see one painted with a lotus scroll included ibid., cat. no. C71.
The motif of lions playing with beribboned balls is well known from early 15th century porcelain, such as a jar with Xuande mark and of the period in the Shanghai Museum, Shanghai, illustrated in Lu Minghua, Mingdai guanyao ciqi [Ming imperial porcelain], Shanghai, 2007, pl. 1-32; and a dish in the National Palace Museum, Taipei, included in the Museum's exhibition Ming Xuande ciqi tezhan mulu [Special exhibition of Xuande wares], Taipei, 1980, cat. no. 59. It carries auspicious associations symbolising physical and spiritual power and conveying wishes for high rank.
Sotheby's. Important Chinese Art, Hong Kong, 05 Apr 2017