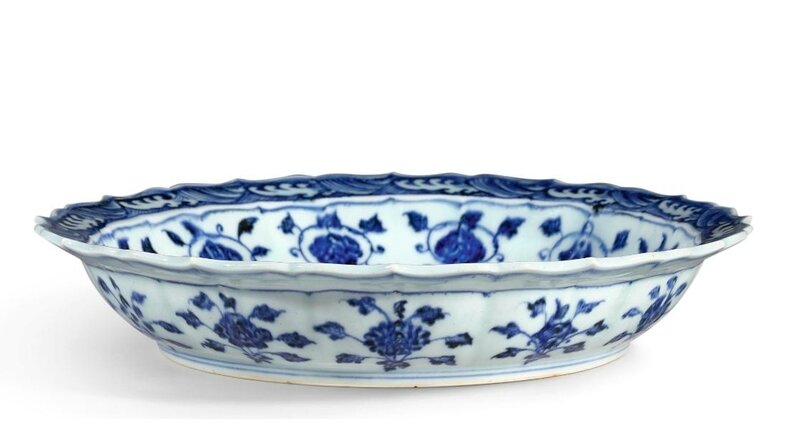 Lot 3611. A fine blue and white barbed 'floral scroll' dish, Ming dynasty, Yongle period (1403-1424), 33.7 cm, 13 1/4 in.. Estimate 5,000,000 — 7,000,000 HKD. Lot sold 6,700,000 HKD. Photo: Sotheby's.
well potted with rounded sides divided into twelve bracket foliations, rising from a short tapered foot to a barbed everted rim, painted in vivid tones of cobalt blue with 'heaped and piled' accents, the slightly recessed interior centred with a large barbed medallion of lotus, surrounded by blooms of camellia, lotus, chrysanthemum, mallow and dianthus borne on foliate scrolls within a barbed border, further encircled around the cavetto by detached sprays of chrysanthemum, pomegranate, hibiscus, peony, morning glory and lotus, each repeated twice and paired across the dish, save for the lotus matched with another blossom, below a border of crested waves on the the rim, the exterior painted with similar detached floral sprays within double line borders, the base and bevelled footring left unglazed
Provenance: Spink & Son, London, June 1967.
Collection of Mr F. Gordon and Mrs Elizabeth Hunter Morrill.
Doyle's New York, 16th September 2003, lot 81.
Sotheby's Hong Kong, 8th April 2013, lot 3018.
Exhibited: Recent acquisitions, S. Marchant & Son, London, 2004, no. 1.
Ming Porcelain, Marchant, London, 2009, no. 2.
Note: The present dish is a fine example of the technical developments achieved by the early Ming dynasty. Yongle porcelains are characterised by their particularly deep blue cobalt, which fired to a dark deep blue in some parts and pale blue in others. This silvery-black and crystal-like separation of colours is known as the 'heaped and piled' effect, and the intensity of tones was highlighted by the finely potted white body of the porcelain clay.

One of the decorative innovations of early 15th century wares was the use of separate floral sprays or bunches of flowers in the cavettos instead of the continuous scroll. The heavy wreath of lotus or peony found on 14th century dishes gave way to more varied series of formalised motifs. 12 flower sprays consisting of two sets were commonly repeated in order so that each flower was diametrically opposite its pair. With each flower spray encircled by a circular stem with leaves, the present dish is characteristic of the delicate variety that occurred within Yongle design schemes.

A similar dish in the Topkapi Saray Museum, Istanbul, is illustrated in Regina Krahl, Chinese Ceramics in the Topkapi Saray Museum, Istanbul, vol. II, London, 1986, pl. 601; another in the Percival David Foundation is published in Oriental Ceramics. The World's Great Collections, 1982, vol. 6, no. 76; one in the National Palace Museum, Taipei, was included in the Special Exhibition of Early Ming Porcelains, National Palace Museum, Taipei, 1982, cat. no. 38; a fourth is published in Mayuyama. Seventy Years, vol. 1, Tokyo, 1976, pl. 753; other dishes of this design include two in the Museum of Far Eastern Antiquities, Stockholm, illustrated in Jan Wirgin, Chinese Ceramics from the Axel and Nora Lundgren Bequest, Stockholm, 1978, pl. 27, no. 25, and one in the Swedish Royal Collection, published in Oriental Ceramics. The World's Great Collections, vol. 8, Tokyo, 1982, pl. 216. An example from the Mottahedeh Collection, illustrated in Michael Howard and John Ayers, China for the West. Chinese Porcelain and Other Decorative Arts for Export, vol. 1, New York, 1978, p. 12, was sold in our New York rooms, 20th September 2000, lot 105. Another comparable example was on loan to the Gulbenkian Museum of Oriental Art and Archaeology, Durham, sold at Christie's London, 9th November 2004, lot 131 and again in these rooms, 5th October 2016, lot 3630.
Compare also a Yongle dish of similar pattern, but with delicate lotus scrolls instead of waves around the barbed rim, sold in our London rooms, 14th March 1972, lot 132, in these rooms, 29th November 1976, lot 463, and again 8th April 2009, lot 1670, and exhibited in Chinese Art from the Reach Family Collection, Eskenazi, London, 1989, cat. no. 35; and another sold recently in these rooms, 5th October 2016, lot 3715.
The close interaction between China and the Middle East as reflected in blue and white porcelain of the early Ming dynasty is discussed in the exhibition catalogue Ming: 50 Years that Changed China, the British Museum, London, 2014, pp. 86-95.
Sotheby's. Important Chinese Art, Hong Kong, 05 Apr 2017