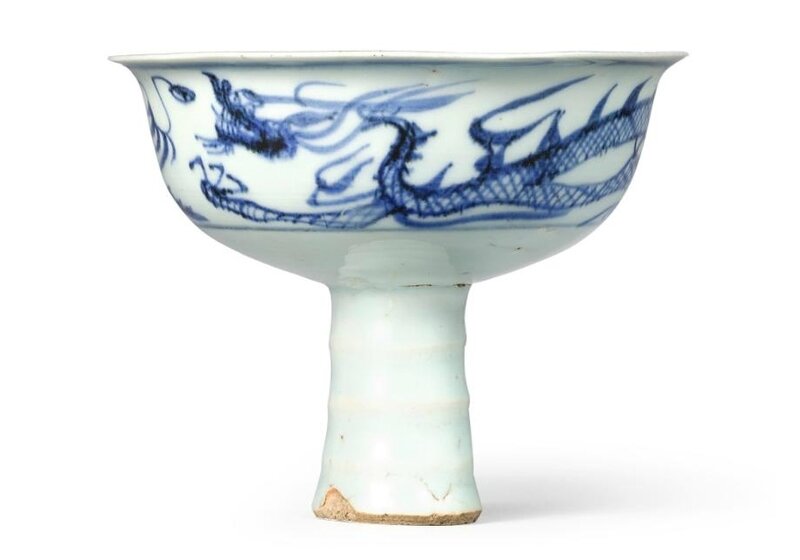 Lot 3673. A blue and white 'dragon' stem cup, Yuan dynasty (1271-1368), 11.9 cm, 4 5/8 in. Estimate 900,000 — 1,200,000 HKD. Lot sold 1,125,000 HKD. Photo: Sotheby's.
with shallow rounded sides rising from a short tapering foot to an everted rim, the interior decorated with a central medallion the curved rounded sides rising to a gently flared rim, supported on a splayed hollow stem moulded with horizontal ridges, applied overall save for the unglazed footring with a white glaze, the exterior decorated in cobalt blue with a single long three-clawed dragon chasing a 'flaming pearl' and writhing sinuously around the vessel, the interior centred with a further 'flaming pearl' and encircled by a classic scroll at the rim, further detailed with a moulded design of two dragons around a central rosette medallion
Note: Stem bowls with such freely executed sketches of vigorous dragons chasing 'flaming pearls' appear to have been in use throughout China during the Yuan dynasty, although extant examples are rare. Similar stem bowls, decorated both with dragons and with phoenix, were excavated from the Yuan city site at Jininglu in Inner Mongolia, see Chen Yongzhi, ed., Nei Menggu Jininglu gu cheng yizhi chutu ciqi/Porcelain Unearthed from Jininglu Ancient City Site in Inner Mongolia, Beijing, 2004, pl. 46, for a dragon stem cup, pls 42-4, for three stem bowls with phoenix, and p. 12, for several pieces packed together in a jar, as found on site. The same dragon stem bowl was included in the exhibition Yuan qinghua/Blue and White of the Yuan, Capital Museum, Beijing, 2009, cat. no. 107, together with a related piece excavated from a Yuan hoard in Anhui, cat. no. 106. Another example, excavated from the tomb of the eminent Ming official Wang Xingzu, datable to the fourth year of Hongwu (1371), is in the Nanjing Museum, published in Wang Qingzheng, Underglaze Blue and Red, Hong Kong, 1993, pl. 33.
A stem bowl in the British Museum, London is published in Jessica Harrison-Hall, Ming Ceramics in the British Museum, London, 2001, no. 1: 24; and two similar stem bowls from the collections of Mrs. O. Harriman and Lord Cunliffe, respectively, were included in the exhibition Chinese Blue and White Porcelain: 14th to 19th Centuries, The Oriental Ceramic Society at The Arts Council Gallery, London, 1953-4, cat. nos 11 and 12.