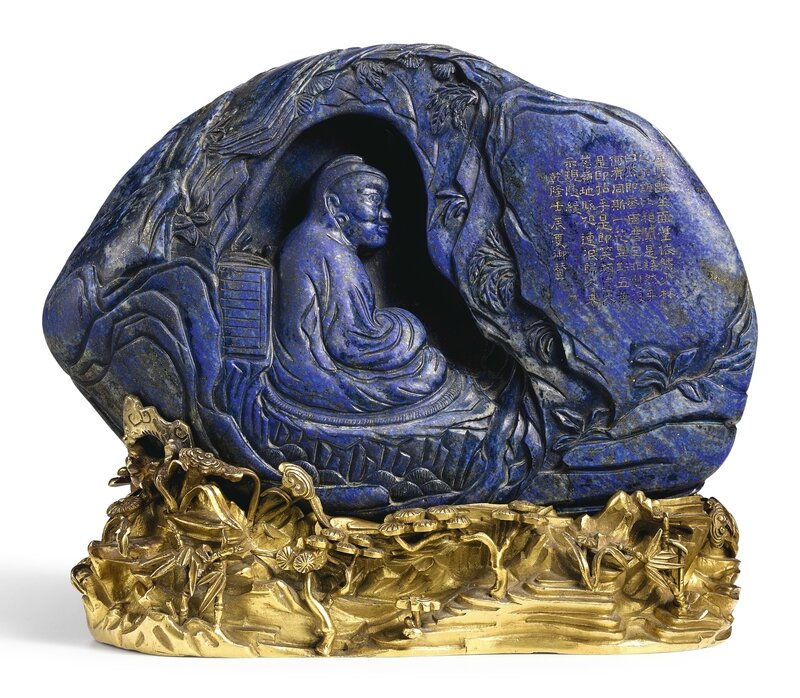 Lot 3631. An imperially inscribed lapis lazuli 'Bodhidharma' boulder, Qing dynasty, Qianlong period (1736-1795), boulder 18.2 cm, 7 1/8 in. Estimate 600,000 — 800,000 HKD. Lot sold 937,500 HKD (113,449 EUR) (120,647 USD). Photo: Sotheby's
the substantial boulder of mountain form, worked in high relief to one face with a monk in a grotto, seated on a rocky ledge in front of a pile of books and staring at the walls in meditation, the grotto framed by cragged rockwork and wild shrubs, finely incised and gilt on the rock face with an imperial poem bearing the cyclical date of Qianlong renchen (in accordance with 1772), the stone of a bright purple-blue colour suffused with gold flecks and milky-white inclusions, the gilt-bronze stand cast in the form of a rock base with a lush of wild plants
Provenance: Acquired in China by Edmond D. Coblentz (1882-1959), a leading American photo journalist for Hearst newspapers.
Note: It is rare to find a lapis lazuli boulder of this high quality, inscribed with a Qianlong Imperial poem and complete with its original gilt-bronze stand. For an example from the Avery Brundage Collection in the Asian Art Museum, San Francisco, see René-Yvon Lefebvre d'Argencé, Chinese Jades in The Avery Brundage Collection, San Francisco, 1977, p. 142, pl. LXIV. See also a lapis lazuli boulder carved with a luohan in a grotto, gifted by Heber Bishop in 1902 to the Metropolitan Museum of Art, and on permanent display, accession no. 02.18.917. Compare also an example sold at Woolley & Wallis, Salisbury, 19th May 2010, lot 342.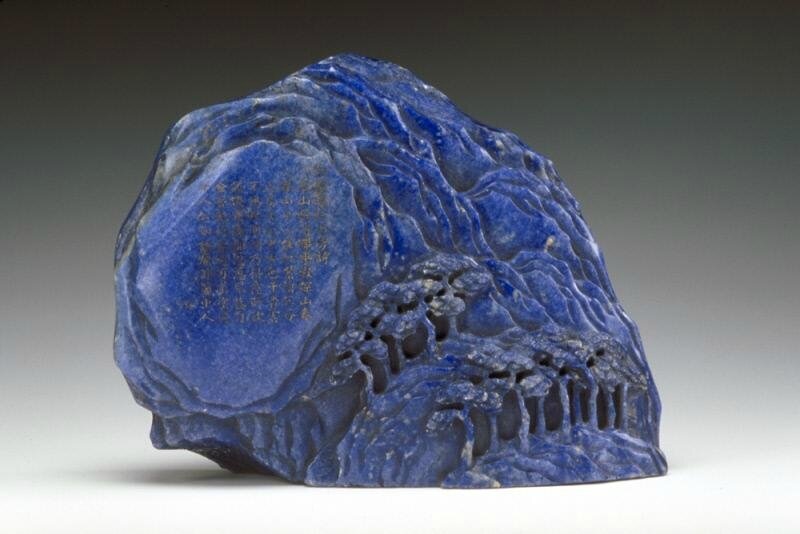 Mountain with poetry against a landscape, Qing dynasty (1644-1911). Stone dyed to imitate lapis lazuli. H. 6 7/8 inx W. 9 in x D. 2 1/2 in, H. 17.5 cm x W. 22.9 cm x D. 6.3 cm. The Avery Brundage Collection, B60J30 © 2017 Asian Art Museum Chong-Moon Lee Center for Asian Art and Culture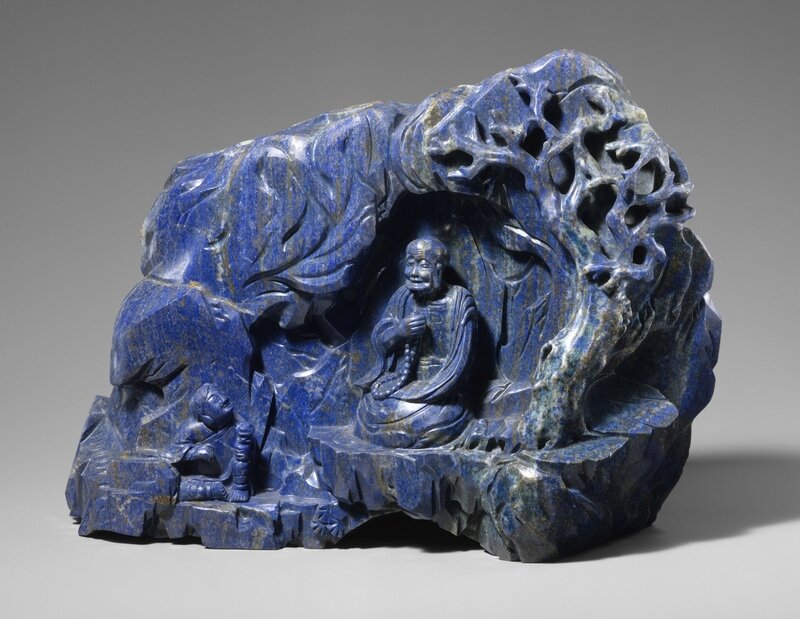 Seated luohan (arhat) in a grotto, Qing dynasty (1644–1911), 18th–19th century. Lapis lazuli. H. 7 1/8 in. (18.1 cm); W. 10 in. (25.4 cm). Gift of Heber R. Bishop, 1902, 02.18.917 © 2000–2017 The Metropolitan Museum of Art
For a closely related example in jade, depicting Bodhidharma in a mountain grotto, from the Qing court collection, preserved in the National Palace Museum, Taipei, see The Refined Taste of the Emperor: Special Exhibition of Archaic and Pictorial Jades of the Ch'ing Court, Taipei, 1997, pp. 140-141, no. 39.
Traditionally symbolic of purity and rarity, lapis lazuli appears to have been named qingjin shi (blue gold stone) during the Qing dynasty. The aura of mystery that surrounded this stone may have been due to the virtually inaccessible location of its principle mines in the remote Badakhshan region of northeast Afghanistan behind the Hindu Kush. According to Ming Wilson in 'The Colour of Stones', Transactions of the Oriental Ceramic Society, vol. 62, 1997-98, p. 34, there are no known records identifying this stone before the Qing period although beads attributed to the Western Han period have been excavated. Its natural smoothness allowed it to be polished to a high degree which highlighted the brilliance of its blue colour and contrasting natural inclusions. Carvings fashioned from lapis lazuli are rare and were reserved for the imperial court.
Sotheby's. Important Chinese Art, Hong Kong, 05 Apr 2017