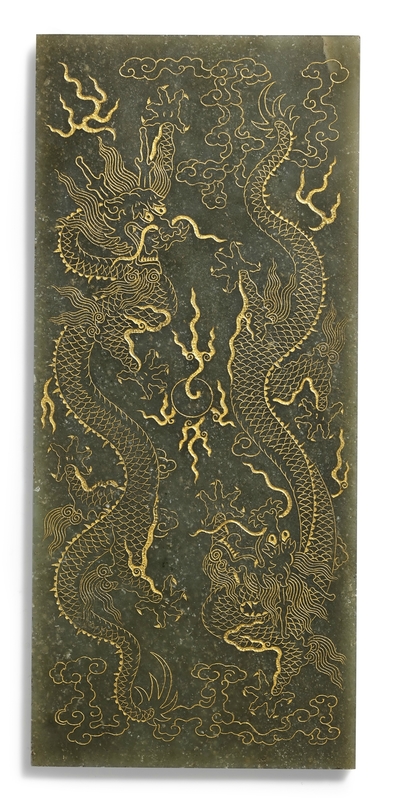 Lot 3615. An imperially inscribed celadon jade album leaf, mark and period of Qianlong, dated yichou year (in accordance with 1745), 28.7 cm, 11 1/4 in. Estimate 700,000 — 900,000 HKD. Lot sold 875,000 HKD (105,885 EUR) (112,604 USD). Photo: Sotheby's
the rectangular plaque skilfully incised and gilt on one side in running script with an excerpt from an imperial poem Yuzhi bingxi fu [An imperial rhapsody of ice sports], dated to the jiaping (12th month) of the yichou year (in accordance with 1745) and followed by two seal marks reading Qian and Long respectively, the reverse similarly incised and gilt with a pair of soaring dragons flanking a central 'flaming pearl' against flaming wisps and ruyi cloud scrolls, the lower edge of the album leaf gilt-incised with a shi (ten) character
Provenance: Collection of Niccolò Maddalena, Italy, since the early 20th century, by repute.
Note: The present jade plaque, finely inscribed with the last section of Yuzhi bingxi fu [An imperial rhapsody of ice sports] composed by the Qianlong Emperor and numbered shi [tenth], appears to be part of a jade album. The Emperor wrote that, in his introduction, although ice sports had been enjoyed for centuries and praised by the Song poet Su Dongpo (1037-1101), no rhapsody on the subject had been written before. Ice sports were of particular importance to the Manchurians, who ranked it among other traditional activities such as wrestling and archery. During the Qing dynasty, soldiers talented in ice skating were selected and trained to perform in front of the court during the annual grand ceremony in the 11th month on Lake Taiyi. Their performance during the winter ceremony would directly affect their military careers. A related painting An Ice Game by Jin Kun, Cheng Zhidao and Fu Long'an, depicting such ceremony on ice and inscribed with the same rhapsody by Ji Huang (1711-94), is preserved in the Palace Museum, Beijing and illustrated in The Complete Collection of Treasures of the Palace Museum. Paintings by the Court Artists of the Qing Court, Hong Kong, 1996, no. 61.
Finely incised and gilt jade books reveal the dexterity of the carver with the medium, as such thin plaques were extremely fragile and could break if excessive pressure was applied when carving. During the Qianlong period, the production of jade books attained a new apex of quality, reflecting the Emperor's deep admiration and the increased availability of the material following the pacification of the Hui people in Xinjiang. These books were made under imperial orders by artisans working in the Palace Workshop belonging to the Neiwufu in the jade workshops of Suzhou, or in those belonging to the Huai and Changlu Administrations.
Imperial jade books are frequently found inscribed with poetry; see one in the Palace Museum, Beijing, illustrated in the Compendium of Collections in the Palace Museum. Jade. Qing Dynasty, vol. 9, Beijing, 2011, pl. 85, together with a slightly larger book, pl. 84; two examples illustrated in Chinese Jade Books in the Chester Beatty Library, Dublin, 1963, pls 1 and 5; and a slightly smaller one, from the collection of Sir James Thornton, included in the exhibition Chinese Jade. Stone for the Emperors, Art Gallery of Greater Victoria, Victoria, 1986, cat. no. 92. Compare also a smaller book carved with the Sui dynasty (581-619) Chu Shi Song, sold in these rooms, 10th April 2006, lot 1528; and another with calligraphy after Wang Xizhi (303-361), sold in our Paris rooms, 9th June 2010, lot 173.
Sotheby's. Important Chinese Art, Hong Kong, 05 Apr 2017