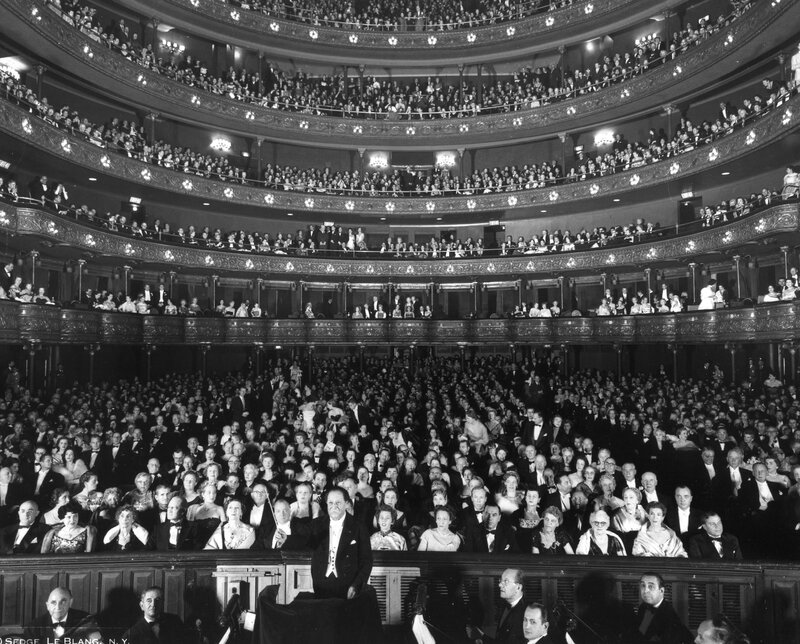 Opening night of Gonoud's Faust in 1953. Photo by Sedge LeBlang/ Metropolitan Opera Archives.
NEW YORK, NY.- Christie's announces The Metropolitan Opera Guild Collection, a dedicated auction of rare musical manuscripts and memorabilia, to take place in New York on June 15, 2017, with two exquisite pieces of jewelry to be sold in the Magnificent Jewels auction on June 20, 2017. Funds from the sale will benefit the Opera Guild and the Metropolitan Opera. Highlights will be previewed during a global tour with exhibitions in London and Hong Kong in April and May. The full collection will be on preview in New York June 10-14.
The collection includes approximately 90 lots and represents a selection of autograph material from some of the most important composers of the Western classical tradition spanning from the Baroque era to the 20th-century. The majority of manuscripts come from the carefully assembled gift of Edwin Franko Goldman (1878-1956), renowned American composer and trumpeter with the Metropolitan Opera. The sale is led by the sole surviving autograph musical manuscript by Schubert for his Piano Sonata in A flat Major (estimate: $350,000-500,000). Additional highlights include annotated manuscripts and letters by the trinity of Bach, Mozart and Beethoven. Illuminating the sale are objets d'art with provenance grounded in opera and classical music including Enrico Caruso's Cartier gold eyeglass case with glasses and Arturo Toscanini's Gubelin open-faced pocket watch.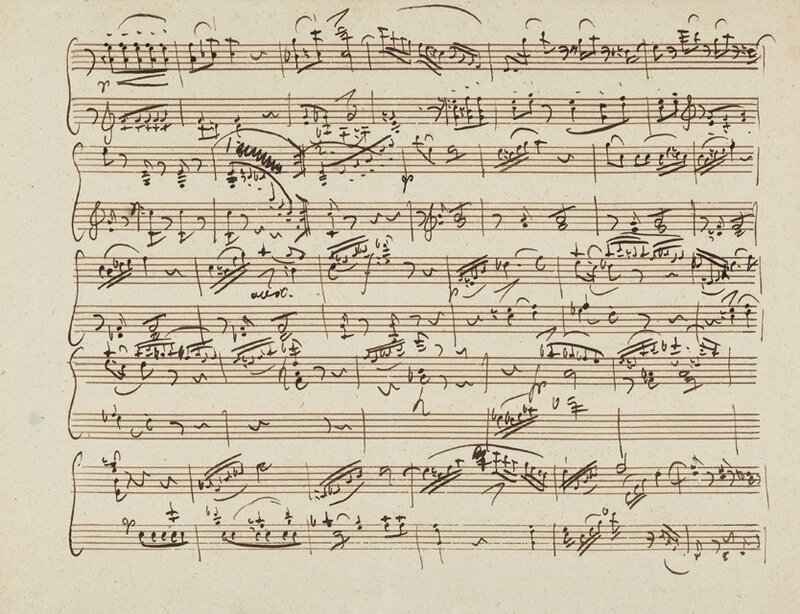 Franz Schubert (1797-1828), Autograph manuscript signed for his piano sonata in A-flat major, D. 557, May 1817. 8 pages (240 x 320mm). Estimate: $350,000-500,000. © Christie's Images Limited 2017.
Sven Becker, Head of Books & Manuscripts, Christie's New York, remarks: "Christie's is honored to be entrusted with this special collection offering a concentration of fine musical autograph material. Collections such as this come to the market very infrequently; even more rarely do they bear the name of such a well-regarded American institution."

"We are pleased to be working with Christie's to present this auction at the time of two important milestones in 2016/7: the 60th anniversary of the death of Edwin Franko Goldman and the 50th anniversary of the Met Opera at Lincoln Center," says Richard J. Miller Jr., President of the Metropolitan Opera Guild. "Funds generated from this sale will ensure that the Guild and the Metropolitan Opera are poised to continue fulfilling their respective missions for years to come."

Cataloguing and complete details of the sale will be available in May 2017.

Global Tour Dates and Locations:

• London | Highlights Exhibition | April 19-27
• Hong Kong | Highlights Exhibition | May 26-29
• New York | Sale Preview | June 10-14Sven Becker, Head of Books & Manuscripts, Christie's New York, remarks: "Christie's is honored to be entrusted with this special collection offering a concentration of fine musical autograph material. Collections such as this come to the market very infrequently; even more rarely do they bear the name of such a well-regarded American institution."

"We are pleased to be working with Christie's to present this auction at the time of two important milestones in 2016/7: the 60th anniversary of the death of Edwin Franko Goldman and the 50th anniversary of the Met Opera at Lincoln Center," says Richard J. Miller Jr., President of the Metropolitan Opera Guild. "Funds generated from this sale will ensure that the Guild and the Metropolitan Opera are poised to continue fulfilling their respective missions for years to come."

Cataloguing and complete details of the sale will be available in May 2017.

Global Tour Dates and Locations:

• London | Highlights Exhibition | April 19-27
• Hong Kong | Highlights Exhibition | May 26-29
• New York | Sale Preview | June 10-14