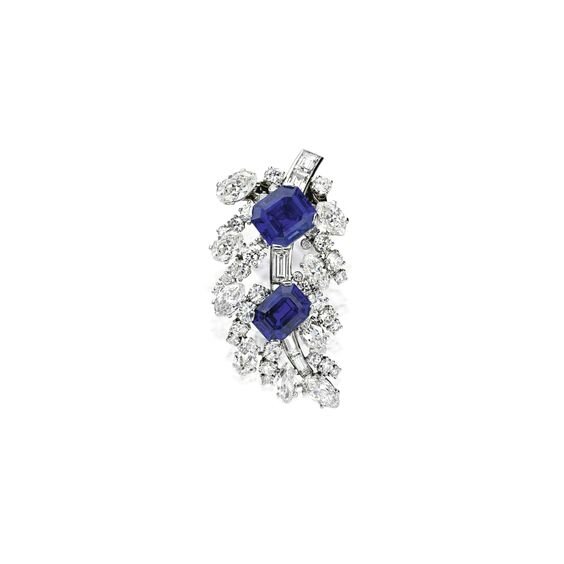 Lot 105.
Platinum, Ceylon Sapphire and Diamond Brooch, Cartier, Paris, 1930s.
Estimation 200,000 — 300,000 USD
. Photo: Sotheby's.
Of foliate design, set with two emerald-cut sapphires weighing approximately 10.40 and 7.75 carats, accented by round, baguette, old European-cut, pear and marquise-shaped diamonds weighing approximately 13.95 carats, signed Cartier Paris, numbered 07529, with French assay and maker's marks; 1930s.
Provenance: Parke-Bernet Galleries, Magnificent Jewelry of the Late Mrs. John E. Rovensky: Formerly Mrs. Morton F. Plant, January 23, 1957, lot 125.
Note: Accompanied by AGL report no. CS 1081150 A and B stating that the sapphires are of Ceylon origin, with no indications of heating.
This brooch was formerly in the collection of Mrs. John E. Rovensky, whose previous marriage to Morton F. Plant helped convert Fifth Avenue into the center of luxury it is known for today. At the turn of the century a stretch of the legendary street was referred to as 'Millionaire's Row.' It was the Vanderbilt family that first laid claim to this area, and in the hopes of keeping the area free of commercial businesses, trolley lines and other unsightly nuisances, the family lured their wealthy friends to invest in Fifth Avenue residences of their own.
Railroad tycoon Morton F. Plant purchased the lot on the southeast corner of Fifth Avenue and 52nd Street from William K. Vanderbilt in 1901 for $1 million. Plant immediately hired architect Robert W. Gibson to develop the lot, and their grand limestone mansion was completed in 1905. Mr. Plant enjoyed his new residence, despite his neighbors' increasing weariness over the growing commercial feel of the area – a suspicion confirmed when Cartier opened their first New York store on the corner of Fifth Avenue and 56th Street.
Following the death of his wife in 1913, Mr. Plant married Ms. Mae Caldwell Manwaring and soon started building a home for his new bride at 1031 Fifth Avenue, on 86th Street. As more brands followed Cartier's example, many families, including the Vanderbilts, had moved farther uptown. Doubtful of the investment he had made on his corner lot, Mr. Plant wondered how he may be able to liquidate his property. In 1917 a solution to Mr. Plant's real estate woes presented itself when his wife spoke of a two-strand pearl necklace she had greatly admired in Cartier's window. With 'Millionaire's Row' rapidly becoming more commercial and his uptown mansion nearing completion, Plant agreed to an offer from Cartier in 1917: the jewelers would get his corner lot in exchange for the pearls, which were valued at $1 million.
Although Cartier had the building renovated to fit their needs, the Morton F. Plant building remained largely untouched and was designated a New York City Landmark in 1970. Mrs. Plant, later Mrs. John Rovensky, remained an avid jewelry collector throughout her life – her most treasured pieces, of course, by Cartier. The Jewels of the late Mrs. Rovensky were sold by Parke-Bernet Galleries in 1957; the present brooch was offered as lot 125. Lots 114 and 116, two magnificent strands of pearls, reported as being the pearls, were also included in the landmark auction. This brooch, an elegant and timeless design, is the perfect example of a jewel whose provenance is just as glittering as its exterior.
Sotheby's. Magnificent Jewels Including the Legendary Stotesbury Emerald, New York, 25 avr. 2017, 10:00 AM.