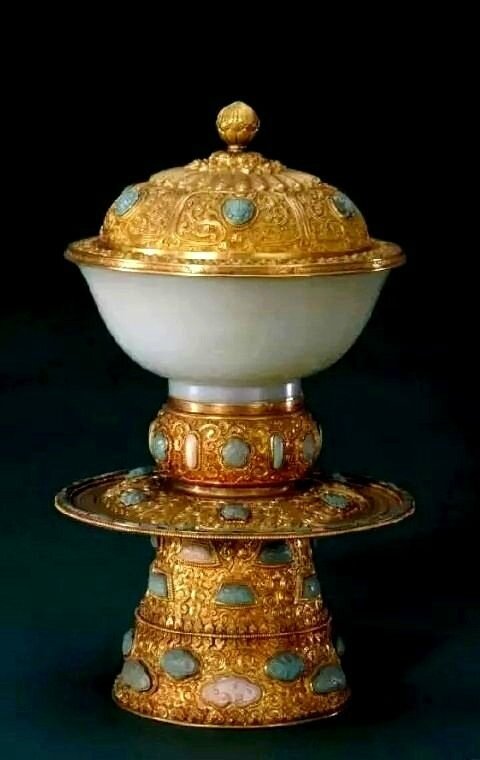 Jade Bowl with Floral Design and Turquoise Inlays (Jin zanhua gaozu baiyu gaiwan), Qianlong reign (1736-1795), Qing dynasty. Height: 26cm, Mouth diameter: 14.5cm © The Palace Museum.
This bowl has a jade body complemented by a gold cover and pedestal stand. The four characters at the bottom indicate that it was made by an imperial studio during the Qianlong reign. Its gradually flaring foot is embossed with patterns of interlocking lotus and clouds, and is inlaid in turquoise with crabapple blossoms and clouds. Resting on the foot pedestal is a saucer with framed panels and overlapping circle patterns as well as turquoise lines around the edge. Inside the framed panels are interlocking branch patterns and turquoise inlays. Above the saucer, is a round stand with interlocking lotus patterns and turquoise plum blossoms.
The pure white jade bowl is undecorated on the outside but has an inscription in Tibetan on the inside. The swelling cover with broad brim has interlocking lotus patterns and turquoise decorations. The upper part of the cover is embossed with lotus petal patterns. It is topped with a bud-shaped knob.
Although various covered bowls were used at the court during the Qing dynasty, those with both jade and gold are rarely seen. The exquisite techniques contribute to this excellent work that is both practical and beautiful.