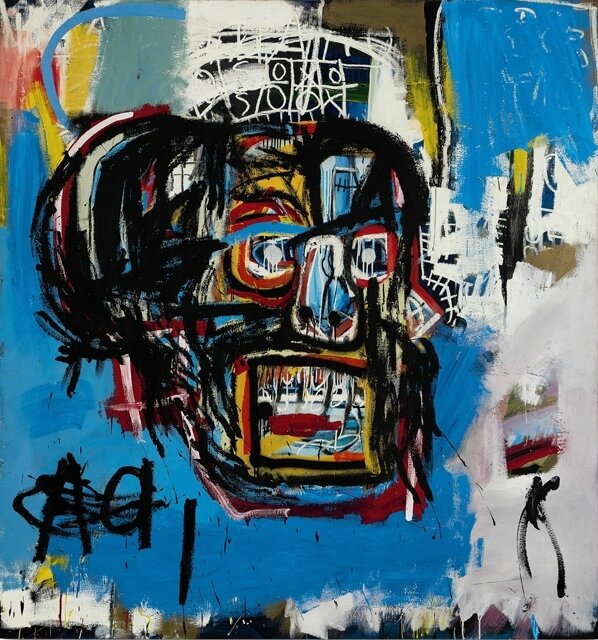 Jean Michel-Basquiat, Untitled, 1982. Oilstick, acrylic and spraypaint on canvas, 72 1/8 by 68 1/8 in. Estimate in excess of $60 million © 2017 The Estate of Jean-Michel Basquiat / ADAGP, Paris / ARS. Courtesy Sotheby's.
NEW YORK, NY.- Sotheby's Contemporary Art Evening Auction will be led by Jean-Michel Basquiat's Untitled from 1982, a monumental masterpiece that has been virtually unseen since it last appeared on the market in May 1984. The landmark canvas is one of a number of iconic American post-war paintings in a sale that also features Roy Lichtenstein, Andy Warhol, Robert Rauschenberg and Cy Twombly, as well as European masters including David Hockney, Rudolf Stingel and Gerhard Richter. The pre-sale exhibition opens in New York on 5 May ahead of the sale on 18 May.
Grégoire Billault, Head of Sotheby's Contemporary Art Department in New York, commented: "It is an enormous pleasure to bring a Basquiat of this magnitude to the market. The scale, subject matter, date and freshness, combined with recent record prices and increased demand for the artist's work, make May the ideal time to present a masterpiece of this caliber – a truly outstanding achievement of recent art history – to the market."
Jean-Michel Basquiat completed Untitled in 1982 at a time when he was virtually unknown to the art world. Exhibited only in a small group exhibition called Fast at Alexander Milliken Gallery in New York from June to July of that year, Untitled entered the distinguished private collection from which it is being offered just two years later in 1984, when it was purchased at auction for $19,000. Never loaned for public exhibition since its acquisition 33 years ago, the appearance of the painting to market is made all the more remarkable given that it has been known only from a small thumbnail picture in the artist's catalogue raisonné.
Untitled is among the most important paintings by the artist still in private hands. The vast 72 1/8 by 68 1/8-inch canvas marks a critical moment in the artist's career, executed in the same year that the artist had his seminal first solo exhibitions at Annina Nosei Gallery in New York and Gagosian Gallery in Los Angeles. Intricate layers of forcefully applied and impastoed oilstick, acrylic, and spraypaint in a spectrum of electric color coalesce in an intensely worked, rich surface that exemplifies Basquiat's singular command as a master colorist and draftsman. Exploding in a torrent of irrepressible gestural energy that reflects Basquiat's early beginnings in graffiti, the painting further inaugurated the beginnings of a new mode of figurative painting that took hold of the New York art world in downtown Manhattan in the early 1980s.
Basquiat's exceptional rendering of a single skull-like head draws many parallels with the artist's most celebrated works, perhaps most significantly Untitled from 1981 in the collection of The Broad, Los Angeles. The canvas is populated with a range of Basquiat's greatest icons: most remarkably dominated by the complexly detailed anatomical head, the three-pointed crown and all-over scrawled typography. The work is estimated to fetch in excess of $60 million.
Roy Lichtenstein's larger-than-life Nude Sunbathing from the last major series completed before the artist's death, uses vibrant red Benday dots and bold, graphic, black lines to depict his signature subject matter – the female form. Purchased at Gagosian Gallery in 1996, a year after it was completed, the work comes to auction for the first time and is expected to fetch in excess of $20 million.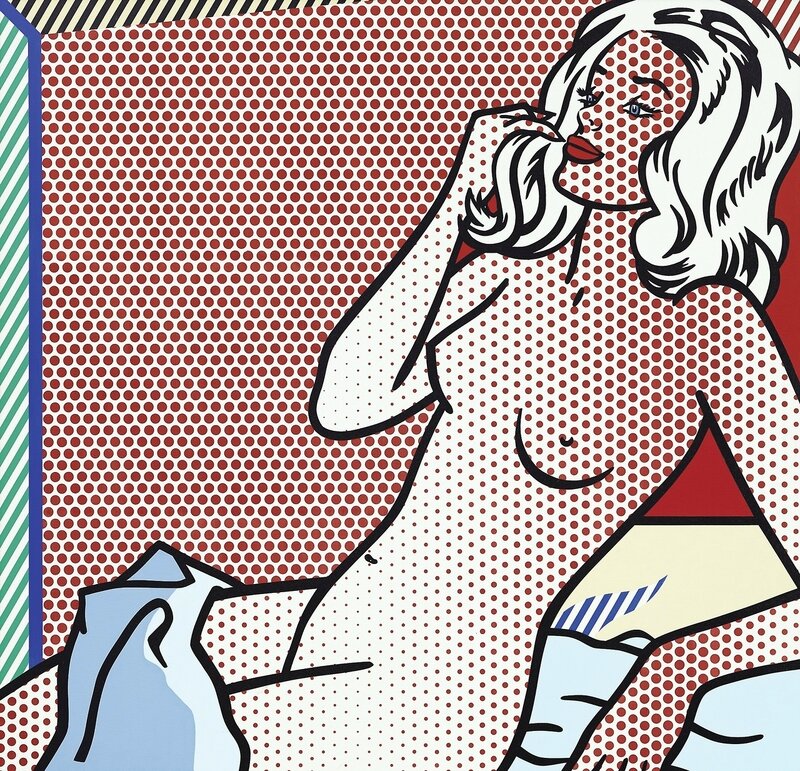 Roy Lichtenstein (1923 - 1997), Nude Sunbathing, signed and dated 95 on the reverse, oil and Magna on canvas, 58 1/8 by 60 in. 147.6 by 152.4 cm. Estimate in excess of $20 million. Photo: Sotheby's
The first painting in the catalogue for the momentous 1999 exhibition, Andy Warhol: Hammer and Sickle at Thomas Ammann Fine Art in Zurich, Hammer and Sickle occupies a lofty place in Andy Warhol's oeuvre. Dated 1976-77, the present work was acquired by renowned gallerist and founder of the Dia Art Foundation Heiner Friedrich and his wife Philippa de Menil the year after it was painted (estimate $6/8 million). The finest work of Andy Warhol's late 1970s series and notable for its pristine paint application, this composition is one of four known large-format paintings that match the icon on the Soviet Flag, of which two are held in museums: the Museum of Modern Art in New York and the Museum Brandhorst in Munich.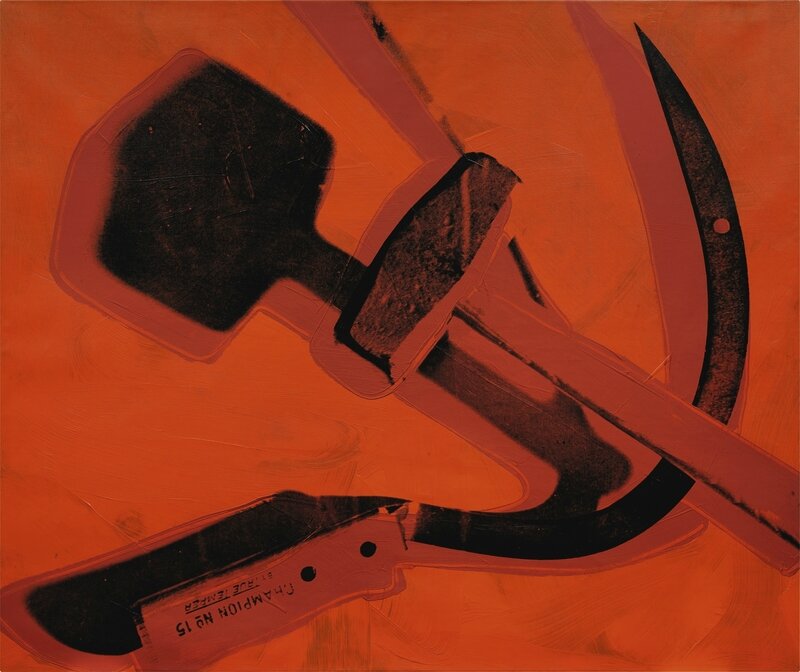 Andy Warhol (1928 - 1987), Hammer and Sickle, signed, dated 1976 and inscribed Heiner Friedrich on the overlap, acrylic and silkscreen ink on canvas, 71 3/4 by 86 1/8 in. 182.2 by 218.8 cm. Estimate $6/8 million. Photo: Sotheby's.
The large-scale Untitled #13 from 1980 is quintessential Agnes Martin. Enveloping the viewer with stunningly soft and muted colors, and mesmerizing patterns, the work is reminiscent of the artist's full-scale works from 1968, when she moved to New Mexico. Previously exhibited in San Francisco, New York, Amsterdam, Paris, and many other locations, the acrylic, gesso, and graphite on canvas comes to auction this season with a pre-sale estimate of $5/7 million.
Agnes Martin (1912 - 2004), Untitled #13, signed and dated 1980 on the reverse, acrylic, gesso and graphite on canvas, 72 by 72 in. 182.9 by 182.9 cm. Estimate $5/7 million. Photo: Sotheby's.
With gestural brushwork and a beautiful combination of bold and pastel tones, Silex Scintillans is an energetic and vibrant work that highlights many of the most celebrated aspects of Cy Twombly's creative output in a rare triptych format (estimate $5/7 million). Titled after Henry Vaughan's Silex scintillans – a collection of religious poems published in 1650 – the present work embodies the artist's newfound interest in the late 1970s and 1980s of classical themes and inspirations, including religion, love and fate.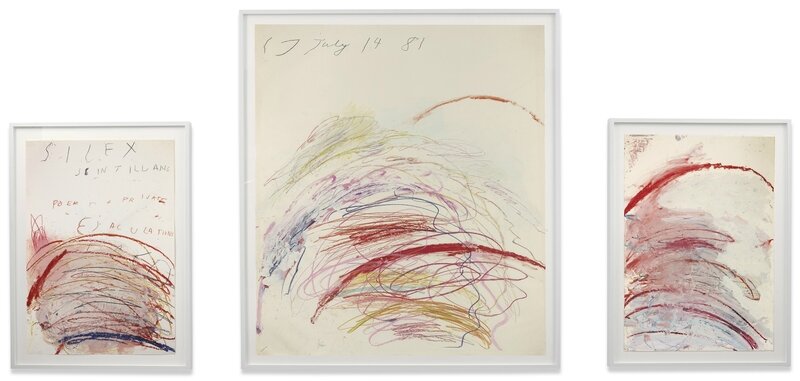 Cy Twombly (B.1928), Silex Scintillans, signed with initials, dated July 14, 81 and numbered on the center sheet; titled and numbered on the left sheet; numbered on the right sheet, oil, wax crayon, colored pencil and graphite on paper, in 3 parts; left sheet: 39 1/4 by 27 3/4 in. 99.7 by 70.5 cm.; center sheet: 58 5/8 by 52 in. 148.9 by 132.1 cm.; right sheet: 39 1/4 by 27 3/4 in. 99.7 by 70.5 cm. Estimate $5/7 million. Photo: Sotheby's.
Gerhard Richter's Abstraktes Bild utilizes the artist's signature spatula technique to scatter accents of red, yellow and blue across a 78 3/4 by 63-inch canvas painted in luminous ivory. Acquired in the year it was painted from Galerie Liliane & Michel Durand-Dessert in Paris, and having remained in the same distinguished collection for over twenty-five years, Abstraktes Bild makes its auction debut on 18 May with an estimate of $12/18 million.
Rudolf Stingel's Untitled is an exceptional paradigm of the artist's electroplated copper reliefs. The 2012 work, estimated to fetch $5/7 million, is particularly rare in its monumental configuration of six joined panels, measuring 94 1/2 by 141 3/4 by 1 1/2 inches overall.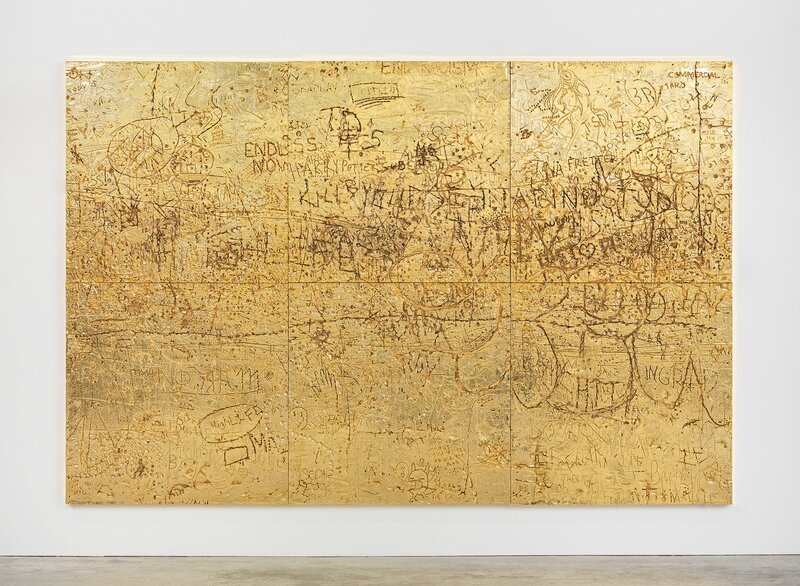 Rudolf Stingel (B.1956), Untitled, electroformed copper, plated nickel and gold, stainless steel frame, in 6 parts; each 47 1/4 by 47 1/4 by 1 1/2 in. 120 by 120 by 4 cm.; overall 94 1/2 by 141 3/4 by 1 1/2 in. 240 by 360 by 4 cm. Executed in 2012. Estimate $5/7 million. Photo: Sotheby's.
Building, Pershing Square, Los Angeles is a critical early landmark of David Hockney's era-defining painted visions of Los Angeles, encapsulating the very genesis of his lifelong enchantment with the magnetic allure of Southern California (estimate $6/8 million). Significantly regarded as one of the very first paintings Hockney made after arriving in the city in January of that year, the work was included in his first American exhibition at Charles Alan's gallery. Acquired in April 1974 by the pioneering Los Angeles dealer Paul Kantor, Building, Pershing Square, Los Angeles has remained in the same family collection until the present day.
Also by the artist, Gauguin's Chair has been shown in major exhibitions around the world including David Hockney: Espace/Paysage at the Centre Pompidou, Paris, in 1999 and David Hockney: Maleri 1960-2000 at the Louisiana Museum of Modern Art, Humlebaek from 2001-2001. Estimated to fetch $2.5/3.5 million, the work is an outstanding example of the artist's mastery of color and form.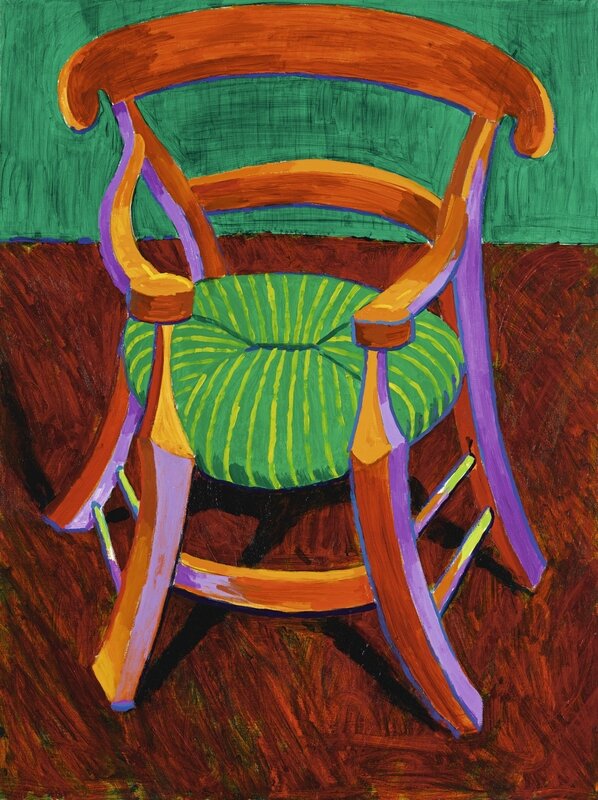 David Hockney (B.1937), Gauguin's Chair, signed, titled, and dated 1988 on the reverse, acrylic on canvas, 48 by 36 in. 121.9 by 91.4 cm. Estimate $2.5/3.5 million. Photo: Sotheby's.