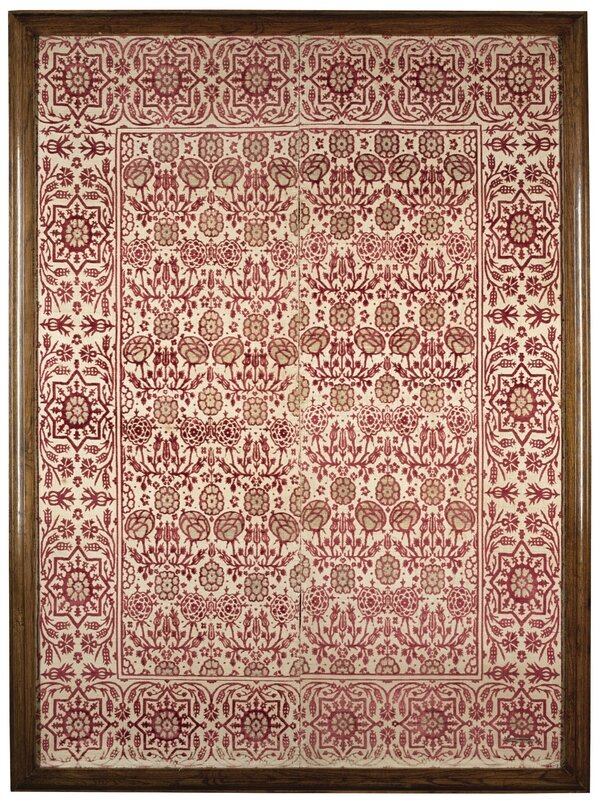 Lot 143. A large Ottoman voided silk velvet and silver metal thread panel (çatma), Turkey, late 17th century. Estimate 40,000 — 60,000 GBP. Photo: Sotheby's.
composed of two joined vertical panels, the voided dark ivory silk ground with delicate red velvet design comprising rosettes and tulips filled with silver-thread highlights, framed by geometric stellar design with carnations, mounted onto a stretcher, set in a wooden frame without glazing. Framed: approximately 178 by 131cm. Textile: approximately 165 by 120cm.
Property from the Collection of Argine Benaki Salvago
Note: A brocaded voided cut crimson velvet panel with an identical design, comprised of two vertically pieced loom width sections, with a horizontal border of eight-pointed medallion, only along the lower edge (with five medallions) and a vertical right hand side border (with four medallions), seventeenth or eighteenth century (overall measurement 123cm by 105cm; each panel 123 by 43cm and 123 by 62cm. respectively), is in the Musées Royaux d'Art et d'Histoire, Brussels, (Inv. no. IS.Tx.215. Acquisition: Bought by I. Errera in Istanbul in 1900 and donated to the museum).

This comparable panel of a voided foundation with pattern rendered in deep crimson velvet pile, with details to the centres of the flowers and the pointed medallions, is also slightly misaligned at the join of the two panels. It has the same double line as a demarcation between the borders and panel design. It is a very unusual design incorporating some highly stylised flower heads in the main design. In addition the design of the delicate trails of tulips and carnations, are not dissimilar to those found in other textiles of the period, but are more unusual when combined with medallions in velvet panels. They are found on a surviving length of crimson and yellow solid pile velvet, with lobed medallions as the main repeat field design, surrounded by the similar delicate trails, Ottoman Turkey, second half seventeenth century, 152 by loom width 67cm, in the Victoria & Albert Museum, London (Inv. no. 355-1897); (Atasoy 2001, pp.313 & 335, fig.333, pl.77).

There are a number of existing panels which vary in size from two loom width panels, to much larger examples, used as coverings and floor carpets; and are predominantly designs of staggered medallions.
Sotheby's. Arts of the Islamic World, London, 26 Apr 2017, 10:30 AM