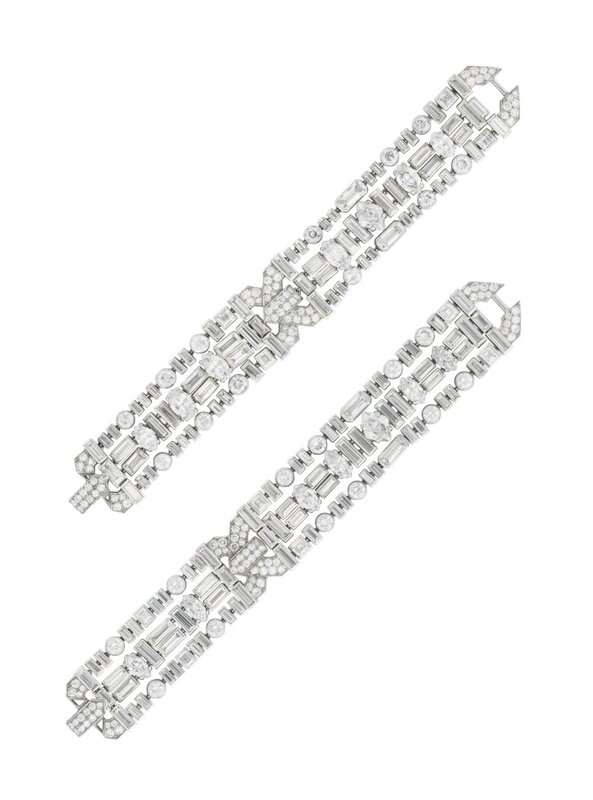 Lot 327. An important pair of Art deco diamond bracelets, by Cartier. Estimate USD 700,000 - USD 1,000,000. Price realised USD 991,500. © Christie's Images Limited 2017.
Each composed of three independent circular, navette, marquise and baguette-cut diamond lines, intersected by pavé-set diamond sculpted motifs, circa 1930, 6 5/8 ins. and 6 7/8 ins., mounted in platinum, may also be worn as a choker of 13¼ ins. Each signed Cartier, nos. 8410, 8354, 822
Provenance: Formerly from the Collection of Doris Duke
Previously sold at Christie's New York, The Doris Duke Collection of Important Jewelry, 2 June 2004, Lot 102
Note: Once called "the richest girl in the world," Doris Duke (1912-1993), was the sole heir to the American Tobacco Company and Duke Energy fortunes. The family fortune began with Doris Duke's grandfather, Washington Duke, a tobacco farmer in North Carolina, who created a cartel with other local farmers after the Civil War. Washington's son and Doris' father, James Buchanan Duke, inherited the business in 1890 and developed it into the thriving American Tobacco Company. When James passed away in 1925, he left roughly half his large fortune to the Duke Endowment and the remainder to his only daughter, Doris Duke, who was only twelve-years-old at the time.

Despite the early tragedy of her father's death, Doris Duke grew up free spirited, adventurous and happy, using her wealth to pursue her many interests. Doris Duke was a lover of the arts, world traveler, cultural explorer, dedicated environmentalist, talented horticulturalist and committed philanthropist, whose generosity will have an impact for generations.

For her beloved homes, including Duke Farms in New Jersey, Shangri La in Hawaii, and Rough Point in Rhode Island, which she preferred over the scene and spotlight, Doris Duke curated a diverse collection of fine and decorative arts. During exotic travels, Doris Duke developed a deep appreciation for Islamic and Southeast Asian art; the impressive collection, which she curated throughout her lifetime, can be viewed today at Shangri La. A love of the Near and Far East enveloped Doris Duke's life, and is evidenced not only in Shangri La, but also in her jewelry, whether by Cartier, David Webb, or the extensive collection of Indian and South East Asian jewelry that she amassed.

Jewelry is perhaps the most intimate expression of style, and whether it was an heirloom piece from her mother or a jewel which she designed herself, it would always perfectly reflect the personality and the social mood of the moment. The fact that Doris Duke considered her jewelry to be an accidental collection is quite extraordinary. The magnificence, beauty and quality of objects is remarkable and quite uniquely tells a story of privilege, taste, and a shifting life style over the course of many decades spanning two centuries. At the heart of the glamorous and opulent age from which Doris Duke inherited much of her most important jewelry, was the famed jeweler Cartier. Founded by Alfred Cartier in 1847 the firm increased its popularity throughout the second half of the nineteenth century and when Alfred's three sons Louis, Pierre and Jacques took control of the company the Cartier legend began. Jewelry from the Art Deco period represented some the firm's very finest work, and the bracelets offered here (Lots 327 and 328), from the Doris Duke collection, represent their finest materials and craftsmanship of this era.
On June 2, 2004, Christie's was honored to present the Magnificent Jewels from the Doris Duke Collection, a landmark jewelry auction that achieved unparalleled results. We are pleased to again have the opportunity to present significant pieces from Doris Duke's timeless collection here in New York. In Geneva on May 17th, a diamond necklace by Cartier, will be offered as well. This necklace was sold in 2004 as only a mounting by Cartier; Doris Duke had unmounted nearly all of the diamonds in the important necklace and reset the stones in other jewelry. The new owner subsequently spent years replacing all of the missing stones with age appropriate diamonds, restoring this incredible jewel to its original splendor. Since Christie's prior sale, pieces from the Doris Duke Collection have only rarely been seen on the marketplace. This spring, we are thrilled to give collectors the opportunity to once again acquire one of these exquisite jewels with most extraordinary provenance.
Christie's. Magnificent Jewels, 26 April 2017, New York, Rockefeller Center