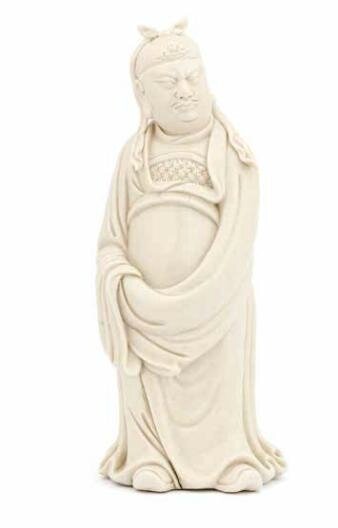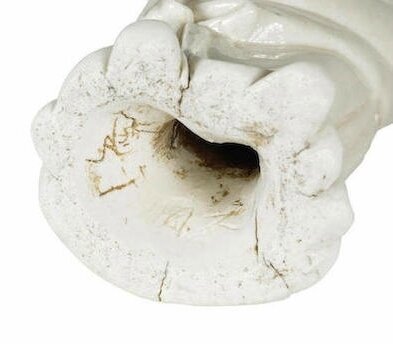 Lot 157. A blanc-de-chine figure of Guandi, 17th century, 21.5cm (8 1/2in) high. Estimate £4,500 - 6,000 (€5,400 - 7,200). Photo: Bonhams.
The figure finely modelled wearing a cloth cap tied in a simple knot over the head with two trailing ribbons, the face with stern expression and the mouth surrounded by holes for a moustache and beard, the hands clasped across the rounded belly and concealed beneath long flowing sleeves, all covered in a rich creamy-white glaze, the interior incised with a four-character mark reading 'Da Ming Nian Zhi'.
Note: The military general Guan Yu (died 219AD) was glorified for his loyalty and martial prowess in the Ming dynasty historical novel Romance of the Three Kingdoms, attributed to Luo Guanzhong. In 1614, during the revitalization of the Ming military under the Wanli emperor, the worship of Guan Yu became a State-sponsored cult and henceforth became known also as Guandi (literally 'Emperor Guan'), the God of War.

A similar blanc-de-chine figure of Guandi with a pedestal, Ming dynasty, c.1610-1620, is illustrated by J.Harrison-Hall, Ming Ceramics in the British Museum, London, 2001, p.512. Compare also with a related but slightly larger figure of Guandi, 17th century, which was sold in these rooms, 15 May 2014, lot 22.
Bonhams. FINE CHINESE ART, 11 May 2017, 11:00 BST, LONDON, NEW BOND STREET