Lot 169. A monumental lustre pottery tile fragment, Persia, 13th-14th century, 57.5 by 44 by 4.5cm. Estimate 60,000 — 80,000 GBP. Lot sold 187,500 GBP. Photo Sotheby's 2017.
moulded in relief with large thuluth inscription in cobalt blue between scrolling turquoise foliage under an opacified tin glaze and over-decorated in lustre, the ground with dense floral motifs.
Provenance: Ex-collection Erik Reiff (1923-2006).
Erik Reiff was a notable Danish potter, known for his sleek designs influenced by Oriental ceramics. Working for Bing & Grøndahl from 1949, he produced his work in his own studio between 1957 and 1984. A bowl by Erik Reiff is in the Victoria and Albert Museum, London, inv.no. CIRC.313-1963.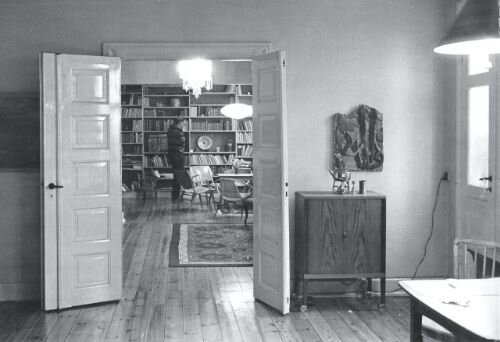 The tile in situ published in Holbæk Amts Venstreblad (today known as Nordvestnyt), Denmark, December 1963.
Literature: Holbæk Amts Venstreblad (today known as Nordvestnyt), Denmark, December 1963.
Note: inscriptions: wa al-din
These words most probably formed a section of a title such as: ghiyath al-dunya wa al-din Sultan...
The remaining letters on this tile are noteworthy as they measure fifty-seven centimeters, indicating that they would have formed part of the inscription along the exterior of a monumental building, most probably a palace or official site. The quality of the design of this tile is particularly fine and indicative of the new heights to which established ceramic techniques such as lustre were developed under Ilkhanid rule (1256–1353 AD). Despite the devastation wrought by the Mongol hordes in 1219 AD, the principles of Seljuk art were expanded and old techniques inspired a wave of experimentation and a fresh approach to the established decorative vocabulary.

It is difficult to locate the origin of this tile, although its inscription, with the notable hooked tops at the ends of each letter and their shapely appearance, is most comparable to a mihrab tile panel from the Imamzada 'Ali ibn Ja'far tomb complex in the city of Qum, now in the National Museum of Iran, Tehran, bearing the date 734 AH/1334 AD. However, the turquoise scrolling foliate design weaved around the letters is much more present on this example, almost competing with the letters themselves.

The honey-coloured ground of this tile is filled with delicate floral motifs reminiscent of a dish from Kashan, now in the David Collection, Copenhagen, dated 667 AH/1268 AD (inv. no. Isl 95). The distinctive palmette-like appearance of these flowers echoes far eastern models, testifying to the Mongol influence on local potters.
Sotheby's. Arts of the Islamic World, London, 26 Apr 2017, 10:30 AM