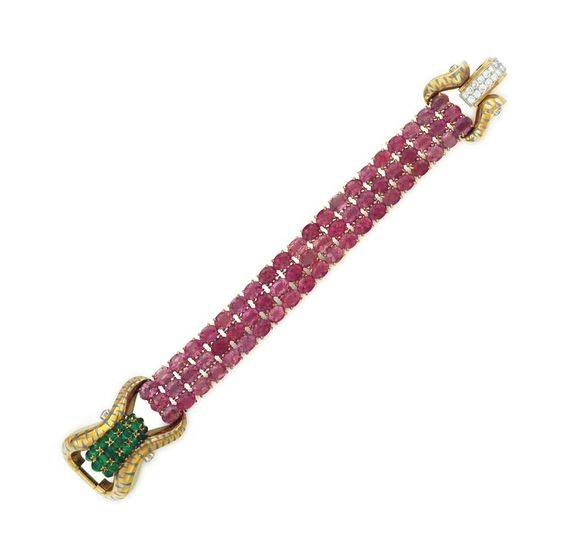 Lot 166. A multi-gem, enamel and gold bracelet, by J. Lacloche. Estimate USD 15,000 - USD 20,000. Price realised USD 27,500. © Christie's Images Limited 2017.
Designed as a three-row oval-cut pink tourmaline band, joined by a sculpted gold and light blue enamel clasp, set with oval cabochon emerald and circular-cut diamond scrolls, circa 1950, 7 1/2 ins., with French assay marks for platinum and 18k gold. Signed J. LaCloche for Jacques LaCloche, Paris, Cannes.
Note: LaCloche Frères & J. LaCloche
A prominent exponent of Art Deco jewelry and other objects d'art in the 1920s, LaCloche Frères was founded in 1875, in Madrid, by the brothers, Fornand, Jules, Leopold, and Jacques. Having opened branches in Saint-Sebastian, Biarritz and Paris, the brothers took over Faberge's London shop in 1920, and exhibited in the Exposition des Arts Decoratifs in Paris in 1925. Lacloche was rival to the finest jeweler designers of the day, producing not only exquisite jewelry, but also striking clocks and cigarette and vanity cases.
Having grown up in the business, Jacques LaCloche, a nephew of the LaCloche brothers, opened a jewelry store on Place Vendôme in 1936. These bracelets, circa 1950, highlight the bold textural style that was emerging in jewelry at this time. Following two long wars, the world yearned for a change, bringing about new and bold techniques. Yellow gold became more accessible and rose to popularity; pops of colored gemstones juxtaposed perfectly with the newly favored precious metal. The geometric, yet almost animistic blue enamel accents in these inspired bracelets show influence from Abstract and Surrealist art, which was becoming increasingly popular. Having contributed visionary, imaginative, and lasting designs to the worlds of jewelry and art, J. LaCloche closed his doors in the 1966 to pursue a career in Contemporary Art.
Christie's. Magnificent Jewels, 26 April 2017, New York, Rockefeller Center