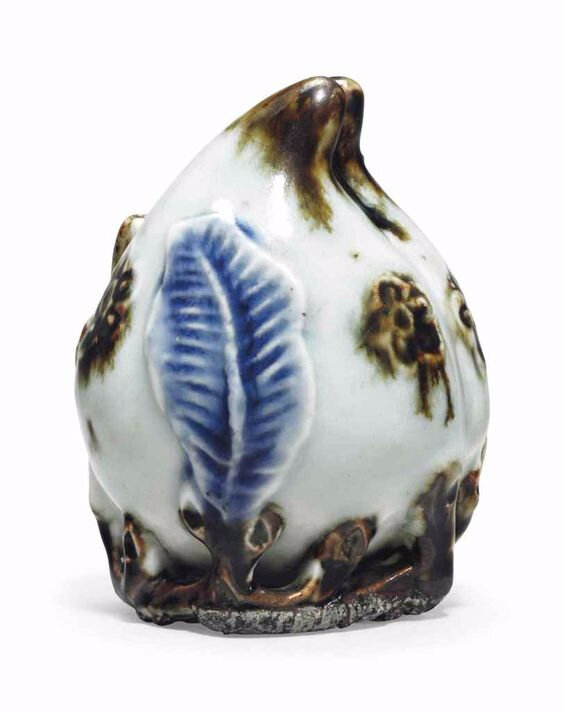 Lot 99. A blue and white and iron-decorated peach-form water dropper, Joseon dynasty, 19th century, 4 in. (10.2 cm.) high. Estimate USD 2,000 - USD 3,000. © Christie's Images Ltd 2017
Modeled in the form of a large Peach of Immortality, two side leaves applied with underglaze-blue, four smaller florets and the pointed double tip decorated in iron-oxide, applied with a glossy clear glaze. With wood box
Provenance: Private collection, Japan
Korean Scholar's Objects
Like Chinese literati, Korean scholars valued the so-called four treasures of the scholar's studio, or munbang sabo (Chinese, wenfang sibao): brush, ink, inkstone, and paper, the requisites for both painting and calligraphy. Even so, as both taste and setting differed in the two cultures, the quarters in which those four treasures were used differed significantly in appearance from country to country. In China, the scholar's studio ideally was a separate building, detached from the main living quarters and set in a well-planned and meticulously landscaped garden. In Korea, the scholar worked in his sarangchae, or study, a room within the sarangbang ???, which was that area of the traditional Korean home, or Han'ok ??, reserved for the men. Both the studio and the sarangchae provided a secluded environment where the scholar could retreat from the "dusty world"—i.e., from the stresses of work and the pressures of daily life—in order to relax, read, study, write, paint, and entertain like-minded friends.
A desk, a painting table, chairs, and bookcases constituted the Chinese studio's essential furniture, all of which was crafted in fine woods, typically huanghuali. A Korean gentleman's quarters included bookshelves and various types of storage chests but lacked chairs and high tables, as Korean scholars and officials sat on cushions placed on the floor and ate, worked, and entertained guests at low tables, sometimes of wood but other times of black lacquer inlaid with designs in mother of pearl. Both Chinese and Korean scholars would hang a painting or two on the studio wall; should a learned friend visit, the scholar likely would select from his collection an important scroll by a famous artist for display and perhaps also a cherished antiquity or two.
In addition, Koreans often displayed a chaekgeori screen—literally a "bookcase screen"—in the home, though not necessarily in the sarangbang, or gentleman's quarters. Typically comprising eight panels, such folding screens depict a wealth of objects associated with the home of a cultured scholar, from books and bookcases to brushes, ink, and inkstones to vessels for containing brushes and scrolls to vases of flowers and bowls of fresh fruit. A variety of screen known as munjado additionally features Chinese characters for the eight Confucian virtues, hyo (filial piety), je (brotherly love), chung (loyalty), sin (sincerity / integrity), ye (propriety), eui (righteousness), yeom (uprightness), and chi (humility). Such screens reminded the members of the household of their responsibilities to study and to live according to the Confucian precepts.
Koreans had long preferred scholar's implements in fine ceramic ware, prizing water droppers, brush washers, brush rests, brush pots, and censers in fine celadon ware in Goryeo times (918–1392) and ones in porcelain during the Joseon dynasty (1392–1910). Strict followers of Neo-Confucianism, Koreans, and particularly the literati, embraced an austere aesthetic vision during the Joseon era, the objects for their studios thus sporting only limited decoration. Many vessels are plain, relying on tautness of form and beauty of glaze for their appeal. Those that are embellished may exhibit lightly incised decoration or scenes modestly painted in pale shades of underglaze cobalt blue. The designs typically feature auspicious emblems and symbols of longevity. Since earliest times Koreans have taken delight in vessels with reticulated walls, a taste that found bold expression in Joseon-period brushpots and censers, whose perforations often form geometric designs but other times serve as the background for molded dragon or floral designs. Korean porcelains seldom show the bold palette of those from China's Ming and Qing dynasties; in fact, the brightest colors encountered on Joseon porcelains tend to be those on peach-shaped water droppers, which often include touches of both cobalt blue and iron brown—and occasionally even copper red—for descriptive effect. (The peach was favored because it stands as a symbol of immortality; both peaches and peached-shaped water droppers typically appear in chaekgeori and munjado screens.)
The function of most scholar's implements is clear, cylindrical pots for holding brushes or scrolls when not in use, for example, a brushrest in the form of a series of five mountain peaks for supporting brushes in use but not immediately in hand as the scholar alternated amongst brushes of various sizes and textures. Sometimes geometrically shaped, other times in the form of a peach, gourd, butterfly, or animal, water droppers were used to titrate small amounts of water onto the inkstone, so that in grinding the solid ink, the scholar could regulate its texture and tonality. The censer also played an important role in the studio, the scholars enjoying its pleasing fragrance while also hoping it would ward away insects, both those that annoy humans and those that destroy scrolls, books, and furniture. The incense burned in the studio was not the joss-sticks often found in Buddhist temples; rather, it typically was chips of sandalwood or other fragrant substances that could be wholly contained within the hollow of the censer, the fragrant smoke emerging through the hollows of the openwork designs.
The scholar's studio offered the literati an idealized environment in which they could read, paint, compose poetry, and entertain like-minded friends. Strict canons of taste prescribed the placement of bookcases and other furniture and regulated the number of scroll of painting and calligraphy that should be displayed. Since many of the literati aspired, at least in theory, to the austere life of a hermit, emphasis was naturally on the sparse—understated settings elegantly appointed with a few carefully chosen items finely crafted in exquisite materials. Soft monochrome tones predominated. These harmonized perfectly with each other and with the monochrome or lightly colored landscapes that the literati painted. Nature itself—in the form of an idealized garden seen through the studio window—provided the dramatic contrasts of color that enlivened the whole. The aesthetic vision that these objects embody reflects the cultivation of the literati, just as it also serves as a mark of their class, distinguishing them from the royal court on the one hand and the merchant class on the other.
Robert D. Mowry
Alan J. Dworsky Curator of Chinese Art Emeritus,
Harvard Art Museums, and
Senior Consultant, Christie's
Christie's. An Inquiring Mind: American Collecting of Japanese & Korean Art, 25 April 2017, New York, Rockefeller Center