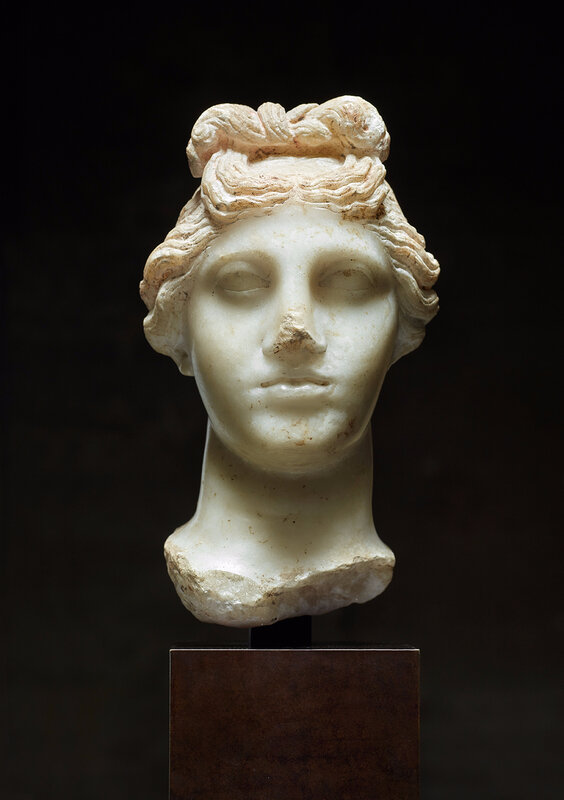 Head Of The Apollo Belvedere Type, Western Europe, Roman Empire, 3rd-4th century AD. White marble. Height 20.8 cm. Courtesy Axel Vervoordt
Provenance: Private collection T., Leeds; private collection, France, acquired 1980s; private collection Mr. Diego von Bergen, Rome (Villa Bonaparte) and Berlin, acquired circa 1940s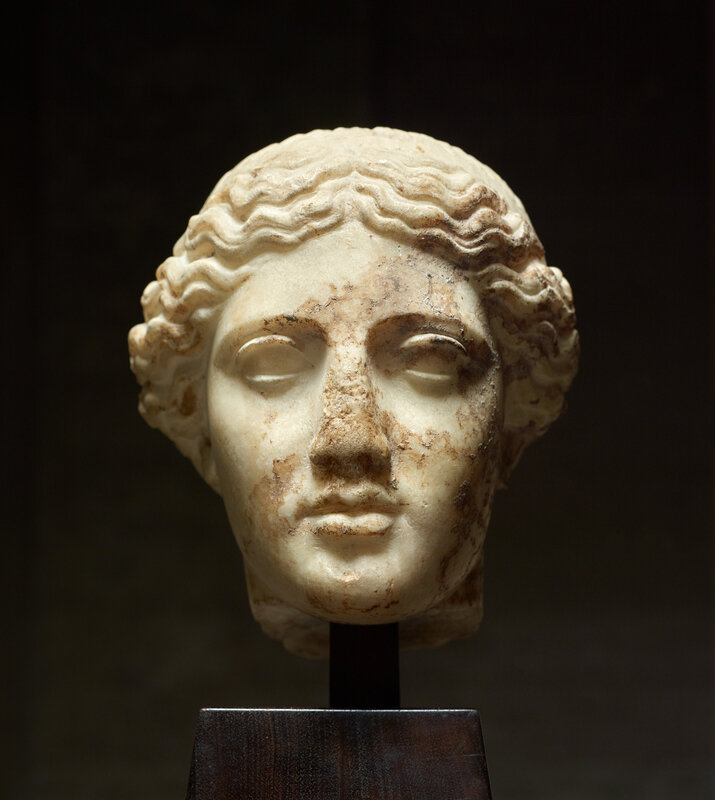 Head Of Venus Genetrix, Western Europe, Roman Empire, 1st century AD. White marble. Height 20.5 cm. Courtesy Axel Vervoordt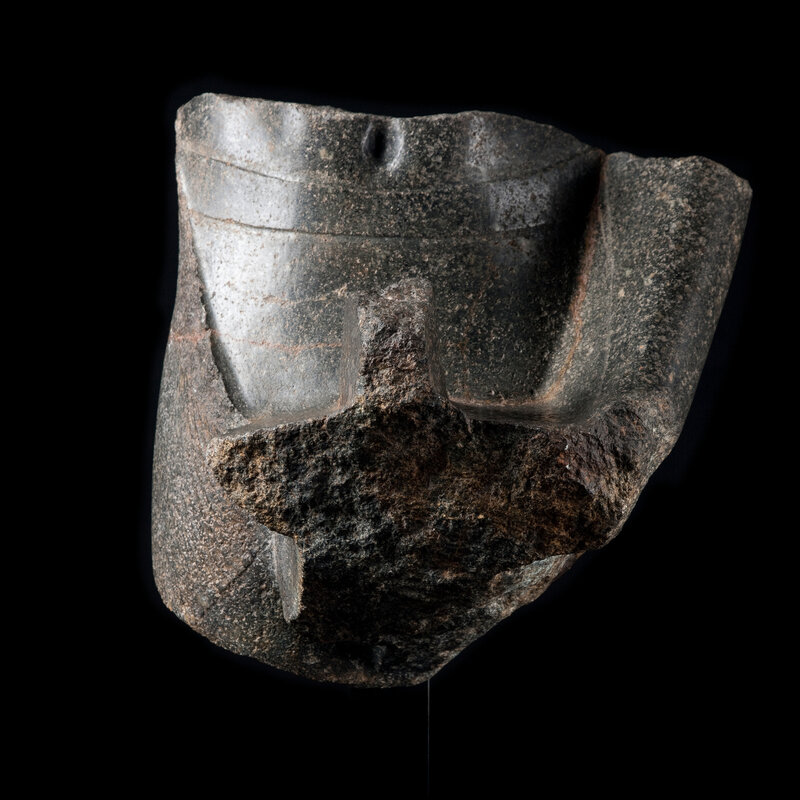 Striding Figure With Offering Table, Egypt, early Ptolemaic Period, circa 332-282 BC. Granodiorite with a pronounced polished surface. Height circa 30 cm. Courtesy Axel Vervoordt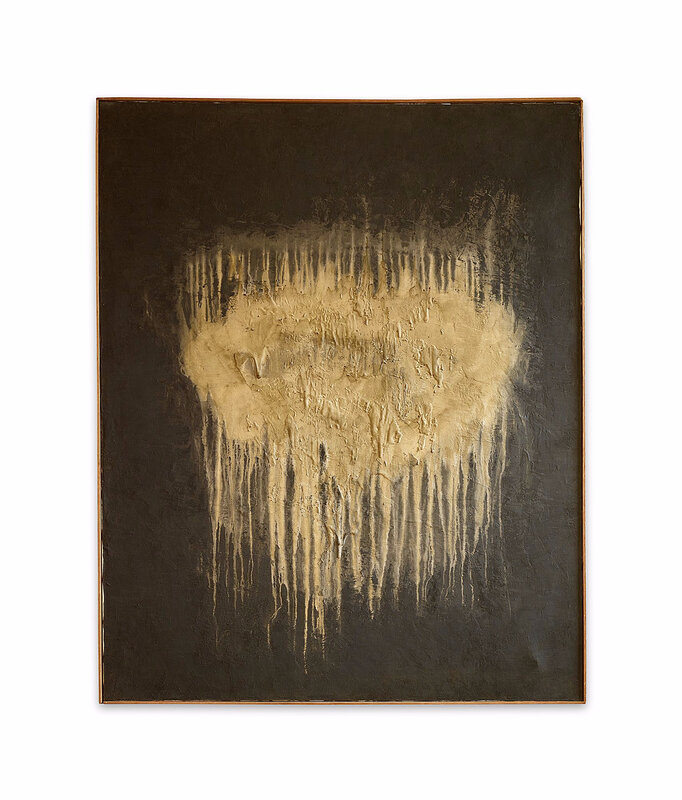 Ryuji Tanaka (1927-Hyogo-2014), Sei (6). Mineral pigment, canvas and mixed media, 162 x 130.5 cm. Courtesy Axel Vervoordt
Exhibition: Maruzen Petrochemical Art Encouragement Prize in the 37th year of Showa, 1962; Tokyo, Takekawa Art Gallery, solo exhibition, April 1963; Antwerp, Axel Vervoordt Gallery, Ryuji Tanaka, 10 March - 30 April 2016; Belgium, CC Strombeek, Made in Japan, 07 October - 08 November 2016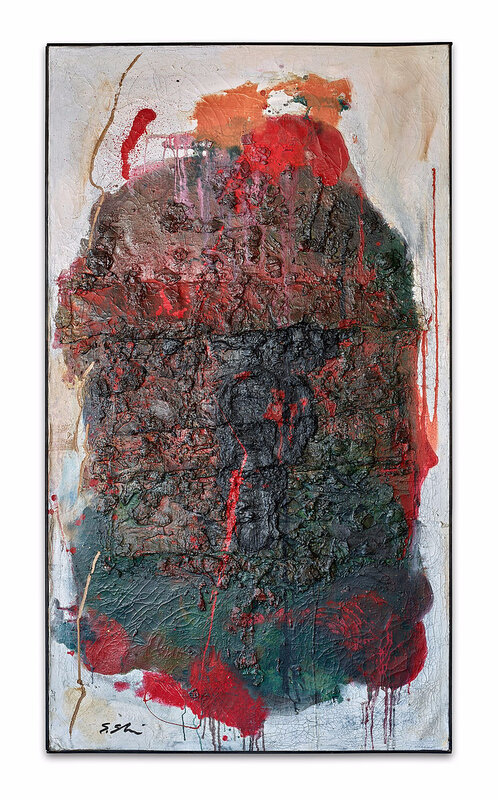 Shozo Shimamoto (Japan, 1928), Armor, 1960. Plaster and paint on canvas, 191 x 109 cm. Courtesy Axel Vervoordt
Provenance: Private collection, Belgium, since 2012
Exhibition: 9th Gutai Art Exhibition, 1960; Antwerp, Axel Vervoordt Gallery, SHIMAMOTO - The Gutai Works, 3 September - 3 October 2015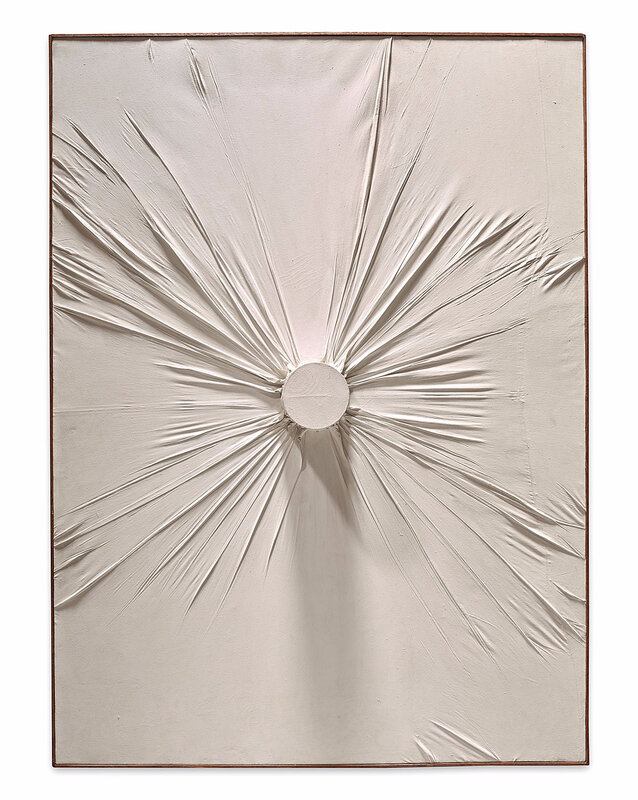 Norio Imai (Japan, 1946), Work - Circle, 1965. Acrylic, cotton cloth, metal, 178.5 x 130 x 20 cm. Courtesy Axel Vervoordt
Provenance: Acquired directly from the artist
Exhibition: Kyoto, Kyoto Municipal Museum of Arts, Kyoto Independent 1965, 1965; Osaka, Artcourt Gallery, , 2012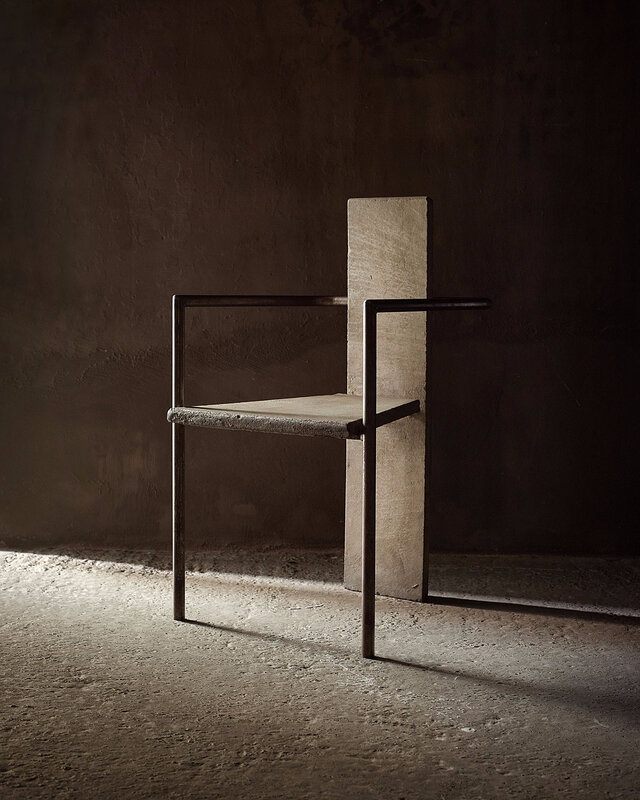 Jonas Bohlin (Stockholm, 1953), Concrete Chair, Sweden, 1981, Produced By Källemo. Concrete and tubular steel. Courtesy Axel Vervoordt
The combination of concrete and tubular steel lends this austere chair an industrial feel, which is nonetheless softened by the beautiful patina covering the chair. It was designed by Jonas Bohlin in 1980 and shown as his final project at the Konstfack University College of Arts, Crafts and Design in Stockholm one year later. The design of the chair was conceived as a sculpture, rather than a piece of furniture and referred to Bohlin's previous career as an engineer, working on bridge building projects. This chair is one of the artist's proofs and bears the inscription Provex / JB.
The presentation of the Concrete Chair sparked a debate in the design community about what matters more: shape or function? As its unpractical form violated every concept of Scandinavian good design, it came to epitomize Swedish Post-Modernism. The Concrete Chair was produced in a limited edition of only 100 pieces by the Swedish company Källemo, which also hired Bohlin as a freelance designer. Because many owners used their Concrete Chairs as outdoors furniture, most of the original sculptures have been damaged by frost and other weather elements, making this well-preserved example a rarity.
In 1983, Jonas Bohlin established his own design practice. That same year, his Concave Chair was produced by Källemo, establishing Bohlin as one of the most avant-garde designers in Sweden. He started his own art and design gallery in Stockholm in 1985 and became a professor at Beckman's School of Design in Stockholm three years later. Bohlin received the prestigious Georg Jensen Prize in 1988 and was chairman of the National Association of Swedish Interior Architects from 1991 to 1993.
Jonas Bohlin remains one of the leading figures in the contemporary Swedish design community. He wants his furniture 'to touch and please, to communicate with time and space, to be made by hand and heart, and to be considerate of mankind and nature.'