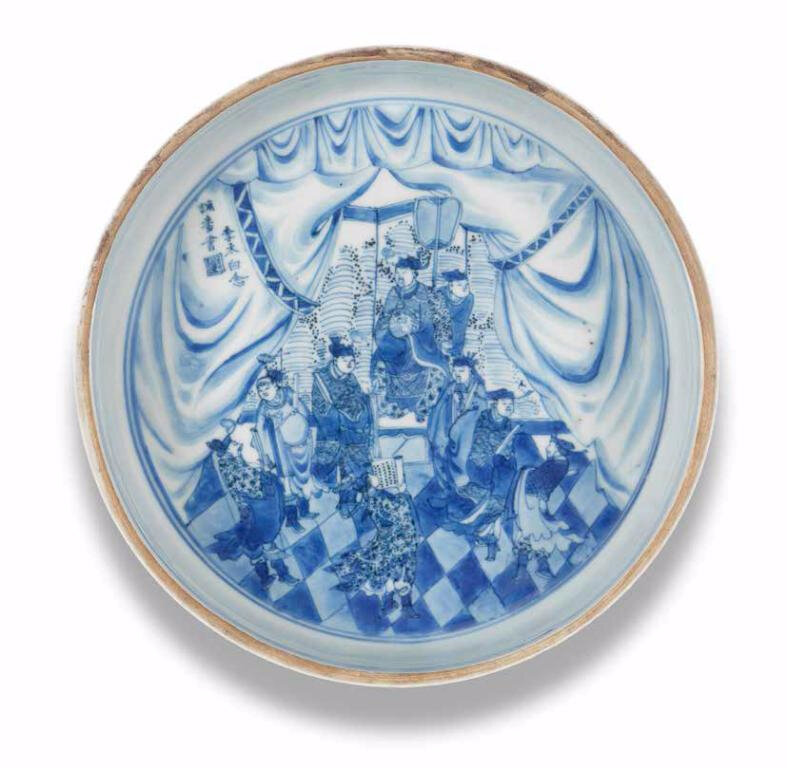 Lot 193. A rare blue and white 'Li Bai' brush washer, Chongzhen period (1627-1644); 20.6cm (8 1/8in) diam. Estimate £35,000 - 50,000 (€42,000 - 60,000). Photo Bonhams.
Finely potted with a slightly recessed base and deep sides, the well painted in vibrant tones of cobalt-blue with a scene of the Tang poet Li Bai in an audience with the Tang emperor Minghuang, flanked by ministers and court officials, all within a palatial setting beneath large curtains.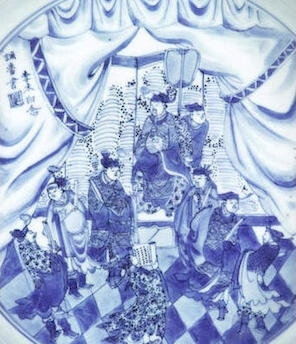 Provenance: Sotheby's Hong Kong, 18 November 1979, lot 138.
Thompson Collection, no.90 (label)
Published and Illustrated: R.S.Kilburn, Transitional Wares and Their Forerunners, Hong Kong, 1981, p.123, no.86.
Chinese Ceramics of the Transitional Period (circa 1620-1680 A.D.) from the Collection of Mr & Mrs Peter Thompson, Hull, 1985, no.90.
Note: The inscription on the top left of the scene:
李太白念誦番書
Which may be translated as:
'Li Taibai reading aloud a barbarian letter'
Li Bai 李白 (701-762), also known as Li Taibai, is one of the most famous poets of the Tang dynasty and of Chinese literary history. He has been the inspiration for numerous depictions by artists and craftsmen, but subjects of the legendary Chinese poet reading and speaking a foreign 'barbarian' language are rare.

Scholars argue about the famous poet's background, but it is generally agreed that the Li family were merchants originally from Sichuan that moved and did business in central Asia. Li Bai was born in present day Kyrgyzstan, at the height of Chinese power in inner Asia, and claimed to be able to speak a number of foreign languages. His rare ability to speak a foreign language allowed him to be employed as a translator at court where he earned the emperor's favour. The Tang emperor Minghuang was so fond of Li Bai that he even held a banquet in his honour.

Stories about Li Bai speaking foreign languages were included in the Ming collection of 'Stories to Caution the World' (Jingshi tongyan 警世通言), by Feng Menglong (1574-1646).
Bonhams. FINE CHINESE ART, 11 May 2017, 11:00 BST, LONDON, NEW BOND STREET