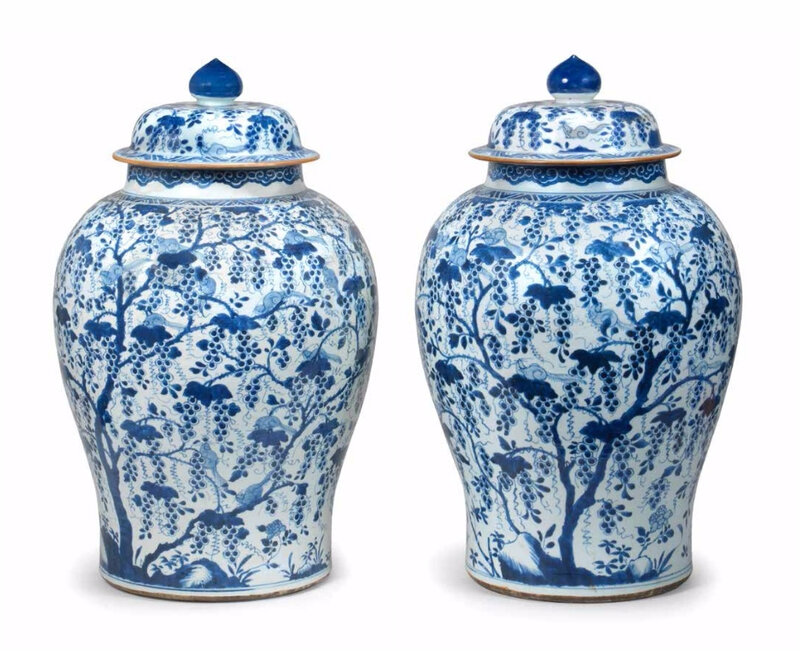 Lot 210. A pair of blue and white 'squirrels and grapes' jars and covers, Kangxi period (1662-1722); 62cm (24 3/8in) high (4). Estimate £9,000 - 12,000 (€11,000 - 14,000). Photo: Bonhams.
Both meticulously painted around the exteriors with large, long, curling, vine trees suspending bunches of ripe grapes, various squirrels perched on the vines nibble at the fruit, all beneath a ruyi-head band, the domed covers similarly painted, surmounted by lotus-bud finials.
Provenance: an Italian private collection
Note: During the Kangxi period it was fashionable to depict warriors and scenes from popular novels such as The Romance of the Three KingdoDesigns of squirrels amid grapes underscore symbolic associations relating to fertility. As squirrels have large litters, the depiction of squirrels with trailing vines may be a visual rebus for a wish for many sons and the continuation of the family line, the winding vines representing the family lineage.

A wucai baluster jar, Kangxi, with related decoration of squirrels and grapes, is illustrated in The World's Great Collections: Oriental Ceramics, Vol.7, Musée Guimet, Paris, Tokyo, 1981, col.pl.83..
Bonhams. FINE CHINESE ART, 11 May 2017, 11:00 BST, LONDON, NEW BOND STREET