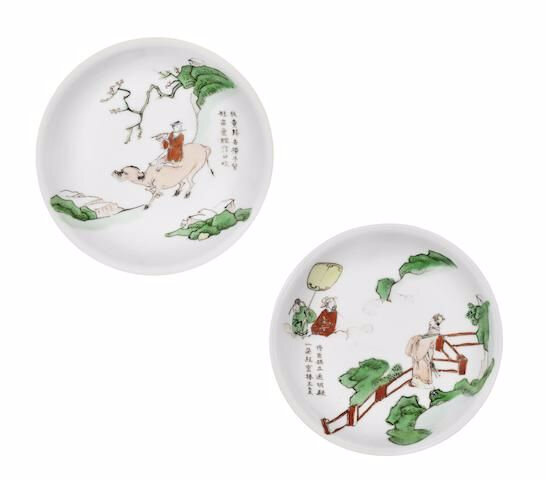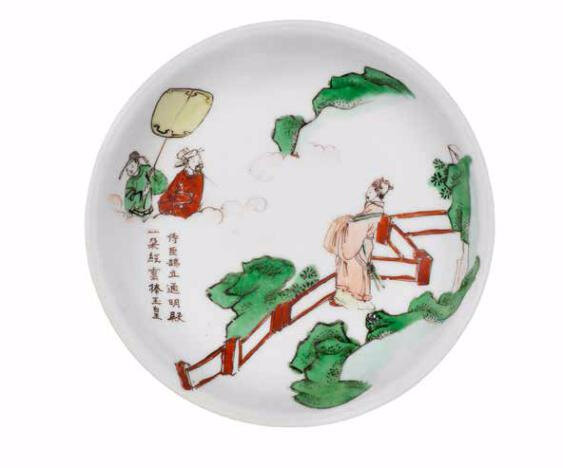 Lot 183. A pair of famille verte saucer dishes, 17th century; 13cm (5 1/8in) diam. (2). Estimate £8,000 - 12,000 (€9,500 - 14,000). Photo: Bonhams.
Enamelled to the interior respectively with a scene of a dignitary standing on a terraced garden anticipating the arrival of the Jade Emperor accompanied by an attendant, and a cowherd playing the flute travelling across a rocky landscape, each accompanied with a poem describing the scene.
Note: On the dish with the official standing on a terrace, there is a line from the poem 'Royal Banquet on the Fifteenth Day of the First Month' by Su Dongpo (1037-1101):

侍臣鵠立通明殿,一朵紅雲捧玉皇

This may be translated as:

'In the Tongming Hall attendants and ministers stand erect with eager attention, on a rosy red cloud is the exalted Jade Emperor'

On the other dish depicting a shepherd boy is inscribed a line from the poem 'Village at Dusk' by Lei Zhen (dates unknown) of the Northern Song dynasty:

牧童歸去横牛背,短笛無腔信口吹

This may be translated as:

'The shepherd boy returns leaning sideways on his buffalo's back, with his small flute he plays a random melody, blowing as he pleases'

After the fall of the Ming dynasty in 1644 and the ensuing Manchu invasion, themes regarding loyalty to the emperor, and thus tacitly to the old regime, were popular. Motifs of shepherd boys on buffaloes were also popular as a symbol of rustic eremitism. For related motifs of boys on buffaloes, but on jars, see Sir M.Butler, M.Medley, S.Little, Seventeenth-Century Chinese Porcelain from the Butler Family Collection, Alexandria, 1990, p.80, pl.39; p.86, pl.43; and an enamelled beaker vase decorated in a similar palette and inscription p.90, pl.47.
Bonhams. FINE CHINESE ART, 11 May 2017, 11:00 BST, LONDON, NEW BOND STREET