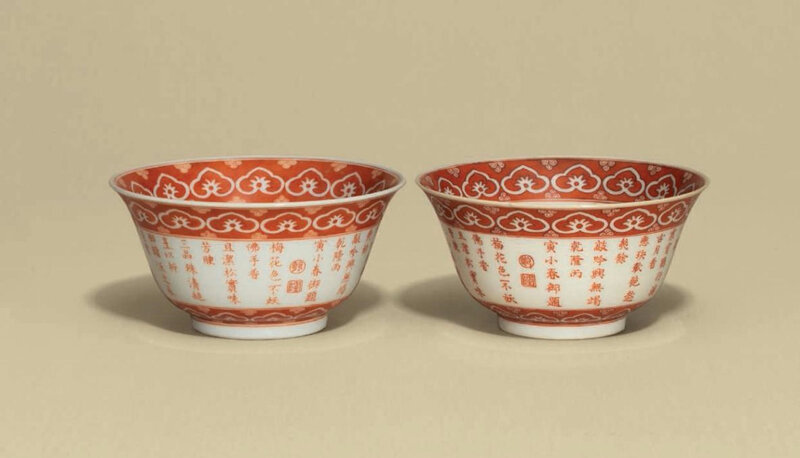 Lot 88. A pair of inscribed iron-red-decorated bowls, Qianlong bingyin cyclical date in iron-red, corresponding to 1746 and of the period, 4 ¼ in. (10.7 cm.) diam. Estimate GBP 15,000 - GBP 20,000 (USD 19,290 - USD 25,720) © Christie's Images Ltd 2017.
The exterior is inscribed in iron-red with a poem written in kaishu script, followed by a cyclical date, early-Spring of thebingyin year, and two iron-red seals, Qian and Long, all between two ruyi-head bands. The interior of the bowl is decorated with a medallion of pine, plum blossoms and finger citron, below two further bands of ruyi-heads.
Provenance: Collection of Alfred E. Hippisley (1848-1939).
Literature: Alfred E. Hippisley, A Sketch of the History of Ceramic Art in China. With a Catalogue of the Hippisley Collection of Chinese Porcelains, Washington D.C., 1890, no. 248 and 251.
Exhibited: The Hippisley Collection of Chinese Porcelains, Smithsonian Institute, Washington. D.C., 1902, nos. 248 and 251.
Note: The poem on the bowl, Sanqing cha (The Purity Tea) was one of the Qianlong Emperor's favourites. It described the tea made from prunus, finger citron, and pine nut kernels, and extols the virtues of tea making. Each New Year the emperor would hold a tea-drinking banquet and his guests would be invited to compose poetry. A bowl such as the present example would have been awarded to the best poet.
An identical bowl is in the collection of the National Palace Museum and is illustrated in Emperor Qianlong's Grand Cultural Enterprise, Taipei, 2002, no. 51, another is in the Palace Museum, Beijing, is illustrated in The Life of Emperor Qianlong, Macao Museum of Art, Macao, 2002, no. 79. Three other bowls of this design are illustrated and discussed by P. Lam in 'Tang Yin (1682-1756): The Imperial Factory Superintendent at Jingdezhen', T.O.C.S , London, vol. 63, 1998-1999, p. 69, fig. 4.
See, also, a similar bowl sold at Sotheby's, Hong Kong, 27 April 2003, lot 30, and compare the current lot to a pair of bowls also Qianlong period but decorated with bamboo rather than prunus in the central roundel sold at Christie's Hong Kong, 28 April 1997, lot 790.
Christie's. Fine Chinese Ceramics And Works of Art, 9 May 2017, London, King Street