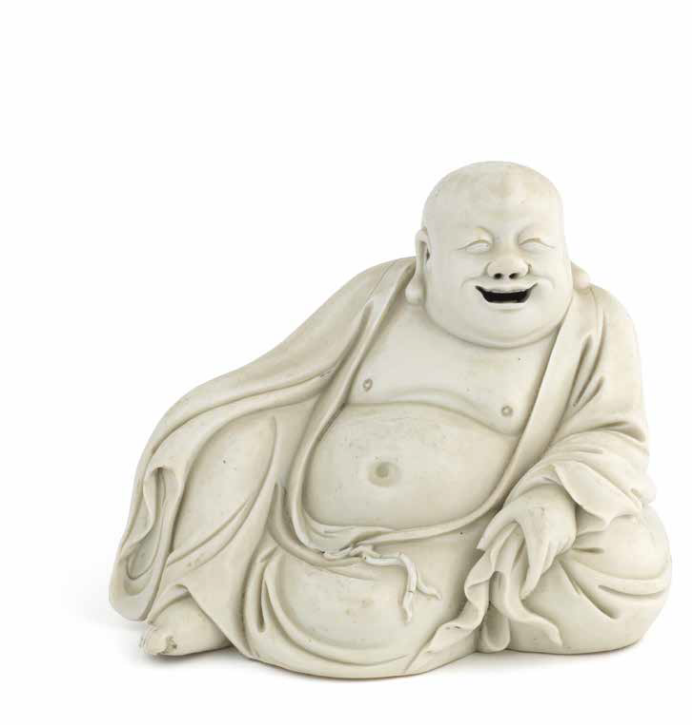 Lot 207. A Blanc-de-Chine figure of Budai, 17th century.,15.3cm (6 1/8in) wide. Estimate £7,000 - 9,000 (€8,300 - 11,000). Photo: Bonhams.
The monk modelled with stippled hair and seated with one leg across, his right hand resting on his raised knee, the other resting on his treasure sack, wearing long robes falling into heavy folds and opened at the chest to reveal the large belly, the cheerful face with benign expression flanked by long pendulous ears.
Provenance: an Italian private collection
Note: A native of Zhejiang province, Budai is regarded as an incarnation of Maytreya, the Buddha of the Future, and an eccentric monk.

Compare with a similar blanc-de-chine Budai, 17th century, in the Louvre Museum, Paris, illustrated in La Ceramique Chinoise, Paris, 1922, pl.40. Another figure of Budai, 17th century, is illustrated by G.Lang in the Wrestling Boys, Burghley House Preservation Trust, Peterborough, 1983, no.234, p.90.
Bonhams. FINE CHINESE ART, 11 May 2017, 11:00 BST, LONDON, NEW BOND STREET