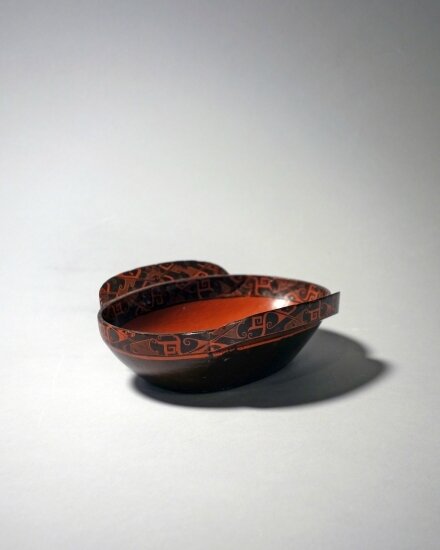 An ancient painted lacquer wine cup (er bei), Eastern Zhou Dynasty, circa 4th – 3rd Century B.C. © 2017 J.J. Lally & Co., New York
of elongated oval form with rounded interior and flat base, the sides rising to a straight rim with narrow lip, the wide mouth framed by a pair of half-round 'ear' handles flaring out and rising up on opposite sides of the wide mouth, decorated on the interior and exterior of the rim and handles with a complex border of angular and hooked scrolls interspersed with and connected by wing-shaped motifs, all painted in two shades of red on black grounds, the interior of the bowl covered with red lacquer, the undersides and base covered with dark brown/black lacquer, the base with a loose spiral motif joined to a smaller 'S' scroll painted in red and pale orange.
Length 6 3⁄4 inches (17.1 cm)
Compare the similarly decorated painted lacquer wine cup of this form, referred to in Chinese as a 'ear cup' (er bei 耳杯), unearthed in 1965 from tomb no. 1 in a Warring States cemetery at Shazhong, Jiangling, Hubei province, illustrated in the excavation report Jiangling Wangshan Shazhong Chu mu (Chu Tombs at Wangshan and Shazhong, Jiangling), Beijing, 1996, pl.106, no. 3. The same wine cup was previously illustrated in the catalogue of the exhibition organized by the Art Gallery of the Chinese University of Hong Kong, Hubei chutu Zhanguo Qin Han qiqi (Lacquerware from the Warring States to the Han Periods Excavated in Hubei Province), Hong Kong, 1994, no. 7; together with another similar painted lacquer wine cup, no. 55B, recorded as unearthed in 1978 from tomb no. 47 in a Qin State cemetery at Shuihudi, Yunmeng.
J.J. Lally & Co. 41 East 57 Street, New York, NY 10022. Telephone: 212 371.3380 - Facsimile: 212 593.4699 - E-mail: staff@jjlally.com