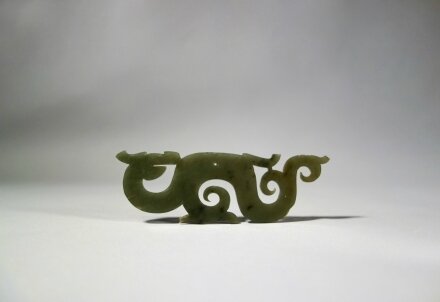 A green jade openwork dragon-form pendant (huang), Late Warring States Period-Western Han Dynasty, 3rd Century B.C. © 2017 J.J. Lally & Co., New York
the thin flat plaque carved as the silhouette of a horned dragon with blunt snout turned back and joined to the sinuous body, a scrolled wing at the center, and a bifurcated tail with hooked terminals, the plain sides polished to a silky gloss, the stone of translucent spinach-green tone.
Length 4 5⁄8 inches (11.8 cm)
Compare the similar jade dragon-form pendant unearthed from the Warring States tomb at Baijiacun, Handan city, Hebei province, now in the collection of the Handan Museum, illustrated by Gu, Zhongguo chutu yuqi quanji (Complete Collection of Jades Unearthed in China), Vol. 1, Beijing, Tianjin, Hebei, Beijing, 2005, p. 132.
Compare also the pale green jade openwork pendant with twin dragon heads carved in a similar style as a huang, illustrated by Rawson, Chinese Jades from the Neolithic to the Qing, London, 1995, p. 268, no. 17:8, attributed to the Han dynasty. Compare also the pair of more elaborate jade dragon-shaped pendants of closely related form and embellished with 'comma-spiral' motifs on both sides, also illustrated by Rawson on the following page, op. cit., p. 269, no. 17:9, attributed to the Eastern Zhou period, 4th century B.C.
In the descriptions of the items cited above, Rawson states that openwork creatures in general and dragon-shaped jades in particular "… make a sudden appearance among the range of jades used in pendant sets in the 5th century B.C."
J.J. Lally & Co. 41 East 57 Street, New York, NY 10022. Telephone: 212 371.3380 - Facsimile: 212 593.4699 - E-mail: staff@jjlally.com