A large limestone panel, South Arabia, 3rd-2nd century BC, 45cm x 74cm. © Oliver Hoare Ltd
LONDON.- Oliver Hoare presents Every Object Tells a Story, a public exhibition on view from 4 May to 5 July 2017 at 5 Cromwell Place, London. The exhibition is dedicated to approximately 400 rare and fascinating objects spanning five millennia and representing countless civilisations, each selected on the basis of their backstory and historical interest.

Leading highlights and curiosities of the exhibition include a 13th-century silver drinking vessel bearing the seal of Mongke Khan, grandson of Genghis Khan and ruler of the Mongol dynasty at its peak; an exceptional group of objects from the Indus Valley civilisation, probably the finest in private hands; a silver skull pomander believed to have been owned by King James II; a rare group of votive figures from ancient Bactria; a 2000-year old Mexican stargazer; and sections dedicated to magic, myths, meteorites, sex and unicorns.
The exhibition take places in the former studio of the artist Sir John Lavery, R.A. (1856-1941) who occupied the space from 1899 until his death, during which time he hosted celebrated sitters including King George V, Winston Churchill and Oscar Wilde. It follows on from the success of the previous edition held in Fitzroy Square in 2015 which showed approximately 250 objects, from Gandhara sculptures to a Dodo bone, and which welcomed more than 10,000 visitors.
Oliver Hoare: "What is assembled here might look like a modern 'Cabinet of Curiosities', an assemblage of the exotic and curious from the four quarters of the world. There is an intention behind it, however, that goes beyond presenting a wide variety of curiosities. We are today linked up to all those four quarters, and while a huge amount of information is available to us, unlike to those who awaited the ships in the ports of Amsterdam, Genoa, Lisbon, London, Marseille, Seville or Venice, the horizon of what interests us seems to have shrunk. The art market is an interesting barometer of this shrinkage. The point is, therefore, that we can connect with the whole world on a more profound level than can be gained from package touring, through the possession of, and study of even the most modest objects of different cultures. The purpose of collecting, as Moliere might have put it, should not be limited to becoming rich through the investment in one's purchases, but to become enriched through the intelligent possession of what one has acquired."
Oliver Hoare is an independent art dealer specialising in Islamic art. He joined Christie's in 1967 where he founded the Islamic Art department before leaving in 1975 to establish his own business. He has since advised a number of collectors and museums throughout the Middle East, as well as in Europe, the US and Japan, including the National Museum of Kuwait, the Nuhad Es-Said Collection (Beirut), and the Qatar National Museum. In 1994 he negotiated the exchange between the Iranian Government and the Houghton Family Trust whereby Iran recovered the 'Houghton Shahnameh', the most important illustrated Persian manuscript, in exchange for Willem de Kooning's painting 'Woman III' which was in the Tehran Contemporary Art Museum. He has published Portraits of the Masters, the first comprehensive book on Tibetan portrait bronzes (two volumes, 2003 and 2005), and The Silent Orchestra, a catalogue of Islamic musical instruments (2005). In 2015 he hosted Every Object Tells a Story at 33 Fitzroy Square, an exhibition that attracted over 10,000 visitors.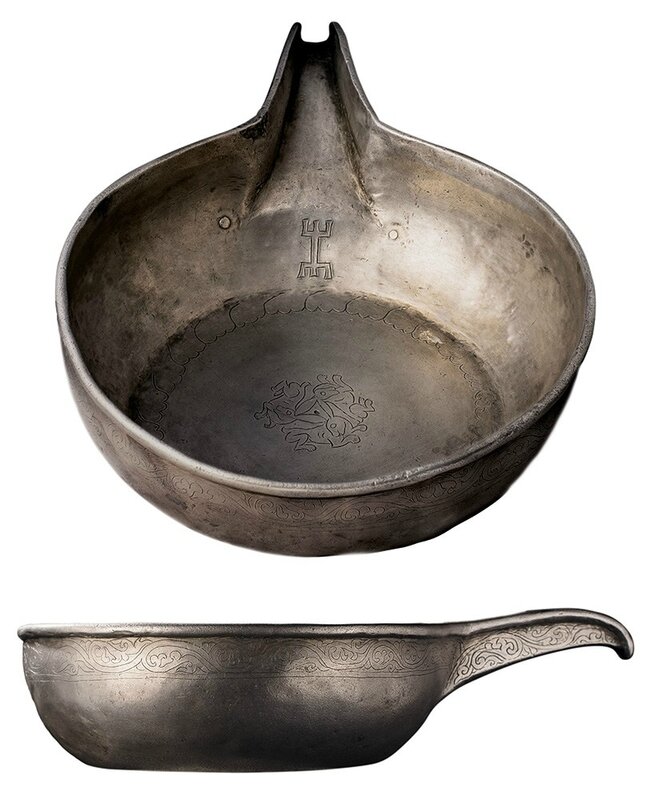 A Mongol Silver Spouted Vessel Bearing the Tamgha of Möngke Khan (1209–1259), Mongol Empire, 1251–1259, Size: 26.5 cm long with spout. © Oliver Hoare Ltd
Möngke Khan's tamgha was a thunderbolt, a most fitting emblem for the conqueror of both the Song Dynasty and the Abbasid Caliphate. It is engraved on this bowl on the inside wall below the spout, and is familiar from his silver coinage. There is another detail of the decoration that strongly suggests that this bowl was the personal property of Möngke. Engraved inside are three rabbits in a circle, with three ears between them but so arranged that each rabbit appears to have both its ears. When he was 11 years old, Möngke's grandfather Genghis Khan took him and his brother Kublai on their first hunting trip near the Ili River, where they killed a rabbit and a deer. Following Mongol custom, Genghis Khan smeared fat from the dead animals on his grandsons' middle fingers. The engraved decoration around the outer rim, under the spout and around the rabbits is typically Mongol. The silver loop once riveted under the spout is missing. The vessel was probably used for pouring milk.
Möngke was the eldest son of Genghis Khan's teenage son Tolui and his wife Sorghaghtani. The shaman Teb Tegri Khokhcuu predicted a great future for him, and gave him his name, meaning 'eternal' in the Mongolian language. Proclaimed Great Khan of the Mongol Empire at the Kurultai in 1251, he had to face down determined opposition from other Mongol clans. He gave supervisory powers to his brothers Kublai and Hulagu in China and Iran. It was to his court at Karakorum that the French king Louis IX dispatched William Rubruck, to seek an alliance against the Muslims. He was received on 24th May 1254, and among what the Great Khan told him he recorded this:
'We Mongols believe in one God, by Whom we live and die. Just as God gave different fingers to the hand, so has He given different ways to men. To you God has given the Scriptures and you Christians do not observe them.' He explained that God had given the Mongols their shamans. Möngke offered Louis IX his cooperation but warned all Christians that 'If, when you hear and understand the decree of the eternal God, you are unwilling to pay attention and believe it ... and in this confidence you bring an army against us – we know what we can do.'
There are two similar silver spouted vessels in the State Hermitage Museum, published in The Treasures of the Golden Horde, St Petersburg, 2000, nos. 11 and 12.
Remarkably, the famous brass 'wallet' made in Mosul, c. 1300, for a Mongol noblewoman, now in the Courtauld Gallery, London, shows a silver bowl of exactly this type being used in the banqueting scene that decorates its lid.
The report of the scientific examination by Striptwist Laboratory is available.
Skull Pomander, English, dated 1628, Size: Apple 6 cm diameter, 8 cm high with stalk; Skull 4.5 cm high, Silver, colours, leather box. © Oliver Hoare Ltd
The story of this extraordinary object unfolds below, in the words of Mrs How, one of the pre-eminent silver dealers of the 20th century, recorded by her husband Commander How. The woodcut of the Pomander while still in the collection of Lord Londesborough shows not only the erased crown and initials 'J.R.', but also the date of 1623, later changed to 1628. Mrs How believed that the initials and crown indicated royal ownership by James II, not that it was made in memoriam for James I. While it is difficult to unscramble all the threads of its history, it remains a unique and important example of 17th-century silver. James I died in 1625; James II reigned 1685–88.
Mrs How: 'People constantly bring things to me to ask what they are, and I find that by far the most frequent answer is "I don't know"; almost invariably echoed when they ask "To whom can I take it who will know?"
'Erroneous ascription by an accepted authority can be a most dangerous thing, and about the time I owned the little spouted porringer, I had a bitter experience in this matter. I had just bought a wonderful Skull Pomander with its Apple container. Above the inscription on the Apple were lightly engraved a royal crown and the initials "J.R.". Being somewhat out of my depth with this object I submitted it to the head of the Metalwork Department of one of our greatest museums, and he assured me that though the Skull and Apple container were genuine, and the inscription original, the lightly engraved crown and initials had obviously been put on by somebody at a much later date to give it a spurious association with James I. As the engraving was light he advised me to have it removed. This I did. A few months later he rang me up on the telephone to say he had made an interesting discovery; he had found an early reference to this particular object and a drawing of it showing the crown and "J.R.", which, in the circumstances, was conclusive evidence that they were of early date. (The crown and initials "J.R." probably indicated royal ownership by James II, rather than association or in memoriam for James I who died in 1625). Alack! Alas! They cannot go back. This wonderful relic passed into private ownership. It has recently come back to me minus one leaf. I would like to find it a permanent resting-place, where it will be at last safe, from vandalism such as that I regret I perpetrated myself due to false assumption on the part of an authority; or vandalism such as that private owner, who was not fit to have even temporary charge of objects of national interest and importance.'
Bernal sale entry: 'An apple, of silver, opening and containing a skull, of silver, crowned with a wreath, and containing a miniature inscribed on the outside, "From man came woman, from woman came sin, from sin came death – 1628."' E.F. King: 'These kinds of devices continued in fashion till a much later period; and a very curious example, from the collection of Lord Londesborough, which appears to have belonged to king James I, is represented in the accompanying woodcut. The whole is of silver, and the leaves appear to have been painted green. On opening it we find in the inside the small skull here represented above the apple. The top of this skull opens again like a lid, and inside are two small paintings representing the creation and resurrection, with the inscription, "Post mortem, vita, eternitas". The external inscription is not over gallant. To give the apple, externally, a more natural appearance, there are marks of two bites on the side opposite that here represented, shewing a large and small set of teeth.'
The black leather-covered box is typical of Bernal Collection boxes.
Provenance: King James II Bernal Collection. Sold 23rd April 1855, lot 3506
Lord Londesborough Collection
Mrs How Private collection, UK
Published

:

Thomas Wright, Ancient, Medieval, and Renaissance Remains in the possession of Lord Londesborough, London, 1859; drawing by Frederick Fairholt
E.F. King, Ten Thousand Wonderful Things, London, 1860
Detroit Free Press, January 1880
Inscription: 'From man came woman, from woman came sin, from sin came death – 1628.'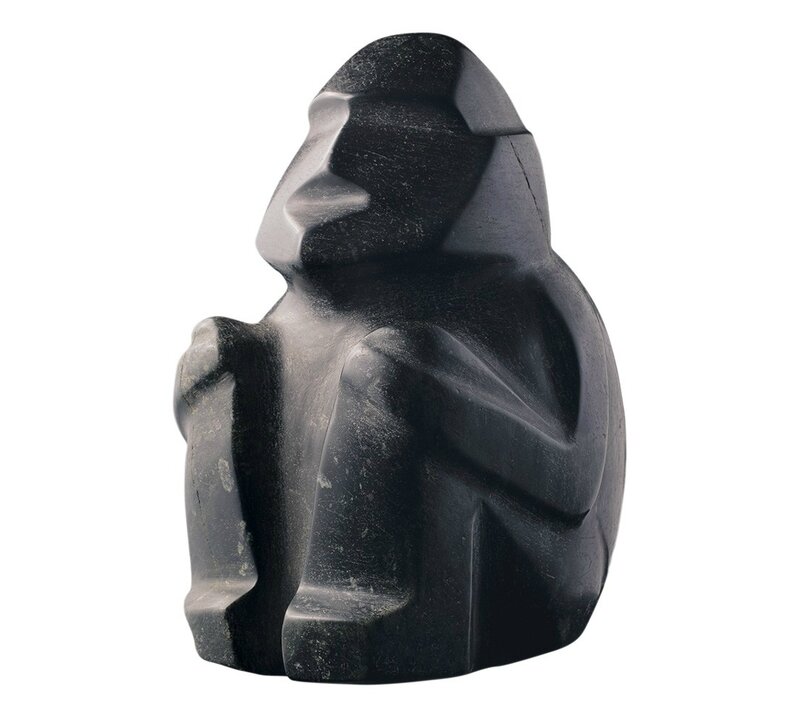 Stargazer, Mezcala, West Coast of Mexico, 700 BC–AD 300, Size: 17.8 cm high, Hard stone. © Oliver Hoare Ltd
He gazes into other worlds, the stars are just his guides, and what he sees we cannot know – we can only look with fascination at the enigma he presents. I first saw him illustrated in a Financial Times feature on upcoming exhibitions and, already amazed by a small photograph, I was delighted when I could acquire him. He came to me from Throckmorton Fine Arts in New York, one of the rare galleries that consistently puts on exhibitions that are diverse and interesting.
When I held the object my delight increased tenfold. What photographs did not show was the stone itself: a whorl of green and black on the back, becoming less dynamic at the front, with the head totally black, and equally inscrutable. In the exhibition of 2012 with Jean-Claude Ciancimino, I had another Stargazer, from Yugoslavia, as it once was, and dating from the 5th–6th century. Such Stargazers were placed on the graves of the great Barbarian chieftains, oriented towards the Pole Star. No such information exists about his Guerrero relation.
According to Spencer Throckmorton: 'These enigmatic pre-Columbian objects were first uncovered in the late nineteenth century. However, it was the fascination with pre-Columbian artefacts in Mexico's post-revolutionary era – stoked by such artists as Diego Rivera, Miguel Covarrubias, and William Spratling – when the many highlystylized, stone carvings came pouring out of the poor provincial state of Guerrero.'
Provenance: Mid-Western Collection, USA
Throckmorton Fine Art, New York
An Examination Report by Frank Preusser & Associates, undertaken in 2015, is available.

The Unicorn's Horn, Northern Europe, AD 1427-1618. Size 2m, 7cm long. © Oliver Hoare Ltd
Before the mid-16th century, everyone knew that horns such as this belonged to unicorns. The existence of unicorns is already stamped on Indus Valley seals of the mid-3rd millennium bc, and continued to be recorded throughout Antiquity, the Middle Ages and beyond, in images, literature and poetry. And then, quite suddenly, belief in their existence faded. A sign of this occurred at the Council of Trent (1545–63), which deemed the representation of the unicorn as a symbol of the Incarnation inappropriate, on the basis that nobody believed in their existence any longer. This is a bit rich considering the myths that the Catholic Church continues to peddle – Virgin Birth, Resurrection, Son of God, etc. – and this reverse-Dawkins-like attitude has certainly returned to bite them in the backside in recent times.
It is axiomatic that you cannot perceive something in which you do not believe. As the unicorn in Alice in Wonderland said to Alice: 'I'll try and believe in you if you believe in me.' And it is typical of the arrogance of modern scholarship to decide to deny the existence of a creature that has been familiar to many for thousands of years, thereby wilfully impoverishing our imagination. There is thus a case to be made that the imagination is more important, and more enduring, than science, and it is our duty to make sure that this is so.
In 1577 Sir Martin Frobisher presented Queen Elizabeth I with the horn of a 'Sea-Unicorn', at the time much rarer than the land unicorn, that he brought back from his search for the North-West Passage. According to Herman Melville, this horn hung in Windsor Castle for a long time. The idea that such horns were born of fish had already been promulgated in an illustration by Olaus Magnus in 1555, and further promoted by the Danish zoologist Ole Worm in 1638. Since then the improbable idea that such horns are the teeth of whales has prevailed, and unicorns have gradually disappeared. But Ole Worm also declared that Tradescant was an idiot, so his views can be taken with a few grains of salt.
And this is despite all the historical evidence. Images abound from ancient China and Iran, although the only feature common to the Kylin and the beast represented at Persepolis is the single horn. An Egyptian papyrus from the 2nd millennium bc in the British Museum shows a unicorn playing chess with a lion. The Greeks categorized the unicorn under natural history, not as myth, as the writings of Aristotle, Strabo, Pliny the Elder and others show. The first written description we know dates from c. 400 bc, and the first illustration to appear in Europe is in the margin of a manuscript by Cosmas the India-Farer, the original of which was written c. ad 1000. Thereafter we come across a legion of believers, including Marco Polo, Piero della Francesca, Petrarch and Shakespeare. The Danish Kings sat on the 'Unicorn Throne', and bishop's croziers of unicorn horn can be seen in church treasuries across Europe. Its medicinal properties, still valued in the 18th century, were probably responsible for the shaved tip of this horn. Leonardo da Vinci wrote the following: 'The unicorn, through its intemperance and not knowing how to control itself, for the love it bears to fair maidens forgets its ferocity and wildness; and laying aside all fear it will go up to a seated damsel and go to sleep in her lap, and thus the hunters take it.' And he knew a thing or two.
Unicorns were abundant in Muslim lands. They were called karkadan, and fine prancing images can be found on enamelled glass, inlaid bronzes, stone reliefs, ivory caskets, in miniature paintings and even on carpets, throughout the Middle Ages, and even later, since Muslims were not impressed by the Council of Trent. Not only that, they also figure in the encyclopaedic writings of Ibn Bakhtishu and al-Qazvini, who describe in detail their peculiarities and habits. Several varieties bounded across the land of Iran, bull-bodied in the East, and equine in the West of the type familiar to Europeans. To my knowledge their horns were not gathered there, and had no ecclesiastical or medicinal associations. Rams' horns adorn many shrines in Central Asia, but never the horn of a unicorn. Probably, like all the great classical carpets of Iran, they were traded with greedy and well-informed Westerners. And today, their graceful traces are as invisible there as they are in Europe.
The most splendid example is in the Imperial Treasury in Vienna, for which a quite staggering price was paid. It stands 2m 43cm high, and is mounted on a bejewelled base. The Holy Roman Emperor Ferdinand I (1558–1564) declared that the two most important items among the fabulous riches of the Imperial Treasury were this horn and the Holy Grail. I agree with him about the horn, but have my doubts about the Grail, which is a typical Byzantine agate bowl of the 4th century ad. Furthermore, were one to accept all the Holy Grails scattered around – Joseph of Arimathea's, variously located in the UK, (including at Aberystwyth and Rosslyn Chapel), San Lorenzo Treasury, Genoa, etc. – one would have to assume that the Last Supper was a wild party. Lorenzo the Magnificent had a horn of similar size to this one, and his great-grandson, Alessandro Duke of Florence, wore a piece of it on a gold chain as protection against poison. It must have worked, since he was assassinated with a dagger.
Never underestimate the unicorn. He features prominently, after all, on the Royal Coat of Arms of the United Kingdom, and has been there since 1603, rather bucking the trend initiated at the Council of Trent. Given the enticing but improbable task of choosing one work of art above all others to live with, the five 'Lady and the Unicorn' tapestries in the Musée de Cluny in Paris must be a contender. So beautiful, mysterious and enchanting.
Many people who sit in parks have noticed the uncanny resemblance that dogs have to their owners. I have an old friend, a poet and writer, who so embodies the unicorn that I can have no doubt about their existence. He, like the unicorn, also has a tendency to want to lie down with his head in a lady's lap. His explanation for their current invisibility is: 'Every time someone fails to believe in unicorns, a unicorn fades away.' If only our attitude could change, there would be as many unicorns in Richmond Park as there are now deer, and a UNICORNUCOPIA would become available to us all.
A radiocarbon dating measurement report from RCD Lockinge is available.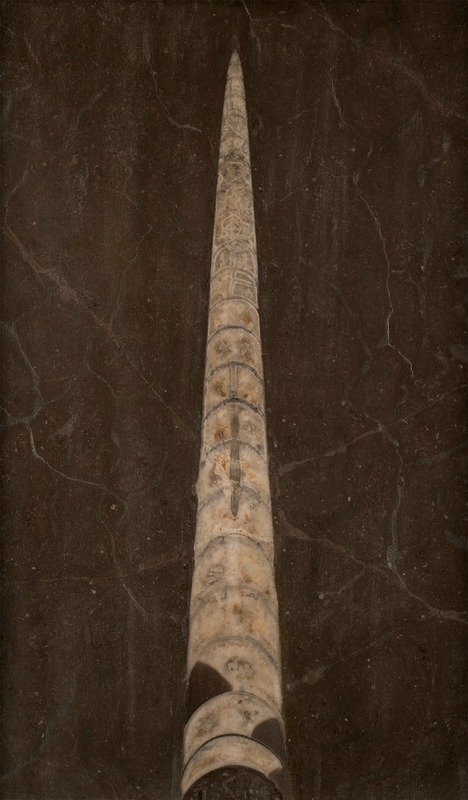 The Fossilized Tip of a Unicorn's Horn, Probably Morocco, 350 million years ago. Size of stone panel: 52 x 32 cm, Ormolu frame. © Oliver Hoare Ltd
It is curious how the unicorn-deniers inevitably attribute the horns from different eras to sea-creatures: usually the narwhal, or in this case a sea-shell. In search of more information, I consulted the expert on extinct species, Errol Fuller, who replied thus: 'It looks to me (I can't be entirely sure from the photo – so I'd need to see it) like a slice from a fossil Othoceras – a very ancient creature that lived (off the top of my head) about 350 million years ago. These fossils are sometimes found in Morocco.' Of course Errol is probably right, but I prefer to think there were unicorns in Morocco long before Homo sapiens was around, and unaffected by whether we were going to believe in them, or not.
Provenance: Jean-Claude Ciancimino, London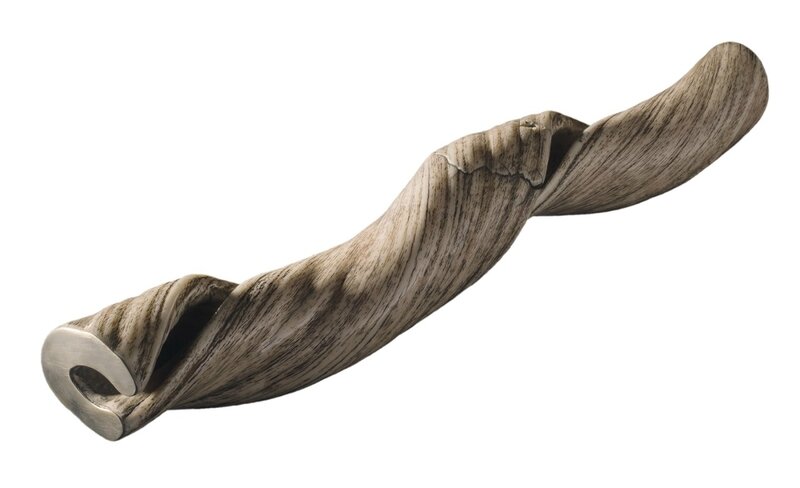 The Silver-Capped Twisted Section of an Ancient Unicorn's Horn, Northern Europe, AD 1526-1698. Size: 42 cm long. © Oliver Hoare Ltd
It is probable that at one time this section of a horn was preserved as a precious relic in an ecclesiastical treasury. Apart from representing the Annunciation, such horns were believed to act as an antidote to disease, the Evil Eye and other such inconveniences. Belief in these therapeutic qualities are still recorded throughout the 17th century, and probably later, long after the Council of Trent had banned them from churches, on the basis that by then nobody believed in the existence of unicorns. Its dynamic torque is most unusual.
Provenance: Jean-Claude Ciancimino, London
A radiocarbon dating measurement report from RSD Lockinge is available.
A Metal Unicorn Head, Indus Valley, second half 3rd millenium BC. Size: 45 cm. © Oliver Hoare Ltd
The model for this unicorn is a type familiar from seals and terracotta figurines found at Harappa and other Indus Valley sites. European unicorns invariably have bodies like horses, while those further east have the bodies of bulls with the horn pointing upwards, rather than projecting forwards. Among the seals of Mohenjo-daro, 60 per cent show unicorns, and those from Harappa, 46 per cent. The area was teeming with unicorns.
According to scientists, the Siberian Unicorn, Elasmotherium sibiricum, was already extinct 350,000 years ago. However, a skull found recently in Kazakhstan proves they were still around a mere 29,000 years ago. Such a margin of error is a reminder to be wary of scientific opinion when dealing with something as delicate as the unicorn. Iron-smelting can be traced back to c. 2600 bc in the Indus Valley, which was probably where the technology was first developed.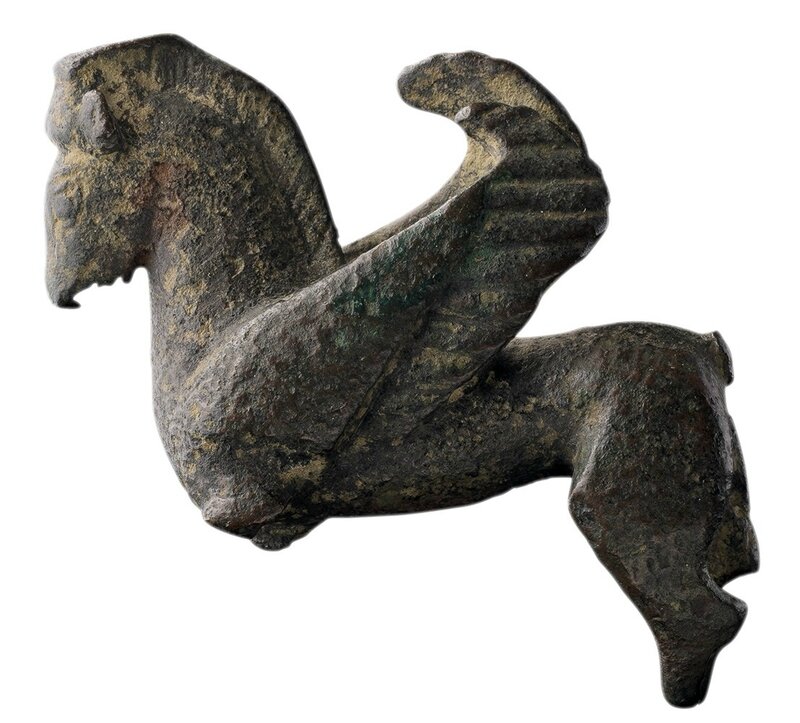 A Bronze Figure of Winged Pegasus, Greece, early 5th century BC. Size: 7 cm long. © Oliver Hoare Ltd
The Earl of Gloucester in King Lear said about his bastard son Edmund that 'there was good sport at his making'. Pegasus, the winged horse of Greek mythology, was the result of a night of passion between Poseidon and Medusa that must have been a much trickier encounter. Later he became the steed of the hero Bellerophon. Horses with wings appear in various mythologies – Buraq, for example, who carried the Prophet Muhammad on the Mi'raj – but it would be difficult to make a case for their existence outside the poetic imagination, or the transposition of revelation, any more than would be possible for the existence of centaurs. Nevertheless, their roles through mythology seem far more meaningful than the daily reporting of celebrity, fashion, even wars and their attendant atrocities.

Three Indus Valley Seals with Unicorns, Indus Valley, 3rd millennium BC. Size: 3 × 3 cm; 4.5 × 4.7 cm; 3.6 × 3.8 cm. Steatite and terracotta. © Oliver Hoare Ltd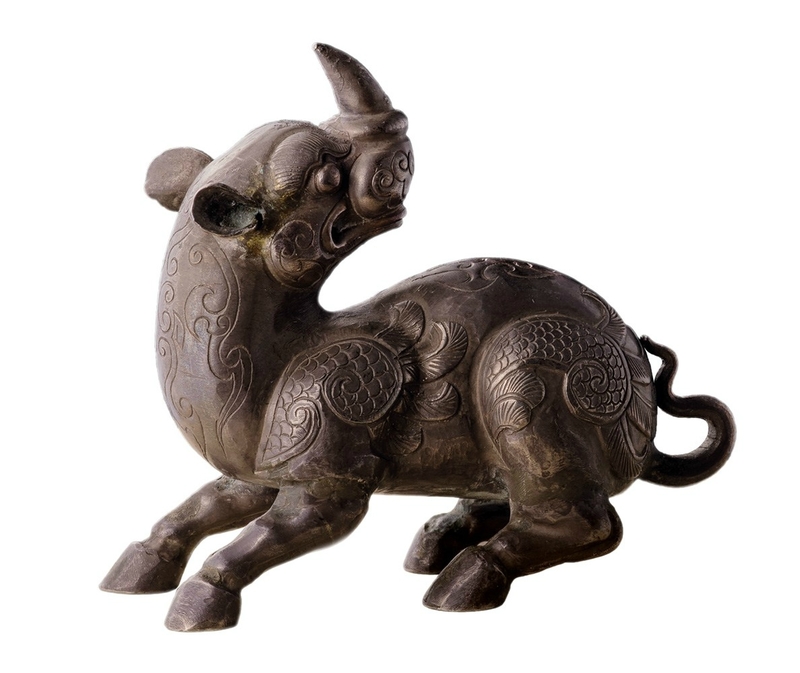 Chinese Silver Unicor, (Kylin), Probably Song dynasty, 11th–12th century AD. Size: 7 × 6.5 cm. © Oliver Hoare Ltd
While European unicorns had horses' bodies and Middle and South-East Asian unicorns were built like bulls, their Chinese relations were altogether more fanciful, a bit rhino-like, and clearly capable of some surprising tricks.
Jean Duvet (1485–1570), The Unicorn Purifies the Water with his Horn. Plate: 22.6 × 40.2 cm. Sheet: 23.5 × 40.9 cm. © Oliver Hoare Ltd
A very rare engraving, printed in grey-black, c. 1545–60, from 'The Unicorn Series', a very good silvery impression of the second (final) state, printing with clarity, on paper with a Grapes watermark (Eisler, Bessier 68). Duvet signed his prints emblematically, with the bird plucking its down ('duvet ', lower right).
This lyrico-mystical engraving is fascinating on many different levels. Firstly, for the personality of its creator, Jean Duvet, a name virtually unknown today in spite of his great accomplishments. He is the earliest known French engraver, having been trained as a goldsmith by his father in Dijon. For his exceptional skills in both these areas he received the royal patronage of kings François I and Henri II. He was in charge of the complicated pageantry celebrating the triumphal entry into Langres of François I in 1533. Fortress design was another of his specialities, and his mark remains in the striking ramparts of Langres and Geneva. Among his other skills were die-making and metal-casting. His fame as an engraver rested on two series of prints: the twenty-three plates of The Apocalypse, for which he was granted the Privilege by Henri II in 1556; and the six large engravings of 'The Unicorn Series'. Already, in 1666, Michel de Marolles, the first cataloguer of Duvet's oeuvre, referred to him as 'The Master of the Unicorn'.
Secondly, for the environment in which it was produced, and for which it is a giant rebus, referencing the complexity of the humanistic culture of Renaissance Europe. The new ideas that f lowed from Marcilio Ficino's Platonic Academy in Florence, from Pico della Mirandola's Nine Hundred Theses, from Trithemius of Sponheim, Johann Reuchlin, Paracelsus, and Cornelius Agrippa – among many others – introduced Greek philosophy, alchemy, Hermeticism, Neo-Platonism, Sufi mysticism and Cabbala into the mainstream of European thought, establishing for the first time an intellectual forum outside the Church. Most of those involved in this enterprise were part of the Church, participating in the debate about the Reformation instituted by Martin Luther, and, until the Counter-Reformation unleashed by the Council of Trent in the mid-16th century, were largely tolerated within the Catholic Church. The public burning of Giordano Bruno in Rome in 1600 signalled a brutal end to tolerance. Ficino had inspired Botticelli, Michelangelo, Raphael, Titian and Dürer, and this inspiration, along with the inf luence of those who had built upon it, provided the intellectual fabric of Renaissance France, within which artists such as Ronsard, Rabelais and Duvet f lourished. This was no New-Age-type phenomenon but a deep enquiry into the purpose of human life and its meaning. They did not reject religion, but tried with new tools to expand their understanding beyond the sterile doctrines of the Church.
Jean Duvet was a deeply religious man, Catholic in his upbringing but drawn to Luther, as were most artists of his generation. His solution was to remain a member of the Catholic Church, while keeping his connection with the communities of the Reformation. When the situation became too complicated he retired to Geneva, 80 miles from Dijon, where he had work designing fortifications and coinage. His stance is interesting and subtle, suggesting that he was able to avoid the common habit of accepting or rejecting one doctrine or another, precisely because another possibility had opened up in the humanistic environment in which he lived and worked.
Jean Adhemar wrote in his preface to Colin Eisler's The Master of the Unicorn (New York, 1979): 'We are amazed that Duvet was not rediscovered by the Symbolists in the nineteenth century. Probably, this is due to the extreme scarcity of his works. A Huysmans or a Robert de Montesquiou would have pronounced him "l'inextricable graveur" as they have characterized Rodolphe Bresdin for a similar amalgam of malaise and enchantment.' Earlier in the 19th century, William Blake and Samuel Palmer must have been aware of Jean Duvet's magical creations.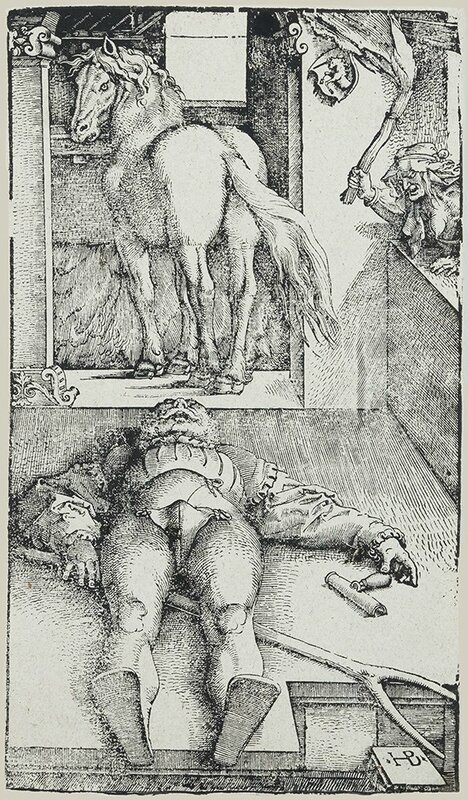 Hans Baldun Grien, Sleeping Groom and Sorceress, Woodcut, 1544, Size: 34 × 20.1 cm. With thread margins as trimmed on the black border line, and with border line preserved all around. A good, dark impression of this extremely scarce woodcut. © Oliver Hoare Ltd
Ex. Coll. Wihelm Heinrich Ferdinand Karl von Lepell (Lugt 672 verso); and Kupferstickkabinett des Staatliche Museen, Berlin (Lugt 1606 verso).
Hans Baldung Grien (1484–1545) was born into a Swabian family of prominent intellectuals, and at the age of eighteen was apprenticed to Dürer, whose most gifted student he became, especially as a printmaker. He became known as 'Grien' from his habit of dressing in green, which is supposed to have been a reference to witches, 'grienhals' in German. The mysterious subject-matter of many of his engravings, such as this one, would support the idea. Introducing images that ref lected the occult theology of the German Renaissance had a major impact on print-making in the first half of the 16th century, and his imagery has remained inf luential ever since. His residence in the Free Imperial City of Strasbourg gave him unusual freedom to move beyond conventional themes and religious subject-matter. The horse in this image is a stroppy stallion, while a unicorn appears mysteriously in the escutcheon above the window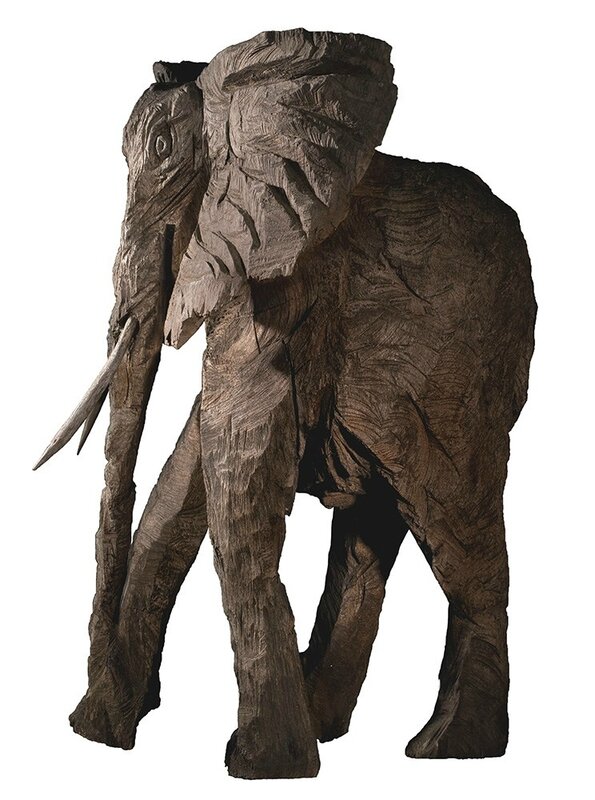 An Elephant Made from Driftwood, Cornwall, 1920s. Size: 70 cm high. © Oliver Hoare Ltd
This Elephant came from the overgrown garden of an old Cornish estate, and its finder kept it for twenty years, naming him Malcolm. Eventually he sold Malcolm, probably because his upkeep became too much, and his new owners changed his name to Oskar.
Anyone who has spent summers by the seaside knows the magic of what can be picked up along the shore. As the summer stretches on, curiously shaped and sea-smoothed bits of wood, polished pebbles and mysterious other f lotsam line the window-sills. When the time to depart arrives, difficult decisions have to made about what can be taken home. When I met Oskar I realised what opportunities I had missed, collecting stuff and doing nothing with it. Unlike Oskar's creator, who has provided a lesson in imaginative transformation.

The Thigh Bone of an Elephant, Africa, 16th-17th century. Size: 96.5 cm. © Oliver Hoare Ltd
This large elephant femur is apparently the one shown in Charles Wilson Peale's self-portrait in his museum, painted in 1822, and now in the Pennsylvania Academy of the Fine Arts in Philadelphia. This is possible because Peale was unsuccessful at obtaining government funding for a permanent home for his collection, and after his death it was sold to the showmen P.T. Barnum and Moses Kimball, and subsequently dispersed. The bone itself could be from as early as the 16th century, according to a carbon-dating test.
Finding that he had a talent for painting, Peale studied under John Hesselius and John Singleton Copley, until his friends raised enough money for him to travel to England where he took instruction from Benjamin West for three years. On his return to America, he became involved in the War of Independence, and moved to Philadelphia, the capital of the nascent national government. He befriended and painted many of the historic figures of the time; his full-length portrait Washington at Princeton, painted in 1779, sold at auction for $21.3 million in 2005, a record price for an American portrait.
Peale was a Renaissance man, since apart from painting he was an inventor, and expert in diverse fields, such as taxidermy, carpentry, optometry, dentistry and shoe-making. His greatest contribution was to natural history. He organized the first US scientific expedition in 1801, and collected botanical, biological and archaeological specimens on a colossal scale. He displayed the first mastodon skeleton, which he found in New York State, and by adopting Linnaean taxonomy he distinguished his collection and its purpose from the 'Cabinet of Curiosities' mentality of his predecessors.
He had sixteen children with his first two wives, all of whom were named after painters he admired. Rembrandt became a famous portrait painter, and Titian a pioneer in photography. Peale's slave, Moses Williams, was also trained in the arts while growing up in the Peale household, and later became a professional silhouette artist.
There is a strain of unusual enlightened curiosity embedded in Philadelphia. It is embodied today by the Mütter Museum, part of the College of Physicians of Philadelphia, since its collections were donated by Dr Thomas Dent Mütter in 1858, for biomedical research and education. Its weirdness, to those not accustomed, is summed up in an article in The New York Times in 2005:
'There are jars of preserved human kidneys and livers, and a man's skull so eaten away by tertiary syphilis that it looks like pounded rock. There are dried severed hands shiny as lacquered wood, showing their veins like leaves; a distended ovary larger than a soccer ball; spines and leg bones so twisted by rickets they're painful just to see; the skeleton of a dwarf who stood 3 feet 6 inches [1.07 m] small, next to that of a giant who towered seven and a half feet. And "Jim and Joe," the green-tinted corpse of a two-headed baby, sleeping in a bath of formaldehyde.' The Mütter American Giant is the tallest skeleton on exhibit in North America. Among other curiosities: a malignant tumour removed from President Grover Cleveleland's hard palate; the conjoined liver from the famous Siamese twins Chang and Eng Bunker; a piece of tissue removed from the thorax of John Wilkes Booth, the assassin of President Abraham Lincoln; a section of the brain of Charles J. Guiteau, the assassin of President James A. Garfield; the Chevalier Jackson Foreign Body Collection; slides of Albert Einstein's brain.
Most intriguing is the Hyrtl Skull Collection, 139 skulls gathered by the Viennese anatomist Joseph Hyrtl. While it is officially given that the purpose of the collection was to show the diversity of cranial anatomy in Europeans, its original purpose was to determine if human criminality could be determined by the shape of a person's skull. When I visited the Museum over 40 years ago, each skull had a neat label giving the name of the criminal, with a description of the crime and the date it was committed.
Like the patch of skin on Mary Magdalene's skull in the crypt of Saint-Maximin-la-Sainte-Baume, they have been discreetly removed. The presence of Marcel Duchamps' extraordinary last work, Étants donnés, in the Philadelphia Museum of Art, viewed through two peepholes in an old Spanish door, is a more recent manifestation of the strange spirit that hovers over Philadelphia.
Provenance: by repute, Charles Wilson Peale (1741–1827), Philadelphia
A radiocarbon dating measurement report from RCD Lockinge is available.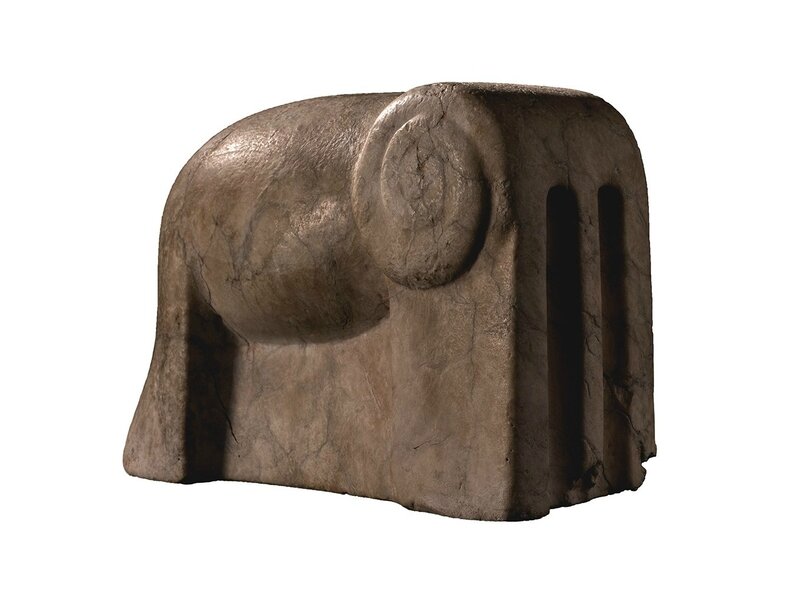 Elephant in Stone, Mesopotamia, late Uruk-Jemdet Nasr period, 3,400–3,000 BC. Size: 15 cm high, 20 cm long. Veined limestone. © Oliver Hoare Ltd
The rear of this Elephant is quite as expected, with sturdy legs and a tail. Further forward, however, his aspect changes. Instead of ears there are carved spirals, as if his tusks have been conveniently folded back. And then his pillar-like forelegs combine with his trunk to become an architectural feature. The trunk is pierced laterally, perhaps for a ring. How was it, one can't help wondering, that an elephant could be so successfully transformed into architecture? Was it a sculptor 5,000 years ago translating a traveller's tale; or had he seen one on his own travels, and forgetting its details remembered only the impression it made? Strangely, there are elephant figures in stone from an even earlier period from the same general area, so far unpublished, which are more lifelike, with big f lappy ears, seemingly observed from a real creature. So what happened to make an elephant architectural? (A miniature version in reddish limestone exists, exhibiting the same architectural features. See:
D. Adams, E. Bunker, T. Kawami, R. Morkot, D. Tawil, When Orpheus Sang, An Ancient Bestiary, Les Livres d'Art, 2004, no. 26.)
The reconstruction of the temple of the god An at Uruk, the religious shrine to which this elephant was most probably dedicated, provides an unexpected correspondence. It is like looking at him once he had completed his transformation into a building. We are used to the 'total work of art' concept in the 20th century, for example with Bauhaus, Art Deco or Dalcroze, but less used to uncovering a manifestation of it 5,000 years ago.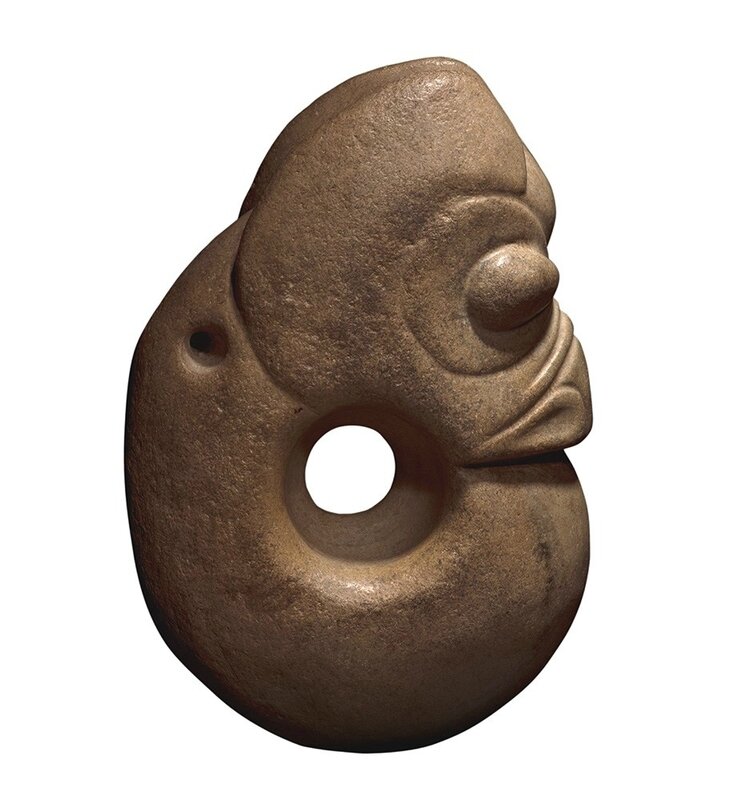 Zhulong, Hongshan culture, North-East China, 3,500–3000 BC. Size: 19.5 cm high. Limestone. © Oliver Hoare Ltd
Zhulong means 'pig-dragon'. It is a mysterious emblem of the neolithic Hongshan culture, for which nobody so far has an explanation. They were carved in stone, and more rarely in jade, over a large area, from Inner Mongolia to Liaoning. Because stone does not talk, multiple theories have been put forward as to what they represent. They are the product of a shamanic society, but beyond that we have no idea. Nevertheless, the mystery of a potent form remains compelling. Every phase of the nomadic peoples of Central Asia has produced thrilling images, most obviously from the Animal Style of the Scythian peoples of the 1st millennium bc. But there are also many earlier layers of nomadic culture of which we only get rare glimpses. The Hongshan culture offers us one.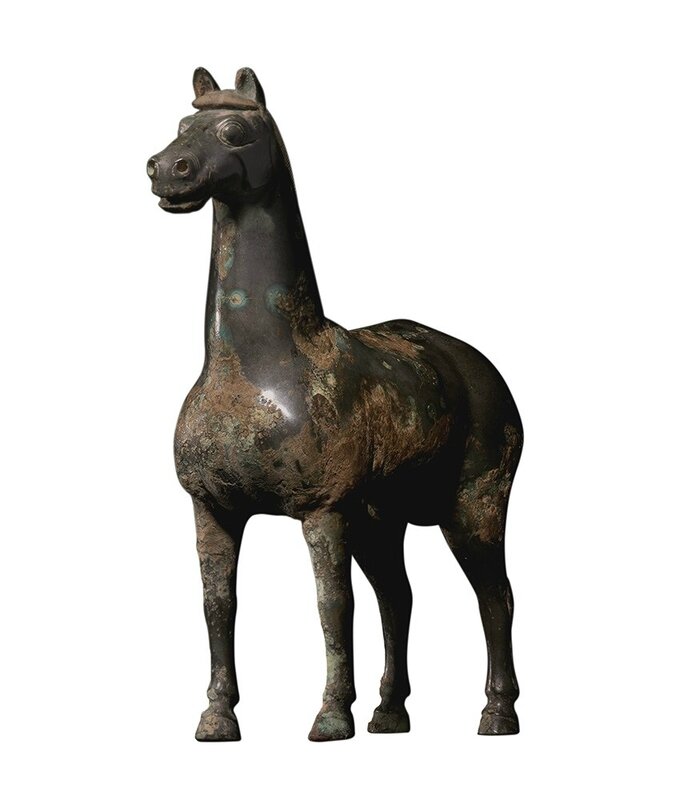 'The Horse that Sweats Blood', Tang Dynasty, China, AD 618–907. Size: 22 × 22 cm. Bronze. © Oliver Hoare Ltd
In 139 bc the Han Emperor of China Wudi (r. 141–87 bc) sent Zhang Qian, a palace attendant, as his envoy to the Yuezhi confederation in the Ili Valley, to seek an alliance against the Xiongnu nomads who so troubled his western borders. The account of his travels that still survives describes a most extraordinary odyssey. He was intercepted by the Xiongnu, whose leader Junchen Chanyu treated him with courtesy, providing him with a wife but not letting him go. Ten years passed before he could make his escape and continue on his quest, arriving back at the Chinese court in 126 bc. On his way he went through the Ferghana Valley, and there saw the 'Horses that Sweat Blood'. When the Emperor heard about them he realized that military superiority depended on such horses. It took more than a decade of military campaigns, and construction of a line of fortresses throughout Xinjiang, to assure a supply. The Emperor Wudi commissioned the building of a mausoleum for his most illustrious general Huo Qubing, in front of which stands a life-size horse like this in stone.
The report of the scientific examination by Striptwist Laboratory is available.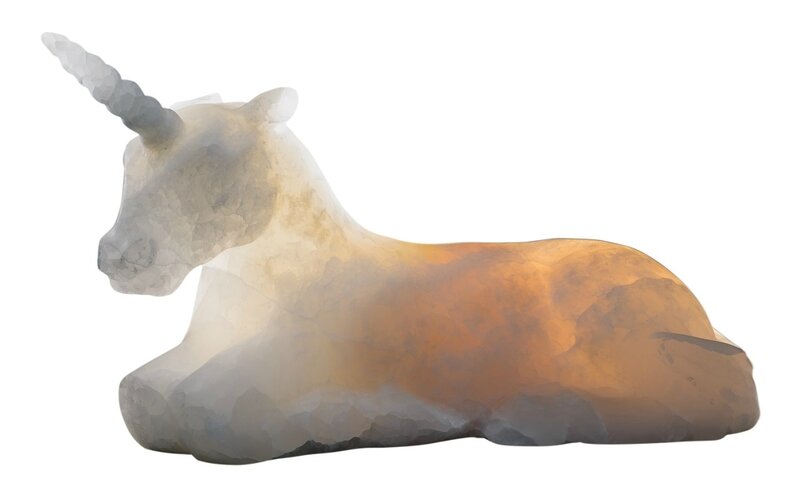 Michael Cooper, Unicorn, 2016. Size: 35 cm high, 58 cm long, White onyx. © Oliver Hoare Ltd
For the exhibition in 2015, Michael sculpted a Dodo in white marble to join the other Dodos that came to the show. Underneath the Dodo he had thoughtfully carved an egg, and we are still hoping for a happy result. With Unicorns it is less straightforward to imagine how to propagate their race in these hard times of disbelief. However, his brilliant choice of white onyx provides the perfect texture for a creature that has to f lit between its wilfully ignored physicality and its existence in the imagination alone, and we are now one step closer to having them grazing on our lawns as a result.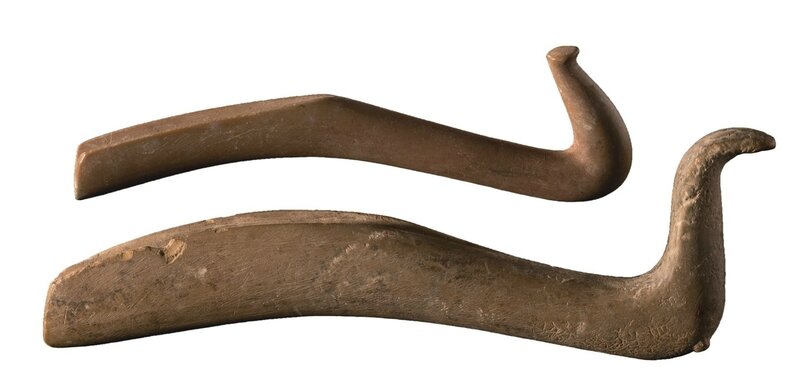 Two Polished Stone Symbols of Sexuality, Indus Valley, c. 5,000 BC, Size: 15.7 cm, and 12 cm. © Oliver Hoare Ltd
The larger of the two is clearer about what it represents. The rearing serpent's head is the male sex. Below, on the curve, are the breasts of an adolescent girl, and the vaginal cleft opens along the back. The smaller stone may be a stylised version of the same, or it may be indicating potential sexuality; no breasts as yet, and an undeveloped serpent's head.
THE INDUS VALLEY
Excavations in the 1920s revealed ancient cities of vast proportions with architectural planning unparalleled in the ancient world, and a production of unique artefacts. The cities were raised on large platforms above the f lood plain, and had wells, bathing rooms, drainage and granaries. These cities were different from those in Mesopotamia and Egypt; they had no palaces, no temples or walls. They seem to have evolved from local cultures that had roots extending back thousands of years to the earliest farming and pastoral communities. People decided how to organize their settlements, how to interact with other communities, how to resolve conf licts, what to do with surplus food and wealth, how to pass on knowledge from one generation to the next. These choices created its own particular framework. So far 1,500 settlements have been discovered over an area of 680,000 square kilometres. The building of these cities between 3500 and 2600 bc coincides with city-building in Mesopotamia and Egypt, and a millennium before something similar happened in China. The orientation of the Indus cities along cardinal directions ref lects precise astronomical observations of the movements of the sun, stars and moon. In Mesopotamia, writing was invented c. 3300 bc to keep accounts and record trade. The Indus script came a few hundred years later, clearly not for accounting, but it remains inscrutable to this day in its frustratingly mute elegance.
MEHRGARH
This remarkable collection of terracotta figurines and other artefacts from the Indus Valley is unique in private hands, as far as we know, and ranks alongside the holdings of the museums of Islamabad and Karachi. On first acquaintance the figurines might seem simple, too naïve to hold the attention, but on closer inspection they become fascinating, because of the story they have to tell – like certain people encountered in life. A few only are illustrated and described here; a full listing, with dimensions and dates, is to be published separately.
The site of Mehrgarh, from where these figurines come, first came to light in 1920, and was excavated by the French Archaeological Mission under the direction of Jean-François Jarrige, from 1974 to 1986, and again from 1996 to 1997. By the Bolan river at the base of a major pass, the settlement of Mehrgarh dates back to 6500 bc; the figurines were produced in the first half of the 3rd millennium bc, when it was a mature settled community, cultivating grain and breeding animals.
Around 4000 bc, we emerged from the Neolithic period of our long evolution into the society of modern humanity, living together in large communities, establishing cities and developing the increasingly sophisticated infrastructure that was required. These precious relics are the witnesses of this transition, and are filled with meaning far beyond what their modest forms superficially exhibit, for those who are interested in what they transmit.
Learning how to use the special types of earth from the banks of the Indus River, the potters of Mehrgarh achieved a refined surface finish, which gave a thin silky skin to their wares. They also learned how to extract five colours from minerals. (The pottery of Susa at this time was noticeably less refined.) Three types of clay are attested so far: light red, grey, creamy brown. They are all represented in this collection, along with a wide variety of the designs typical of the Indus Valley civilization.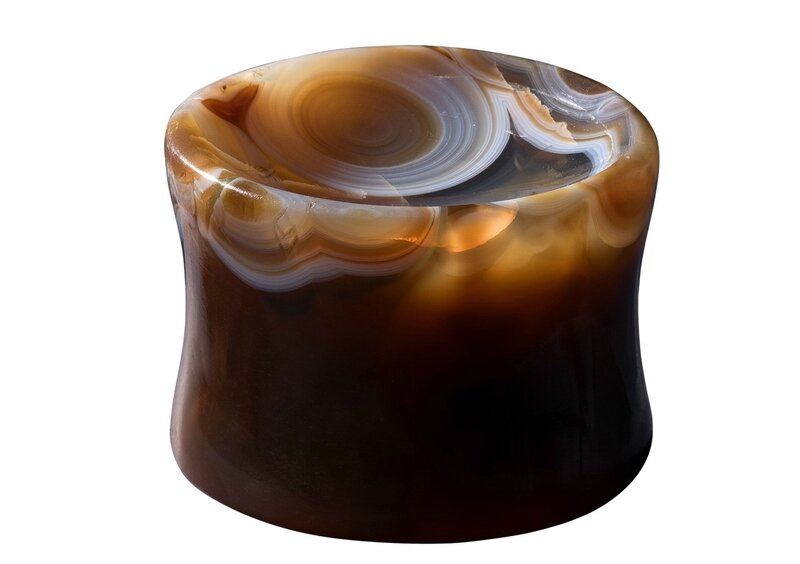 Remarkable Inscribed Chalcedony Ear-Lobe Weight, Mergargh, Indus Valley, c. 3000 BC, Size: 42 cm high, 5.9 cm diameter. © Oliver Hoare Ltd
Along the upper rim of this beguiling object are five characters of the Indus Valley alphabet, the tantalizing glyphs of an undeciphered language. The choice of stone, polished to reveal a milky 'eye' and undulating ribbons, as well as its seductive concave surfaces, add to its visual and tactile appeal. It has weight, too, which makes its purpose as an ear appendage surprising at first, until one remembers the tradition of such adornments in the pierced and stretched lobes of the statues of goddesses throughout the Indian subcontinent since early times.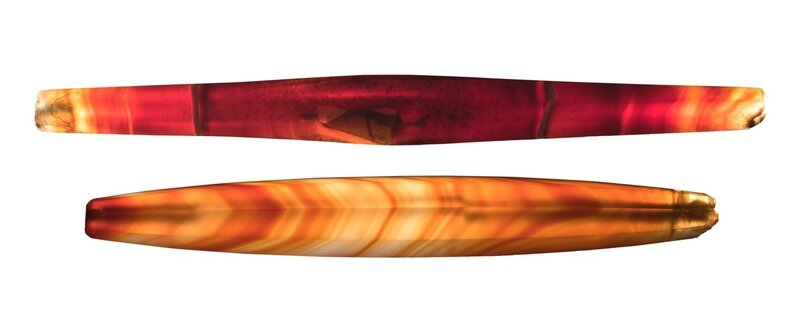 Two Biconical Carnelian Long Beads, Indus Valley, first Half 3rd millenium BC, Size: 11.5 cm, and 11 cm long. © Oliver Hoare Ltd
Such highly polished beads were the longest pierced carnelian beads produced prior to diamond-drilling. They were made in specialized workshops, and required sophisticated drilling techniques to perforate. It has been calculated that a bead of this length took at least 64 hours to drill; and since the strain of drilling required periods of rest every few hours, at least 10 days went into its manufacture. The stone came from the mines of Gujarat, and finished beads were exported as far as Mesopotamia and the Persian Gulf. The Indus Valley cities established an outpost at Shortughai in northern Afghanistan to give them access to lapis lazuli and turquoise, but they preferred and valued carnelian for its hardness. Beads like this were greatly prized, and have been found in the royal cemetery at Ur.
An archaeological find at Mehrgarh has provided a surprising context for the highly developed skill of drilling in the Indus Valley. Eleven drilled molar crowns from nine adult skulls were discovered in a neolithic graveyard that dates from 9,000 to 7,500 years ago. This very precise proto-dentistry was accomplished with bow-drills tipped with flint.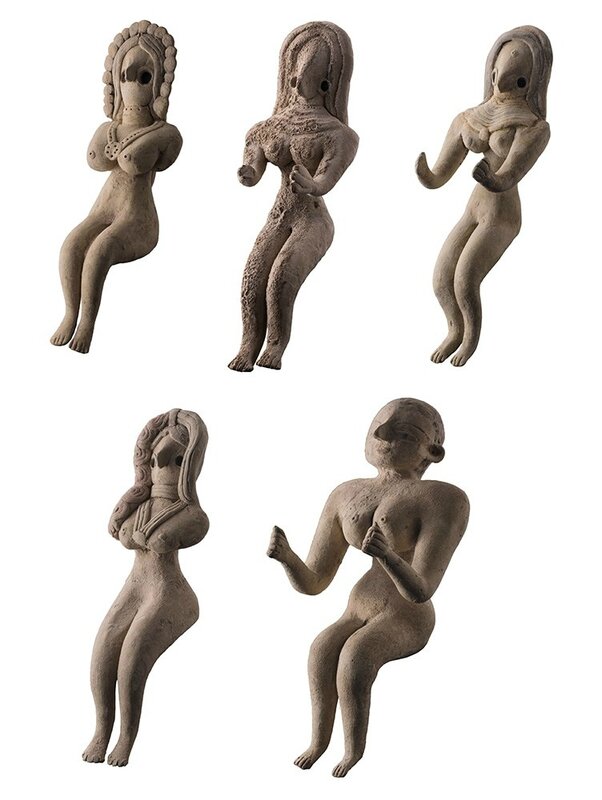 Five Holy Harlots from the Indus Valley, Mehrgarh, circa 3000 –2500 BC, Size: 13 cm; 13.2 cm; 14.2 cm; 13.5 cm; 12.5 cm, Terracotta, with pigments. © Oliver Hoare Ltd
Andrew Robinson writes in his survey of the Indus Valley civilization (The Indus, London, 2015): 'Many of the female and male figurines appear to have been fertility figurines, judging from their nudity.' The term 'fertility figurine' is one that seems to make sense, but relies on a series of suppositions that add up to very little. Why does an overt show of sexuality not represent exactly that? The same tendency is responsible for the ubiquitous labelling of objects as 'ritual', simply because their function is unknown. Nobody has described this better than Charles Moore: 'Telephone boxes … are lovely things. But the question now, in the era of the mobile phone, is "What are they for?" You hardly ever see anyone inside them. Future historians, puzzling over these objects, may conclude that they were wayside religious shrines in which people stuck pictures of naked fertility goddesses to bring them luck.' (The Spectator, 21 April 2007).
The answer to the question, 'How do you know they are temple prostitutes?' is: who else would go around looking like that? The practice exists discreetly to this day in India, but it has a long and distinguished history. In ancient times it was thoroughly regulated, and according to Herodotus, writing disapprovingly in the 5th century bc: every woman in Babylon was obliged to serve for one day at the temple of Mylitta (Aphrodite). The good-looking ones were able to fulfil their obligation rapidly, while those not blessed with beauty sometimes sat waiting for years. In Hammurabi's code of laws, the rights and good name of female sacred prostitutes were protected; the same legislation that protected married women from slander applied to them, and their children. The emperor Constantine had a policy of closing down the temples of Venus, much to the delight of the priggish early Christian theologians. Modern scholars, particularly female ones, have tried to pass the whole concept off as a 19th-century fantasy, but I think this quintet of bejewelled and busty beauties gives a lie to such puritanical pretensions. If the Church of England reinstated the practice, our churches would be full, society would be less stressed, and religion would be fun again, even beyond what the happiest of clappies can provide.
The problem with this theory of temple prostitution, some might say, is that the excavations at Mohenjo-daro and Harappa have not revealed temple structures such as those of Mesopotamia, which has much puzzled the archaeologists. Nevertheless, religion has been practised without cult buildings in many parts of the world, at least until it became part of a political system. And, therefore, it is quite possible that religious sex in the Indus Valley was a sort of cottage industry, with the advantage of providing a cosy intimacy impossible within the draughty colonnades of temples.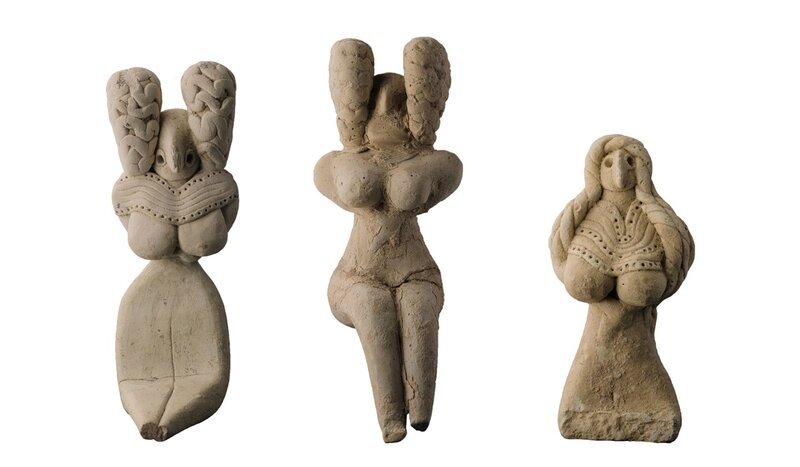 Three Terracotta Fashionistas, Mehrgarh, Indus Valley, c. 3000 BC, Size: 9 cm; 14 cm; 9.5 cm. © Oliver Hoare Ltd
It's the hairstyles that are the giveaway. Getting done up like this would not have left enough time in the day for harlotry, nor have given the girls the necessary freedom of movement required for such a performance. This particular hairstyle was popular in Mehrgarh c. 3000 bc, and so, apart from the building of walls and the crafting of figurines, hairdressing was clearly an important form of artistic self-expression. Four thousand years after developing farming and herding in South Asia, there was a hairdresser on every high street. Paying attention to hairstyling is a sign of an advanced culture; late 18th-century France and late 1960s King's Road are obvious examples.
Terracotta Male Figure, Mehrgarh, c. 3000–2500 BC, Size: 10.5 cm high. © Oliver Hoare Ltd
The great majority of the figurines from Mehrgarh are female, so this male represents something of an anomaly. His hair, carefully combed and probably perfumed, retains some of its black pigment, and is bound by a stylish turban. The traces of yellow pigment around the neck indicate that his eight-strand necklace and pendant are of gold. Otherwise he is stark naked. Speculating on the possible reasons for depositing such an ex-voto, one is led to conclude that it commemorates a spiritually uplifting encounter with one of the girls at the temple, for which he had presented himself at his most elegant.
A Mother-Goddess Riding Out, Indus Valley, 3rd millennium BC, Size: 15 cm high, Bronze, lost-wax casting. © Oliver Hoare Ltd
She has had her hair extravagantly done up for the ride. Apart from their rarity, the early bronze plaques, of which this is a fine example, provide the first known representations of domesticated horses. They contradict the generally held view that horses were only introduced into India a thousand years later by Indo-Aryan peoples from further north. This goddess, however, preferred to ride out on her Bactrian camel. It is, of course, impossible to exaggerate the importance of the Bactrian camel, the rolling stock without which the arteries of trade could not have functioned.
A Carved Limestone Male Bust, Mehrgarh area, 5th–4th millennium BC, Size: 8 cm high. © Oliver Hoare Ltd
A Banded Alabaster Male Figurine, Mehrgarh, Indus Valley, 4th millennium BC or earlier, Size: 6 cm high. © Oliver Hoare Ltd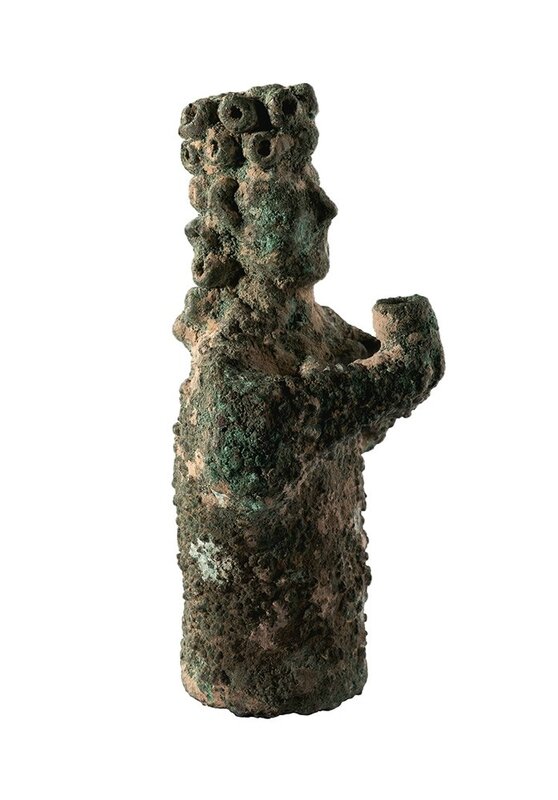 Copper Figure of a Royal Female Figure Making an Offering, Indus Valley or Balouchistan, late 4th millennium BC, Size: 9 cm high. © Oliver Hoare Ltd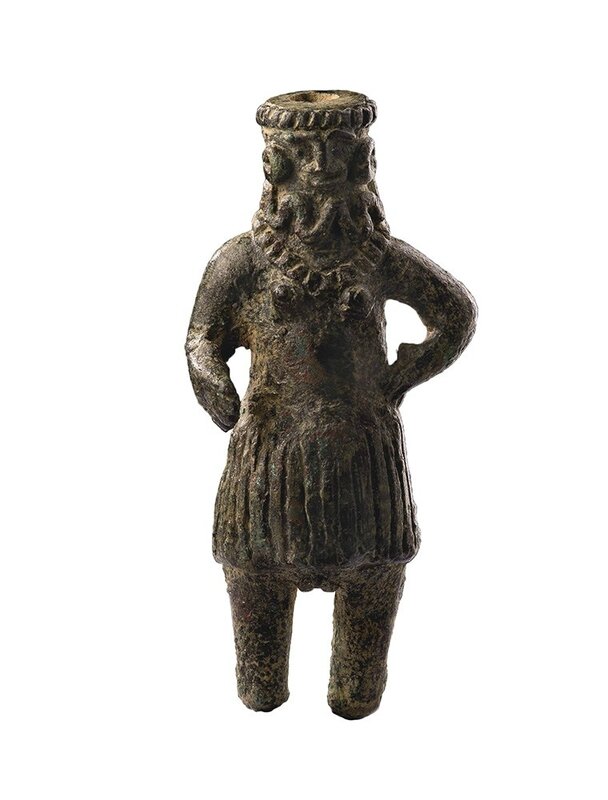 A Rare Cast Bronze Cosmetic Flask in the Form of a Woman, Indus Valley, 3rd millennium BC, Size: 8.4 cm high. © Oliver Hoare Ltd
A Cast Hight-Copper Bronze Head of a Priest-King, Indus Valley, 3rd millennium BC, Size: 4 cm high. © Oliver Hoare Ltd
Although small in size, this remarkable head has a powerful glowering presence. His hair is perfectly curled in layers down his head and the back of his neck. From his chin hangs a beard in the Egyptian style.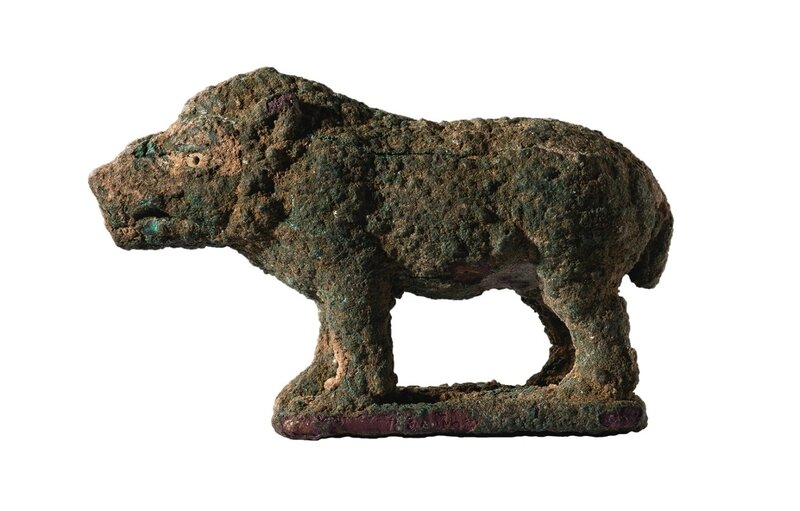 A Copper Figure of a Wild Boar, Mehrgarh area, circa 3500 BC, Size: 6 cm long. © Oliver Hoare Ltd
The eyes are inlaid with shell. The base bears a seal now obscured by corrosion.
Indus Valley Seals, Mehrgarh area, circa 3500 BC, Size: 6 cm long. © Oliver Hoare Ltd
It is assumed that the seals were used for trade, particularly long-distance trade, that the different animals are badges of clans, and that the script spells out the name or title of the owner. The theory has several awkward corners, however. There are about ten animals which are most commonly shown, while at Mohenjo-daro 60 per cent of the animal seals show unicorns. At Harappa it is 46 per cent. There are other animals that are very rare, such as the tiger and markhor goat, and occasionally a horned and naked man seated in a yogic pose with an erection turns up. The same inscription appears with different animals, and sometimes several animals appear on one seal, or a single animal with three different heads. Nevertheless, at their best they are objects of great refinement and beauty, and all the more tantalizing for their undecipherable script. Most are made from steatite that has been hardened by heating after engraving, with a pierced knob at the back. (See also no. 6 for the seals with unicorns.)
a. A bearded bull and inscription. Size: 3.4 cm square
b. A fine zebu and inscription. Size: 3.3 cm square
c. A zebu and inscription. Size: 2.9 cm square
d. A rhinoceros and inscription. Size: 3.6 × 3.4 cm
e. A horned shaman and inscription. Size: 3 cm square
f. An elephant and inscription. Size: 2.6 cm square
g. A bull and inscription. Size: 3 cm square
h. A markhor goat and inscription. Size: 2.6 cm square
i. A unicorn, incense burner and inscription. Size: 3 cm square
j. A horned buffalo and inscription. Size: 2.7 cm square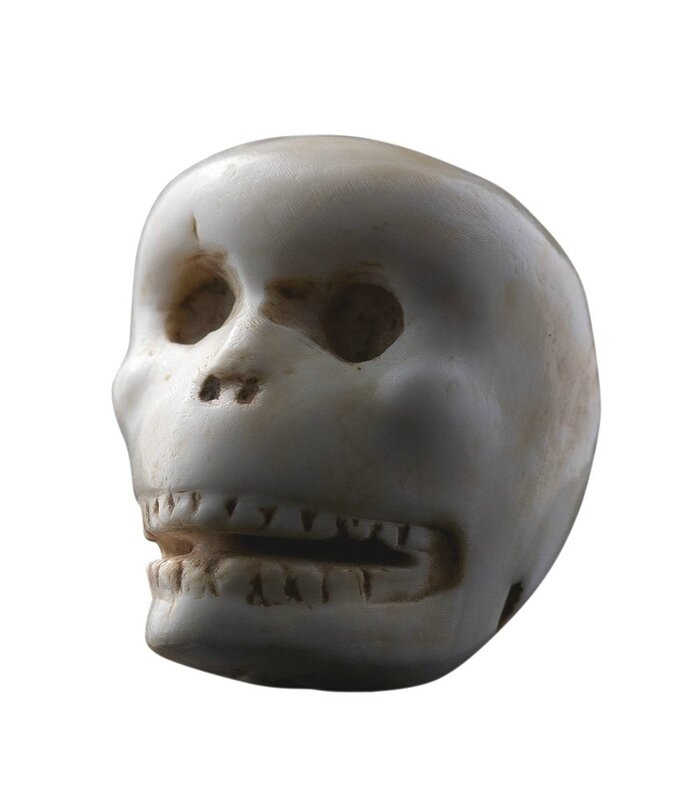 A Monkey Bead Made of Shell, Indus Valley, 3rd millennium BC, Size: 2.5 cm high. © Oliver Hoare Ltd
An Adjusted Cubical Chert Weight, Indus Valley, 5th millennium BC, Size: 3.5 × 3.8 cm, Weight: 125 g. © Oliver Hoare Ltd
Cubical weights conform to the standard Harappan binary weight system that was used in all of the settlements. Based on a tiny black and red seed called a gunja, each weight doubled until the 16th ratio when the system became a decimal increase. The largest weight found at Mohenjo-daro is the equivalent of 100,000 gunja. While different from the weight systems of Egypt and Mesopotamia, the standardization of the Indus Valley was a tremendous facilitator of trade. The chert used for most of the weights came from the highland river-beds of Baluchistan and Afghanistan.
Edward Gibbs has written an elegiac description of his relationship with this weight, which he found in the grounds of his grandparents' house in the village of Barcombe, near Lewes. He provides a fine example of how even the most modest-seeming objects can open up a wide world to whoever has the curiosity to seek it. For 20 years it sat in his drawer of treasured finds, until a visit to the British Museum while he was student at SOAS revealed its origin. It is now recorded at the British Museum as the most westerly proof of trade with the Indus Valley. We find it difficult to imagine who we were in the 5th millennium bc, but this weight shows that we were part of a vast trading network.
Provenance: Edward Gibbs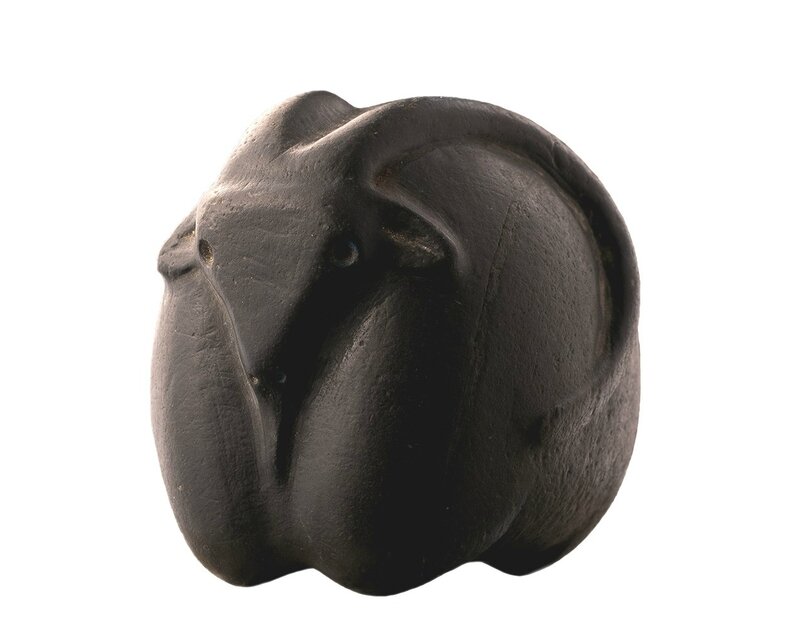 Basalt Pebble Carved as a Mouflon, Indus Valley, 3rd millennium BC, Size: 5.3 cm high, 6.7 cm long. © Oliver Hoare Ltd
The nature of the mouf lon, so perfectly expressed with minimum modulation of the pebble's surface, appears more 20th century than five millennia old. This shape of basalt pebble was formed by magma released under water, and its probable origin was the Deccan plateau.
A Black Chlorite Cup, Indus Valley, circa 4000 BC, Size: 5.3 cm diameter. © Oliver Hoare Ltd
Finely carved around the outside are three long-legged water birds, each devouring a large fish.
A Miniature Bull Carved in Striped Agate, Indus Valley, 3rd millennium BC, Size: 2.5 cm long. © Oliver Hoare Ltd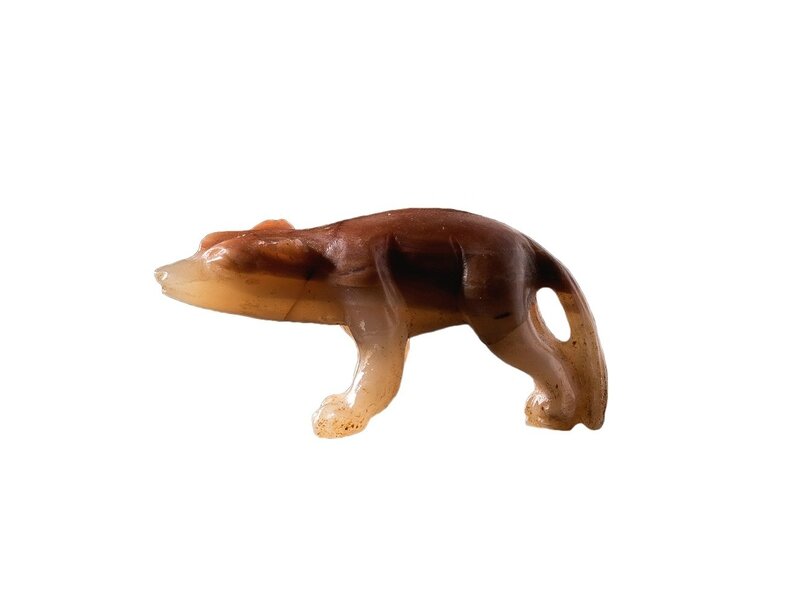 A Miniature Wolf in Banded Agate, Indus Valley, 3rd millennium BC, Size: 3 cm long. © Oliver Hoare Ltd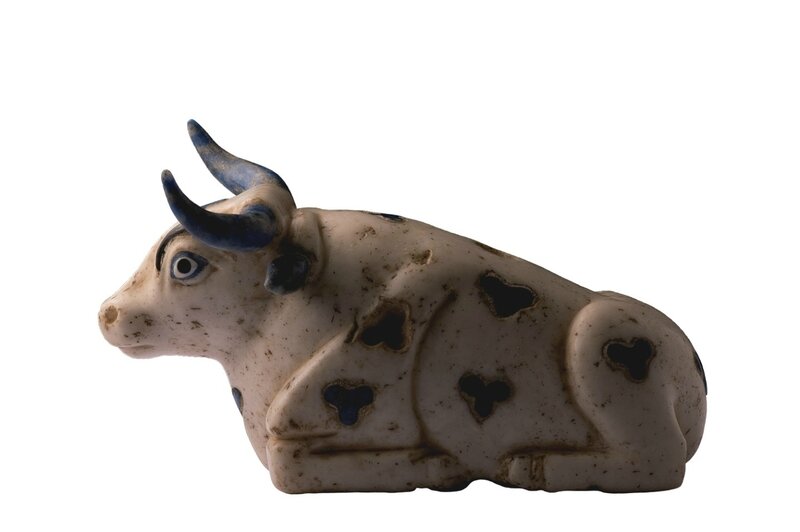 A Polished Limestone Seated Bull, Indus Valley, circa 3000 BC, Size: 11 cm long. © Oliver Hoare Ltd
The horns, ears and clover leaf inlays are of lapis lazuli, the eyes are inlayed with shell, polished black chlorite and lapis lazuli. The body of the bull is pierced with a vertical hole.
Lapis lazuli was mined in ancient Bactria and exported widely, notably to Egypt and Mesopotamia. The technique of inlaying stone in this way was also used over a wide area, with examples known from Susa, Bactria and the Indus Valley, the latter being the most likely origin of this example.
The report of the scientific examination by Striptwist Laboratory is available.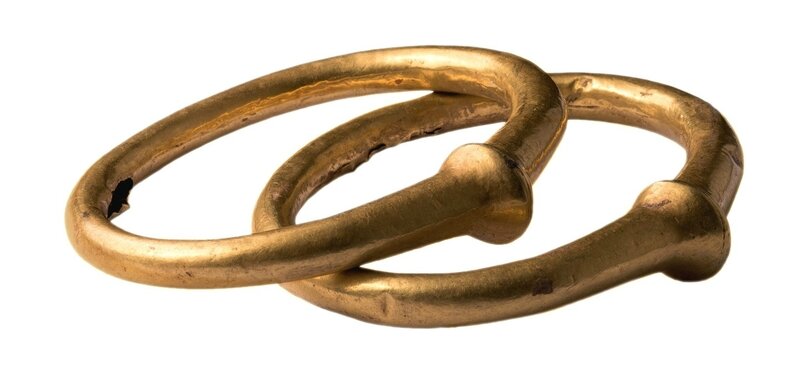 Pair of Gold Bangles, Mehrgarh, 3rd millennium BC, Size: 7.5 × 8.5 cm. © Oliver Hoare Ltd
The gold sheet is wrapped around a core of bitumen.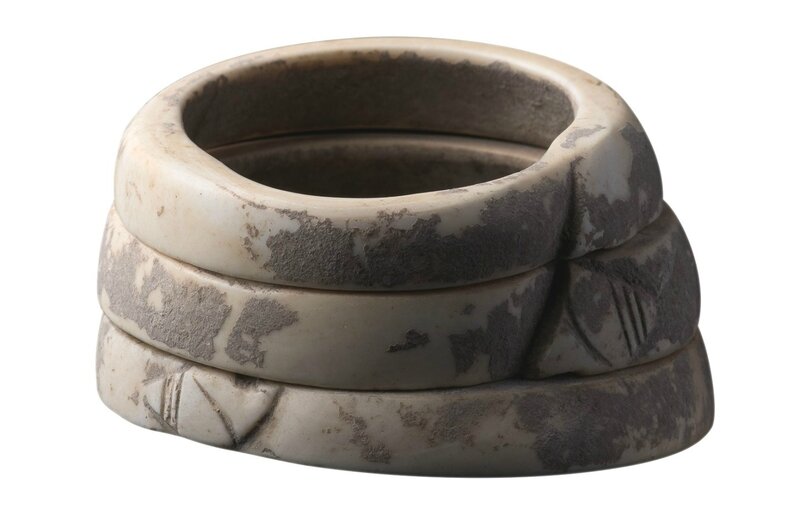 Three Shell Bracelets, Mehrgarh, Indus Valley, 3500–3000 BC, Size: 7 cm diameter. © Oliver Hoare Ltd
The three bracelets are cut from the same conch shell; the middle and lower bracelets are carved with the image of a conch shell on one side.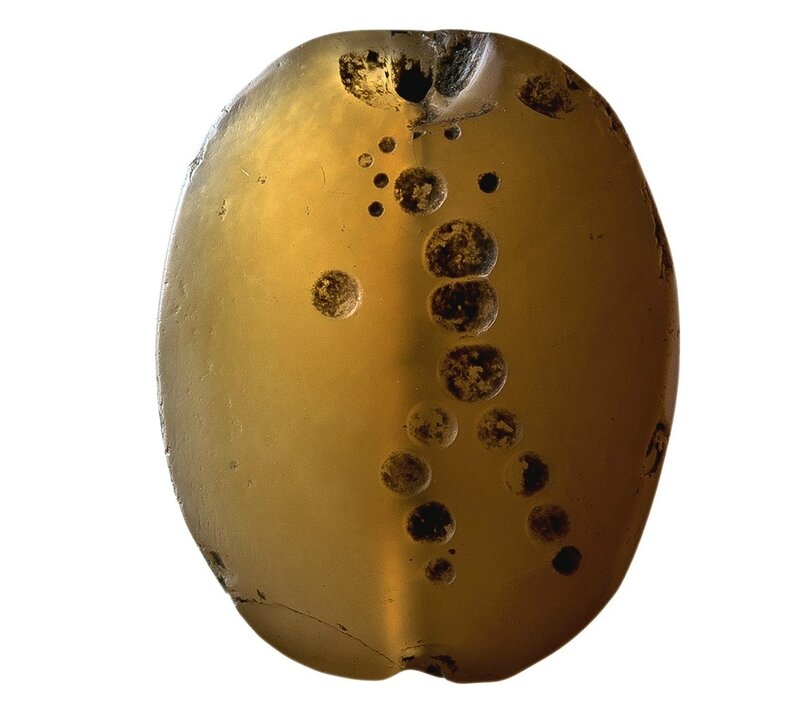 An Oval Agate Seal, Indus Valley, 3rd millennium BC, Size: 2.5 cm. © Oliver Hoare Ltd
The flat side is drilled with a walking human figure with possible traces of script. Drilled for suspension.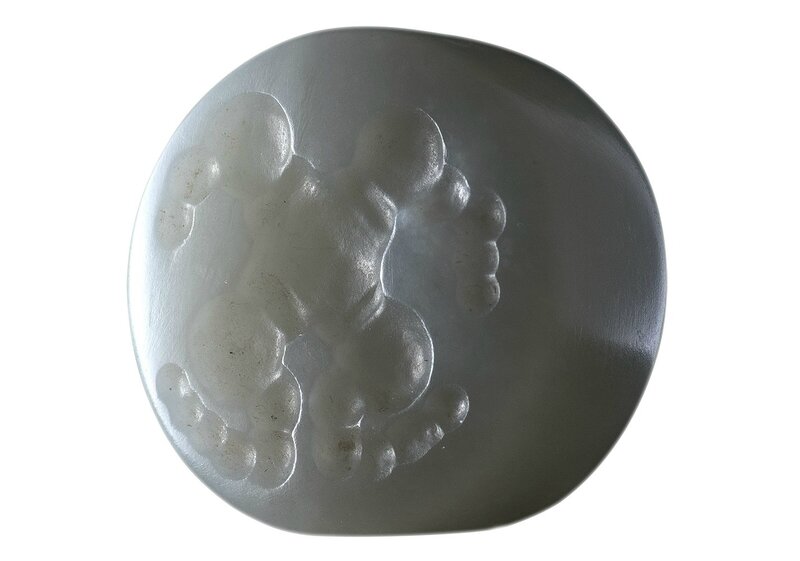 A White Nephrite Seal, Indus Valley, 4th millennium BC, Size: 2 cm diameter. © Oliver Hoare Ltd
Both surfaces of the seal are drilled, with a bird motif on one side and a tree motif on the other. It is also pierced for suspension.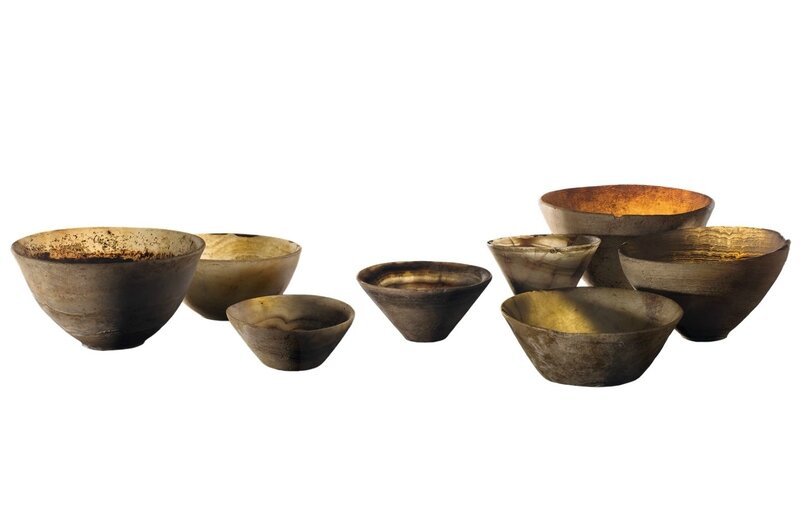 A Group of Eight 'Singing' Alabaster Vessel, Mehrgarh, Indus Valley, circa 4000 BC. © Oliver Hoare Ltd
The appealing characteristic of the alabaster from which these vessels are made is the variegated colouring of its striations. It must have been as attractive to the inhabitants of Mehrgarh 6,000 years ago as it is today, because the mine, located in their vicinity, has been exhausted for millennia. Another quality of this finegrained stone is that it rings when struck. The search for beautiful materials, and the invention of techniques to endow ordinary materials with beauty, are both characteristic refinements of the Indus Valley civilization.
The technique for firing ceramics was known millennia before Mehrgarh was settled. The Gravettian figurines from Dolni Vestonice in the Czech Republic date from 29,000 to 25,000 bc, and vessels from 20,000 years ago were found in Jangxi, China. The availability of fine-grained alabaster allowed the parallel production in Mehrgarh of thin-walled vessels with attractive patterns. They must have been a luxury product, akin to having porcelain instead of stoneware.
a. Conical beaker. Size: 11 cm high, 13 cm diameter
b. Conical cup. Size: 8 cm high, 15 cm diameter
c. Bowl. Size: 6 cm high, 13.5 cm diameter
d. Bowl. Size: 7 cm high, 18 cm diameter
e. Bowl. Size: 9 cm high, 18 cm diameter
f. Bowl. Size: 10 cm high, 19 cm diameter
g. Bowl. Size: 11.5 cm high, 21 cm diameter
h. Conical bowl. Size: 13.5 cm high, 21.5 cm diameter
A Polychrome Terracotta Container, Mehrgarh, Indus Valley, 3500–3000 BC, Size: 16 cm diameter × 9 cm high. © Oliver Hoare Ltd
Three yellow lions with manes of brown, pink and beige stripes stalk through a rocky landscape around the outside of the vessel; four fishes swim around the shoulder against a yellow ground.
A Grey-Ware Ceramic Bowl, Mehrgarh, Indus Valley, 3500 BC, Size: 19.5 cm diameter. © Oliver Hoare Ltd
It has been suggested that the mysterious designs in black on the whitened interior represent cloud bands. I think they represent the bikinis of eight local lovelies laid out to dry on a rock by the Indus, while they sunbathe nearby after a swim; all of them topless and four of them completely naked.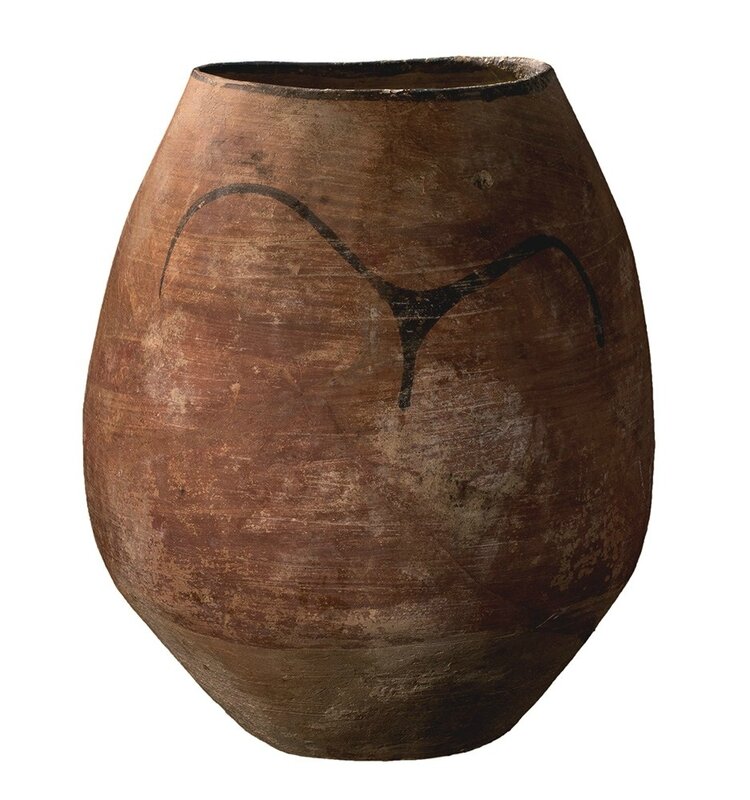 A Terracotta Drinking Vessel, Indus Valley, 3rd millennium BC, Size: 19 cm high. © Oliver Hoare Ltd
This strikingly simple representation of a long-horned bull's head is as effective in what it transmits as Picasso's bicycle-seat and handlebars. The main difference is in the humour of the latter that comes from the materials used. Of course, it is difficult to decipher the sense of humour of 5,000 years ago, and for all we know, those who drank from this cup may have been equally amused by its wit.
A thermoluminescence analysis report (N100a80) from Oxford Authentication Ltd is available.
A Terracotta Jar, Mehrgarh, Indus Valley, 3500–3000 BC, Size: 21.5 cm diameter, 17.5 cm high. © Oliver Hoare Ltd
The entire outer wall of the vessel is filled with motifs: red gazelles outlined in brown, palm trees, solar discs, combs, flying birds and fish.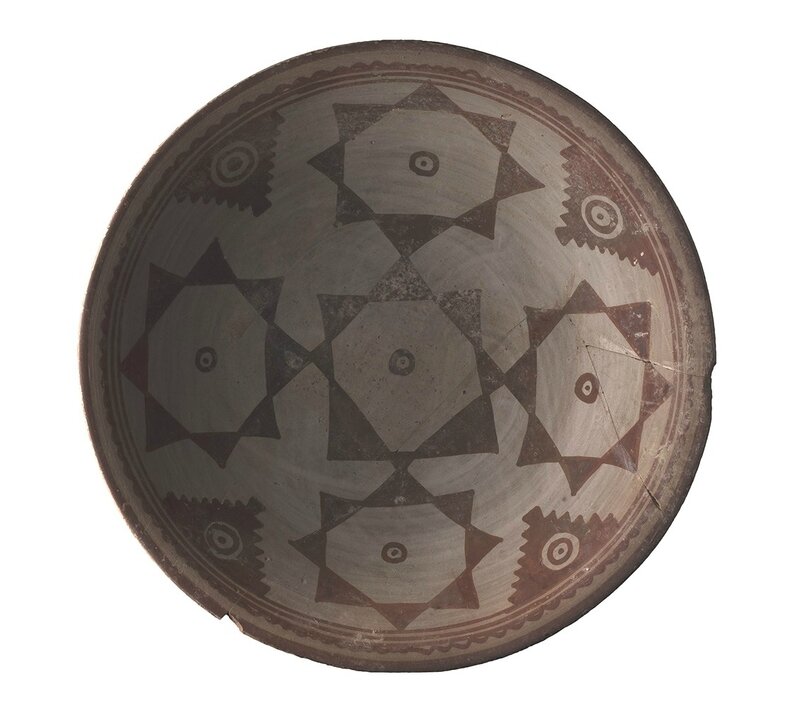 A Terracotta Bowl, Mehrgarh, Indus Valley, 3500–3000 BC, Size: 26 cm diameter. © Oliver Hoare Ltd
Decorated in red on a whitened ground with linked eight-pointed stars and border crenellations.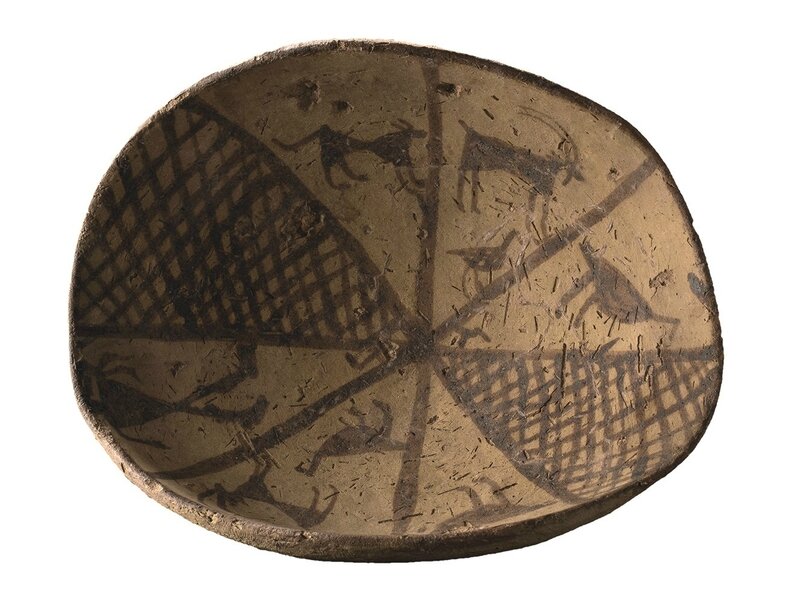 A Terracotta Scoop, Mehrgarh, Indus Valley, 3500–3000 BC, Size: 14.5 × 11 cm. © Oliver Hoare Ltd
Painted on the inside with a human figure, goats, a dog, birds and two sections of cross-hatching.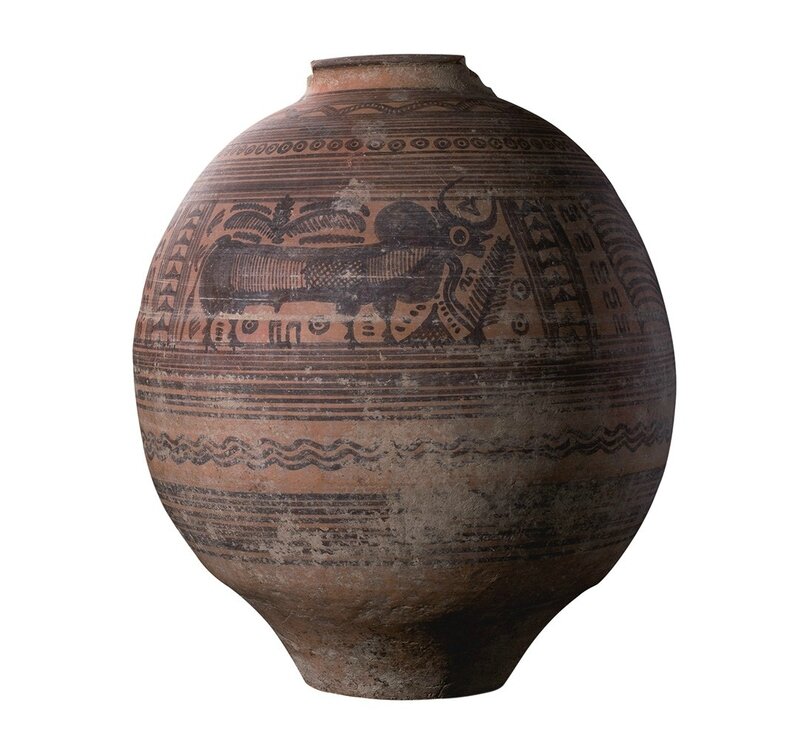 A Tall Terracotta Bulbous Vase, Mehrgarh, Indus Valley, 3rd millennium BC Size: 37 cm high. © Oliver Hoare Ltd
Decorated in black with a wealth of images showing farming, animal husbandry, and tree plantation around a river.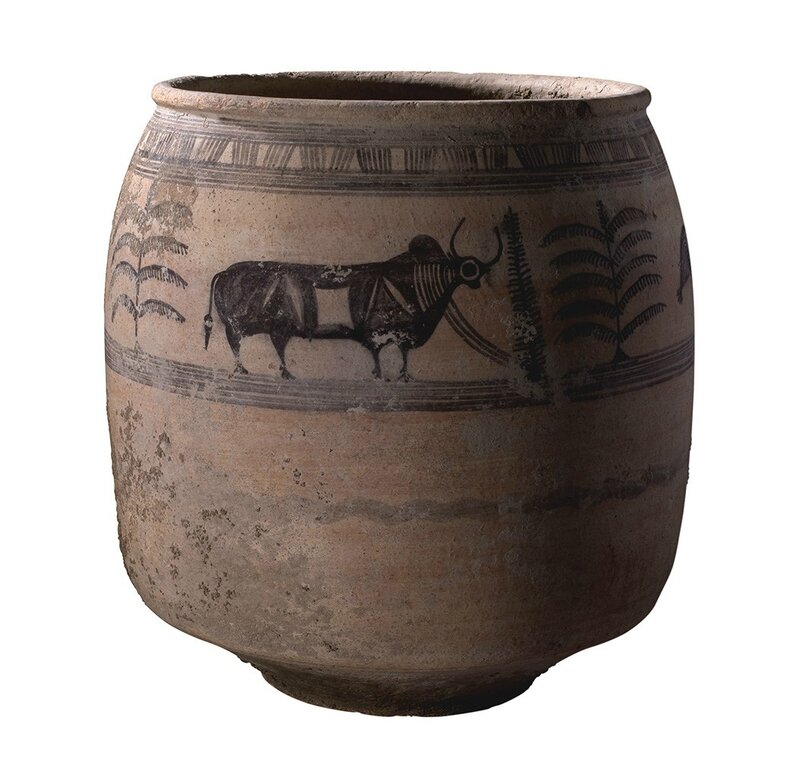 A Large Terracotta Jar, Mehrgarh, Indus Valley, 3500–3000 BC, Size: 43 cm high, 35 cm diameter. © Oliver Hoare Ltd
The decoration around this jar is a rare illustration of the herder-gatherer culture of the Indus Valley. Three large zebu bulls are tethered to trees, standing on cultivated fields, with a variety of trees and a single large bird.
An Important Fragment of a Terracotta Ritual Vessel, Mehrgarh, Indus Valley, early 3rd millennium BC, Size: 36 cm high, 30 cm base diameter. © Oliver Hoare Ltd
The stand has polychrome decoration typical of the finest ceramic production of Mehrgarh. More extraordinary are the three roaring lions in relief, with shaggy manes and swishing tails. The profiles of such vessels are recorded in numerous fragments, none so far intact, and must have served either as offering stands, as depicted on many seals, or for other-worldly drinking, since in this world a beaker works better. None of the other fragments, in the published literature, has lions in relief.
A Terracotta Bowl, Mehrgarh, Indus Valley, 3500–3000 BC Size: 18 cm diameter.© Oliver Hoare Ltd
Decorated in dark brown with three elongated zebu bulls, each with a water bird perched on its back and a leaf motif between the horns.
A Large Terracotta Bowl, Mehrgarh, Indus Valley, 3rd millennium BC, Size: 26 cm high. © Oliver Hoare Ltd
Painted in black, with three enormous lions stalking the sides, and a migration of birds overhead.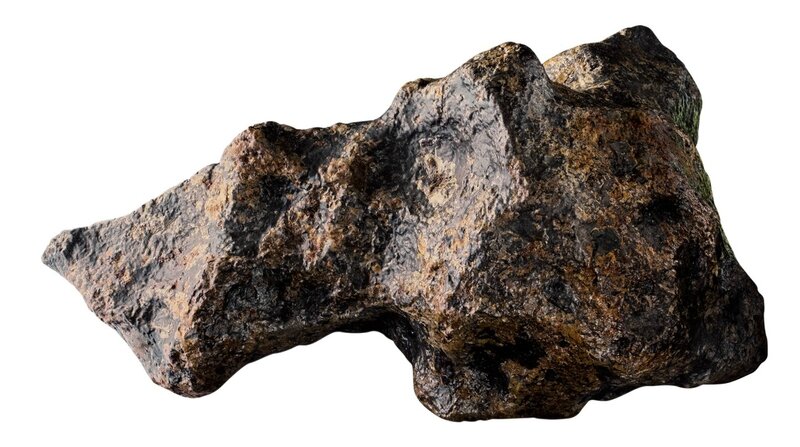 An Iron Meteorite from Campo del Cielo, Size: 49 × 31 cm, Weight: 70 kg approximately, Meteorite type: Iron Structural Classification: Coarse Octahedrite Group I. 6.68% Ni; 0.43% Co; 0.25% P; 87 ppm Ga; 407 ppm Ge; 3.6 ppm Ir., Location: Gran Chaco Gualamba, Argentina, 27 degrees 39 minutes south, 61 degrees 44 minutes west; 150 m, Discovered: 1576. © Oliver Hoare Ltd
The Campo del Cielo is classified as an IAB coarse octahedrite. It exhibits many beautiful characteristics, unique to meteorites, including regmaglypts, thumbprint-like surface features caused by a meteorite melting during its fiery journey through Earth's atmosphere. The pure iron asteroid hailed from the Main Asteroid Belt located between Mars and Jupiter, and split up over an area of 60 square kilometers when it crashed to Earth 4,000–5,000 years ago. It is the heaviest meteorite so far recovered on the planet, at over 100 tons, and the largest fragment of 37 tons, known as 'El Chaco', is second in size only to the Hoba meteorite in Namibia. A fragment weighing 1,398 lbs was donated to London's Natural History Museum.
In 1576, the Spanish governor of a province in northern Argentina sent a military detachment to search for a large mass of iron, having heard that the local natives were using it for weapons, and claimed that it had fallen from the sky. The governor reported the discovery of a large mass of iron protruding from the earth, of unusual purity and assumed to be the tip of a seam, to the Archivo General de Indias in Seville, but the find was soon forgotten. In 1774, Don Bartolome Francisco de Maguna rediscovered the iron mass, having become fascinated by legends of the local inhabitants, and called it 'the Table of Iron'. In 1783, Rubin de Celis cleared the ground with explosives and found that it was a single mass, not the seam of a mine. He sent samples to the Royal Society in London, who declared it a meteorite, something Celis had failed to realize.
In 1990, a local Argentinian highway police officer foiled a plot by Robert Haag to steal El Chaco. It had already been moved out of the country, but was returned to Campo del Cielo, and is now protected by a provincial law.
An Outstanding Pair of Pallasite Meteorite Slices, Imilac, Chile, Size: 160 × 110 mm Weight: 196 g and 214 g. © Oliver Hoare Ltd
It says a lot for the sensibility of the French that the editors of La Gazette Drouot chose to illustrate this stunning meteorite on its cover in November 2015. The Gazette is always packed full of treasures, mostly of much greater monetary value, and yet they resonated to the mysterious fascination of this emissary from Outer Space, dressed to impress. It was sold as part of Pierre Delpuech's remarkable collection of meteorites.
It comes from Imilac, on the high Andean plateau of Chajnantas, above Chile's Atacama Desert, where the Alma Observatory peers into the deepest recesses of the Universe. The meteoric debris was scattered over 8 kilometers, about a ton in all, shattered by its burning path through Earth's atmosphere. The site was discovered in 1822, and the remarkable feature of this meteorite is the transparent olivines embedded in its iron matrix. Less than 1 per cent of known meteorites are of this type, and only four showers have been observed: Mineo, Sicily, May 1823; Zaisho, Japan, February 1898; Marjalahti, Finland, June 1902; and Ormolon, Russia, May 1981
In 1794, Peter Simon Pallas, a German zoologist and naturalist working for the Russian court, brought back a 680 kg meteorite discovered near Krasnoiarsk in Siberia. On his return to Germany, he gave a sample to the physicist Ernst Chladni, who named the hitherto unknown type of meteorite 'pallasite'.
Provenance: Pierre Delpuech, France.