LONDON.- Sotheby's annual London sale of Photographs on 19 May 2017 showcases some of the most exciting emerging contemporary talents in the field, alongside a selection of early twentieth century gems. The younger generation of artists include Alex Prager, Hiroshi Sugimoto, Pieter Hugo and Sohei Nishino, who was nominated for this year's Prix Pictet. Works by well-known favourites Albert Watson, Irving Penn, Guy Bourdin and Peter Lindbergh will be offered together with Peter Beard's distinctive photo-collages, and striking nudes by František Drtikol and Robert Mapplethorpe. The auction is timed to take place in conjunction with Photo London, the major international photography event now in its third edition, which will be held in the heart of the capital from 18-21 May.
Brandei Estes, Head of Photographs, Sotheby's London, said: "With such a fresh and diverse selection of works, this year's sale spans genres and appeals on all levels, to both seasoned collectors and those pursuing an interest in photography for the first time."
NY-LON
"I walk through these cities, camera in hand, capturing multi-facetted views that I then combine, one by one, in accordance with my memories, arranging them into a map that portrays all the singular aspects of the place." – Sohei Nishino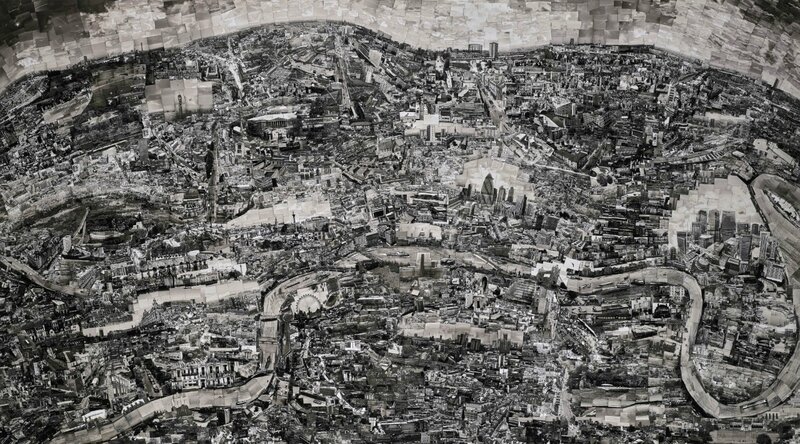 Lot 67. Sohei Nishino (b. 1982), 'Diorama Map, London', 2010. Pigment print, signed, titled, dated and numbered 4/15 in black pen, 79.2 x 142cm. Estimate £12,000-18,000. Photo: Sotheby's.
To create his striking diorama maps, Sohei Nishino assumes the role of the flâneur, wandering the city for days and months, capturing images from every angle. He sorts through his thousands of photos to reach his final selection, which he develops by hand in his dark room and painstakingly rearranges into an intricate and arresting composition. The resulting work is monumental in scale; Nishino subsequently digitally photographs the collage and presents it on a large scale, often up to 6 x 7 foot. Citing the 18th century Japanese cartographer Inō Tadataka as an influence, who also conducted his surveys on foot, Nishino's dioramas are reminiscent of medieval and renaissance maps, with their distorted angles, mixture of viewpoints and the freedom and subjectivity of execution. This year Nishino was nominated for the Prix Pictet, widely considered to be the most prestigious prize for photography. His first solo exhibition was held this year at SFMOMA (San Francisco Museum of Modern Art), displaying his fascinating maps from across the world, including one of San Francisco, created especially for the exhibition.
FASHION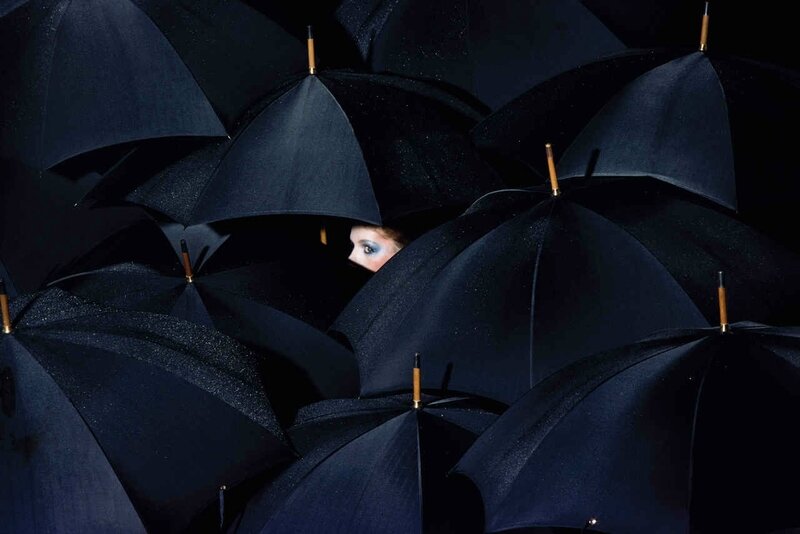 Guy Bourdin (1928 - 1991), 'French Vogue', December 1976/January 1977. Chromogenic print, printed later. Edition 7/18. Estimate £12,000-18,000. Photo: Sotheby's.
Guy Bourdin's images are characterised by theatrical lighting, dramatically graphic composition and vivid colour. They were sensational, exotic, sinister, provocative and surreal. Arriving at French Vogue by camel, Bourdin's life and works defined what it meant to be visually daring in the twentieth century. Using fashion photography as his medium, Bourdin explored the outrageous and the sublime and as a perfectionist, he knew how to grab attention, done here so exquisitely with a December 1976 cover for French Vogue.
Peter Lindbergh (b. 1944), 'Tatjana Patitz, Vogue France, Café de Flore, Paris', 1985. Silver print, printed 2006. Edition 17/25. Estimate £12,000-18,000. Photo: Sotheby's
Often credited with kick-starting the era of the supermodel, Peter Lindbergh's iconic shoots of a newly discovered group of models for Vogue in the 1980s garnered him international acclaim. Seen as promoting a new understanding of female beauty and pioneering the new style of realism, the photos were a fresh departure from the larger-than-life glamour of the previous decade. Tatjana Patitz, along with Christy Turlington and Linda Evangelista, feature in all three of his famous Vogue covers and have been recurrent figures in his photographs throughout their careers.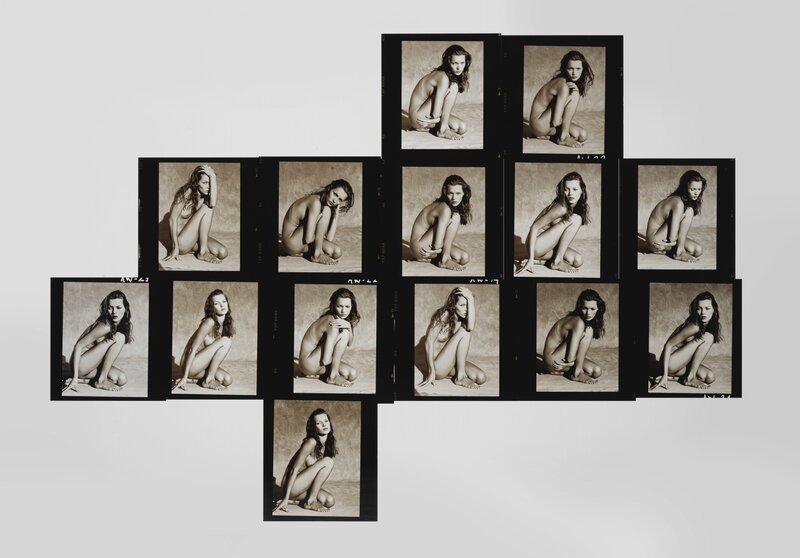 Albert Watson (b. 1942), 'Kate Moss, Marrakech (Contact)', 1993. Pigment print, flush-mounted to aluminium. Signed, titled, dated and numbered 2/5 in black ink. Estimate £18,000-23,000. Photo: Sotheby's
"We were photographing for about three hours in the morning, then in the early afternoon she said 'You know it's my 18th birthday today?' It was very sweet." – Albert Watson

Perhaps his most memorable work, Watson's series of nude photographs of an 18-year-old Kate Moss, which were shot in Marrakech for German Vogue in 1993, epitomise the cinematic and graphic qualities that distinguish his style. The unique artistic sensibility displayed by Watson in the subtlety of light and tone, and the fine line that Kate draws between vulnerability and an effortless sex appeal, mark important turning points in the careers of both the photographer and his muse.
THE NUDE
Robert Mapplethorpe (1946-1989), 'Thomas', 1986. Vintage silver print. Signed, dated and numbered 3/10 in black pen in the lower margin. Estimate £10,000-15,000. Photo: Sotheby's

Lot 8. Robert Mapplethorpe, 'Lydia', 1987. Vintage silver print. Signed and dated in black ink in the photographer's copyright stamp, and titled, dated and numbered 2/10. Estimate £25,000-35,000. Photo: Sotheby's
Mapplethorpe's photographs dominated the 1980s. The decade marked the peak of his career; he produced numerous powerful and provocative images, the treatment of which garnered international fame. In contrast to his celebrity portraits, his photographs of both male and female nudes rendered in an almost statuesque fashion demonstrate his fascination with the human body. These images, such as Lydia, often show only sections of the human figure in unusual compositions, appearing almost sculptural in form. "To make pictures big is to make them more powerful", Mapplethorpe has claimed, and this certainly seems to be the case with 'Lydia'; the large-scale adds to the power of this image. Taken only a few years before his death in 1989, 'Lydia' is an example of Mapplethorpe's continued creativity and staggering ability to create iconic images.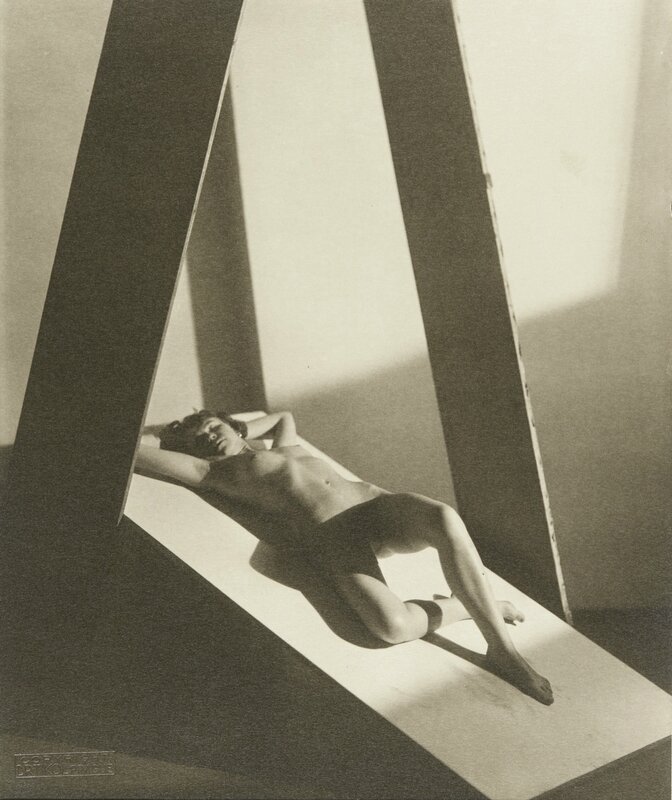 Lot 36. František Drtikol (1883-1961). 'Untitled (Nude Reclining)', 1922-28. Vintage silver print. Estimate £25,000-35,000. Photo: Sotheby's
"I let the beauty of the line itself make an impact, without embellishment, by suppressing everything that is secondary." – František Drtikol
Having successfully established himself as a portrait photographer, František Drtikol made his name through his daring and inventive nude studies, which were very much part of the avant-garde. He incorporated elements of Art Deco into his work, contrasting the flexible and supple forms of the body with geometric shapes and sharp shadows. Experimenting with light and expressive dance, and adopting an increasingly spiritual approach, in 1930 Drtikol began removing human bodies and replacing them with cut-outs in the decades that followed.
Lot 38. Paul Outerbridge, Jr. (1896-1958), 'Beauty', c. 1936. Colour carbro print. Estimate £30,000-50,000. Photo: Sotheby's
A pioneer of colour photography, Paul Outerbridge made a significant contribution to the history of the medium. Beginning his career as an illustrator and set designer, he turned to photography in the 1920s. On his return to New York from Paris, where he had mixed with the likes of Berenice Abbott, Man Ray and Marcel Duchamp, he developed the highly complex tricolour Carbro process. This laborious technical process and his high standards make his rich colour prints extremely rare. His nude studies were considered too erotic to be exhibited during his lifetime and their controversial nature eventually led to his withdrawal from commercial photography.
AFRICA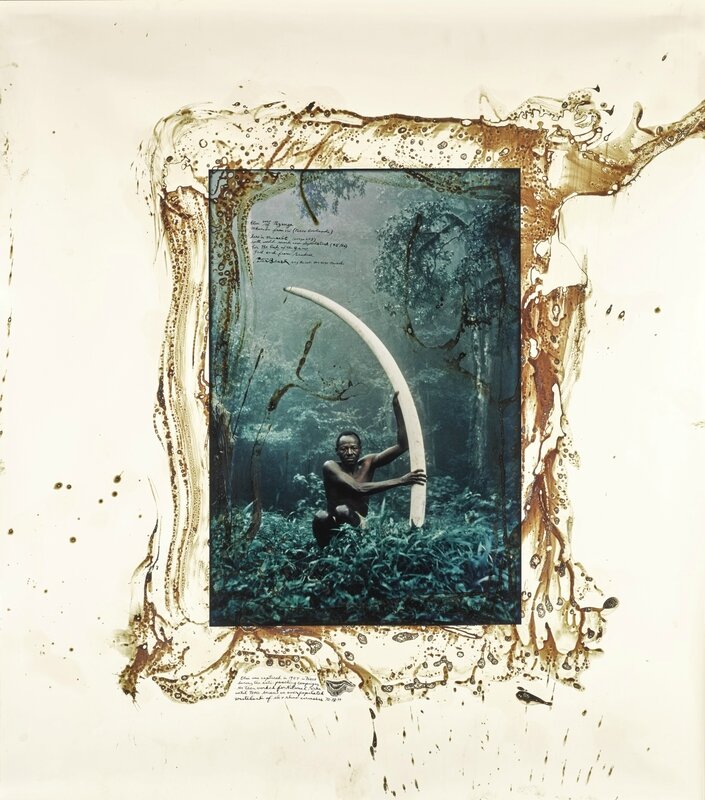 Lot 52. Peter Beard (b. 1938), 'Elui, son of Nzenge Mkambo from Voi (Tsavo lowlands)', 1962. Chromogenic print, printed later Signed, titled and variously annotated in ink and blood. Estimate £70,000-100,000. Photo: Sotheby's
Peter Beard's fascination with photo documentary and his passion for conservation in Africa is evident throughout his unique photo collages. Combining a range of photographs, diary clippings, quotes, found objects, drawings and more, his aim is to capture the nature of the African continent as it slowly but surely succumbs to inevitable industrialisation. 'Elui, son of Nzenge Mkambo from Voi' appeared on the front cover of Beard's seminal publication on Africa, The End of the Game (1965). Whilst working at the Tsavo National Park during the 1960s, Beard created this publication, combining his own photography and writing with historical texts. This image captures the essence of this publication and is a poignant testimony to the considerable and irreparable damage done by man in Africa.
CONTEMPORARY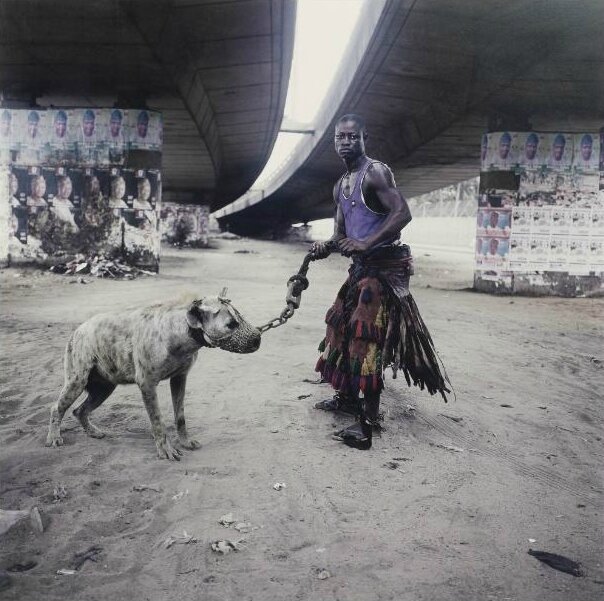 Lot 58. Pieter Hugo (b. 1976), 'Abdullahi Mohammed with Mainasara (The Hyena and Other Men), Lagos, Nigeria', 2007. Chromogenic print. Edition 2/9. Estimate £20,000-30,000. Photo: Sotheby's
South African photographer Pieter Hugo's images are undoubtedly provocative. His work demonstrates his fascination with exploring marginalised groups in Africa and confronts head-on issues of race and identity, as well as traditional customs and urban environments. His desire to explore the social make-up of his homeland resulted in a two-year project to document the Hyena Men of Nigeria, a nomadic group who live on the fringes of society and have acquired an almost mythical status. The powerful images he captured, such as 'Abdullahi Mohammed with Mainasara', show the imposing and intimidating nature of this group, yet equally demonstrate the level of trust that Hugo built with them during the project.
Daido Moriyama (b. 1938), 'Stray Dog, Misawa', 1971. Silver print, printed 2007. Estimate £12,000-18,000. Photo: Sotheby's
"My photos are often out of focus, rough, streaky, warped etc. But if you think about it, a normal human being will in one day perceive an infinite number of images, and some of them are focused upon, others are barely seen out of the corner of one's eye." – Daido Moriyama

Japan's most important photographer Daido Moriyama defined what it meant to be avant-garde in the twentieth century. He is the most celebrated photographer from the Japanese Provoke movement of the 1960s and has staged over 100 solo exhibitions worldwide including MoMA and Tate Modern.
Lot 66. Hiroshi Sugimoto (b. 1948), 'Seagram Building - Ludwig Mies van der Roh', 1997. Silver print, dry-mounted to aluminium and board. Edition 2/5. Estimate £50,000-70,000. Photo: Sotheby's
Sugimoto's fascination with twentieth century modern architecture, and the influence of both the Dadaist and Surrealist movements, has resulted in unique and distinctive works which appear to break all the rules of architectural photography. As part of a project commissioned by the Museum of Contemporary Art in Chicago, Sugimoto created blurred images of some of New York's most iconic twentieth century buildings at unusual and sometimes unrecognisable angles. Sugimoto has commented that he sees photography as "a fossilisation of time", and it is this sense of timelessness that infiltrates his photography. Softening sharp architectural details and creating large-scale black and white images removes these iconic buildings from their context, yet simultaneously captures the very essence of the building.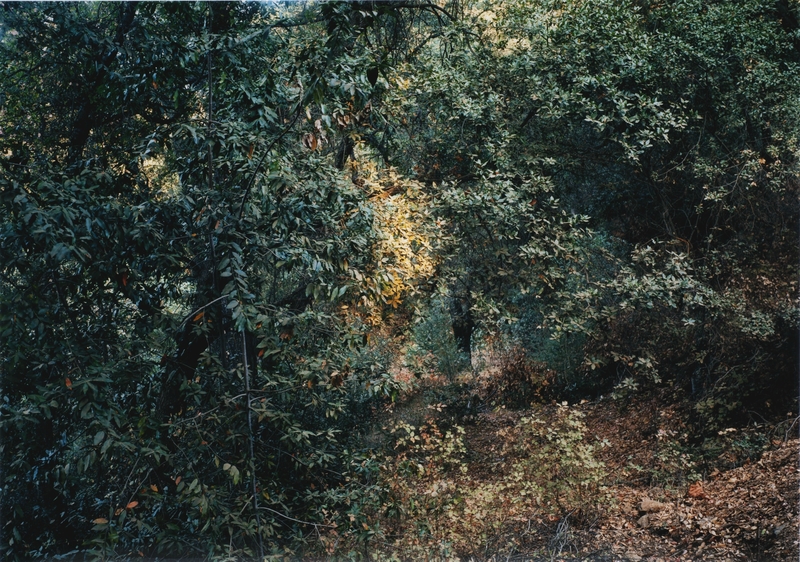 Lot 81. Thomas Struth (b. 1954), 'Paradise 17, California', 1999. Chromogenic print. Edition 4/10. Estimate £40,000-60,000 Photo: Sotheby's
Thomas Struth's Paradise series confronts viewers with an almost overwhelming quantity of detail. Dense, textured undergrowth and criss-crossing plant forms disorientate, as the depth and scale of the images cannot be determined; yet it is this confusion which, Struth suggests, creates an inner calmness. "I wanted to make photographs in which everything was so complex and detailed that you could look at them forever and never see anything," he claims, and in doing so captures a sense of harmony and peace. In search of finding a 'paradise', Struth left his native Germany and scoured the world for unspoiled locations. The series includes photographs taken in Australia, Asia, South America, and many more diverse settings.
Lot 94. Philip-Lorca diCorcia, (b. 1953), 'W, September #12', 2001. Chromogenic print, flush-mounted to Plexiglas. Edition of 15. Estimate £18,000-23,000. Photo: Sotheby's.
Lot 99. Philip-Lorca diCorcia, 'W, September #8', 1997. Chromogenic print, flush-mounted to Plexiglas. Edition of 15. Estimate £18,000-23,000. Photo: Sotheby's.
In 1997, the influential and innovative photographer Philip-Lorca diCorcia received an invitation from Dennis Freedman, the creative director of fashion magazine W, to shoot fashion stories around the world. Over the next twenty years, through to 2008, diCorcia completed eleven photographic portfolios, each story distinguished by its epic scope and enigmatic narrative. The resulting body of work stands as one of the most ambitious editorial projects ever undertaken.
Alex Prager (b. 1979), 'Crowd #7 (Bob Hope Airport)', 2013. Pigment print. Edition 2/6. Estimate £20,000-30,000. Photo: Sotheby's.
Alex Prager was one of four photographers selected for 'New Photography 2010', an exhibition held at the Museum of Modern Art in New York. With a nod to the cinematic language of twentieth century directors such as Alfred Hitchcock and Douglas Sirk, Prager's photographs are richly coloured, powerfully lit, and constructed from surprising angles.
PORTRAITS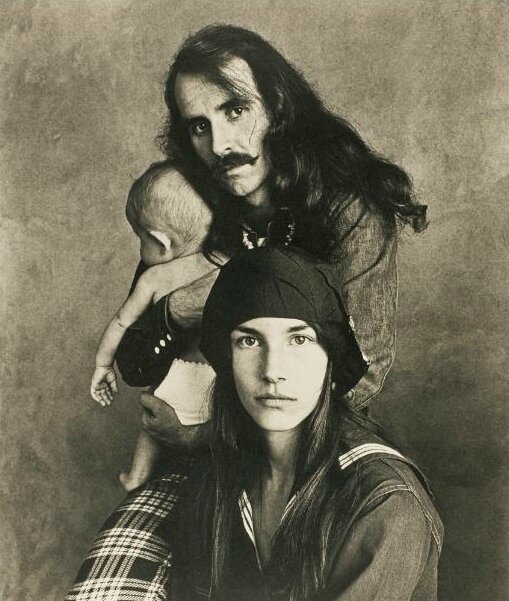 Irving Penn (1917 - 2009), 'Hippie Family (Kelly), San Francisco', 1967. Platinum palladium print, printed 1976. Signed, titled, dated and numbered 1/25 in pencil. Estimate £10,000-15,000. Photo: Sotheby's.