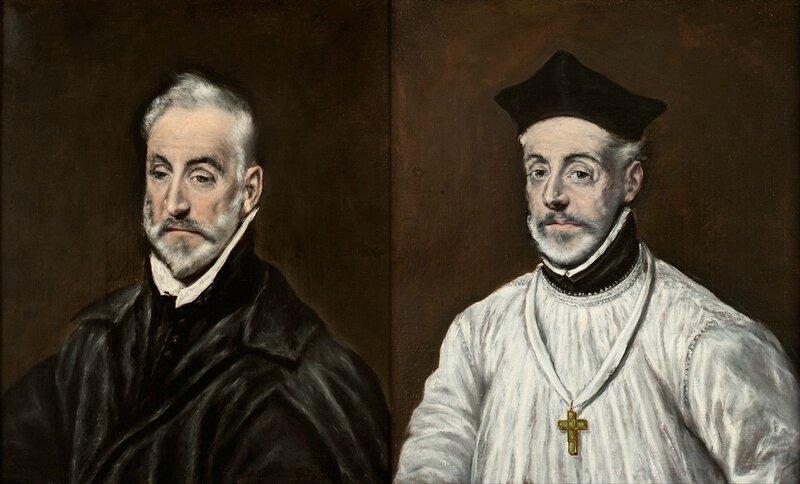 El Greco (Doménikos Theotokópoulos) (Candia, Crete, 1541-Toledo, 1614), Portrait of Antonio de Covarrubias y Leiva & Portrait of Diego de Covarrubias y Leiva, c. 1600. Oil on canvas, 68 x 57 cm, Museo del Greco, Toledo.
BILBAO.- The presentation of two important works from the collection of the Museo del Greco (Toledo), Portrait of Antonio de Covarrubias y Leiva and Portrait of Diego de Covarrubias y Leiva, two oil paintings of the same size (68 x 57 cm) executed by El Greco around 1600, provide the starting point for this new edition of the Guest Work programme, which will be accompanied by various lectures and encounters with experts and artists aimed at strengthening the visiting public's involvement in this programme.

The two portraits by El Greco are displayed in Room 7 of the museum, which is devoted to 16th- and early 17th-century court portraiture and its role as a representation of power through the concept of majesty and dynastic interests. Portraits of Philip II, his sister Juana de Austria and his grandson Felipe Manuel de Saboya create a pictorial sequence initiated by Anthonis Mor at the Spanish Habsburg court and continued by Sánchez Coello and Pantoja de la Cruz, culminating with Velázquez. Well acquainted with this tradition, Pourbus made use of it in his portrait of Marie de Médicis, Queen of France. These portraits from the museum's permanent collection provide a context for the two by El Greco, which are presented here as outstanding examples of the artist's contribution to secular portraiture of this period. In addition, two further works by the artist from the museum's permanent collection will be on display in Room 8, in this case depictions of religious subjects: Saint Francis in prayer before a Crucifixion (ca.1587-1596) and The Annunciation (ca.1596-1600).

Portraiture evolved at the court in Madrid in response to the requirements for depicting the monarch and his family. Nonetheless, it was in Toledo and thanks to the presence of El Greco that secular portraiture in the form of depictions of illustrious local men developed in a particularly spectacular manner.

The Imperial City was home to a number of exceptionally gifted portraitists, among them Blas de Prado, who is particularly known for the time he spent in Morocco to paint the Sultan's family as a commission from Philip II of 1593; the little-known Antón Pizarro, who painted the outstanding portrait of A Gentleman of the Solís Family with his Son (private collection), a work that reflects the late portraits by his master El Greco in its typology and its immediate and intense presentation of the sitter; and the painter Juan Sánchez Cotán, celebrated for his still lifes and for his portrait of Brígida del Río, the bearded Woman of Peñaranda, which was in the collection of Pedro Salazar de Mendoza, administrator of the Hospital de Tavera. The inventory of the latter's possessions, drawn up on 13 June 1629, includes "two portraits of the Covarrubias", which can be identified as the two now in the collection of the Museo del Greco.

El Greco made a fundamental contribution to the development of the portrait in Spain. His generally bust-length figures set against plain backgrounds, the faces in three-quarter profile and depicted with profound psychological intuition, constitute a magnificent gallery of depictions of society of the day. The painter adapted his approach to the civic atmosphere of the city and earned the esteem of Toledo's leading families, who commissioned their portraits from him. The notable realism with which the sitters' personalities are conveyed, combined with the chromatic range and the influence of Venetian models, make them precedents for Velázquez's portraits. As a portraitist El Greco left a body of markedly intense images of the individuals who trusted in his artistic abilities, from humanists such as the Covarrubias brothers to the anonymous gentlemen who have entered the collective memory as archetypes of the grandeur and sombreness of Spain of this period.
El Greco (Doménikos Theotokópoulos) (Candia, Crete, 1541-Toledo, 1614), Portrait of Antonio de Covarrubias y Leiva, c. 1600. Oil on canvas, 68 x 57 cm. Museo del Greco, Toledo.
Antonio de Covarrubias was a prestigious jurist and one of El Greco's closest friends, who helped to introduce him to Toledo's ecclesiastical and intellectual circles following the death of Diego de Castilla in 1584. The artist depicts him here in his old age with a slight sense of movement that conveys his interior vitality or possibly anxiety, a reflection of his life-long deafness. Covarrubias wears a black lawyer's gown buttoned at the chest and another white garment beneath it, visible at the neck.

El Greco depicted Covarrubias on at least two other occasions; on the right in profile in The Burial of the Count of Orgaz, wearing ecclesiastical dress and with a grey beard. Another version of the present painting has been in the Musée du Louvre since 1941, where it arrived as part of an exchange between the Spanish and French governments to facilitate the return of various works that had been illegally removed from Spain in the past.

El Greco praised Covarrubias in an annotation in his copy of Vitruvius's treatise: "that Antonio de Covarrubias (whom one might call a wonder of nature) who possesses not only Ciceronian eloquence and elegance and a perfect knowledge of the Greek language, but also infinite goodness and patience, and this makes him so dazzling as to disturb my sight and prevent me from continuing."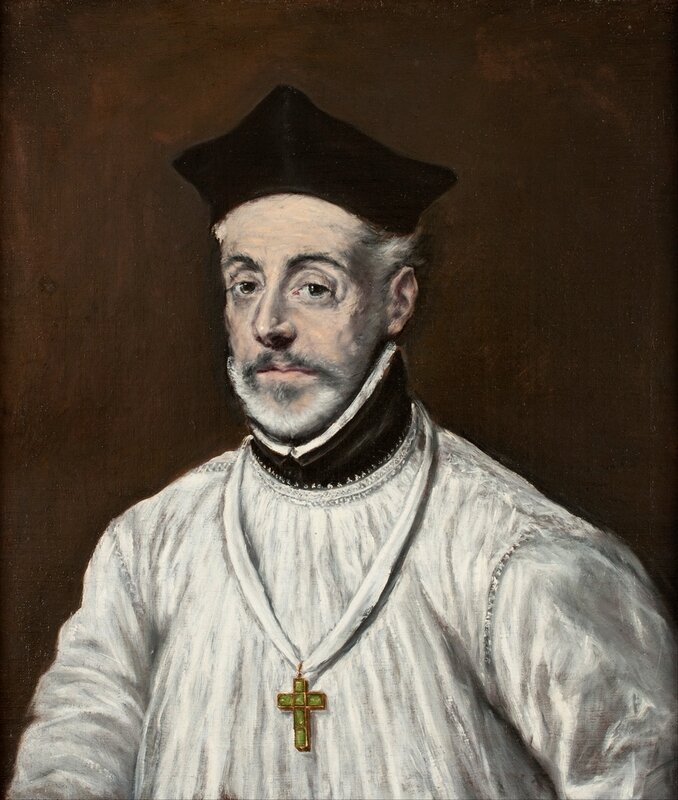 El Greco (Doménikos Theotokópoulos) (Candia, Crete, 1541-Toledo, 1614), Portrait of Diego de Covarrubias y Leiva, c. 1600. Oil on canvas, 68 x 57 cm. Museo del Greco, Toledo.
The portrait of Diego de Covarrubias is notable for the restrained vivacity and serenity of the sitter's expression. Like his brother Antonio, Diego was educated to a high level and held prominent positions in the ecclesiastical hierarchy. El Greco never met him as he died a few months before the artist arrived in Toledo in 1577 and he probably based his image on the much less spontaneous one by Alonso Sánchez Coello. Antonio and Diego de Covarrubias were the sons of Alonso de Covarrubias, one of Renaissance Spain's most celebrated architects. They attended the Council of Trent together as legal advisers and their remarkable erudition was praised by numerous foreign commentators.

A classic example of the Renaissance humanist, Diego de Covarrubias was a theologian, jurist, senior professor at the University of Salamanca and Bishop of Segovia. El Greco depicts him with grey hair and beard, a frontal glaze and set against a plain background. He wears a soutane, a white surplice and a black biretta. Suspended from a white ribbon around his neck is a green pectoral cross of gold and emeralds of the type worn by bishops.

Executed around 1600, these two portraits are outstanding examples of El Greco's contribution to the history of portraiture in Spain, in which he is considered to have introduced the psychological portrait in the form of images that reveal the subtle and difficult to capture element of the sitter's inner life.
by Luis Alberto Pérez Velarde, Curator, Museo del Greco (Toledo)
Installation view.