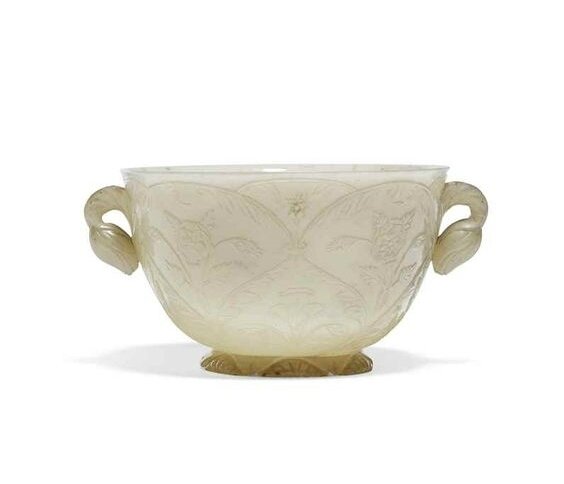 Lot 101. A finely carved jade wine cup, Mughal India, mid-17th century, 5 1/8in. (13cm.) diam.; 3 ¼in. (7.5cm.) high. Estimate GBP 30,000 - GBP 40,000 (USD 38,760 - USD 51,680) © Christie's Images Ltd 2017
The body finely carved with a leafy lattice enclosing floral sprays, the foot formed as an elegant rosette.
Note: This fine cup is an example of the hardstone carvings that were popular in the Mughal period, from the reign of the Emperor Akbar. It is thought that nephrite and related hardstones were introduced to the Mughals in the mid-sixteenth century when a Khotanese jade merchant 'visited the Emperor Akbar's court and enabled the Mughals to indulge a taste for jade already acquired by their Timurid ancestors in Central Asia' (Joseph M. Dye III, The Arts of India, Virginia, 2001, p.408).
A look to the Padshahnama indicates that bowls of this form were popular from as early as the reign of the Emperor Jahangir (1605-27). Though made of gold, cups of a similar two-handled shape are found in the illustrations to the text, for instance that of Jahangir receiving Prince Khurram on his return from the Deccan. In that painting a similar bowl is seen being offered to the Emperor on a tray (Milo Cleveland Beach and Ebba Koch, King of the World, exhibition catalogue, London, 1997, no.9, p.36). William Hawkins, who visited the Mughal Court during Jahangir's reign, described some of the Emperor's drinking cups as being made of jade (Susan Stronge), Made for Mughal Emperors. Royal Treasures from Hindustan, London, 2010, p.212).
A similar bowl, though simpler in decoration is in the Los Angeles County Museum of Art (M.76.2.2.; Stephen Markel (ed.), The World of Jade, Mumbai, 1992, no. 11, p.57). That is attributed to circa 1640-50. Ours however is more heavily worked, recalling the decoration on a gunpower flask in a private collection which is dated to the mid 17th century (Stuart Cary Welch, India. Art and Culture 1300-1900, exhibition catalogue, New York, 1985, no.173, p.262-63). Like ours it has a continuous pattern of floral sprays, there arranged in a swaying pattern but on ours arranged in a lattice.
Christie's. Arts of India, 25 May 2017, London, King Street