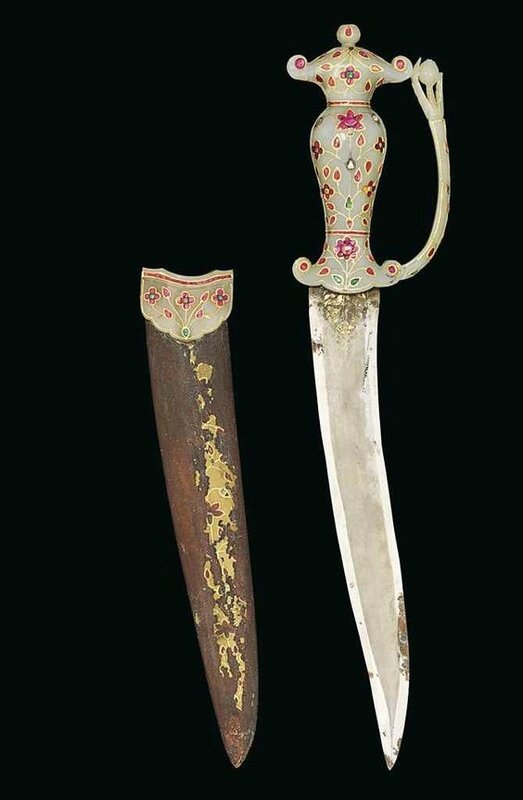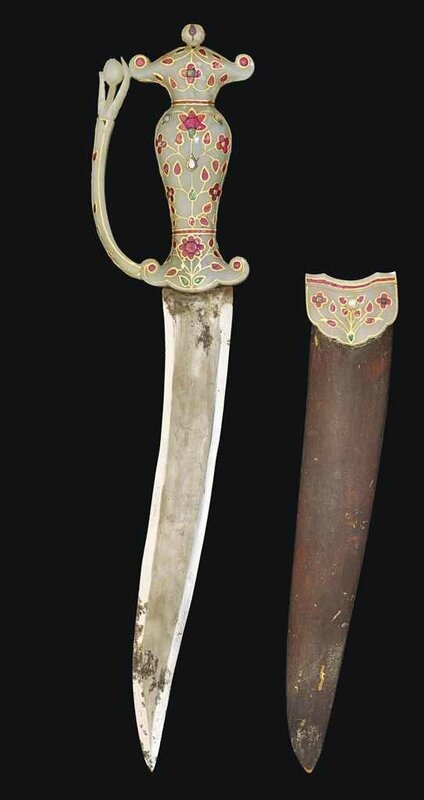 Lot 107. A rare gemset jade-hilted dagger, Mughal India, 17th century, 14in. (35.7cm.) long. Estimate GBP 3,000 - GBP 5,000 (USD 3,000 - GBP 5,000) © Christie's Images Ltd 2017
The slightly recurved watered-steel double-edged blade damascened with gold foliage on one side at the forte, the pale green jade hilt with swelling grip, and pronounced pommel, knuckle-guard with pierced and carved leaf and bud-shaped finial, inlaid overall with engraved gold flowers set with emerald and ruby leaves, the flowerheads formed from pavé set emeralds and rubies, the grip with two gold bands set with rubies, in original leather covered wooden scabbard retaining some of its original polychrome painted decoration en suite with the hilt, the original pale green jade locket jewelled en suite with the hilt, one stone missing.
Property of the Collection of Dr. Herbert J. Kayden and Dr. Gabrielle Reem
In medicine, art, philanthropy, and science, Dr. Herbert J. Kayden and his wife, Dr. Gabrielle Reem Kayden, embraced innovative thinking. Remembered by countless patients, students, and artists, they supported scientific research and artistic endeavors with equal curiosity and passion. Their collection of fine art, assembled with scholarship and connoisseurship over many decades, serves as a tangible expression of their commitment to learning and to their personal engagement with the art and ideas of their time.
Drs. Kayden and Reem's passion for learning and discovery manifested itself in the world class art collection they built beginning in the 1950s. They sought a complement to the innovative thinking they pursued in science by collecting works of signature 20th century modernists, both European and American, and contemporary artists.
In its richness and quality, their collection embodies two lives spent in the pursuit of knowledge and beauty. In their own words, "There is no question that if you're taken up with art, the art world, and artists, that it can be enormously gratifying and satisfying; it's an opportunity to step into a different world and if you are lucky enough to have the door open, you ought to seize it, and take it and enjoy it and revel in it."

Note: Due to the fragility of the material, jade daggers with knuckle guards are rare and few survive intact to this day. Michael Spink and Robert Skelton have distinguished two separate groups of jade daggers with knuckle guards. The first one is "quite distinct and earlier in date …. These have a bifurcated palmette at the top of the hilt and a rounded moulding in the centre of the grip and can be dated to the Deccan during the 17th century". The second type "has vase-shaped grips, knuckle bows and triple flower buds" (Amin Jaffer, Beyond Extravagance, New York, 2013, pp.186-187). Our example is a fine variation of the second group. The vase-shaped grip, knuckle bow and pommel are all features common to the second category, although the shape of the upper section of our hilt is quite unusual. The shape of the hilt is very similar to an example now in the al-Sabah collection (279 INV. LNS 728 HS ab; G. Curatola, Art from the Islamic Civilization, Milan, 2011, p.299). Both pieces are dated to the second half of the 17th century and are decorated with floral motifs inlaid with gold and set with rubies, emeralds and diamonds. The main technical difference between these two daggers is the way the stones are inlaid. While the dagger in the al-Sabah collection presents each stone separately set in the kundan technique, in our case a number of the stones are set directly next to others without the gold borders. Similar technique is found only on a few contemporaneous jade pieces, most of extremely high quality. A pen box now in the Victoria & Albert Museum (Inv.No 02549(IS); http://collections.vam.ac.uk/item/O15498/pen-box-and/) has a floral arrangement very similar to the one on our dagger, with rubies and emeralds composing a floral scroll and some of the gems continuously set. The V pen-box is dated to the 17th century and a similar date thus seems likely for our dagger. A notable feature of our dagger is that it retains its original sheath, with painted lacquer decoration and original gem-set jade locket. The pattern on the lacquer of the sheath clearly recalls the floral decoration on the handle. Sheaths contemporaneous to their arms are quite rare - they are often replaced by velvet ones. Very few examples of original lacquer sheaths survive. One other example is now in the Al-Sabah collection (LNS 1004 M; S. Stronge, Made for Mughal Emperors, London, 2010, p.221, pl.183).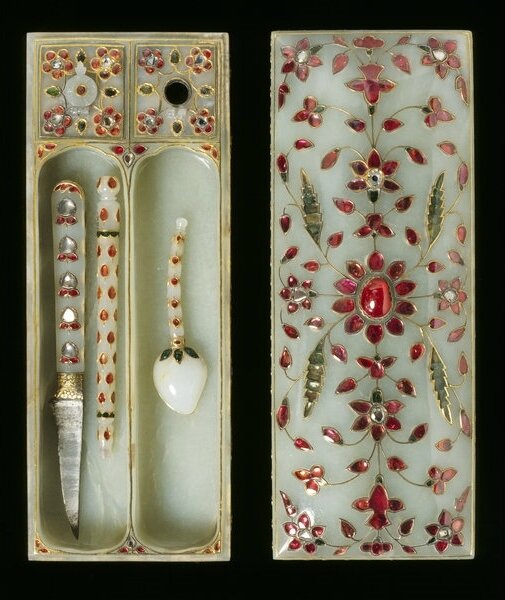 Pen box and utensils, Mughal empire, c. 1650-1700. White nephrite jade, rubies, emeralds and diamonds set in gold. 02549(IS). © Victoria and Albert Museum, London 2017.
Christie's. Arts of India, 25 May 2017, London, King Street